Quick Analysis
Pros
Comfortable fit with an ergonomically friendly design.
Decent sound quality for the pricepoint.
Noise isolation is adequate when properly fitted.
Good battery life.
Good call quality with CVC 8.0 noise cancelling.
Cons
Case lid attracts fingerprints.
Some slight distortion at maximum volume.
No durability or waterproof rating.
When selecting a pair of wireless earbuds, it can be very confusing to determine which you should buy. The market seems to be over-saturated with thousands of brands, models and varieties – and that's because it is! In fact, if you were to search for "wireless earbuds" on Amazon, you'll see over 20,000 results.
There's one good thing about having this many options – you're bound to find a pair that fits your budget. However, this doesn't necessarily mean you're going to love them. Many music-listeners want to find a set of earbuds that sound great, fit nicely and don't cost an arm and a leg. With this in mind, considering off-brands (those that aren't Sony, Bose, Panasonic, Beats, etc.) might be worth it. As we said earlier, Amazon is piled high with different options. In fact, you may have come across a few that are in this inexpensive category.
One such example is the brand "Bluedio". To put it bluntly, they're not very well known as a manufacturer – but that's OK. Here at NerdTechy we've reviewed and compared another pair of earbuds from them a few months ago – the Bluedio Hi. At that time, we found them to be pretty impressive for the price-point.
Since then, they've released a new pair – the Bluedio Fi. From first glance, they look promising and packed with enticing features such as noise cancellation and a new Qualcomm 3020 chipset. It seems Bluedio wanted to create earbuds with improved acoustics with a more-impressive sound stage. On paper, they're definietely attractive. But what about in the real world?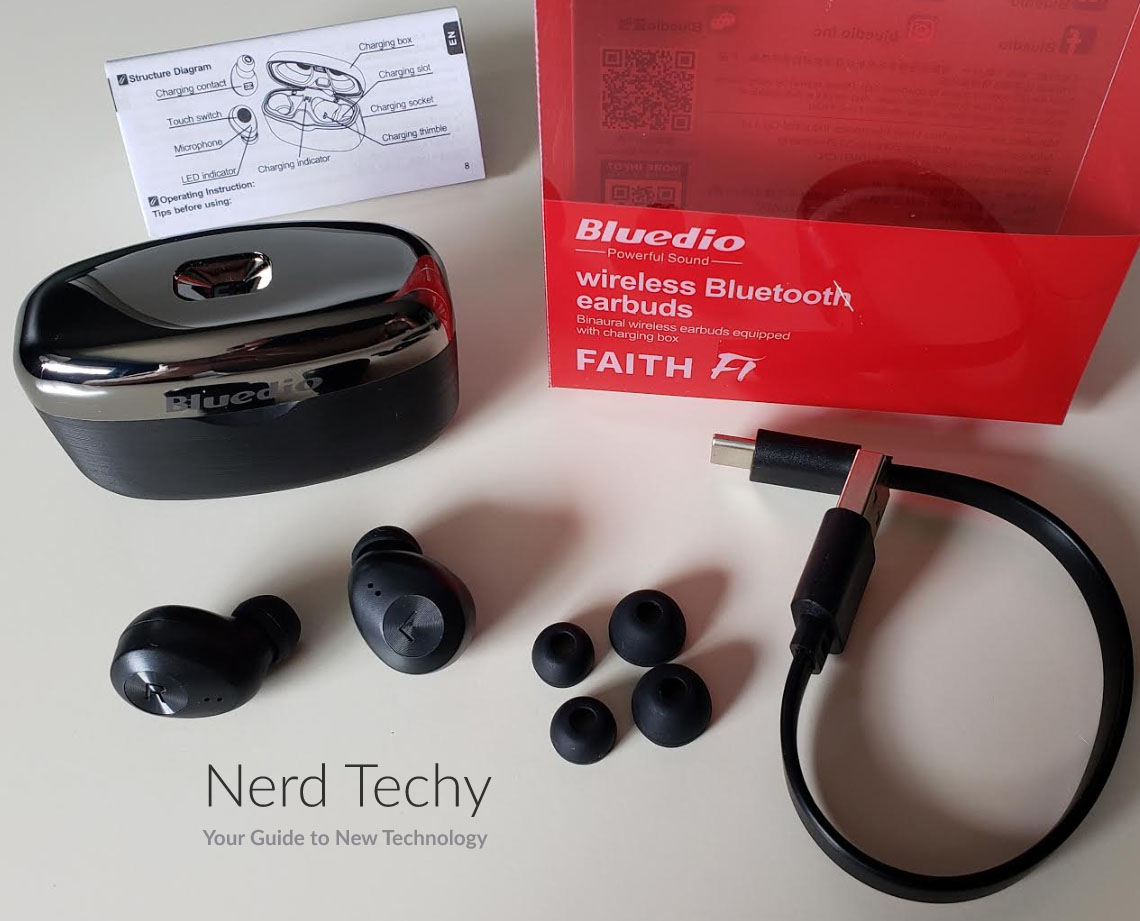 Today, we're going to take a closer look at them, see exactly what they have to offer in terms of audio quality, battery life, comfort, wireless range and durability. Let's get started!
First Look
Once we placed our order, we received the Bluedio Fi True Wireless Earbuds within 2 days. Needless to say, we were pretty excited to open them up and see what's included. In the box, you'll find two individual earbuds, the charging case, a USB-C charging cable, 2 pairs of extra ear tips and a multi-lingual instruction manual.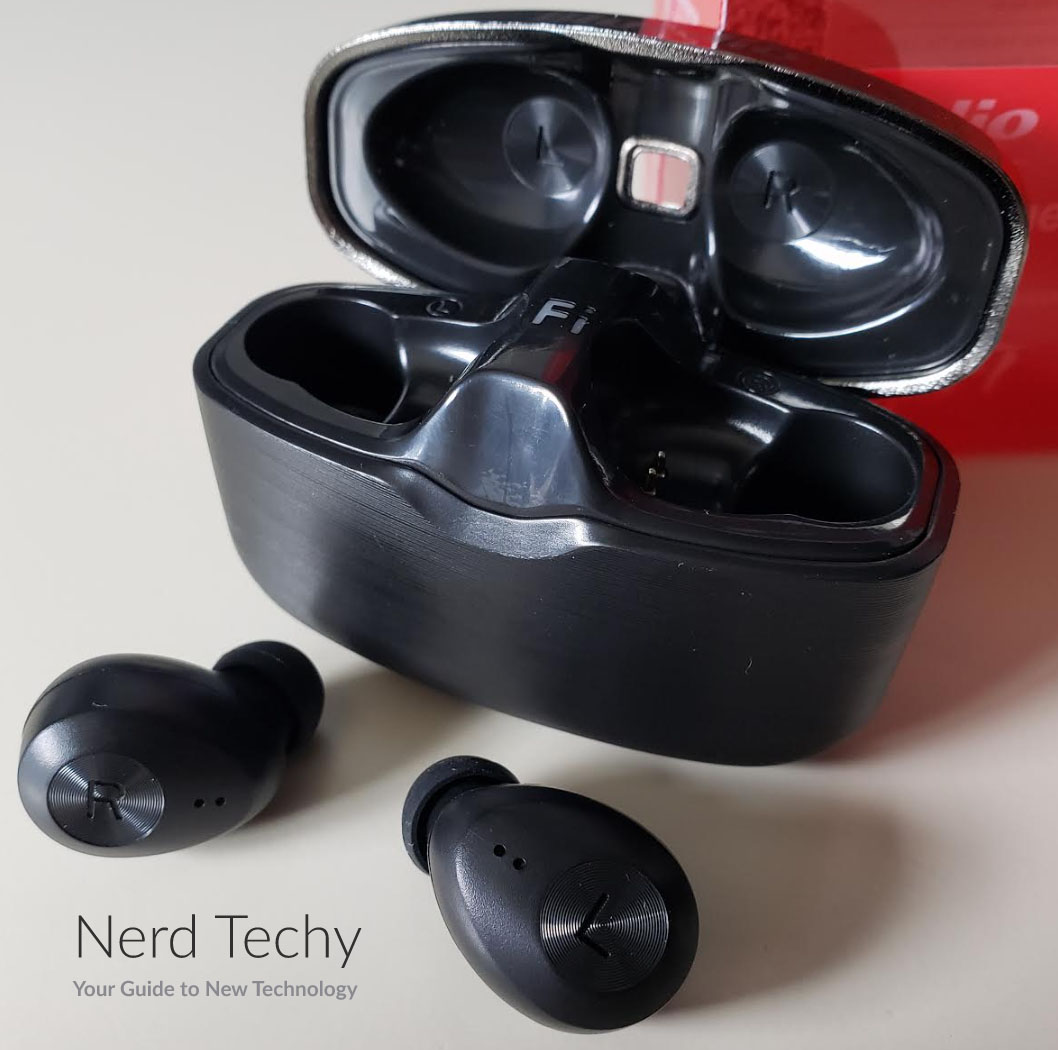 Right off the bat, we noticed the small form-factor of each individual earbud. They're incredibly small (not much bigger than a US penny) and seem to carry an ergonomic design, judging by the shape and contours of each earbud. Looking closer, you'll see two tiny pinholes on the exterior of each bud. These two holes are the microphone and LED indicator. Above that, you'll notice a small "L" or "R" that determines which bud is meant for each ear. Turning the earbud over, you'll see the copper-colored charging contacts on the interior-side, in addition to the foam tip.
As far as the charging case goes, it boasts a pretty standard appearance. With a shiny silver lid (that loves to show fingerprints) and a magnetic latching lid with a hinge design, open it up to expose each charging slot for both individual earbuds. On the back is the USB charging port. Overall, the case is nice and compact. Measuring about 2.5 inches wide, 1 inch deep and 1.5 inches tall, it's easy to see how portable and easy the case and earbuds are able to fit in virtually any pocket.
Opening up the case, it's obvious to see how the earbuds can be dropped into each slot – just plop each one in and it'll make contact with each charging thimble inside. Immediately, you'll see the LED indicators light up – one on each earbud and one in the center of the case and lid.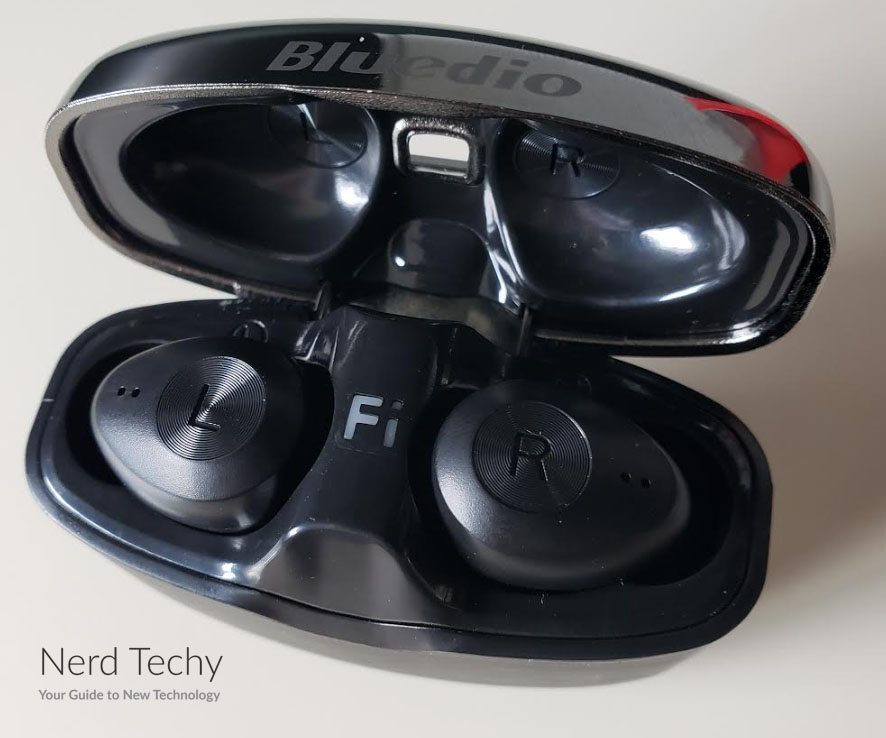 Once you remove the earbuds, they'll immediately go into "pairing mode". Pairing is represented by quick-blinking LEDs, indicating that you should search for available Bluetooth connections on your smartphone or device you want to pair them to. The process is easy and only needs to be completed once for each device. Afterwards, the buds will auto-pair to the device so you don't have to manually select them each time you want to use them.
Comfort & Fit
As we mentioned previously, the Bluedio Fi are quite compact – much smaller than many of the other earbuds we've reviewed in the past. For starters, take note on which earbud is meant for your right or left ear. You can do this by noticing an "R" or "L" inscribed on the exterior of each bud. Place each one into your respected ears and give it a soft press so it lodges into your ear in a snug manner. It's important to achieve a proper fit if you want to enjoy the best possible sound. If you place them in your ears and they wiggle or fall out, take a moment to swap out the tips for different sizes. Three pairs are included – small, medium and large, with the medium ones being pre-installed.
We found the fit to be quite nice and offer a decent amount of comfort. In fact, throughout several hours of use, we didn't feel any discomfort or an urge to take them out. This is definitely a good thing! The small form-factor seems to perfectly cover each ear canal and isolate the soundstage to your inner-ear. Perfect!
Sound Quality
On paper, the Bluedio Fi have a lot going for them in terms of the latest technology. Equipped with APT-X and the newest Qualcomm 3020 chipset, the sound quality seemed to be pretty amazing – especially considering that these are more of a "budget-friendly" option. We tested several genres of music including trance, hip-hop, rap, classic rock, heavy metal and even some jazz. We were pleased with excellent clarity and a proper balance of high and medium tones. When it came to bass, it was a tiny bit lacking but still not upsetting. The bass was nice but not as deep as some over-ear headphones we've recently tested, such as the SoundSurge 90. This is almost obvious though, since earbuds usually have a tougher time duplicating these favorable low-tones. Needless to say, in-ear headphones and over-ear headphones are completely different animals.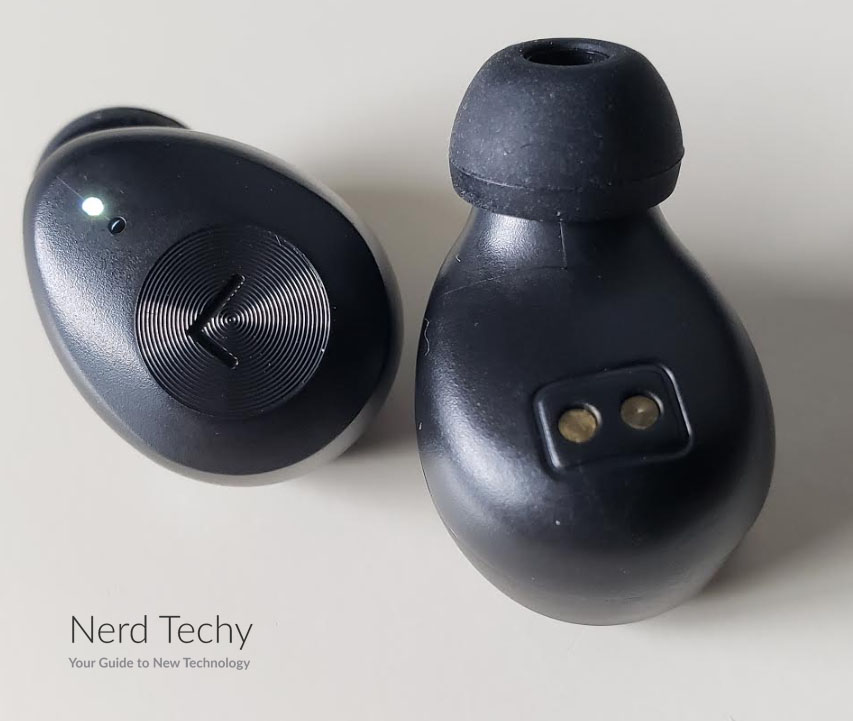 As far as distortion goes, we're pleased to say that it's very minimal. Only on the highest volume setting did we ever experience some distorted tones when it came to low tones. But realistically, we can't see anyone listening to these on full-blast. A volume level of around 70 to 80 percent seemed to be the perfect sweet-spot for sound quality. Turn it any higher and you might come across some blur, any lower and the music isn't as enjoyable. That's just our opinion though, some listeners might experience different effects based on the specific songs they're playing.
As far as noise cancellation goes, we felt like it was on-par. Background noise was isolated quite well, considering we had a snug fit. The Bluedio Fi aren't equipped with "active" noise cancellation, but they do a great job at passively blocking outside noise so it doesn't become a distracting mess when you're listening to your favorite tunes.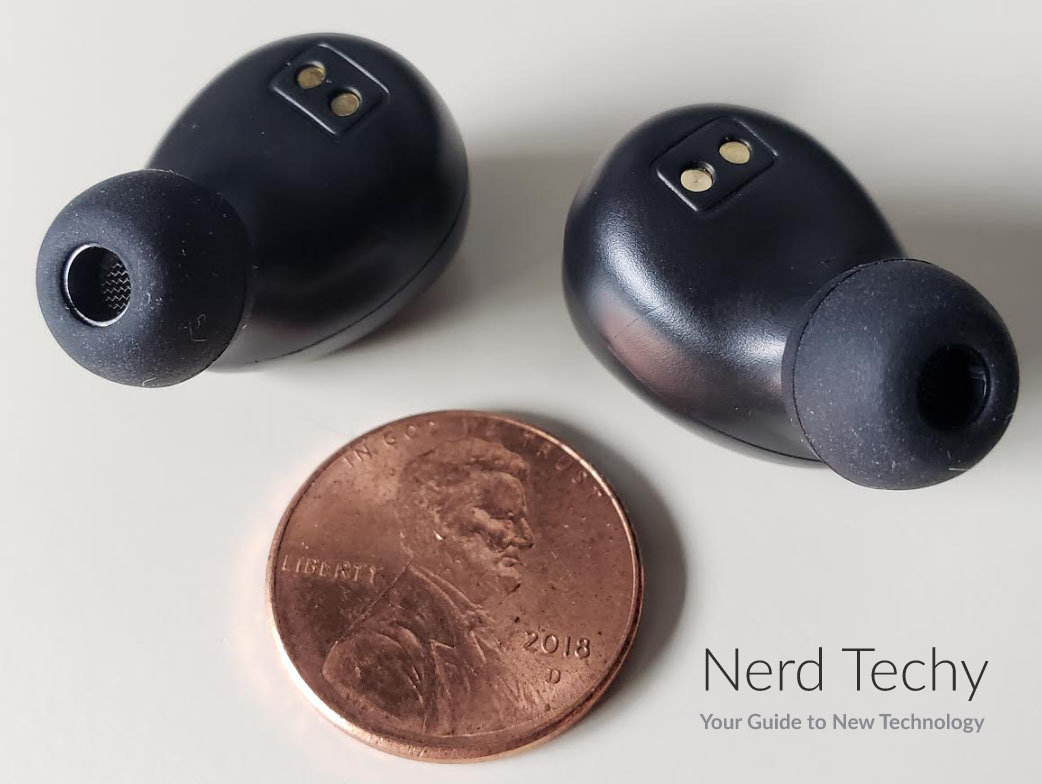 Battery Life
The Fi earbuds are quite compact, meaning that Bluedio may have had to compromise the size of the internal batteries to fit the small form-factor. Luckily, it doesn't seem like the sacrifice is quite obvious. They advertise a 6 hour battery life for the earbuds and up to 4 additional re-charges with the charging case. The idea is that you charge the case, place the earbuds into it and when you're not using them the earbuds are topped off to their maximum battery level. This way, you only need to charge the case for every 24 hours of playtime.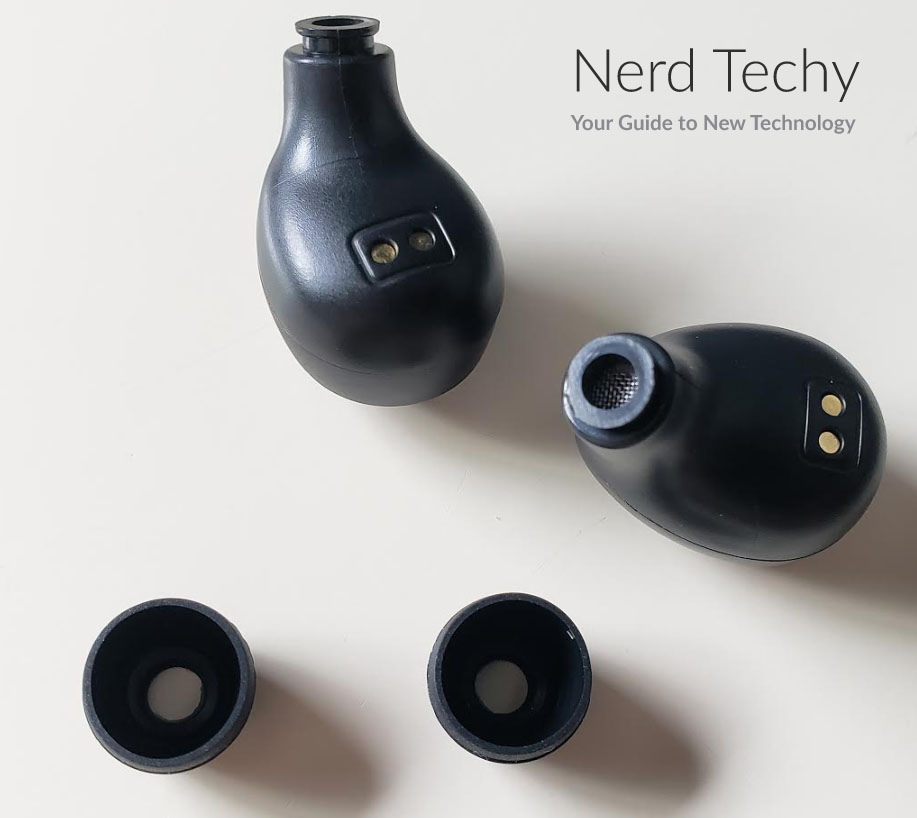 We didn't want to just take Bluedio's word for it when it came to battery life so we did a little testing on our own. Once we confirmed that each earbud and the case was fully charged, we began using them. After about 5 hours of listening at ~70% volume level, we noticed a "low battery" warning. Once 5 hours and 30 minutes came hit, they powered down and required additional charging. With this, we think the 6 hour battery life is definitely achievable, you just have to keep the volume slightly lower. Keep in mind, this means that at louder volumes you won't get the same battery life as if you were to listen to them at 50% volume. Even so, 5 hours of battery life is decent!
As far as the charging case goes, the "24 hour" estimate seems to be quite accurate. In fact, we achieved 5 full recharges from the case before the case battery died. Plopping each earbud into the case is a simple way to keep them charged-up and ready to go while protecting them at the same time. We dig it!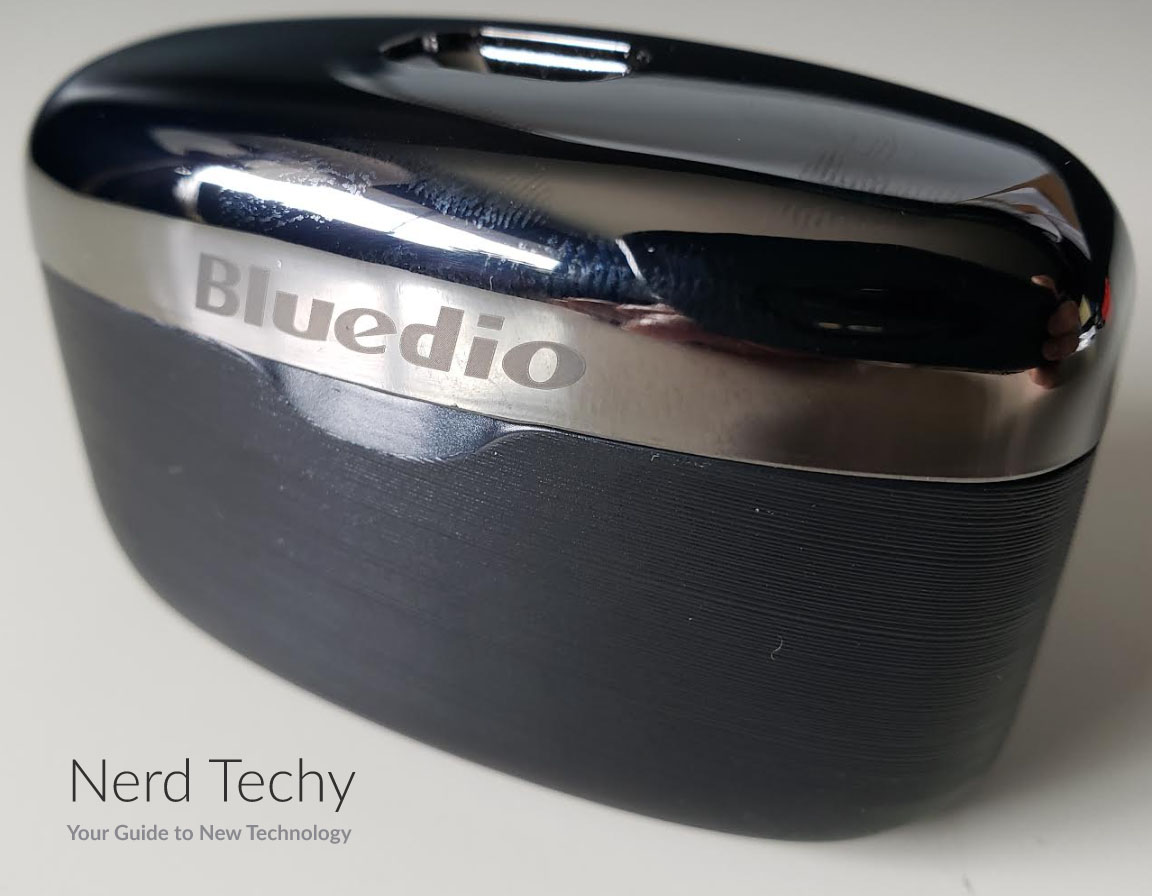 Wireless Range
Bluetooth connectivity has its limitations. When it comes to wireless range, or the distance between the earbuds and the paired device, you'll want to keep them under 50 ft. from each other. And when we say 50 ft, we mean 50 feet line of sight with no obstructions in the way. Once you put a wall or two in the way, you may experience a drastic amount of lag. This is to be expected but in our opinion, seems adequate. After all, you likely won't find yourself in a situation where your paired smartphone won't be within arms-reach.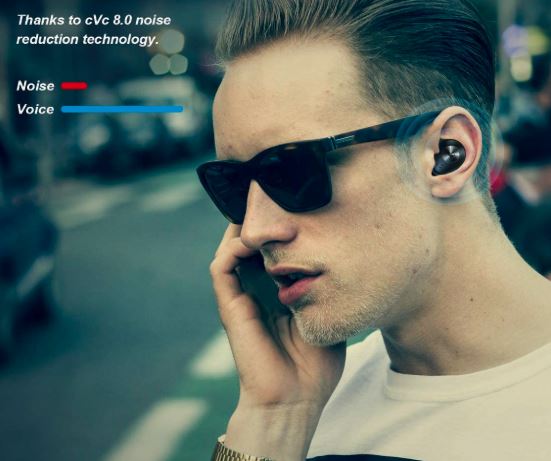 Call Quality
Although not all of us make phone calls through a Bluetooth headset, it's nice to see that this is an option. In fact, since each bud is equipped with its own microphone, we found that they work quite well for making and receiving phone calls. Thanks to the included CVC noise reduction technology, the person on the other end of the phone call didn't seem to notice that we tested them while aboard a transit bus in downtown LA. Even in noisy environments, calls seemed to sound nice with little to no distractions in the background.
Durability
The Bluedio Fi earbuds feel like they're built well, but one thing we were slightly disappointed by was the lack of IP rating. What's that, you ask? IP rating is an important rating for electronic devices that sets standards for water-resistance and dirt ingress. In other words, there's no word from Bluedio if these earbuds are able to withstand constant moisture or rainwater. Taking a close look at them, you'll see a few exposed joints (cracks) that moisture could potentially enter. And with no IP rating set, it's difficult to say how they'll hold up to the elements.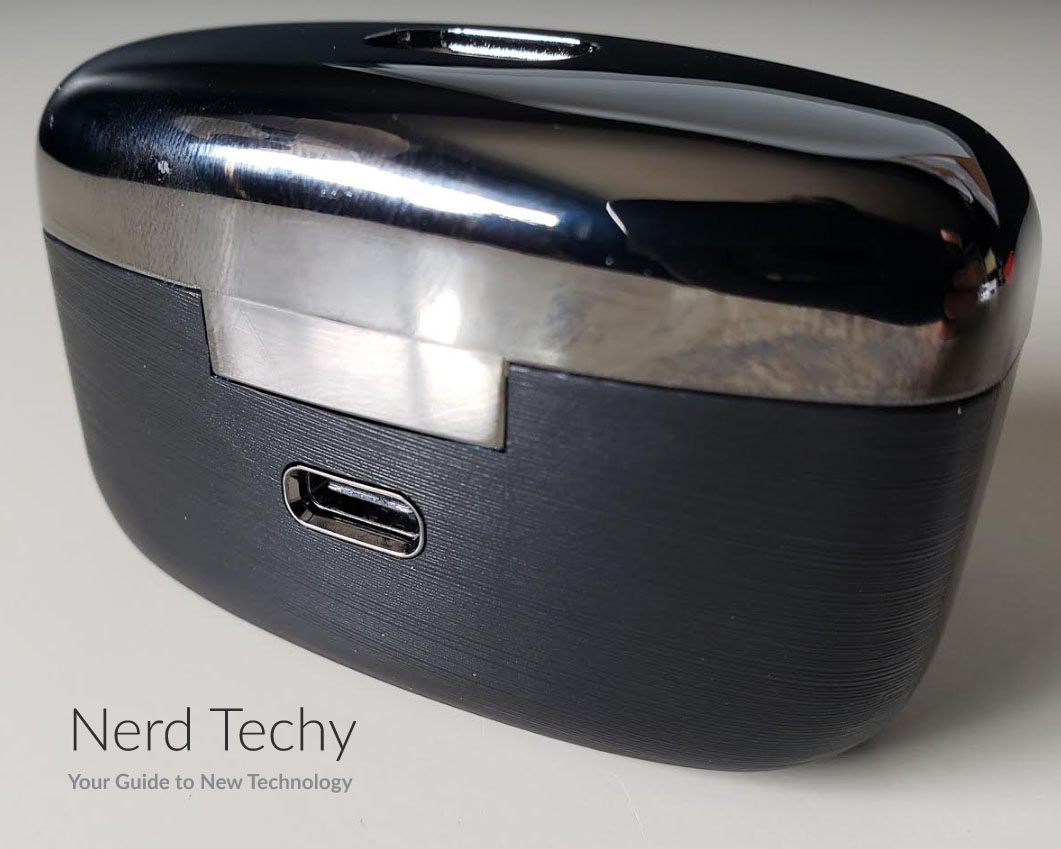 That being said, we'd suggest using them indoors or in fair weather. We doubt that a little sweat or rain would truly harm them, but there's no guarantee. Other earbuds like the Enacfire Future Plus have an actul IP rating that proves they are water-resistant and can withstand full submersion into water.
Final Thoughts
Although the Bluedio Fi True Wireless Earbuds aren't the absolute best of the best, they still offer a lot that we can appreciate. Overall, the sound quality is superb, with only a few flaws here and there. They fit nice with a small form-factor and boast a healthy amount of battery life, all things considered.
The charging case is a nice addition and seems to work quite well. Although the case shows fingerprints on the lid, it has a magnetic clasped lid that keeps the earbuds secured and charging while not in use. Best of all, it's small form-factor favors those who want to bring their earbuds with them on the go.
If you're looking for a pair of earbuds that don't break the bank but still provide exceptional quality in most regards, the Bluedio Fi seem to fit that bill. Yes, they can't compete with earbuds priced well over $100, but most people will be perfectly happy with them.