Today we are going to fire off some Canons at each other and see which one comes out on top. All three of the printers being reviewed were designed to get photo quality color prints so right away you know these are not standard document printers for the office. These printers also each have borderless photo printing abilities so we narrow down that target market and you should recognize whether you fall into it.
The Canon Pixma TS series has three new products on the market to meet a variety of consumer needs. The key difference between these three printers is a matter of individual features. For example the TS 6320 is the only one out of the three that doesn't have memory card support. Another differentiator is how they each handle ink. As you move up in quality and features you move in in price but there is a hidden factor that must be noted in order to maximize the cost benefit ratio of a printer purchase.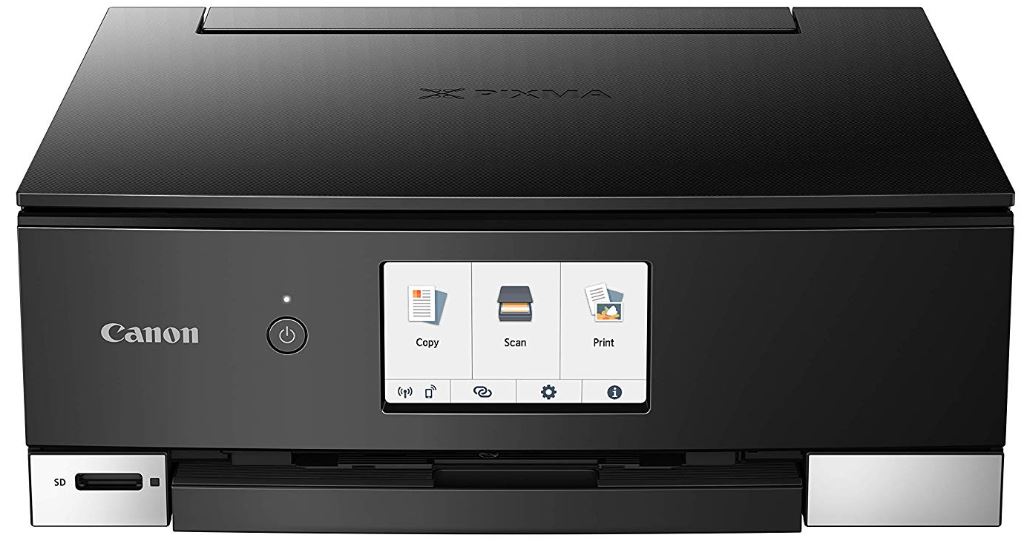 First Look
These three printers side by side might seem like a standard scale for basic users to intense users, however do not let the model numbers and price points deceive you. When you are out buying a printer you are doing so because you print often enough to make the investment worth it. Wandering into the Canon field means you are interested in a photo realistic blast of quality color prints and not just basic black and white text documents for which a Monochrome Laser Printer might serve you better.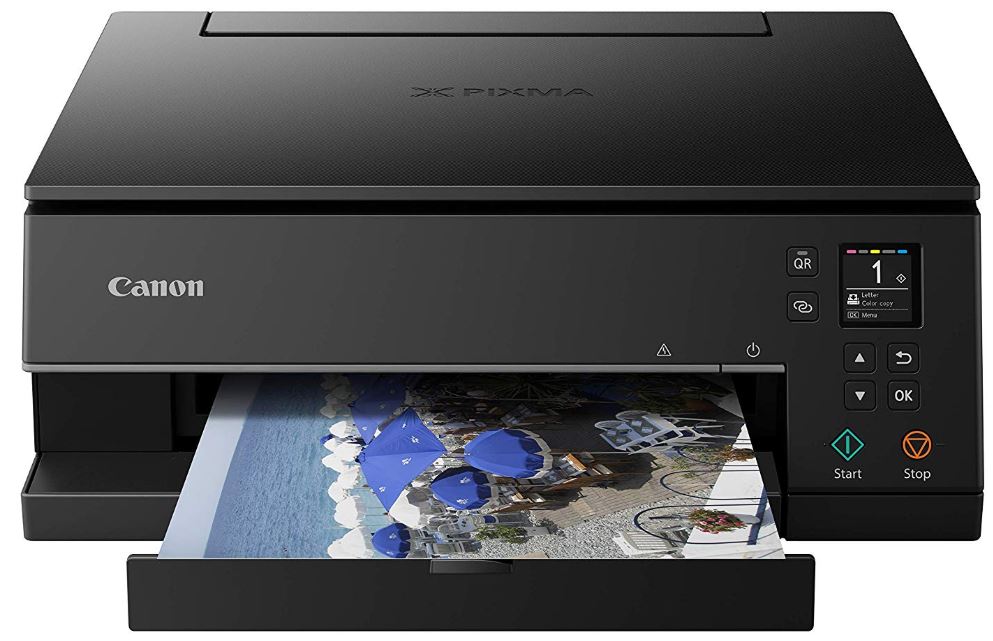 When you actually take a look across the general features of the printers there doesn't seem to be a great different at first glance. Yes, there is that memory card support, and the TS 8320 is the only one out of the three that has CD/DVD printing and support for Nail Sticker printing with the Canon nail sticker creator app. But those features are not what make the real difference.
Where you need to look is at the printer mechanism and cartridges utilized.The TS 5320 utilizes 2 ink cartridges in total, the TS 6320 utilizes 5 individual cartridges, and the TS 8320 takes a total of 6 ink cartridges. It is easy to think the fewer the better since you will need to buy fewer cartridges numerically, however this is a trap.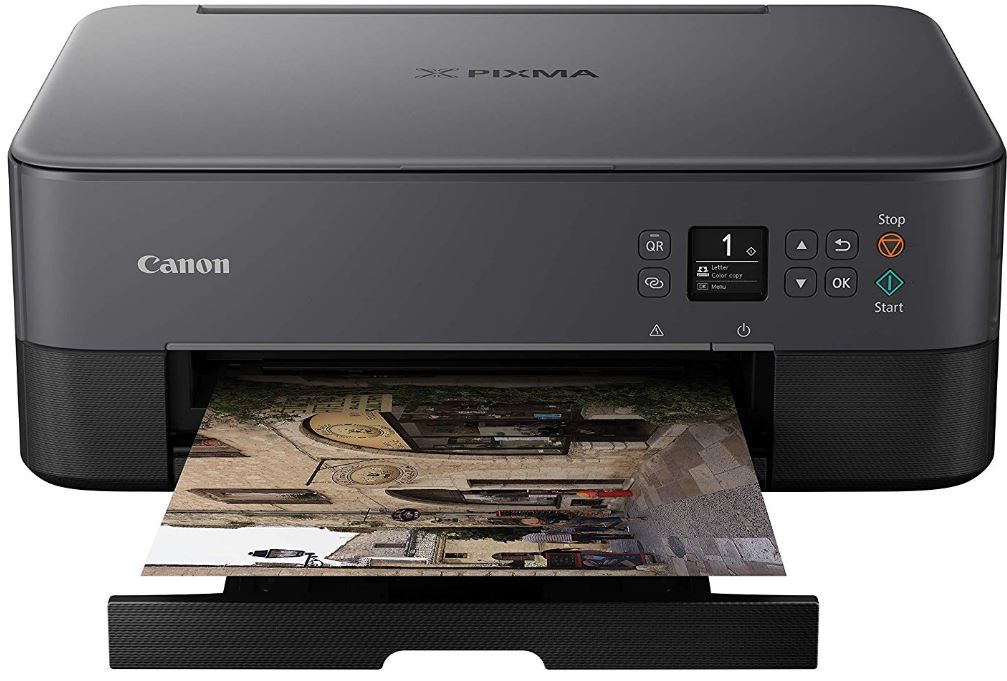 Printing & Ink Cost
So why would buying five or six cartridges make more sense than only buying two? The answer to that question is simply a matter of waste. When you are printing colors you do not print a perfectly even distribution of colors on every single print. This means if you run out of yellow but have plenty of cyan left you will still need to replace the entire cartridge. This waste adds up and costs you precious time and money needlessly replacing ink.
Canon tries to remedy this by offering XL packs giving the illusion of higher value since you will replace cartridges less frequently. The issue here is that you end up generating more waste in less used colors as well. The TS 5320 does however utilize a separate black ink cartridge so it doesn't suffer any waste when it comes to printing or mixing black.
The other two printers use almost exactly the same ink with only one difference. In the TS 6320 you use five cartridges numbered CLI-280-281 and in the TS 8320 you use those exact same cartridges but with the addition of CLI-281 PB. The PB here stands for photo blue and is specifically utilized in photo printing. That means outside of photo printing here the two printers get the exact same value per print as they are equally efficient and use the same type of ink.
For those that want that extra bit of quality in their photo prints the CLI-281 PB ink does make quite a difference. When combined with the Canon photo paper it utilizes Canon's ChromaLife100 system for extra high quality and long lasting photos.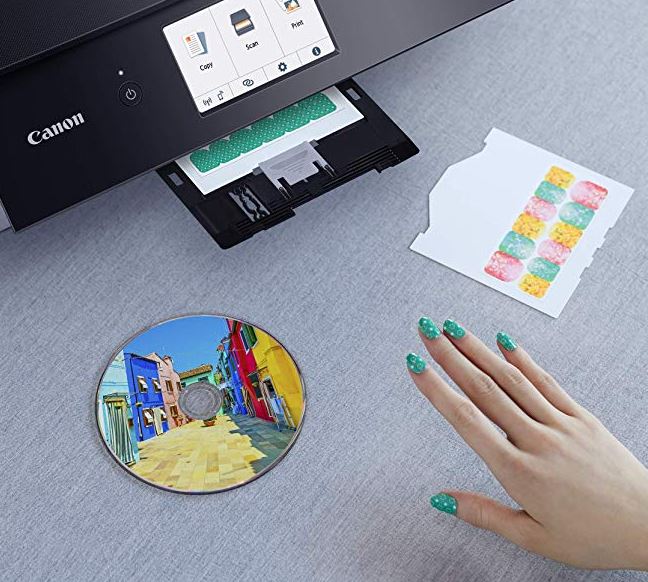 The ChromaLife100 system utilizing their PB ink and photo paper in combination with their Full-Photolithography Inkject Nozzle Engineering, otherwise known as FINE print head technology. FINE helps produce more vibrant prints that have color protection so they last longer and can endure exposure to light, heat, and humidity. Canon also states with their FINE print technology you can store photos safely for up to 100 years though we did not have the time to test this claim directly.
The TS 8320 has 5,632 color nozzles and 1204 pigment black nozzles totaling 6656 with a print resolution of up to 4800 x 1200 dpi. That is the largest number of nozzles out of all three of these prints yet the resolution in the TS 6320 actually matches the TS 8320 at 4800 x 1200 dpi with only 3072 color nozzles and 1024 pigment black nozzles totaling 4096. The standard quality between the two will not be noticed at all considering their matching resolution though the additional nozzles on the TS 8320 come in handy for the photo printing with the Photo Blue ink.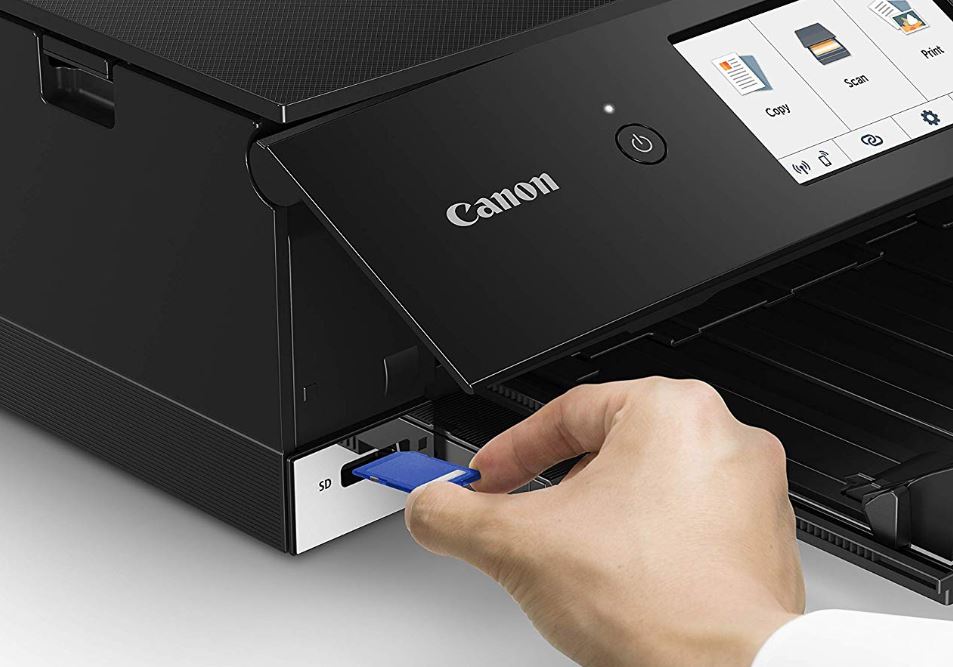 Design
The design of these three printers are fairly similar with some slight aesthetic differences that alter the user experience a bit. All three of the printers have flat top surfaces however unless you do not plan on using the scanner you cannot stack anything on top. The scanner is found on the top which is the design standard in pretty much every printer with a built in scanner.
The dimensions for each are 14.7″(L) x 12.6″(W) x 5.6″(H) for the TS 8320, 14.9″(L) x 14.2″(W) x 5.6″(H) for the TS 6320, and 15.9″ (L) x 12.5″(W) x 5.9″(H) for the TS 5320. These are all closed dimensions but as you can see the differences in size are very minor.
Visually the TS 8320 looks the cleanest. The 4.3 inch LCD touch screen makes everything on the printer easier to use in comparison with the other two models and looks quite nice. In comparison the TS 6320 & TS 5320 only have a 1.44 inch OLED display and LED status bar which is nice but not quite on the same level.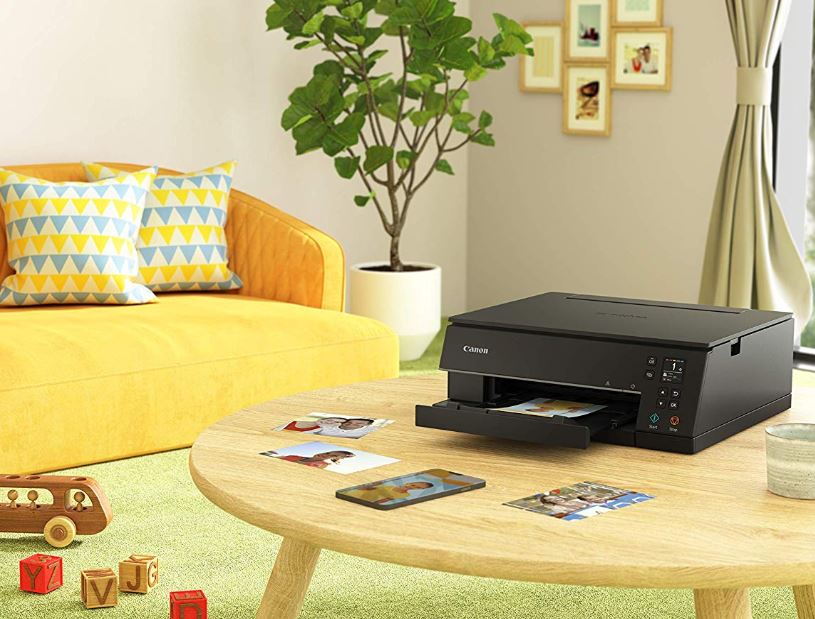 Wireless printing
All three of these printers are have wireless printing functionality. The wireless options are very extensive. They have Wi-Fi, AirPrint, Mopria, Bluetooth, and Cloud printing options. On top of that they also come with integration options for Amazon Alexa and Google Assistant so you can yell at your printer to print without the need to lift a finger. A great feature that most people might gloss over is utilizing the IFTTT functionality (if this then that). With IFTTT you can tell your printer to print articles from your favorite websites whenever they get posted or print on a daily schedule.
You can set up the wireless printing from your phone on both iOS and Android with a variety of apps including the Canon PRINT app, the Easy-PhotoPrint Editor app, and the Message In Print app. Though only the TS 8320 has compatibility with the Nail Sticker Creator app.
For those interested in decorating your nails the Nail Sticker functionality has your back. They have hundreds of templates or you can customize your own decals with photos or text. You can create your designs on the app and then print them from your TS 8320 then just peel them off and stick them on. That means if you want to print out the letters N-E-R-D-T-E-C-H-Y and wear them on your nails you can now do so!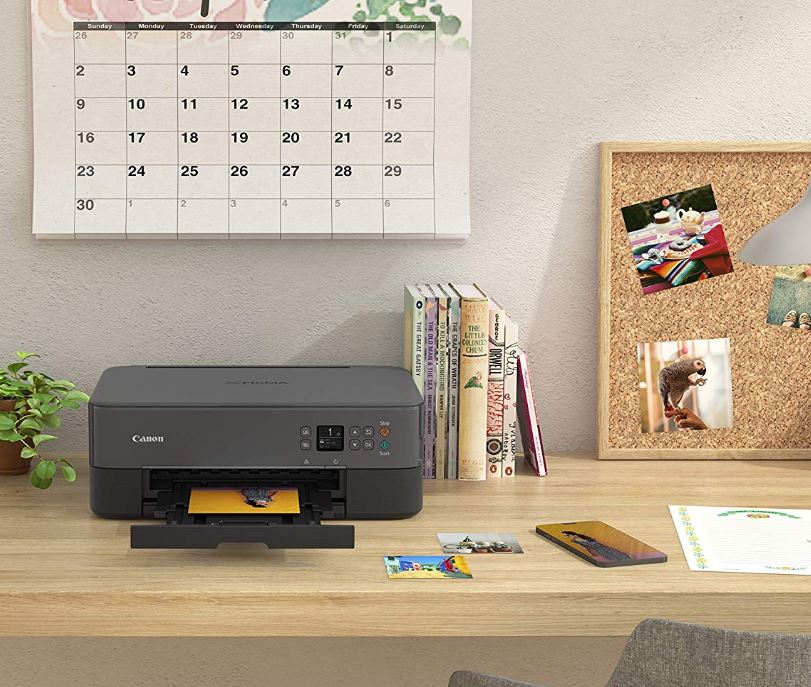 Speed
Speed always varies depending on what you are printing. Obviously black and white prints will print faster than color or photo prints. On the TS 8320 with a 4×6 inch photo you can expect it to print around 17 seconds with a borderless photo. That same photo dimension on the TS 6320 will take around 21 seconds so there is a distinct speed advantage for the higher model.
Print speed for black prints is measured in ESAT (Estimated Saturated Throughput) which is a standard developed in 2009 by the printer industry. This standard was adopted in order to give a direct comparison across various printer models and manufacturers using exactly the same method of measurement. That said, with both the TS 8320 & TS 6320 you can expect ESAT (Black): Approx. 15.0 ipm, ESAT (Color): Approx. 10.0 ipm.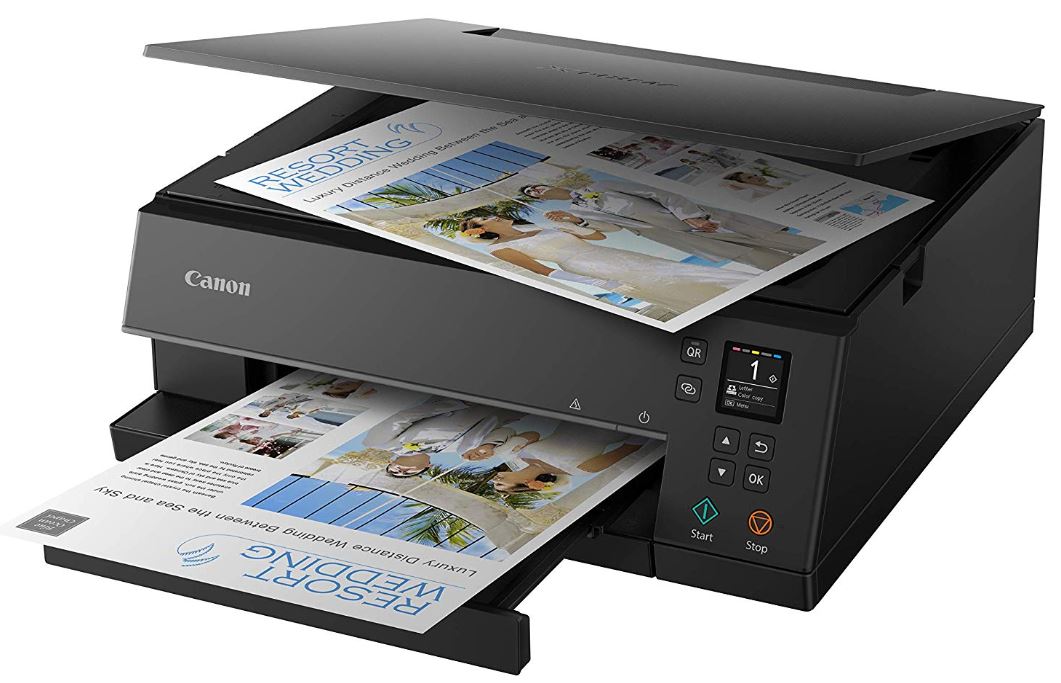 Scanning & Copying
There are some minor differences in scanning functionality. In all three you get the 2-on-1 Copy, Auto Exposure Copy, Document Copy, Fit-to-Page, Photo Copy, Reduction/Enlargement (25% – 400%), Standard Copy, & Two-Sided Copy, but only on the TS 8320 do you get 4-on-1 copying, disk label copying, photo reprint, preset copy ratios and photo fade restoration.
Disadvantages
The only major disadvantages you get with any of these printers is when you are printing a large amount of black and white. When printing documents the speed and print cost of a laser printer might serve you better. This gets slightly more bearable when you purchase XL cartridges for the lower cost per print but toner still wins on speed and cost in the end for black and white prints. This is especially the case if this printer will be located in an office, for that you might look at the HP OfficeJet Pro 8020.
Final Verdict
The only two real options here given the ink factor alone are the TS 8320 & the TS 6320. Printing with a combined color cartridge as in the TS 5320 is just too much of a waste of resources and that waste adds up in dollars over time. That being said, if you are looking to print photographs often, then the TS 8320 is clearly the better option here. The higher nozzle count and use of the photo blue ink make a significant difference. Though if you are only printing color documents then you wont see any major disparity between the 6320 and the 8320, unless you print a lot of 4-on-1 prints.
Personally the extra features of the 8320 and the sleek LED touch screen make the printer worth the extra price but at the end of the day it comes down to how you will be using the printer.