eMeet M3
Pros
Excellent mic quality.
Works with almost any chat or meeting software.
Can connect to two devices at once.
Long-lasting battery.
Comes with a convenient carrying case.
Cons
Mediocre speaker clarity.
Not suitable for use as a speaker.
The Covid-19 pandemic has permanently changed our business culture. While most companies have returned to work in the office, there's an increased reliance on technology. In the past, companies might have flown teams from coast to coast for routine meetings.
Even if it cost thousands of extra dollars, there was a strong focus on face-to-face interactions. But after more than a year of remote work, these kinds of meetings seem downright wasteful. There's a time and a place for in-person meetings and coast-to-coast flights. But you can do most routine business via phone or video chat.
At the same time, most of us have still returned to the office. Your team might not fly cross-country for a meeting, but you still meet in a conference room. The other team sits in a (presumably) similar conference room in their own building.
So we're relying less on Zoom calls with dozens of people with their individual webcams. Instead, we're relying more on traditional speakerphones and conference calls. That way, you get face-to-face interaction with your own team members, if not the other team.
But speakerphones have come a long way. Instead of a traditional landline, most of today's speakerphones work via a computer. Then you use a web service to make the connection to whoever you're talking to.
Without the need for a number pad or a handset, this means the phone can be a lot smaller. Many are even battery operated, which makes them great for travel. It also negates the need for wiring. You don't have to get a power cord to the center of a conference table.
eMeet OfficeCore M3 Speakerphone
With all of that in mind, we're about to review the eMeet OfficeCore M3 Speakerphone. This is a compact, hockey puck-shaped phone that can connect to two devices at once. It's compatible with almost any computer or software, and it's easy to operate. It also boasts a set of directional mics, so it can pick up voices from 360 degrees.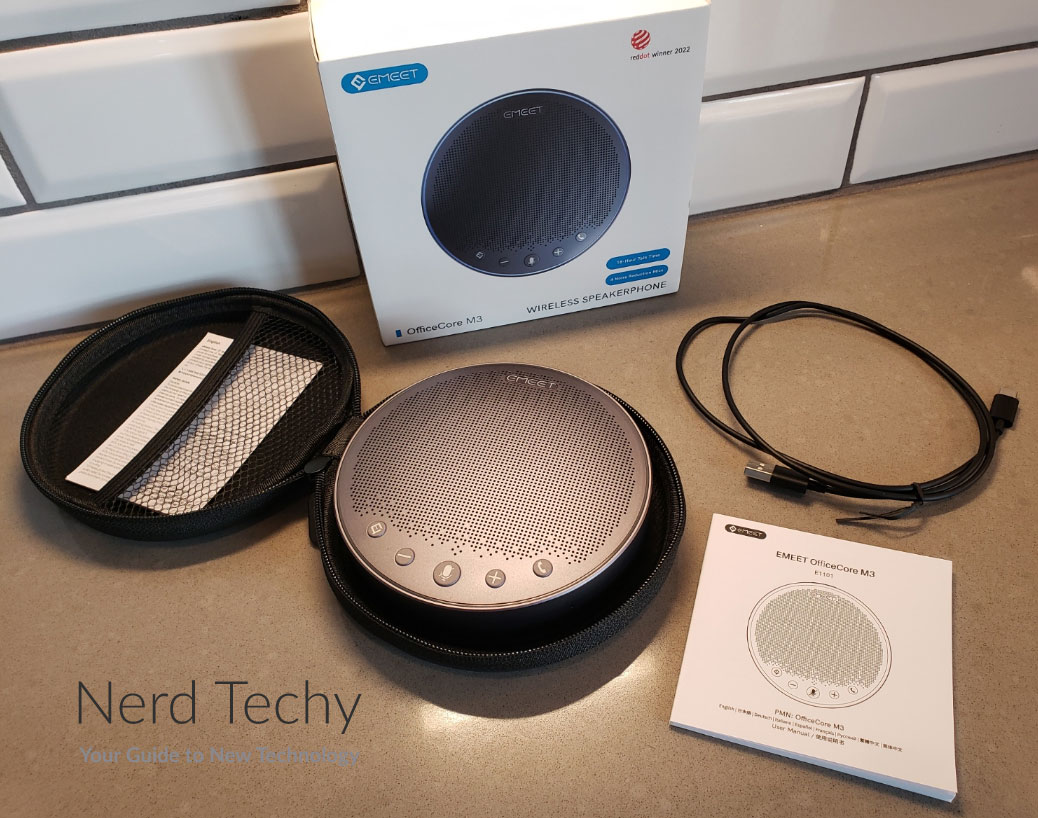 But there are a lot of things that go into making a good speakerphone. We need to talk about audio quality, as well as the volume and mute functions. We'll need to look into the connectivity and see how you hook the phone up. We'll also have to discuss any extra features, and evaluate the battery life. After that, we'll have a more complete picture of what we're dealing with. Let's begin!
Overall Design
The eMeet M3 Speakerphone is as small as they get. At 5.3 inches in diameter, it's shorter than most smartphones. And at only 1.4 inches thick, it's reasonably slim. It's also very lightweight, tipping the scales at just 0.86-pound. Put it in a laptop bag, and you won't even notice the extra weight.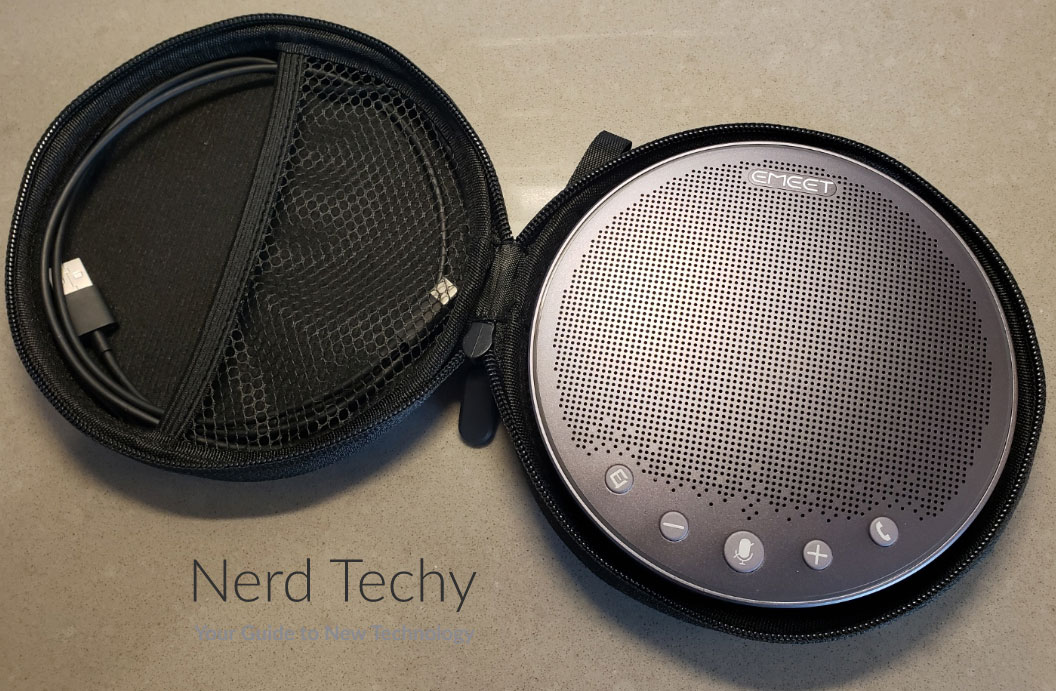 The housing is matte black, and will mesh well with most office décor. It's professional in appearance, with understated branding and no unnecessary visual flair. There is an LED right around the outside of the top, but as we'll see, this is a practical feature. Most of the rest of the top of the housing is occupied by the speaker, with buttons towards the front.
In the bottom of the housing, you'll notice a slot. This houses the USB receiver when it's not in use. The receiver is very small, so it could be easy to lose. Thankfully, it snaps securely into place in the storage slot. It's not going to fall out by accident without you prying it loose.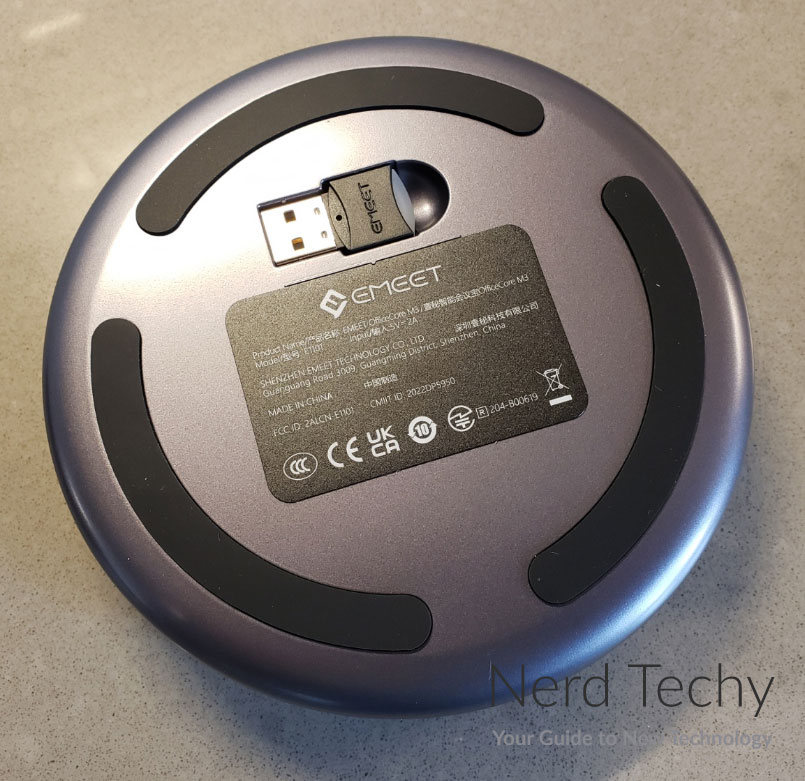 Inside the housing is a powerful 5,200mAh battery. This battery carries enough charge to use the phone for 18 hours straight. It takes only four hours to charge, so you should rarely, if ever have to worry about battery life. That said, there's an auto-shutoff feature that kicks in after an hour of silence. This is normally helpful. However, if the other side is doing literally all of the talking, it could be an issue.
The kit includes a USB Type-A to Type-C charging cable. It also comes with a protective zippered carrying case. This makes the M3 easy to take with you on the road.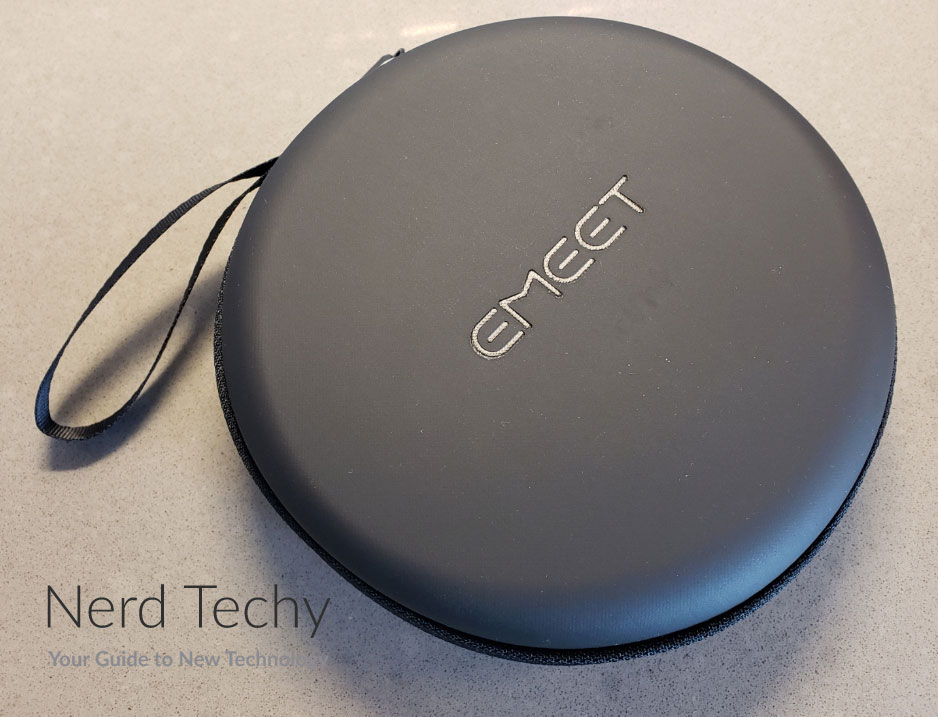 Controls
The controls consist of a set of five dark grey rubber buttons, located at the front of the top. These buttons are easy to press, and provide a reasonable amount of tactile feedback. Smack in the middle is a large mute button. When the phone is muted, the LED light ring will turn red to indicate that.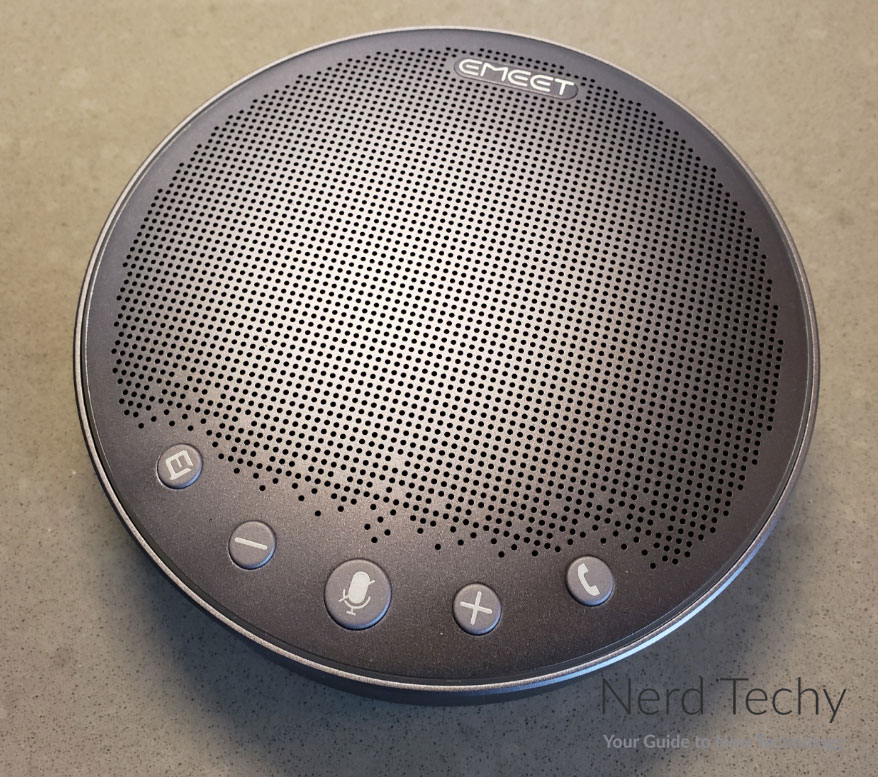 The volume buttons are located to the left and right of the mute button. There are 10 volume levels in total, so you get a decent range of adjustment. When you adjust the volume level, the LED ring turns blue, and acts as a meter. It will fill up as you increase the volume, and darken as you reduce the volume. The button on the far left is used for pairing, while the far right button is used for phone calls.
Additional controls are located on the back edge of the housing. These are more limited, with just two tiny rubber buttons: one for power, one for mute. There's also a set of ports here. The USB Type-C port can be used for connectivity or charging. There's also a pair of 3.5mm aux ports. We'll explain them both momentarily.
Connectivity
There are three different ways to connect the eMeet M3. Most people will want to use a wireless connection, in which case you have two options. To begin with, there's the USB receiver. Plug it into your PC or Mac, and you'll automatically form a wireless connection. This works the same way as a wireless mouse or keyboard. You can also connect via Bluetooth, negating any need to mess with the wireless dongle.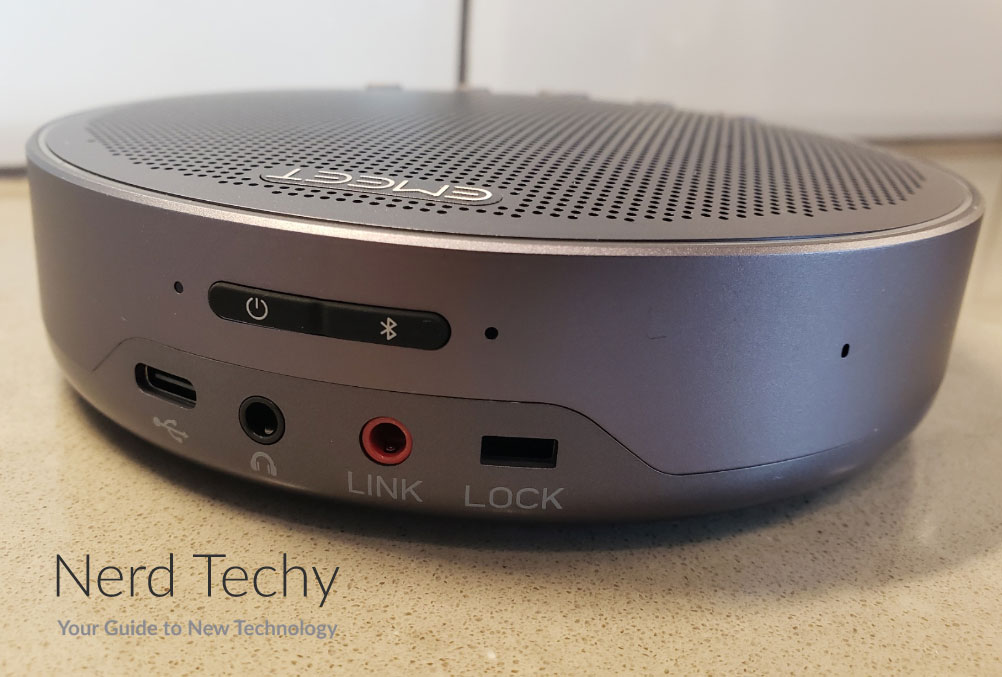 Alternatively, you can connect via a USB cable. This isn't as convenient or clean. However, it has a major advantage. It allows you to charge your battery while you're using the speakerphone.
You can connect to two devices simultaneously, using any combination of methods. For example, you could connect to your laptop via USB and your phone via Bluetooth. If you get a phone call while you're using your computer, the call will still come through.
You can also connect a headset and convert the M3 into a personal conferencing phone. The middle 3.5mm aux port has a headphone symbol under it. That's where you should plug in your headset.
If you want even more connectivity options, check out the eMeet Luna. It has a similar size and control functions. However, it can also connect to your PC via a 3.5mm aux cable, and it offers better audio quality. On the downside, it only has four hours of battery life.
Compatibility
The eMeet M3 is compatible with Windows and Mac. It also works with iOS and Android devices, so you can use it with almost any computer, tablet, or smartphone.
It also has wide compatibility with different chat software. It works with Zoom, Skype, Webex, and almost any other service. This only makes sense, since it's basically a computer speaker and microphones built into one housing.
eMeet makes all kinds of online calling tools, and not all of them are full-blown smartphones. The eMeet HS100 Bluetooth Headset is an excellent example. It's comfortable and ergonomic, with fat, beefy padding. It's also optimized for voice, and sports a battery that will last your entire work day.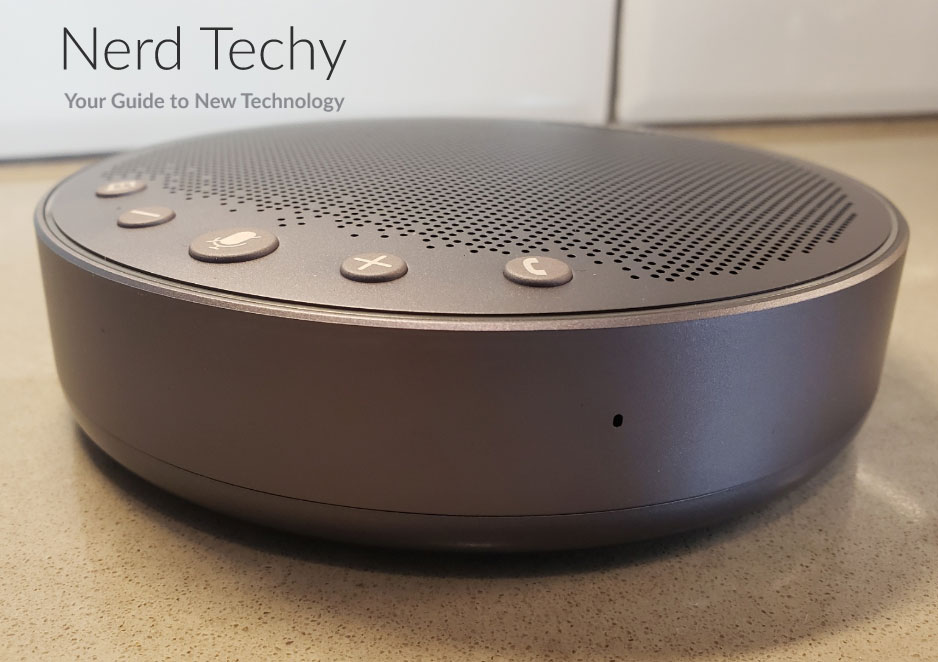 Call Quality
Call quality is probably the most important thing to consider with any speakerphone. On the receiving end, we were a bit disappointed. The 5-watt speaker is loud enough to fill a conference room, and the quality is good enough for conversations. That said, it's not very crisp. Try to play music with it, and you'll be disappointed.
That said, performance on the transmitting end is very good. There are four smart omnidirectional microphones spread around the M3's perimeter. When someone talks, the microphones will automatically focus on their voice and amplify it. You'll even see the LED ring turn green in the direction of the speaker.
Meanwhile, built-in circuitry is designed to filter out background noise. Keyboards clicking, chairs squeaking, and noisy A/C units won't interfere with your conversation. The noise cancellation works very well, and the other person will hear a very clear signal. In addition to that, you get built-in echo cancellation. You won't hear your own voice coming back at you from the other person's phone.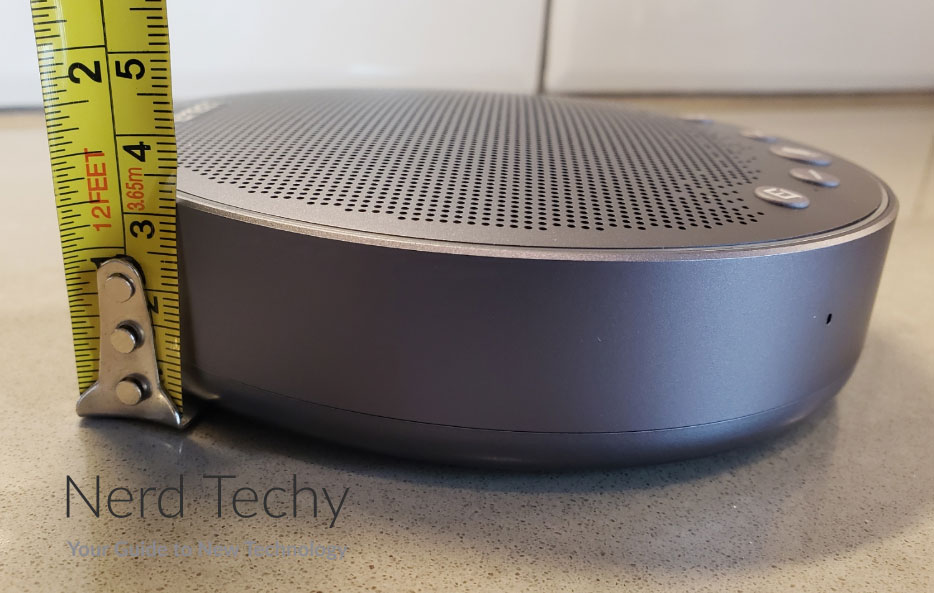 Extra Features
You can daisy-chain two M3 speakerphones together to double your coverage area. This is great for larger conference tables that seat up to 20 people. To do this, you need a 3.5mm aux cable that's long enough to span the distance. First, turn on one speakerphone and connect to your phone or computer. Next, plug the aux cable into the "Link" ports on both units. This will pair up the second speakerphone so they both act as one.
Another neat feature of the M3 is the Kensington lock slot on the back. This is incredibly helpful with such a small phone, especially in a public space. Without a lock, someone could slip the phone into a coat pocket and walk off with it. With a lock, you can secure it to your conference table or another heavy object.
The Kensington lock slot and daisy-chaining ability are two of three major improvements over the earlier eMeet M2 Speakerphone. The other improvement was echo cancellation, and there was a change to the control scheme. If you don't need these features, the M2 is a great choice, and it's also more affordable.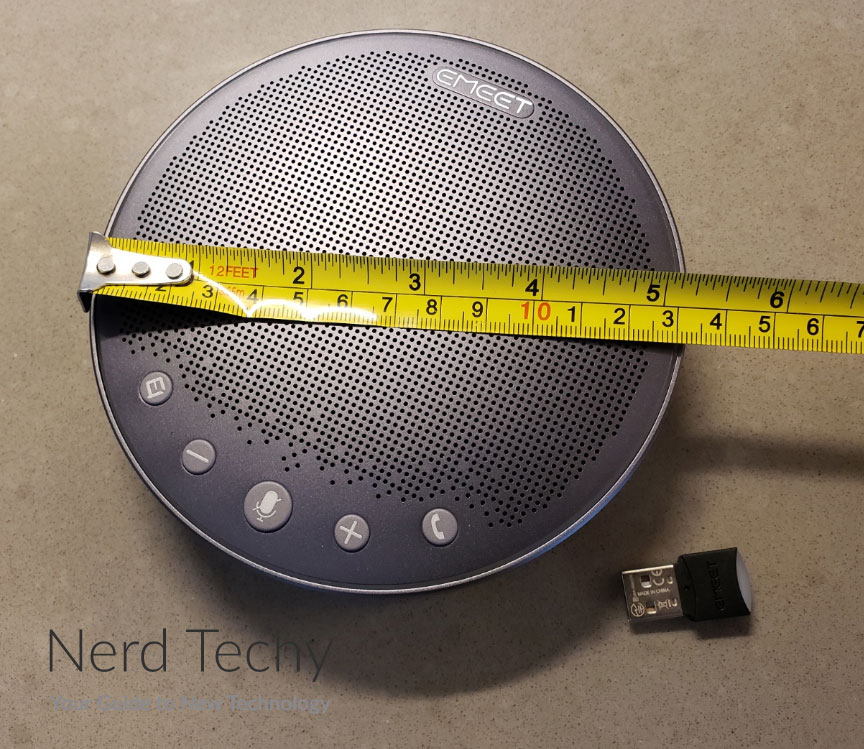 Final Verdict
As you can see, the eMeet OfficeCore M3 Speakerphone is a well-engineered conferencing device. It's easy to set up, and can be daisy-chained to work in a larger room. You can connect to two devices simultaneously, and work with almost any software. We also liked the control scheme, which is simple and intuitive. All in all, we were very happy.
Meet Derek, "TechGuru," a 34-year-old technology enthusiast with a deep passion for tech innovations. With extensive experience, he specializes in gaming hardware and software, and has expertise in gadgets, custom PCs, and audio.
Besides writing about tech and reviewing new products, Derek enjoys traveling, hiking, and photography. Committed to keeping up with the latest industry trends, he aims to guide readers in making informed tech decisions.