When building a home theater system, digital projectors are often viewed as the ultimate video display technology. Projectors produce a larger image, take up less space, and provide more flexibility in how you lay out your media room.
For a very long time, they were also the most expensive. As technology improved, manufacturers found an incredibly inexpensive way to manufacture LED projectors. Ever since then, there has been a flood of affordable projectors with almost impossibly impressive specifications.
What many consumers quickly realized was that these devices looked much better on paper, and their real world performance was disappointing at best. Today, there are some models on the market that provide a decent experience, but it's hard to know until you purchase.
We decided to go hands-on with the Hausbell Portable Projector. First, we'll rate it on a variety of aspects. After, we'll help you determine if this is the right choice for your home theater system.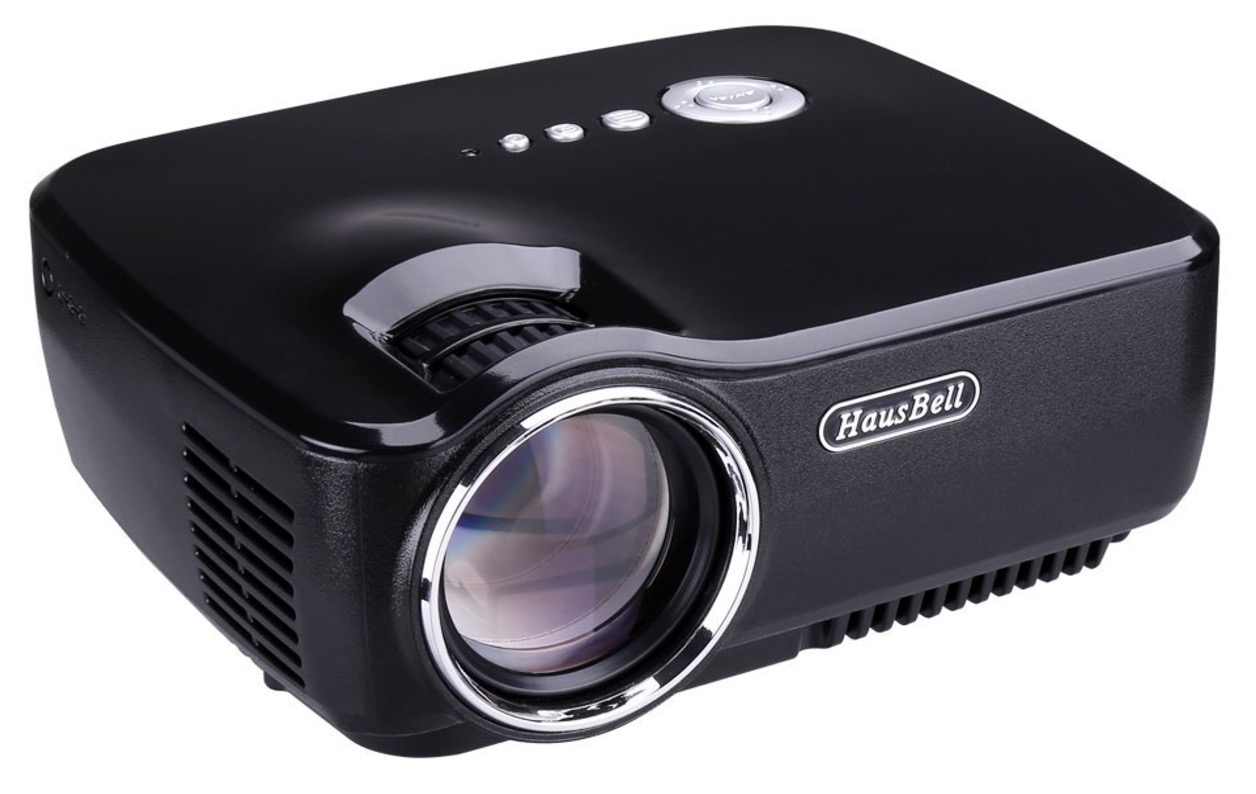 What's In The Box
The projector is packaged in a simple, but effective box. There isn't much additional space, which was likely done to save on shipping. Inside you'll find three accessories: a remote, a composite cable, and a power cord. It was a little surprising that an analog cable for SD video was supplied, but no HDMI cord was included. But upon closer inspection, we found that this was no ordinary composite cable. It has a VGA adapter on the other end, so it's clearly used to convert the inputs of this projector to support composite video.
A manual is also provided. The English isn't great, but the operation of the projector is relatively straightforward. Most of the info is laid out in diagrams, so you are still able to figure out its operation if you need to look something up.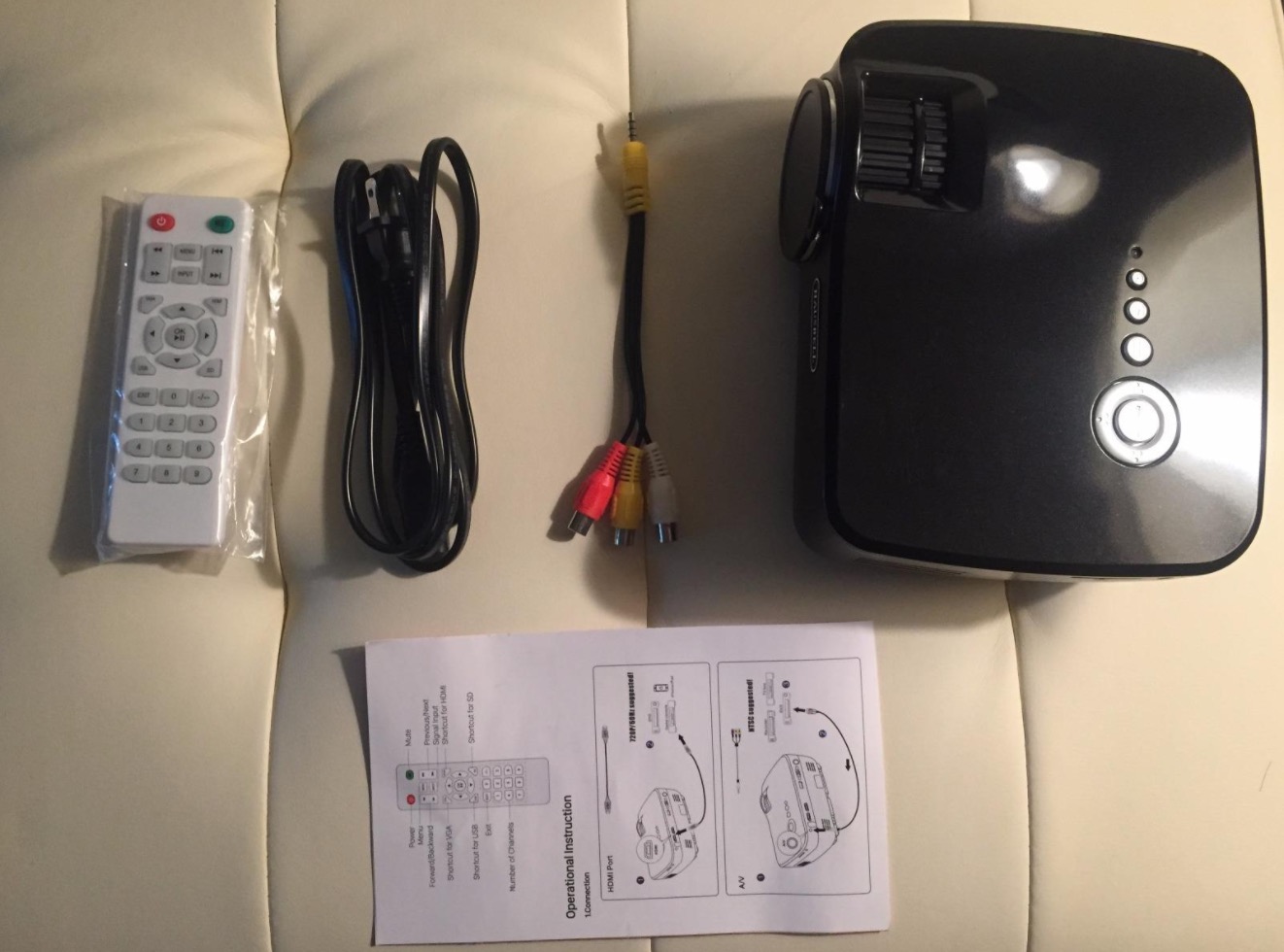 Design & Durability
Hausbell wasn't joking when they described this projector as Portable – it's small! At 6.29 x 7.46 inches square, it's just a little larger than the case of a Blu Ray movie. Thanks to the smooth plastic exterior gentle curves, it's comfortable to hold in your hand. The lens is recessed into the face of the projector, which protects it from dirt and scratches when you're transporting it.
Although the projector is plastic, it feels solidly made. We've certainly tested much cheaper feeling projectors in this price bracket, so feeling something so solid is a nice change. The top has a number of buttons that can be used to change settings, and navigate through the on-screen menu.
The buttons do feel a little cheap and have a squishy feel to them. Occasionally we wouldn't press hard enough, and the button wouldn't do anything, which is a common problem when there is no tactile feedback.
At the front of the projector, you'll find two rings next to the lens. This provides zoom to make the image larger or smaller, as well as keystone correction. Keystone correction is used to address the angle of the projector. If you've got the projector on a coffee table pointed up at the wall, your image won't be square. But keystone correction gives you some flexibility, so there is no awkward skew to your image.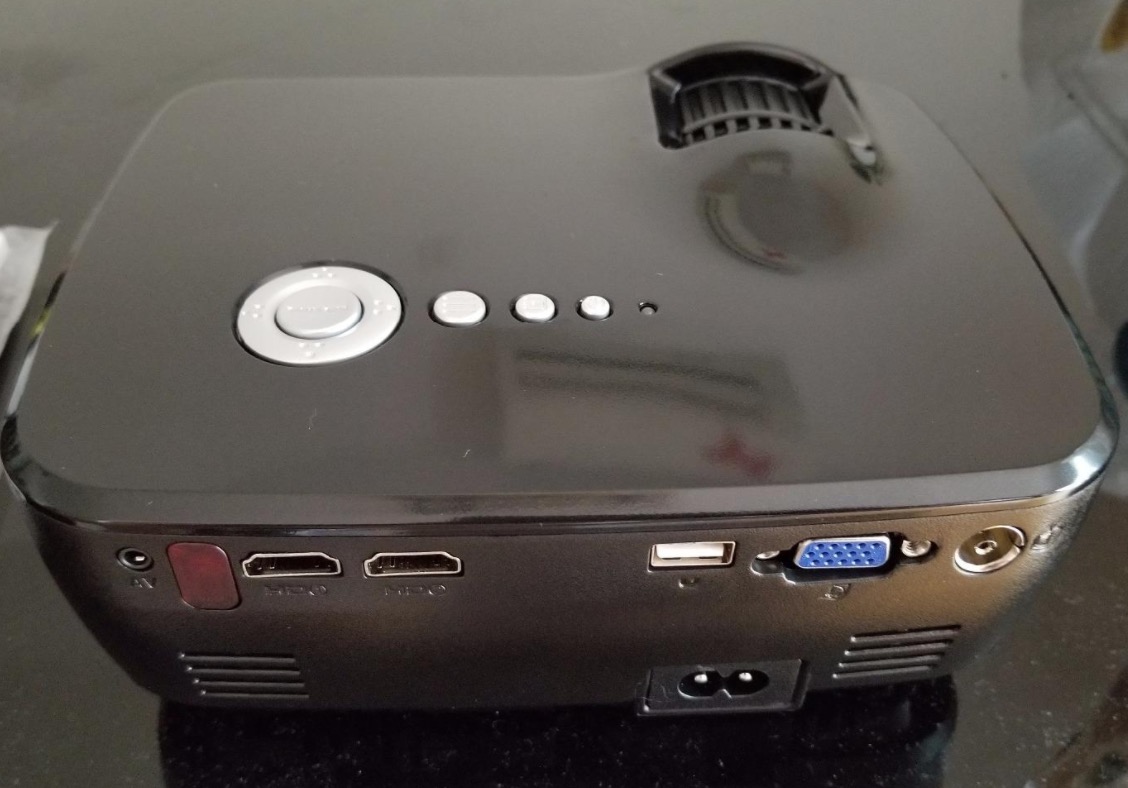 Connectivity
You can connect both HDMI and VGA sources to this projector. Two HDMI ports are included, one of which supports MHL. MHL lets you use an adapter to connect the Micro-USB port of your phone to HDMI. Active MHL is supported, while passive is not. This means that the cheap adapters you find might not work, but the more expensive active adapters are fully supported. This also allows you to use streaming sticks such as a Chromecast or Roku. The USB port provides 2.4A of power so you won't need to connect a separate power adapter to your video source. But first, check if you're using a USB data blocker, and remove it, if so.
The VGA port can connect directly to your computer, but can also be adapted to play back SD content. A VGA to composite input is provided, although there is no support for S-video.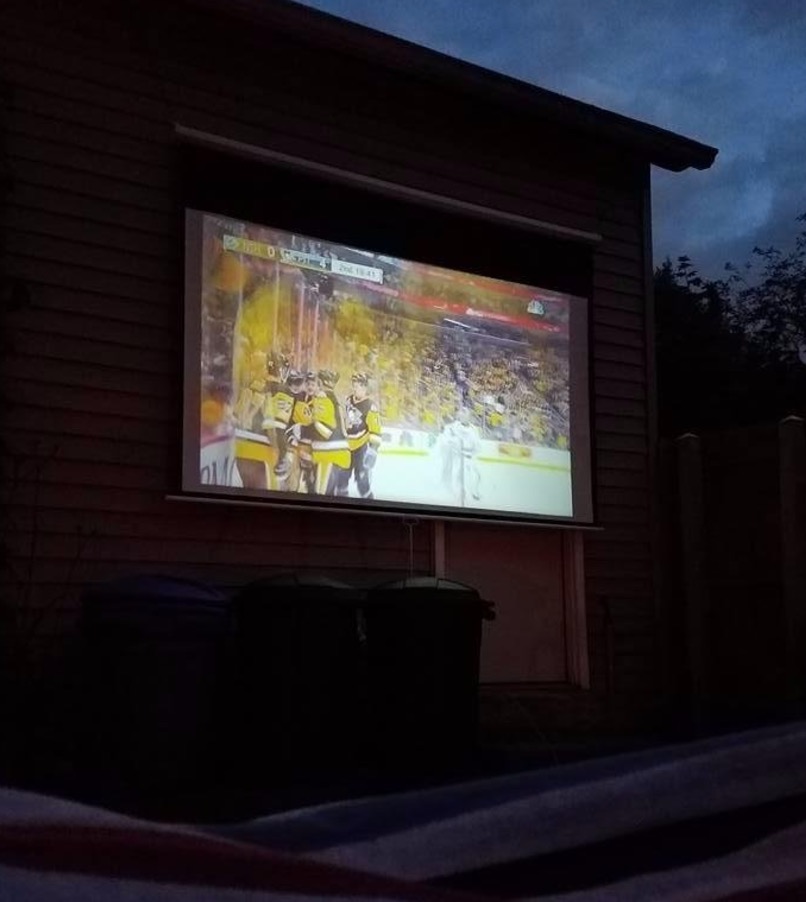 Resolution
The biggest drawback of these compact projectors is that they don't support a True-HD resolution. Although it says 1080p on the box, the projector is downscaling from this resolution.
The gross majority of affordable projectors have a native resolution of 800 x 480. This widescreen resolution is known as EDTV. It's more detailed than SD, but not as detailed as HD. This projector is a little different though – it has an 800 x 600 native resolution.
What's odd about this is that 800 x 600 isn't a widescreen resolution. It's 4:3 – the same aspect ratio as SD TV.
This resolution has both advantages and disadvantages. If you're viewing widescreen content, there will be black bars at the top and bottom. You're only using 480 vertical pixels. For this kind of content, there is no advantage to this resolution over a projector that comes with 800 x 480 standard.
If you're viewing full screen content, you're then able to take advantage of the full resolution offered. For movies and television, this has no advantage. But if you're using this as a data projector, the video will be much clearer.
That's the reason that most projectors say "not suitable for data use." Your content is stretched and skewed, and text is hard to read. But this model maintains the proper aspect ratio, and keeps everything clear. If you set your computer to 800 x 600, there will be no distortion of the text at all. Everything is sharp and clear, giving you the ideal result.
You shouldn't expect HD levels of detail, but the content is still entirely watchable. For casual users, you won't have any complaints.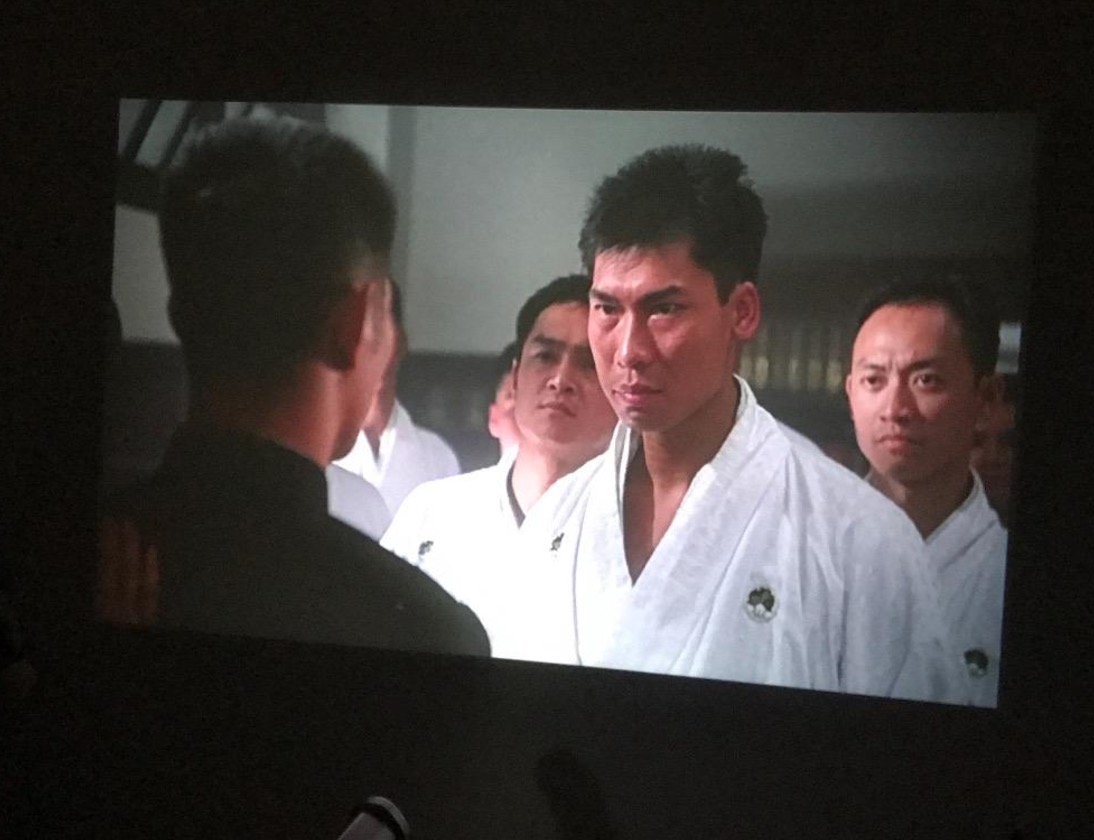 Brightness
Low brightness is one of the other major issues that plague portable projectors. Brightness is environment dependent. In perfect darkness, a dim projector won't look that bad compared to a bright one. But when you've got a light on or the sun shining through the windows, a dim bulb has trouble overpowering your environmental lighting.
At 1500 lumens, this is one of the brightest projectors in this price bracket. You can use it outdoors or in a partially lit room. Colors are sharp, and contrast is well defined.
You shouldn't expect to be able to use this in full daylight but compared to other models the experience is much better. You don't have to worry about getting an entirely dark room, which drastically improves functionality.
Screen Size
Most projectors have a fixed throw ratio. For ever foot of screen width you want, you need to place it a certain distance back from the screen. This one has some relatively advanced optics. You can use zoom to nearly double the size of the screen.
Technically, screen sizes of up to 220 inches are possible with the projector only placed about a meter back from the wall. This makes it a short throw projector. In our tests, we found that that it looked best with screen sizes ranging from 60 to 80 inches. Any larger than that, and the low resolution started to become more apparent.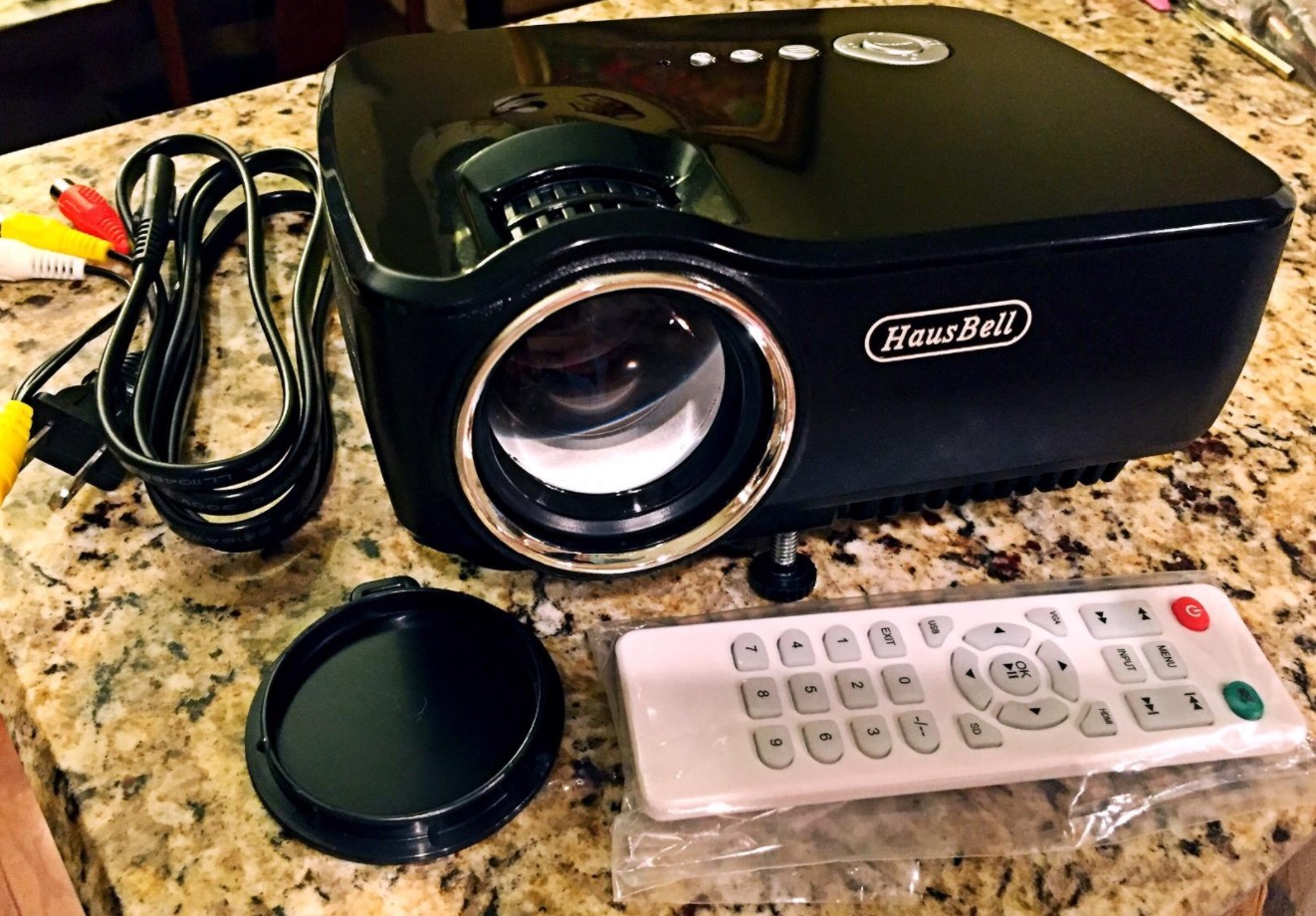 Disadvantages
Two of the included features were found to be a little sub-par. The built-in speaker was fairly tinny, and didn't get too loud. In a pinch it will do the job, but you shouldn't expect performance any better than your typical laptop speaker.
The next issue we had was with the media player. You can connect a USB thumb drive or SD card and play your video files directly from the projector itself. It did work, but there are a lot of limitations on what kind of video you can watch. MPEG encoded video worked, as did some AVIs. But there is no support for DIVX or modern encoding schemes. If you're pulling video files from a cell phone or digital camera, they will work. But if you're downloading your video, there is a good chance it won't play.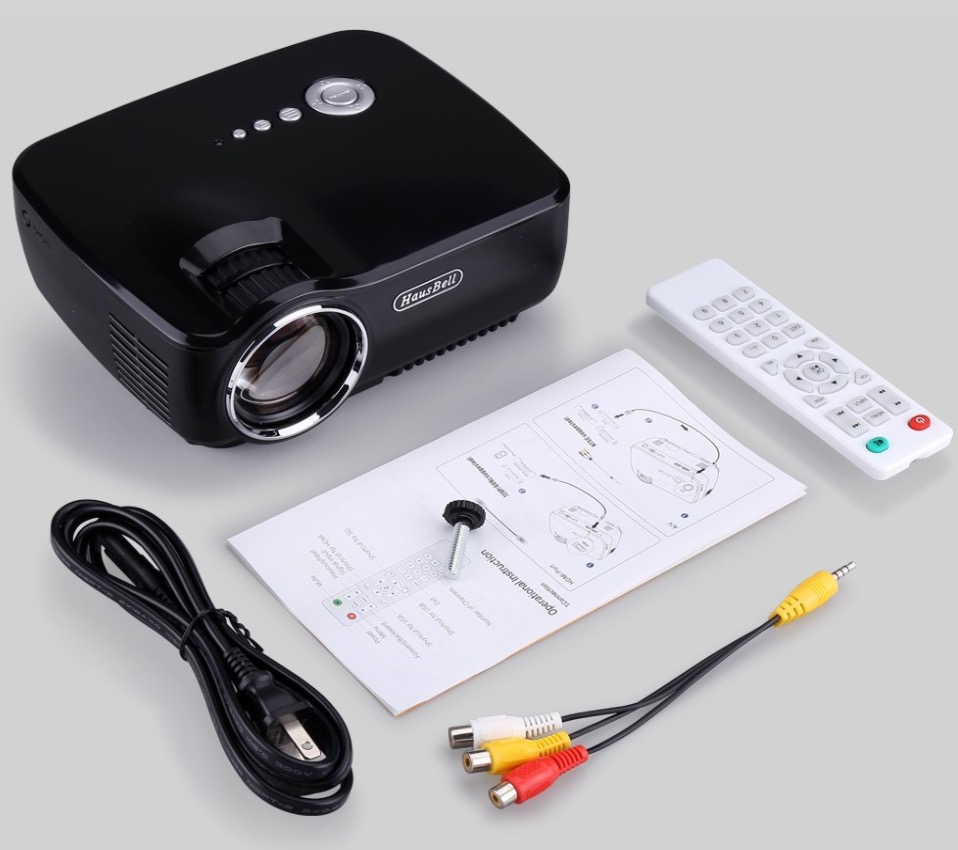 Final Verdict
Is the Hausbell Portable Projector worth buying? Well, that depends entirely on how you intend to use it. The way we see it, there are two key advantages that this model has over another: it's brighter, and it has a 4:3 resolutions. If you're playing back standard definition content, doing power point presentations, or trying to watch video in a brighter environment, this could be a good choice.
For high definition content, it's ideal to maintain the proper aspect ratio. For those purposes, we'd instead recommend the Meyoung / Elephas Portable Projector.
If you're looking for a projector that can be used full time, it's probably worth investing a little extra in a proper HD model. We recently tested the Wowoto H8 video projector and found that the quality was above average for the price, and offered incredible value.
But if you're just looking for a casual way to enjoy some big screen movies, the Hausbell Portable Projector could be an excellent choice. It's better than many alternatives on the market and provides acceptable video quality at a rock bottom price.
Meet Derek, "TechGuru," a 34-year-old technology enthusiast with a deep passion for tech innovations. With extensive experience, he specializes in gaming hardware and software, and has expertise in gadgets, custom PCs, and audio.
Besides writing about tech and reviewing new products, Derek enjoys traveling, hiking, and photography. Committed to keeping up with the latest industry trends, he aims to guide readers in making informed tech decisions.