Vacuuming is an important part of keeping any home clean. Carpets, upholstery, curtains, and dust bunnies can harbor allergens that make you sick. And, of course, nothing beats a vacuum for making quick work of a major spill. But vacuum cleaners themselves are quickly evolving. Not that long ago, the only way to get good cleaning performance was to use a bulky canister vacuum. In recent years, upright vacs have started pushing canister vacs out of the market, thanks to improved motor technology. But most of the good ones need to be plugged in. That, too, is starting to change. Nowadays, you can get a good cordless vacuum if you know where to look.
Today, we'll be looking at the Holife 20Kpa Cordless Vacuum Cleaner (Model HM322A). This is a well-engineered cordless vacuum, which packs a lot of features into a small package. But is it worth the investment, or should you look for a better option? We'll take a close look at all the features, including the suction power and attachments. Then we'll tell you what we think. Since you're probably going to be spending a lot of time at home these next few weeks, read on! There's no time like the present to do a little spring cleaning, and a quality vacuum can help.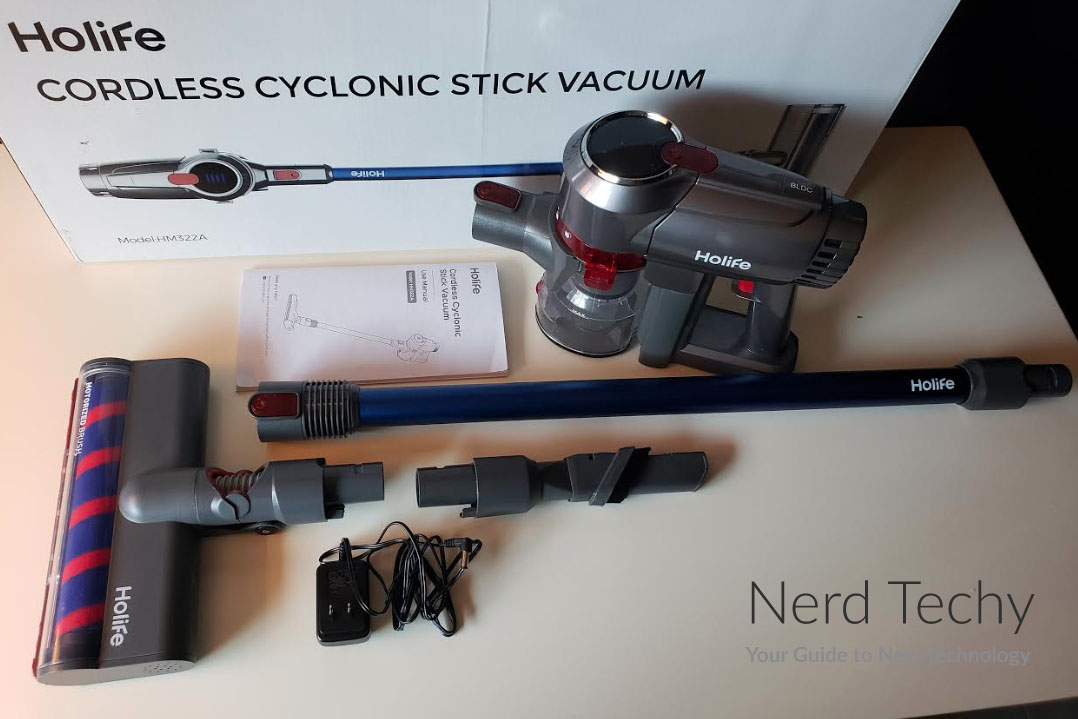 Physical Design
The Holife 20Kpa Cordless Vacuum Cleaner is a fun, colorful vacuum that's attractive to look at. The actual body of the vacuum is built similar to a power drill or paint sprayer. It's mostly a gloss grey, with a pistol grip at the back for easy operation. The trigger itself is bright red, and easy to pull and hold down. The motor is housed in a cylinder just on top of the grip, with holes on the back for cooling. In front of the trigger housing is the battery. This makes the vacuum more front-heavy than you'd expect, allowing for comfortable operation. The battery housing is a sharp black, forming a nice contrast to the grey body.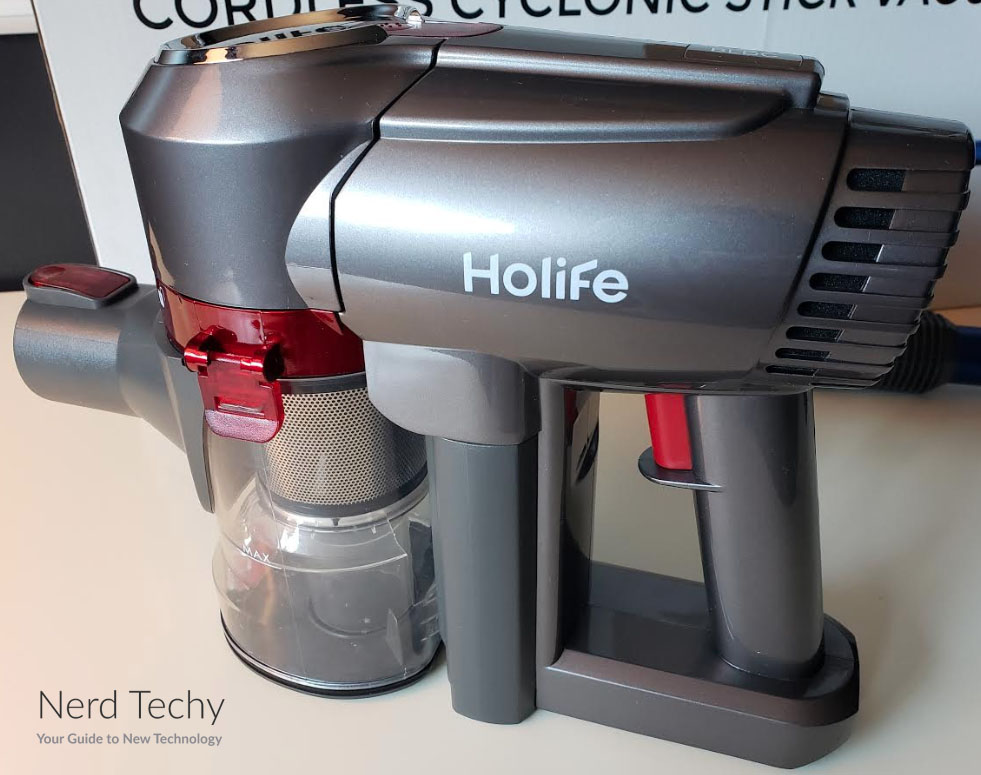 In front of the battery, you'll find the dustbin cylinder. It's clear, which allows you to easily see when it's getting too full. There's a small grey panel at the bottom that's easy to open by pressing a tab. This makes changing the cylinder quickly and easily. Thank goodness this is easy, since you'll be emptying the dustbin frequently; it doesn't have a very large capacity. This is common with cordless vacuums, since you have to hold the whole thing in your hand.
When the dustbin gets dirty, it's easy to remove and clean. There's a flip tab at the top, which lets you twist the locking collar to release the dustbin. The tab and the collar are both bright red, creating an attractive accent. On top of the dustbin, there's a battery indicator. The indicator is a blackened glass, with four LED bars inside.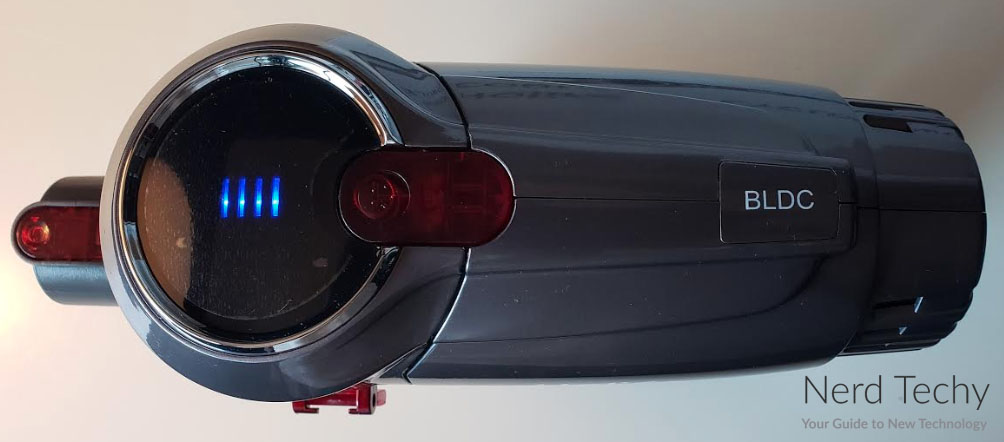 The overall dimensions of the Holife vacuum are 30.5 inches long, 13 inches deep, and 5.7 inches wide. However, these numbers are a bit deceptive, since they include the extension wand. The wand itself is a bright blue aluminum, with a white Holife logo painted on top. When the wand is removed, the overall dimensions are considerably smaller. The total weight of the unit is 3.2 pounds. This makes it easy to manage one-handed, even if you're cleaning overhead.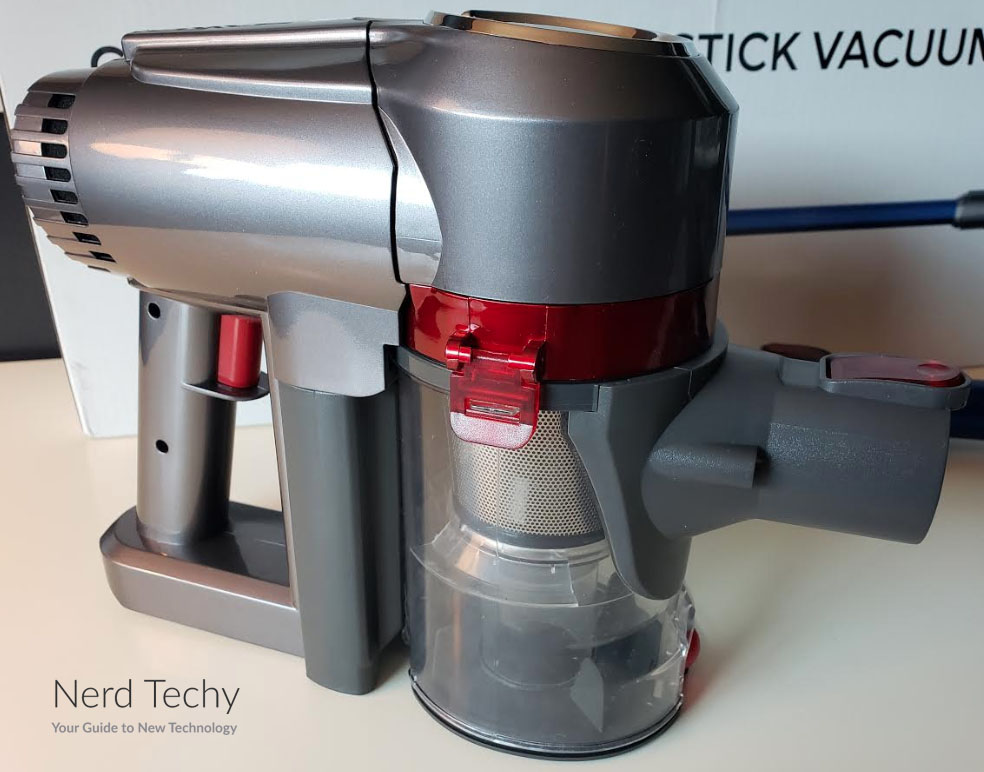 The compact size and weight also makes the Holife vacuum easy to charge. You can put it virtually anywhere, and plug it into the wall. Unlike some wireless vacuums, there's no wall mount for your attachments. The charger is just a simple AC adapter. This was disappointing, since you'll have somewhere to put all your attachments. On the flipside, you do get a 2-year warranty. This ensures that you'll be protected from any serious issues.
If you're looking for a more sturdy, well-engineered cordless vacuum, consider the Levoit LVAC-120. It's very well-built, with a larger dustbin. That said, it's nowhere near as powerful as the Holife 20Kpa.
Cleaning & Accessories
So, how well does the Holife (Model HM322A) vacuum perform? A fun, colorful design doesn't do you much good if the vacuum performs like a toy. Thankfully, the motor pulls an impressive 220 watts. This allows for exceptional suction power. In normal mode, the Holife offers 9 kilopascals (Kpa) of suction. When compared to your average upright vacuum, this isn't all that impressive. The average upright vac offers 14Kpa of suction. But the Holife lives up to its name. In its second mode, it offers 20Kpa. This is the best suction we've seen yet on a cordless vacuum.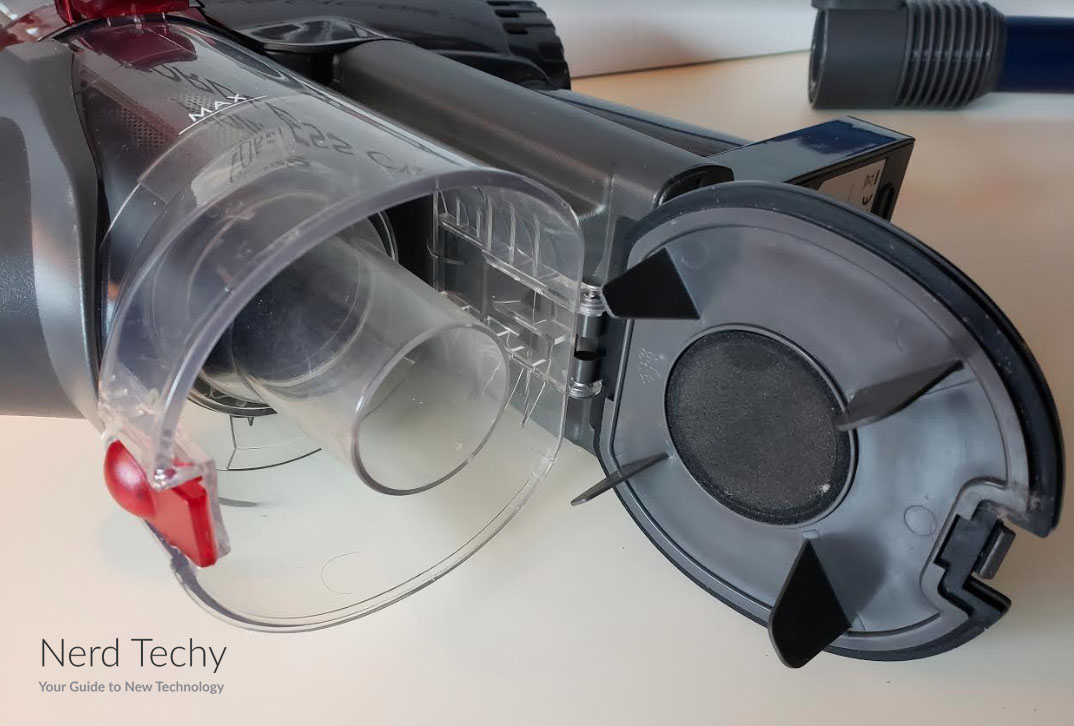 That amount of suction comes with a downside. Specifically, the Holife vacuum is loud, putting out 78dB of sound. This is roughly equivalent to an old-school canister vacuum. At top power, prepare to frighten your dog or your cat. If that's a problem for you, check out the BlitzWolf BW-AR182. It's exceptionally quiet, but the power and battery life are less than what you get from the Holife.
Of course, no vacuum is complete without good attachments. In that respect, the Holife performs very well. All of the attachments lock in with a clip, so you won't have any issues with them falling off. To begin with, you get a crevice attachment, as you'd expect from just about any vacuum. It can be attached either directly to the vacuum, or at the end of the extension rod with an adapter. This is useful for reaching behind furniture, between seat cushions, and other similar applications. It's about 12 inches long, so you can reach just about anywhere in your home.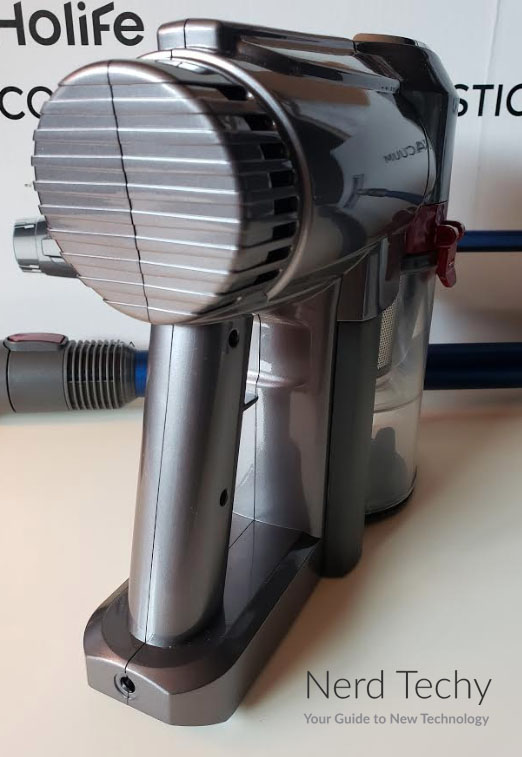 There's also a brush attachment that goes on the end of the crevice attachment. Holife calls this a "ceiling brush", but that's not quite accurate. Sure, you can use it for cleaning around light fixtures and ceiling fans. But it's also useful for cleaning delicate surfaces. For example, you don't want to use the crevice tool directly on lightweight curtains. They'll get sucked in, and can potentially get torn. By using the small brush attachment, you can avoid this issue. This same principle applies to just about any delicate household surface.
In addition to the two other attachments, there are also a pair of roller brushes. Like the crevice tool, they can be attached either directly to the vacuum or at the end of the extension. Both brushes are placed in the safe housing, and can be changed at the push of a button. The housing itself is mounted on a ball fitting that rotates 180 degrees. This makes it easy to reach awkward locations. It also has a low profile, which means it's easy to reach under most furniture. To make this as easy as possible, Holife mounted LED lights on the front of the housing. This helps to ensure that you won't miss any dust bunnies or crumbs.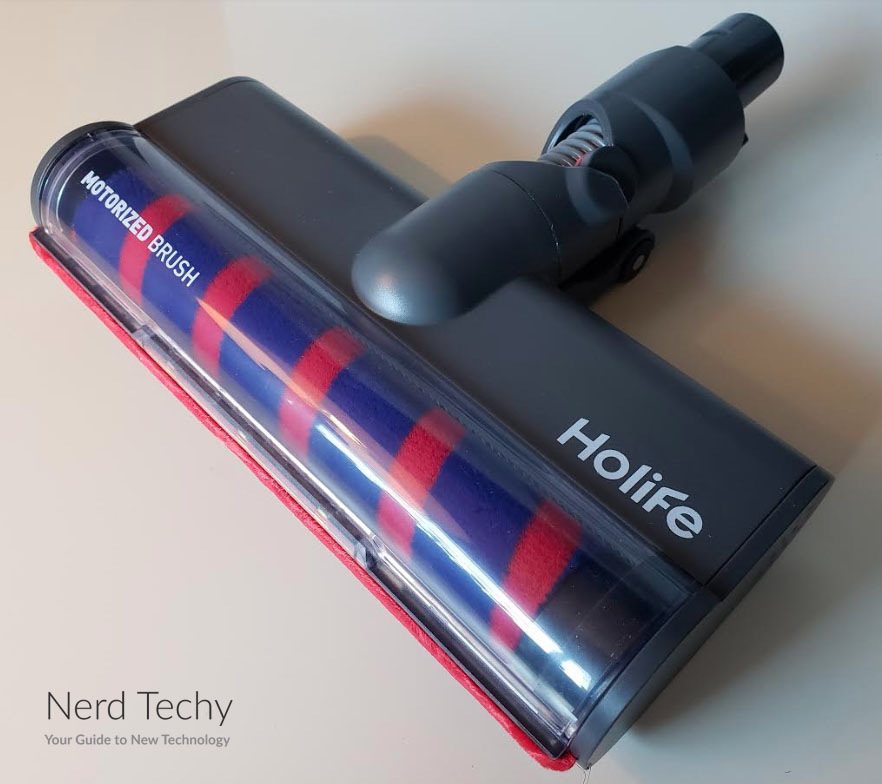 The two roller brushes each have their own benefits. The first is a hard floor brush, for cleaning hardwoods, tile, and laminate flooring. The bristles are soft and gentle, so they won't scratch your flooring. It's great for sweeping up cat litter, crumbs, and other common household debris. The second brush is designed for carpets. This brush has stiffer, firmer bristles that are mounted on rubber strips. It's great for cleaning up dust, cat dander, and ground-in dirt. And because the Holife offers such powerful suction, you can even clean deep-pile carpets. That's unusual for a cordless vacuum, and a much-appreciated feature.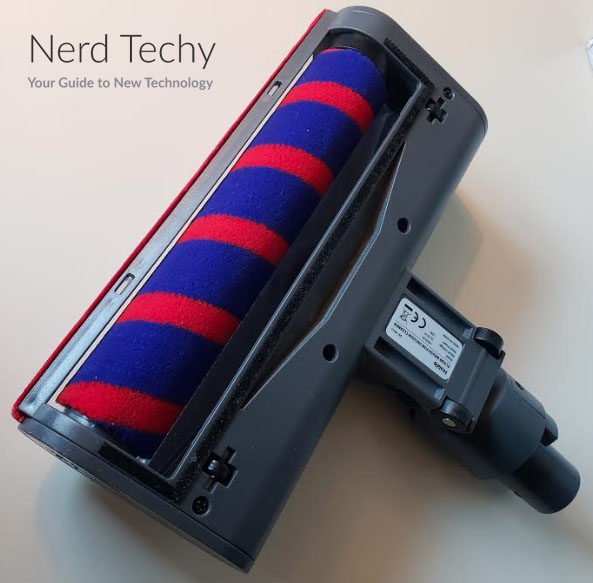 Battery & Filter
The Holife 20Kpa utilizes a 2,200mAh Lithium-ion battery. This is sufficient for 45 minutes of cleaning time, or 20 minutes in the 20Kpa mode. If that doesn't sound like much, it's about the same as most cordless vacuums. How many times are you going to spend more than 20 minutes at a time cleaning up serious messes? And for everyday use, the standard mode is more than sufficient for most purposes. With 45 minutes of cleaning time in this mode, you shouldn't have any problems. When it's fully drained, the Holife's battery will recharge in 3 to 4 hours.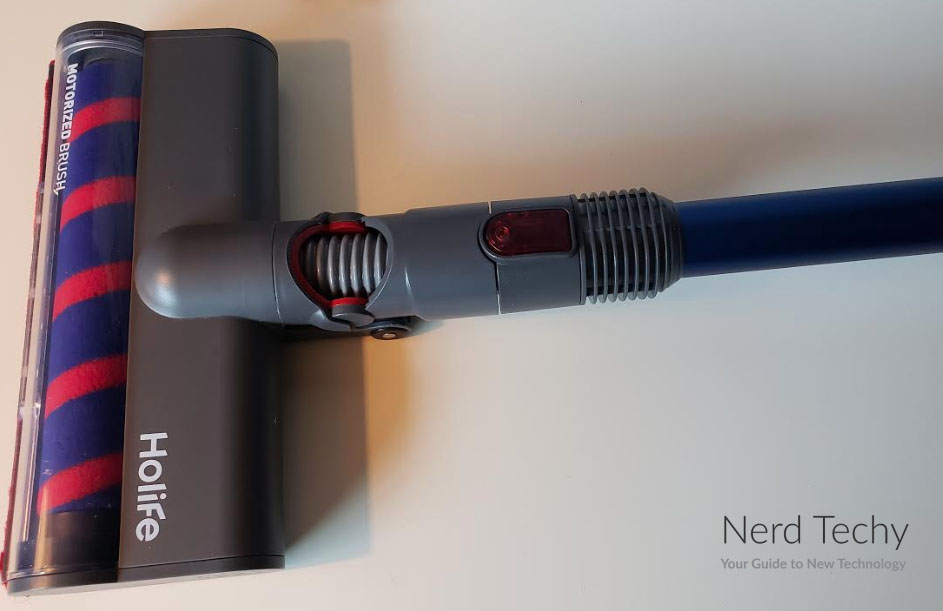 Holife advertises a 4-stage filter, but the first "stage" is just the cylinder itself. To be fair, the cyclone action pushes debris to the outside, but this is still a bit deceptive. The first "real" filter layer is a steel mesh, which helps keep larger gunk out of the primary filter. The next filter layer is a sponge, much like you'll find in many household vacuums. The sponge can be rinsed when it's dirty, but make sure to let it dry completely before replacing it. The final layer is a HEPA filter, which removes 99.5 percent of particles as small as 3 microns. This isn't quite as effective as a True HEPA filter, but it's close enough that the difference is insignificant. Allergens and irritants will almost all get trapped inside. That said, the HEPA filter is not washable, and it needs to be replaced relatively frequently.
If you prefer a longer-lasting filter, take a look at the Acum DC-901. It doesn't have a true HEPA filter, but it lasts significantly longer. On the other hand, the suction power is limited to 10Kpa.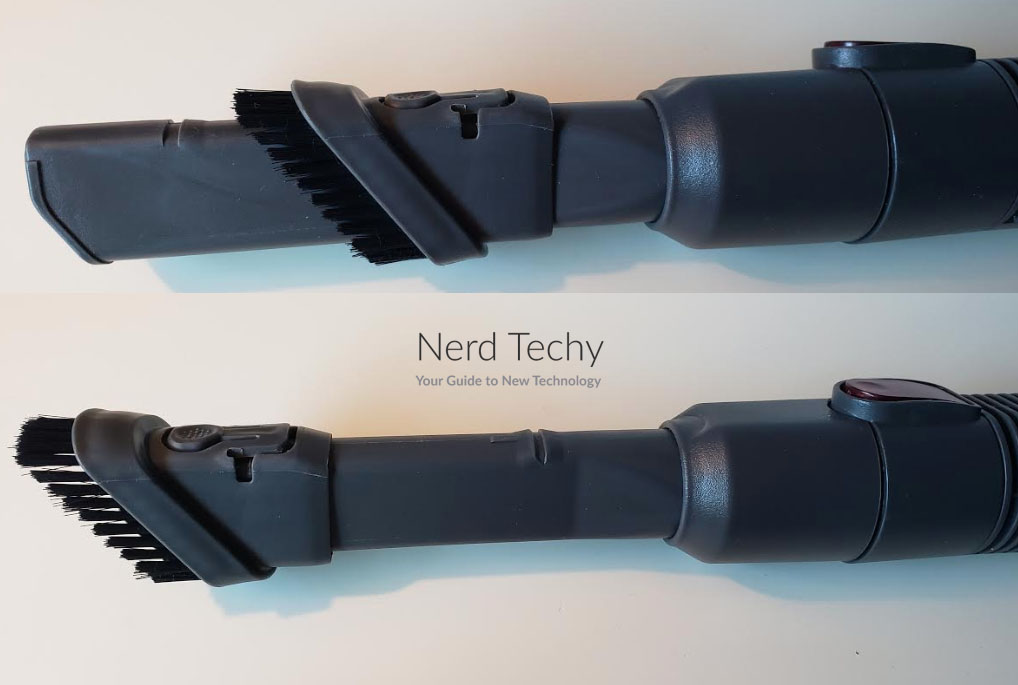 Final Verdict
So, how does the Holife 20Kpa Cordless Vacuum Cleaner (Model HM322A) compare to other vacuums in its class? In a word, it stands alone. Let's start with the biggest benefit: the suction power. With 20Kpa of suction, it performs more like a small shop vac than a household vacuum. For this reason alone, we can offer it a hearty recommendation. Of course, no vacuum is perfect, and the Holife has its shortcomings. We would have liked to see a wall mount and a better-designed filter. Less volume would be nice, but if you want this much power, you're going to have to accept some noise. The attachments are all well-engineered, and provide enough versatility for any cleaning situation. All in all, this is a solid buy.