If you want a good office printer, it's tough to beat HP's lineup. Their Deskjet and Inkjet printers, for example, have been office staples for the last two decades. But HP has never been known for resting on their laurels. They're one of those companies that always seems to be asking what's next. Now, they've released their new Neverstop printers. These are no-nonsense printers that are designed specifically for office use. You won't find any special features or photo printing options here. Instead, you're looking at durable, professional printers that are designed primarily for long life.
We've reviewed several printers over the years, even going so far as to review sheet cake printers. So we were excited to get a crack at HP's new Neverstop line. First, we're going to review the HP Neverstop 1001nw. This is a basic office printer that's designed to produce simple, black and white text. Next, we'll review the HP Neverstop 1202w. This is a more full-featured printer, complete with a copier and scanner feature. But are they actually worth your investment? Or would you be better off with a more established model? Let's take a closer look, and see what each Neverstop printer has to offer!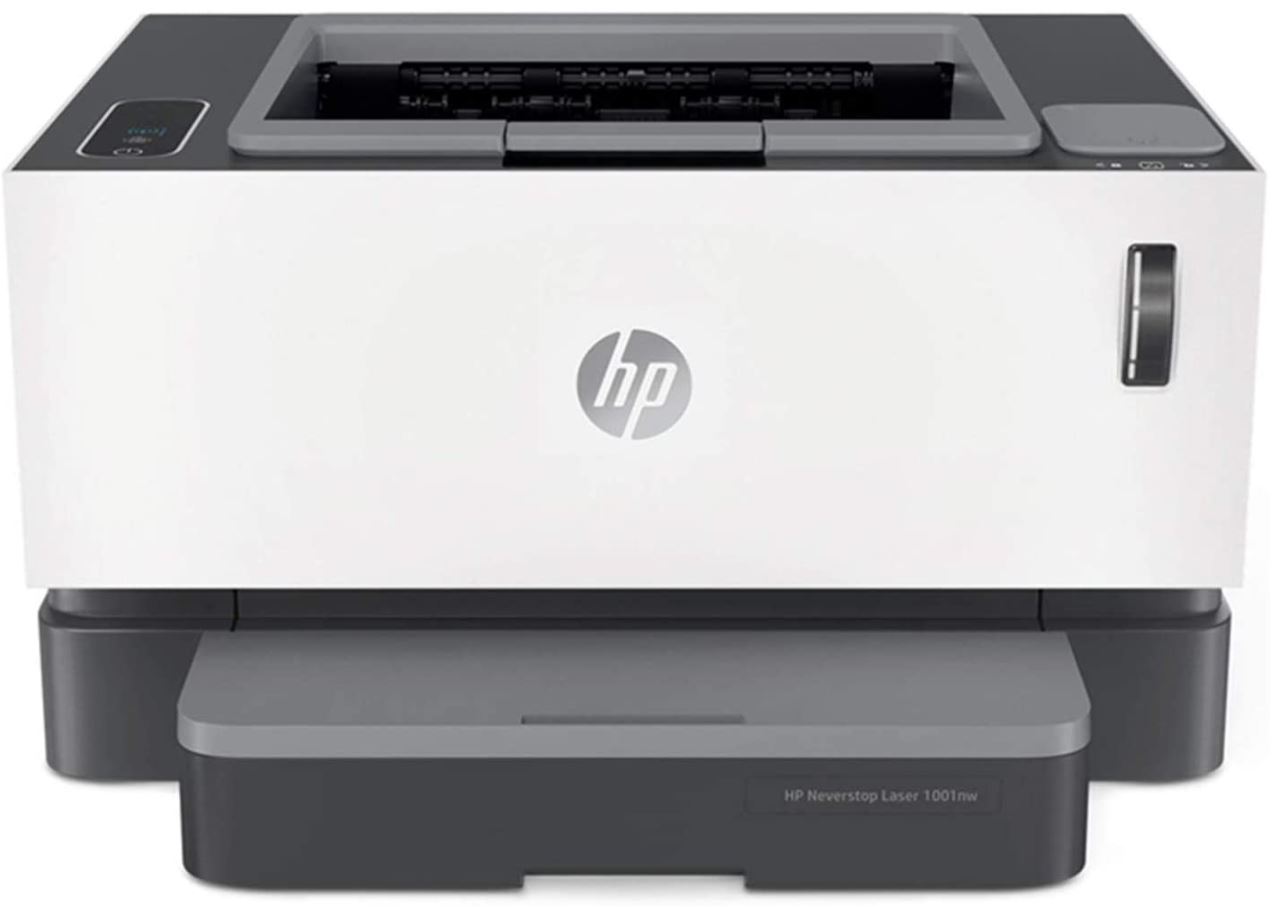 HP Neverstop 1001nw
The HP Neverstop 1001nw is designed to take up as little space as possible. It has a nearly square footprint, measuring 14.98 inches wide and 14.63 inches deep. And at 8.31 inches high, it's compact enough to fit under low-hanging cabinets and other office fixtures. It's constructed from an off-white ABS plastic that's suitable for most office décor schemes. On the front, you'll also see a grey HP logo, with a toner level indicator to the right. Other than that, the appearance is clean, buttoned-down, and professional. There are no blinking lights or other distracting features.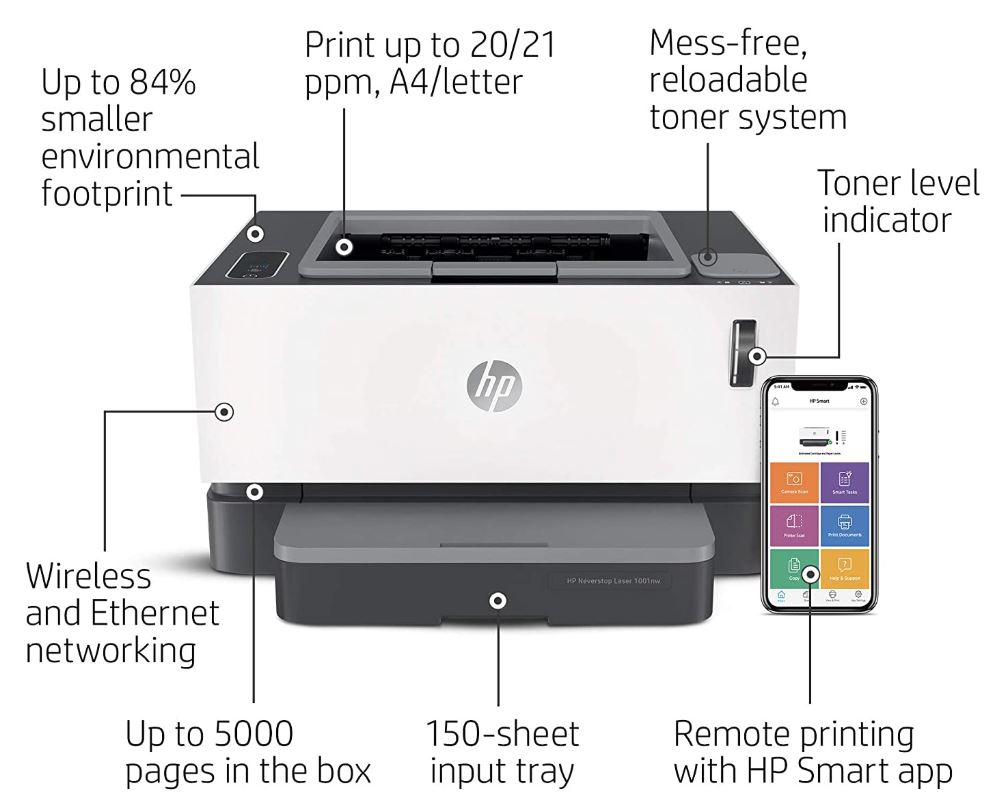 Beneath the front panel, you'll see a 150-sheet paper tray. The paper tray and base are black, and the tray has a grey lid that's easy to open. This makes loading paper a snap. Just lift up the lid, slide in your paper, and you're ready to print. The top of the printer is black to match the base, with controls operated towards the left. The control panel is made of black tempered glass, with just a few basic buttons. Because there are no copy or scan features, controls are fairly straightforward. There's a power button, and a pair of lights that indicate low toner and an empty paper tray respectively.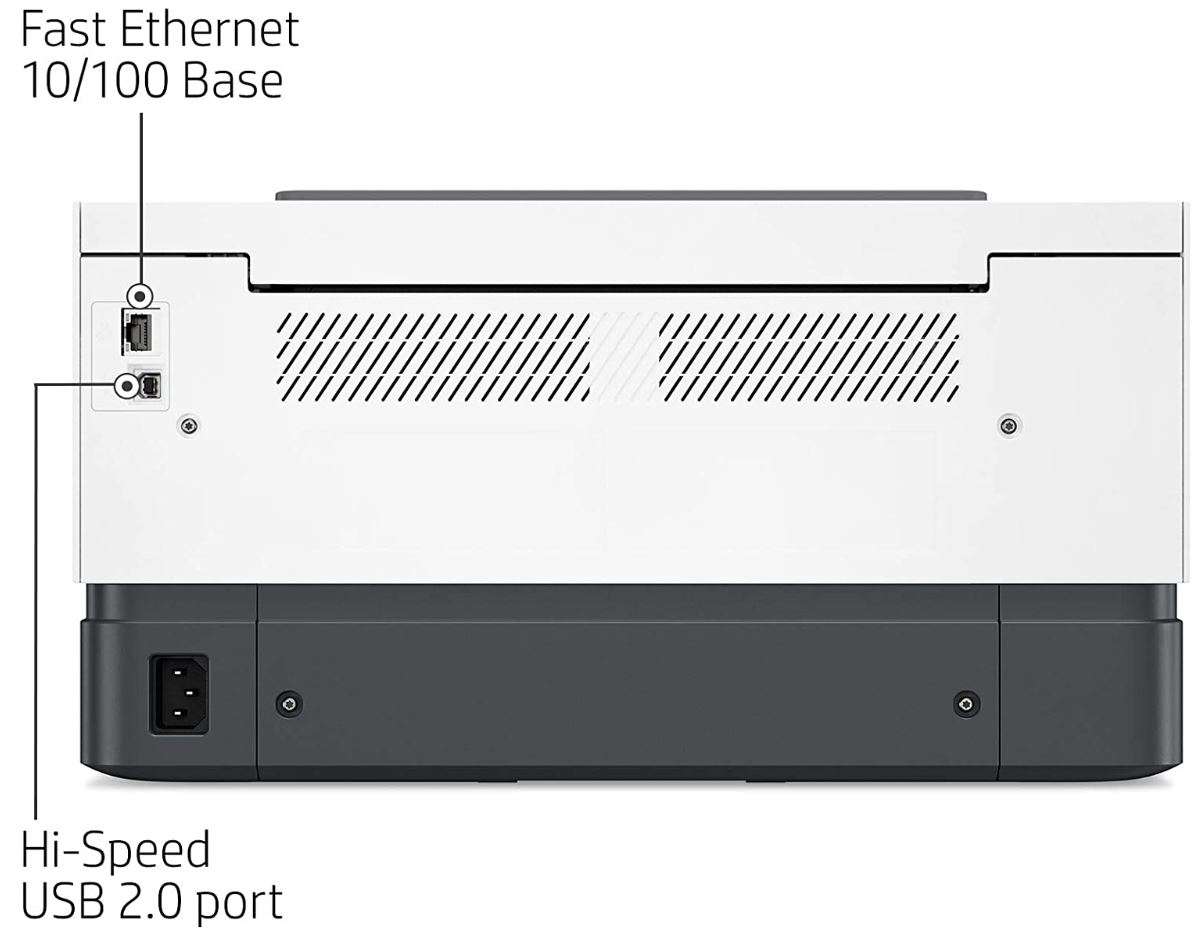 On the back of the unit, you'll find an AC power port and USB Type-B port. The AC power port is used for plugging your printer into the wall. The Type-B port is used if you want to connect your printer directly to a PC or a server. Both cables are included in the kit, so you're ready to go from day one.
The Neverstop 1001nw is environmentally-friendly, with an Energy Star 3.0 certification. This is one of its best features, since it uses 84 percent less power than other comparable printers. That's the equivalent of saving 28 gallons of gas over the course of the year. If you're trying to earn any sort of green certifications for you business, this makes it an excellent buy. Along with the printer itself, you also get HP's one-year manufacturer's warranty. If anything goes wrong in this time period, you get a free repair or replacement. HP also provides 24/7 tech support. This is very helpful if you have issues during setup.
Connectivity
There are three ways of connecting the Neverstop 1001nw. The first, and most straightforward method, is simply to use the USB Type-B cable. Of course, with this method, you're only able to connect to a single PC. For most office applications, that's not going to be enough, unless the PC is a print server.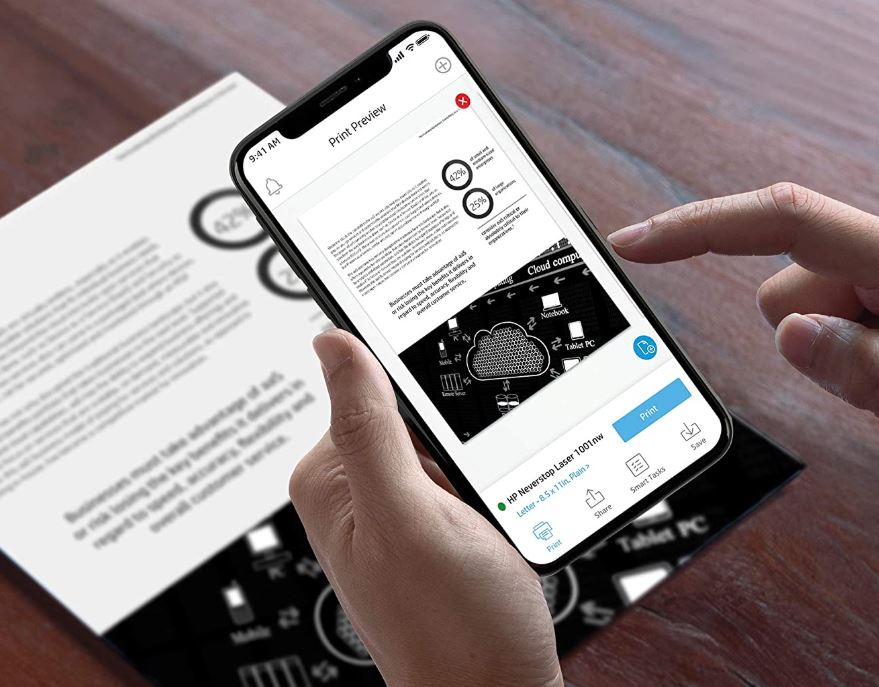 The next option is to use an Ethernet cable. While there's no Ethernet cable in the kit, they're cheap and easy to come by. With Ethernet, you can plug the Neverstop 1001nw directly into your office's LAN. This makes it easy to set up as a network printer, without any significant obstacles.
Finally, you can use WiFi to connect your printer. This eliminates cables and clutter, as well as enabling some unique wireless features. For example, you can use the HP Smart app to print directly from your smartphone. Simply download and install the app, and you can print whatever you want at the push of a button. Your phone can even be used as a scanner. Just open the app, snap a picture of whatever you want to scan, and print it off. Best of all, the Neverstop 1001nw is equipped with WiFi Direct. This technology allows you to use the app even without a wireless network. Just open your phone's WiFi menu, and you can connect directly to your printer. So even if your office only has a wired LAN, you can still take advantage of the app and related features.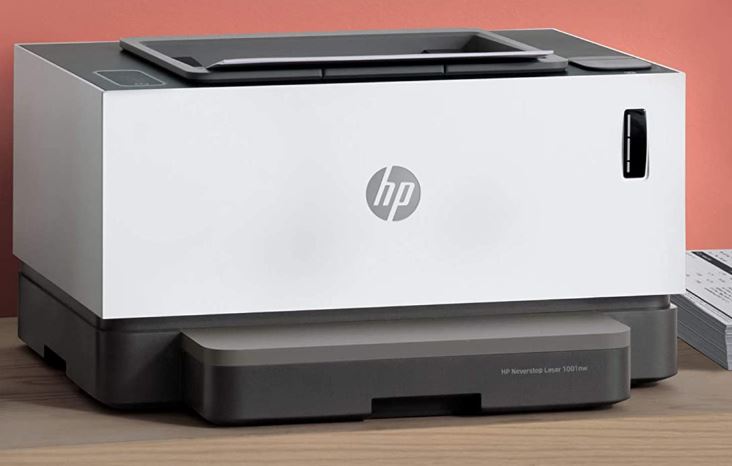 Printing
As we mentioned, the Neverstop 1001nw is a basic office printer. It only prints in black and white, and it does not support duplex (2-sided) printing. That said, it does support a variety of paper sizes. With support for 4 x 6-inch paper, you can even print on some envelopes. And with support for 8.5 x 14-inch paper, you can print on legal paper. In total, the print speed is 21 pages per minute. As with most printers, this is an average. If you're printing a page with huge blocks of tiny letters, it will take a bit longer. Conversely, if you're printing loosely-packed text, you're going to get faster performance.
That said, you might be looking for a color printer. It's understandable, particularly if you need to print colorful charts or graphs. In that case, take a look at the HP Deskjet 3639 Wireless All-in-One Printer. It's a full-color photo-quality printer, although the print speed is correspondingly slower than the Neverstop 1001nw's.
Along with the printer, you get enough toner to print 5,000 pages. The toner hopper is easy to refill, with a simple rubber lid and an injector for reloading. If you want even more ink, HP has got you covered. They offer a toner refill kit that provides an additional 2,500 pages per kit. This is significantly more affordable than replacing an old-school printer cartridge. It's also cleaner. Provided you connect the injector properly, there's hardly any mess. A paper towel will be sufficient to wipe up any miniscule amount of incidental leakage.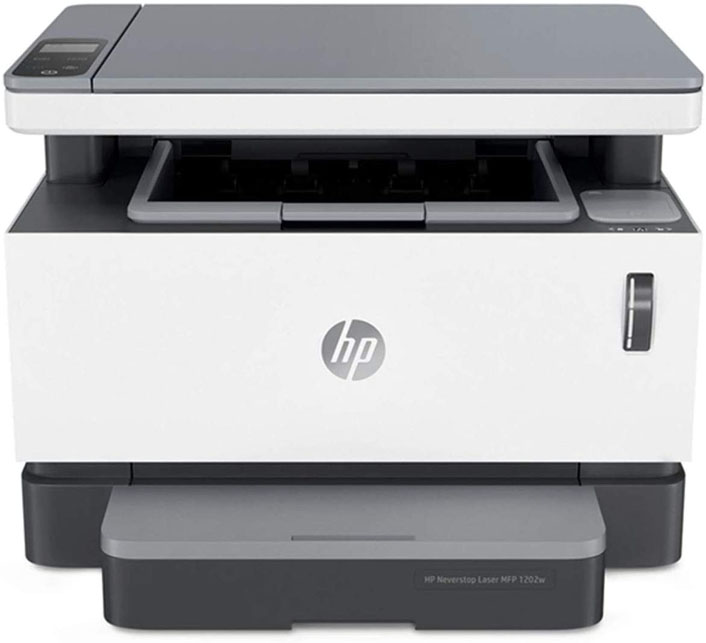 HP Neverstop 1202w
In many ways, the HP Neverstop 1202w is very similar to the HP Neverstop 1001nw. In fact, it's simply a variation on the same printer. As a result, it has the same compact, 14.98 x 14.63-inch footprint. However, it's a touch taller, at 11.3 inches. This extra height is occupied by the scan and copy module, which extends over the output tray. The controls have been relocated to the top of this module, which makes them easy to access. You'll notice a few extra buttons, to accommodate the Neverstop 1202w's extra features.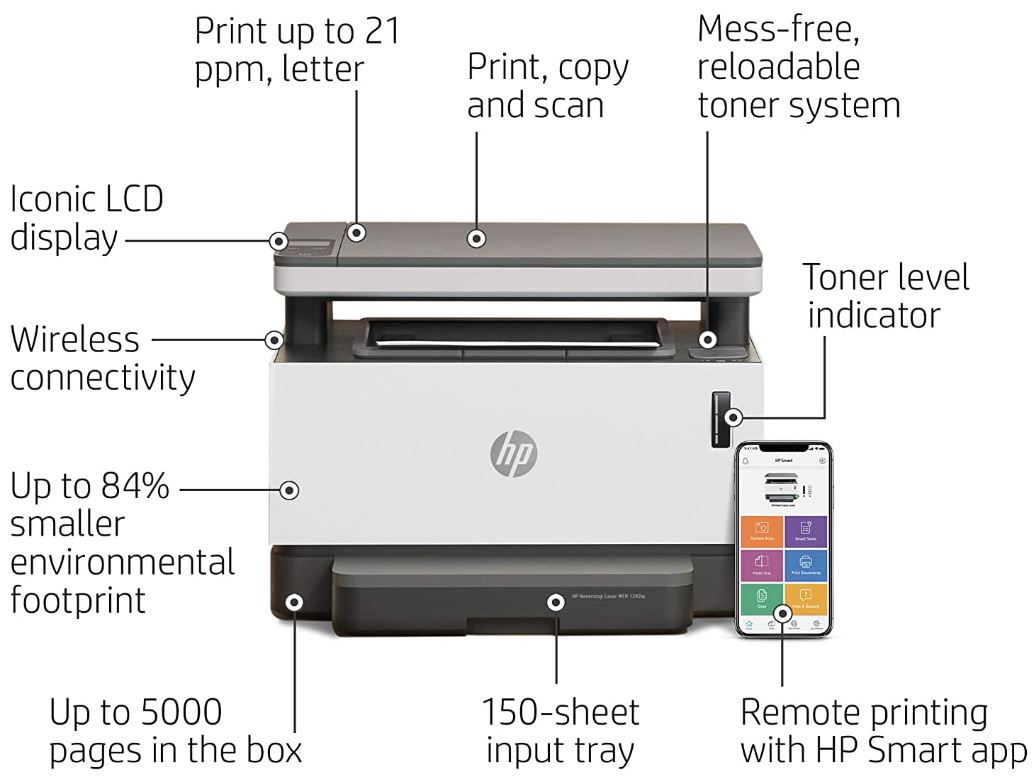 Other than that, the Neverstop 1202w and 1001nw are more or less identical. They have the same off-white construction, so they're nice and professional. They have the same 150-sheet paper tray, as well as a similar environmental rating. You even get HP's one-year warranty and 24/7 technical support. That said, there's one thing you should be aware of. The toner refill lid is located directly under the 1202w's scanner module. As a result, when you go to refill the toner, you'll need to lift off the module. It has a drop-in design, though, which makes it very easy to remove and replace.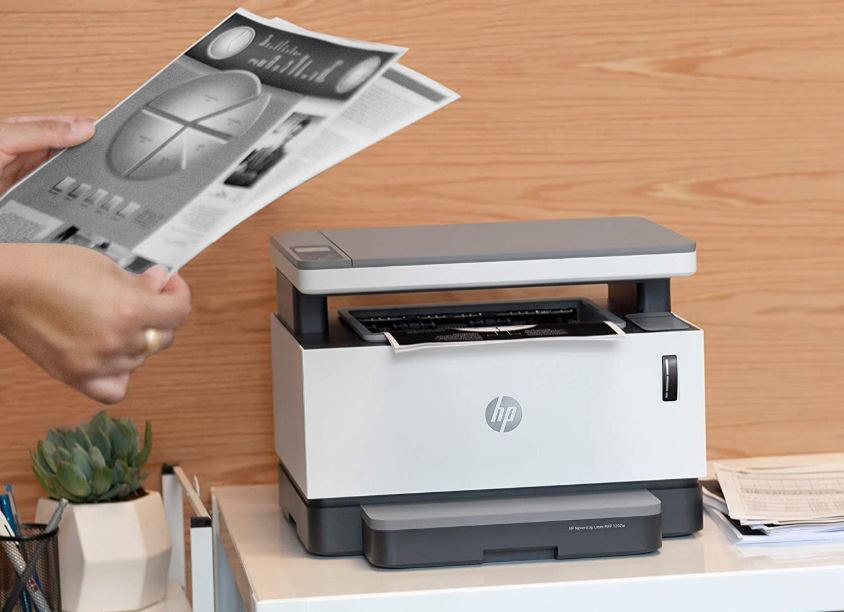 Connectivity
The HP Neverstop 1202w has the same connection options as the 1001nw. You can plug it directly into a PC with the USB Type-B cable. You can connect it to your LAN via Ethernet. You can also connect via WiFi. This makes it very versatile, since you can connect the Neverstop 1202w to just about any office network. You'll use the same app as the 1001nw, HP's HP Smart app. It works the same way, but there are a few bonus features. In addition to printing from your phone, you can use your phone as a remote control for copying or scanning. This adds a bit of extra functionality to an already-excellent smartphone app.
Printing
The HP Neverstop 1202w has the same exact printer module as the 1001nw. As a result, the performance is comparable. You get about 21 pages per minute of black and white printing, with no duplex. You also get the ability to refill your toner with a simple injector. That said, the top scanning module adds some useful features. First off, you can scan documents and export them to your PC or smartphone. Secondly, you can copy documents directly from the printer. If you need a more full-featured office printer, you're looking a top performer.
Both Neverstop printers are top performers in their size class. But suppose you need a bigger hopper and faster print speeds? If that's what you need, consider the HP Laserjet Enterprise M507x. It can hold 550 pages, and print at 45 pages per minute. The downside? It's very, very large.
Final Verdict
So, how do the HP Neverstop printers stack up to the competition? Very well. The HP Neverstop 1001nw offers fast, no-nonsense printing with a small footprint and a reasonable price. It's also environmentally friendly, which can help your office stay green. The app and connectivity provide plenty of control options. You can print from your PC or your smartphone without any unnecessary complications. Moreover, the ink well is very easy to refill. It's a bit unorthodox, but the injector system is actually cheaper than most comparable alternatives.
For most purposes, the Neverstop 1202w is comparable to the 1001nw. However, the built-in scanner and copier add a lot of value for a minor increase in price. Otherwise, the features are more or less identical. But if you liked the 1001nw and also need a copier, it's an excellent choice.