For today's multiplayer gamer, a quality gaming headset is almost a necessity. Even if you prefer single-player games, a headset is just a good thing to have around. You never know when some old friend is going to invite you to a match of Rainbow Six: Siege. But how do you distinguish between a well-designed headset and one that's only so-so?
To begin with, you want a well-engineered microphone. There's really no shortcut here. Either your teammates can hear you clearly, or they can't. And when the bullets are flying, you want them to hear you. In addition, you want moderately good drivers. Now, better sound is obviously a plus. But at a bare minimum, you want drivers that reliably produce good vocals. Beyond that, you should be looking for comfort, as well as an adjustable fit. The more padding and adjustment options, the better.
We're about to review two of the most popular headsets out there, the Jeeco USB Pro and the VANKYO CM7000. Both of these headsets are worth a closer look. And now, we'll break down their features so you can make a decision.
If all you want is a reliable, mid-range headset that will get the job done, consider the OKINUMA K5. It's affordable and comfortable, albeit with average sound quality.
Jeecoo USB Pro
As its name implies, the Jeecoo USB Pro is a USB headset that's designed for PC gamers. Sorry, console gamers. You need a PC or Mac to use this headset. It has a sturdy, rugged design, with an anodized aluminum frame and headband. The outer edges of the headband are encased in ABS plastic to eliminate sharp edges. And the inside is cushioned with faux-leather foam padding. This completely eliminates any pressure points on the top of your head. The overall weight is 1.1 pounds. You'll definitely notice that you're wearing it, but it's not heavy enough to cause any stress.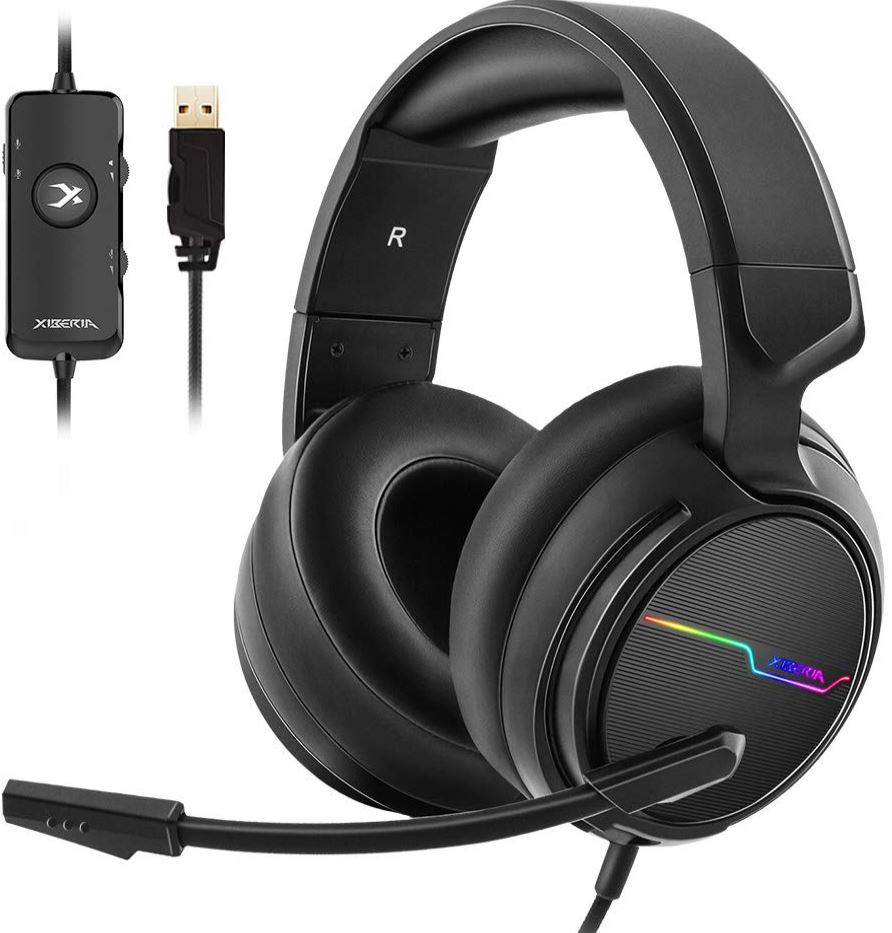 The headband is adjustable. It has smooth-operating slides on both ear cups, and fits most face sizes. That said, the ear cups don't swivel or pivot. They remain at a fixed angle. On the other hand, they're generously padded. The memory foam cushions are very forgiving, while still providing a secure seal against your cheeks and temples. The insides of the ear cups are made of porous, sheer fabric. This allows for clear audio with no interference from extra padding.
The microphone is mounted on a flexible, rubberized boom. You can adjust it easily in front of your face, or push it out of the way when it's not needed. The microphone is compact, and is housed in ABS plastic. It doesn't get in the way, but it's well-designed enough for any kind of party chat.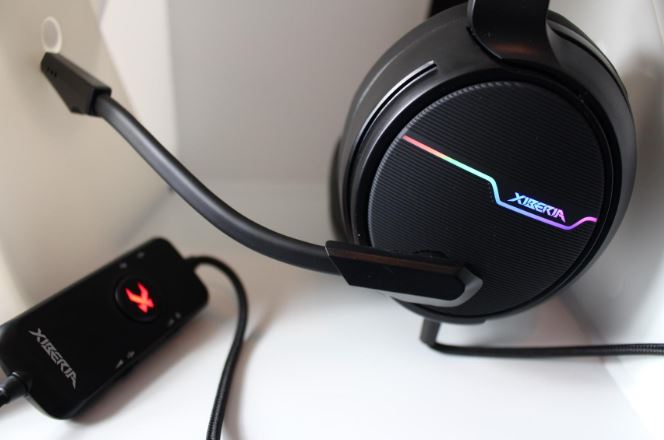 The Jeecoo's USB cable is tangle-free. This means it won't get tied up in knots. However, it can still get twisted. So take the time to untwist it now and then if you tend to be sloppy with your cables. In the middle of the cable, you'll find a controller, complete with a convenient clip for attaching to your shirt. This can be used to adjust the speaker volume and the mic volume. In addition, you can turn the mic or the LED light on or off with the push of a button. The LED lighting itself is minimalist, but adds a little flair to the otherwise mundane ear cups.
Sound Quality & Extras
The Jeecoo USB Pro's drivers are 50mm in diameter, which is slightly larger than average for a gaming headset. They utilize neodymium magnets, which produce responsive, low-latency sound with extreme precision. They're large enough to produce quality bass, as well as provide plenty of separation between frequencies. Mids and highs will not suffer from any muddiness or interference. This provides for extra-clear vocals. Whether you want audio cues for single-player games or crystal clear chat for multiplayer, the Jeecoo provides it.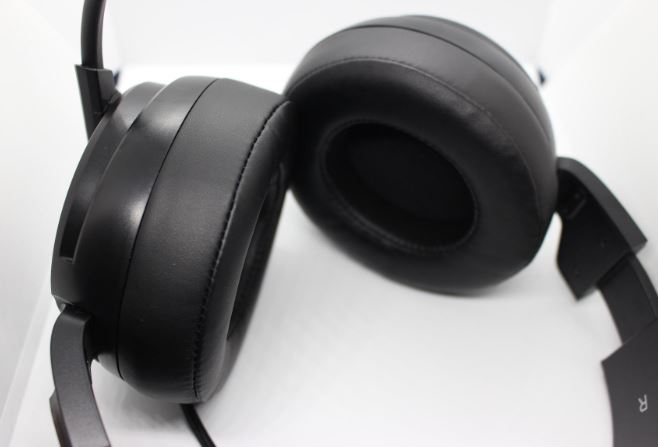 In addition to controls, the USB controller has a built-in sound card. When properly configured, it provides simulated 7.1-channel surround sound for an even better sense of space. The software is easy to download and install from Jeecoo's website. That said, it only works with Windows. If you're using your Jeecoo headset with a Mac, you'll be limited to standard 2-channel stereo. There's no active noise cancelling feature. But the ear cups form a tight seal, providing good enough passive noise cancelling for most situations.
The Jeecoo's microphone doesn't offer any noise cancelling, either. However, it's uni-directional. This blocks out the vast majority of background noise. In addition, there's always the on/off switch on the dongle. In a worst case scenario, you can simply shut the mic off for a few seconds. That said, overall sound quality is very good. Under most circumstances, your teammates will hear you clearly, so you can coordinate easily. And if you end up with serious problems, you can always return your headset. Jeecoo offers a 9-month manufacturer's warranty, with an easy, streamlined return process.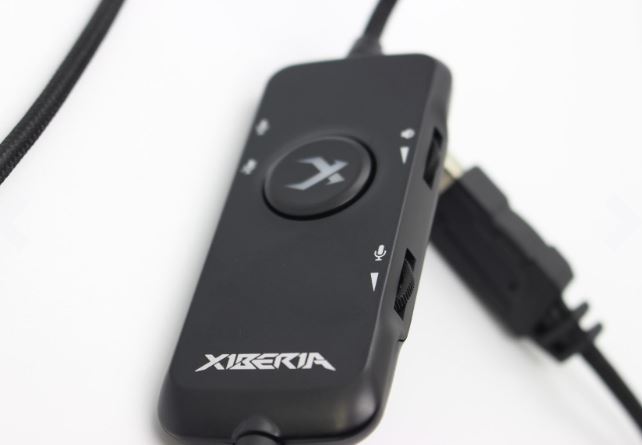 This is all well and good, but what if you're looking for a no-frills wired headset? For a balance of quality and extra features, look no further than the SteelSeries Arctis 1. It's powerful, precise, and comfortable to wear, although it also doesn't offer active noise cancelling.
VANKYO CM7000
The VANKYO CM7000 is a chunky, ergonomic headset for dedicated gamers. The frame has a dual-band design, which is built for both comfort and security. The outer part of the frame and headband is constructed from anodized aluminum. This frame is exceptionally sturdy, but still offers enough flexibility for a comfortable fit. The inner part of the headband, meanwhile, is a flexible, padded band. There's no need to worry about making adjustments. The CM7000 is designed to flex and stretch around any size head.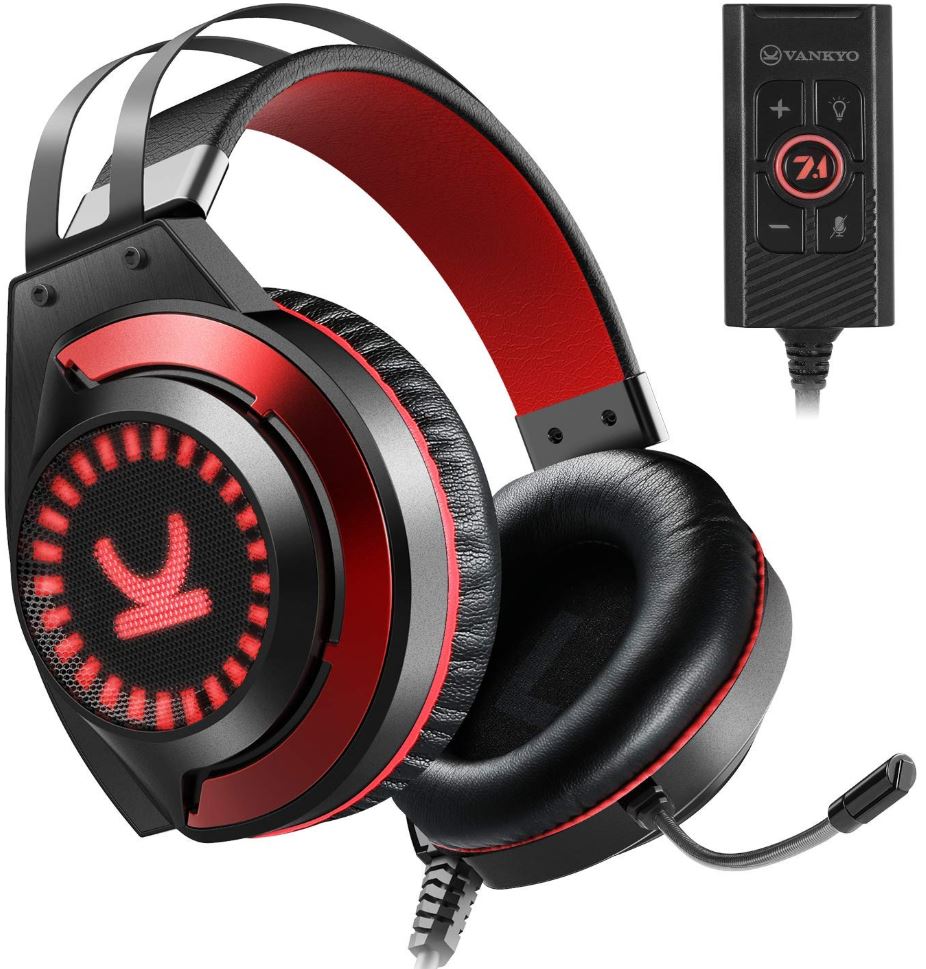 The ear cups themselves are flexible, although they don't swivel or pivot freely. They utilize a 2-layer padding system for comfort and sweat resistance. The inner surfaces are soft, breathable foam, which keeps them from getting overly sweaty. Around the outside, a breathable faux leather pad provides a secure seal. They don't press too hard on your cheeks or temples, but they still hold the headset securely in place. This makes the CM7000 an excellent choice for long gaming sessions.
The CM7000's microphone is mounted on a flexible gooseneck boom. Not only is it attractive to look at, but it's easy to flex in any direction you please. Adjust it directly in front of your mouth, or bend it out of the way for single-player gaming. If you're going to do this, take advantage of the mute button on the left ear cup. Right next to the mute button, you'll also find a volume wheel for adjusting your microphone volume.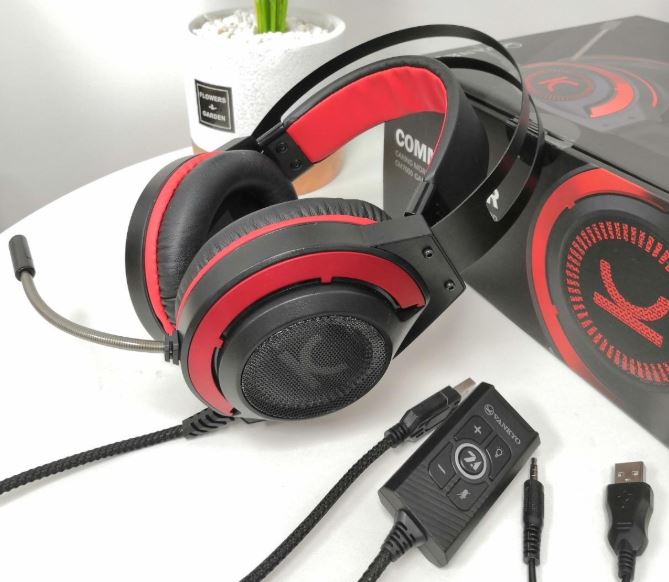 The CM7000's split cable provides 2 different connection options depending on your system. For consoles, use the 3.5mm audio jack. For PC gaming, you can improve your experience by using the USB connection. This provides a few added functions. For one, it enables the LED lights, which are purely cosmetic. However, it also enables the earphone volume controls, which are located on the USB cable. It also allows you to take advantage of the CM7000's 7.1-channel surround sound, which we'll talk about next.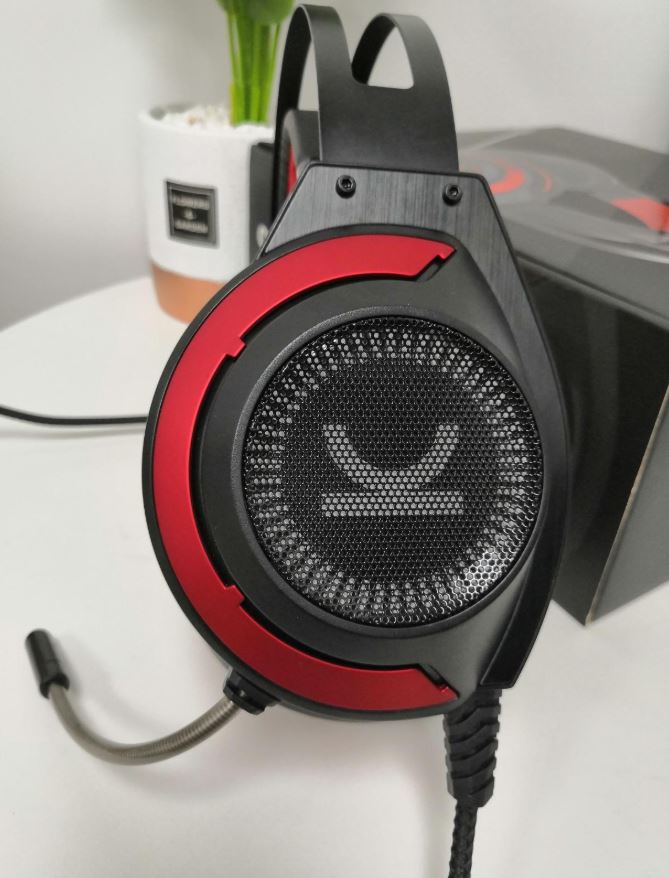 Sound Quality & Extras
So, what about that surround sound? The CM7000 offers 7.1-channel simulated surround sound, which is the best any headset has to offer. It doesn't provide the same separation as a 7.1-channel speaker system. However, considering the fact that it's a headset, it offers plenty of separation and a wide sense of space. The CM7000 is certainly more immersive than your average gaming headset, provided it's being used with USB. With the 3.5mm jack, you'll get standard 2.0-channel sound.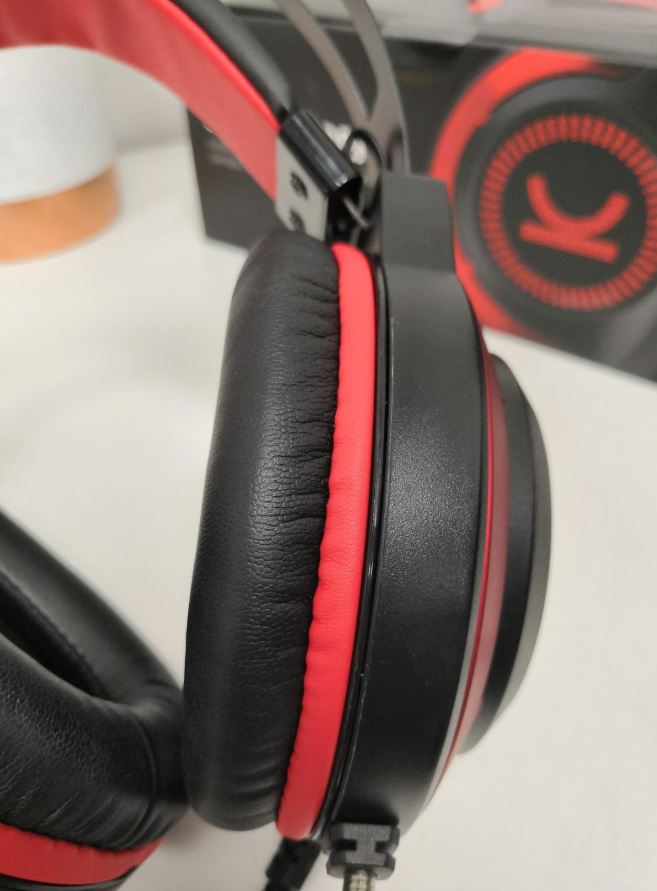 The VANKYO CM7000 has 50mm drivers, which are larger than the drivers on most headsets. These provide broad, full-spectrum sound that's truly immersive. This holds true both for multiplayer and single-player gaming. In multiplayer, you'll get clear vocals without any interference from other game noises. In single player, you'll hear exactly where your enemies are located. This is especially true if you're on a PC and taking advantage of the 7.1-channel surround sound. The bass isn't as powerful as you'd expect from studio headphones. But compared to other mid-range headsets, it's surprisingly punchy.
Both the speakers and microphone on the VANKYO CM7000 feature active noise cancellation. This guarantees an interference-free party chat, no matter what the circumstances. You can be sitting in the middle of a house party, and still keep on gaming as if you were alone. And your teammates will also appreciate how clearly they can hear you. VANKYO backs all of this up with a 24-month manufacturer's warranty, one of the best in the industry. They also offer a 3-month no questions asked return period. If you don't like the CM7000 for any reason, you can just send it back for a refund.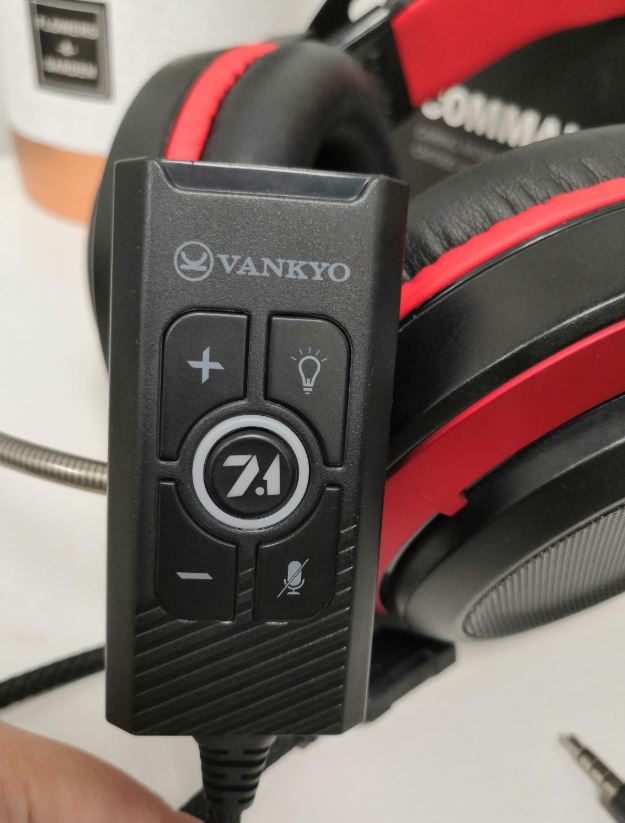 Of course, not all of the best headsets are wired. Wireless headsets have taken on a life of their own, and offer much better sound quality than they used to. The Logitech G935 is a great example. Not only does it offer great sound quality and battery life, but it features a fully retractable mic.
Final Verdict
As usual, which one of these headsets is the best is going to depend on what you're looking for. For example, the Jeecoo has a less obtrusive mic, but it's also harder to keep in place. Conversely, the VANKYO offers active noise cancelling, while the Jeecoo doesn't.
At the end of the day, the Jeecoo is a better choice for PC gamers. The 7.1-channel surround sound is neither better nor worse than the VANKYO's. However, the controller offers more – and more useful – options. The fact that it's built specifically for PCs is just an added bonus. Conversely, the VANKYO CM7000 is the better choice for console gamers. Not only is it compatible – which is a must – but it also comes with an impressive 2-year warranty. Add to that a flexible fit and excellent sound quality, and you've got a clear winner.