Wireless networking technology seems to be evolving every day. Not that long ago the best we could hope for was a single megabit of bandwidth. Today, our home networks are faster than ever. When Linksys released their Max-Stream EA9500, wireless networking was able to surpass the performance of wired networks for the first time. While this technology was loved by enthusiasts, it's price point kept it out of the hands of many consumers.
When you want the best of the best, you'll have to pay a pretty penny for it. With the WRT3200ACM router, Linksys is hoping to challenge that thought. This router looks like it has the same great specifications as their top level router, but is being offered at a much more affordable price point. Let's put it to the test and see if it can be crowned the best mid-range router on the market.
First Look
While some of the newer Linksys routers have gone for a striking visual style, the WRT3200ACM goes back to basics. It's got the classic black and blue look that everyone has come to associate with their brand. They did, however, add a few new stylistic elements that show the router for the powerful beast it really is. Sharp, aggressive corners and dramatic angles combine with the 4 beefy antennas to give you one serious looking machine. Looks can only do so much, so let's take a look and see how it performs.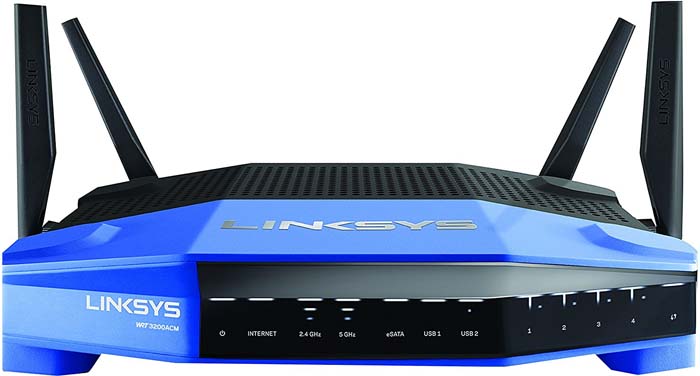 Connectivity
The back of the router contains all the ports you'd expect. You've got the WAN port to communicate with your modem, and five gigabit Ethernet ports for any hard-wired devices in your home. It can also connect to external hard drives and be used for network accessible storage. This can be done through the USB 3.0 port, something that's commonly found on consumer routers these days. But where the WRT3200ACM stands out is the inclusion of an eSATA port. This will allow you to connect a higher speed external drive to take advantage of the impressive bandwidth offered by this router. This particular port is what's known as a "combo port". It will actually communicate with both USB devices as well as SATA. Not every eSATA port has power, but fortunately this one does so you won't need an external power supply for your storage device.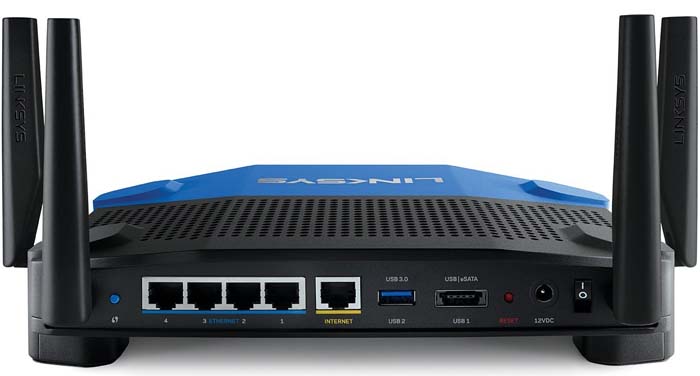 Communication Standards
The Linksys WRT-AC3200 supports the latest 802.11AC standard, and is fully backwards compatible with all other standards. This is a dual band router, meaning that your devices can communicate on the 2.4 GHz and 5 GHz frequencies simultaneously. This is an incredibly important feature to have, as our airwaves are quickly becoming crowded with wireless networks. These bands support a maximum theoretical bandwidth of 3200 Mbps (megabits per second): 2600 on the 5 GHz channel and 600 on the 2.4 GHz channel.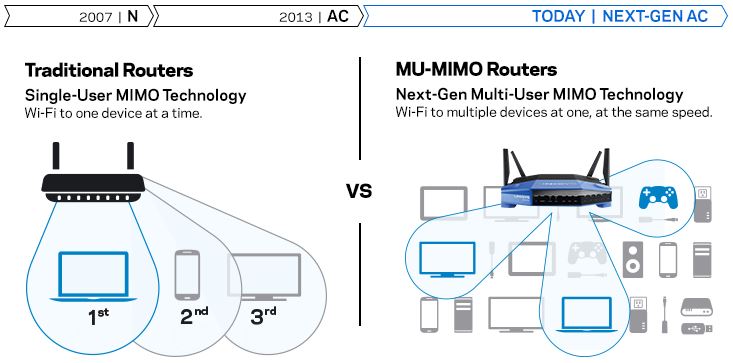 Today, we have more wireless devices in our home than ever before. Too many devices sharing the same network can slow down some routers, leaving you waiting patiently while your website loads. To address this problem, Linksys made sure that this router supported MU-MIMO. This acronym stands for "multiple users, multiple inputs, multiple outputs". Depending on your network structure, this can mean one of two things. If you have a MU-MIMO network card in your computer, you'll be able to open multiple simultaneous connections with the router, maximizing your total bandwidth.
If you don't have an advanced network card, MU-MIMO will keep your devices from conflicting with each other. Ever find that the internet was operating slowly because one of your family members was busy downloading something? With MU-MIMO, each device in your house has its own isolated connection so one user won't slow the others down.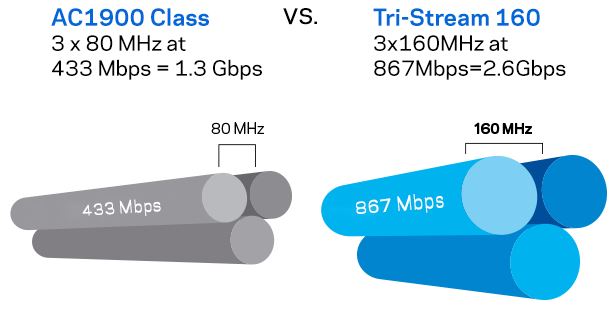 Another impressive communication standard supported by the WRT3200ACM is Tri-Stream 160. Routers work by sending out little pulses of data at regular intervals. The amount of information contained in each pulse is defined by the channel width. Think of it a bit like posting on twitter. If you had an 80 character limit, you wouldn't be able to say as much with each tweet. But if you had 160 characters, you'd be able to say a lot more. This is exactly how Tri-Stream 160 works. By using a 160 MHz channel width the router can send twice as much information per pulse, making huge bandwidth possible.
Open Source Ready
One of the most popular features of the WRT routers is their ability to use open source software. Routers, like computers, have an operating system. While the included Linksys operating system is fantastic, some advanced users want to have a little more control over how their home network operates.
There are many ways that open source software can improve your network performance. Some users want to install a bare-bones operating system. Because the entire processor is free from managing any advanced features, you'll have almost the entire chip dedicated exclusively to managing your network traffic. Other users want to install a more advanced firmware that will allow them to have more control over their network. There is firmware available that has advanced security settings used for business or public networks. Others have traffic shaping ability that can improve gaming performance, even while streaming Netflix. In some cases, you can even run a basic Linux distribution and have your own local or public web server.
Usually custom firmware isn't released until after WRT routers have been on the market for a few months. If you want to be ahead of the curve, there is no reason you have to wait. OpenWRT, one of the most popular custom firmwares, is already out and tested for full compatibility.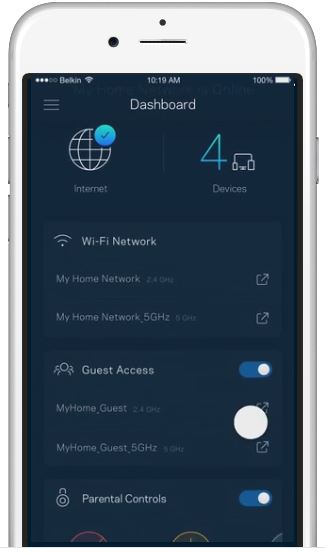 Software Features
Even if you don't use a custom firmware, you'll have access to plenty of great features that Linksys has built in. For starters, the entire setup procedure has been turned into a simple step-by-step wizard. You simply log into the router, and it will walk you through setting up your network name, password, internet connection, and any extenders or bridges you need.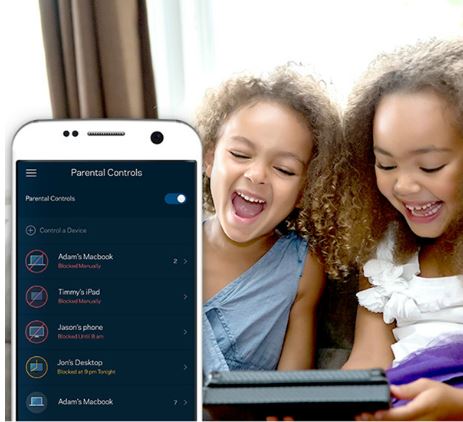 You may want to control how your network is used, and Linksys provides several ways to do so. Parental controls can determine what websites your devices are able to access, and time restrictions control when they can get online. Dynamic DNS can provide advances content filtering for the entire network, or give you a way to access your home network remotely.
You'll also find plenty of great security features. Hiding the SSID will ensure that nobody can find your network without knowing the name, and MAC address filtering lets you control which devices can or cannot get online.
Real World Performance
A 3200 megabit connection sure sounds great, but we know from experience that wireless networks are rarely able to meet the maximum theoretical bandwidth with a single device. We had to find out for ourselves what the maximum transfer rate would be from a single device.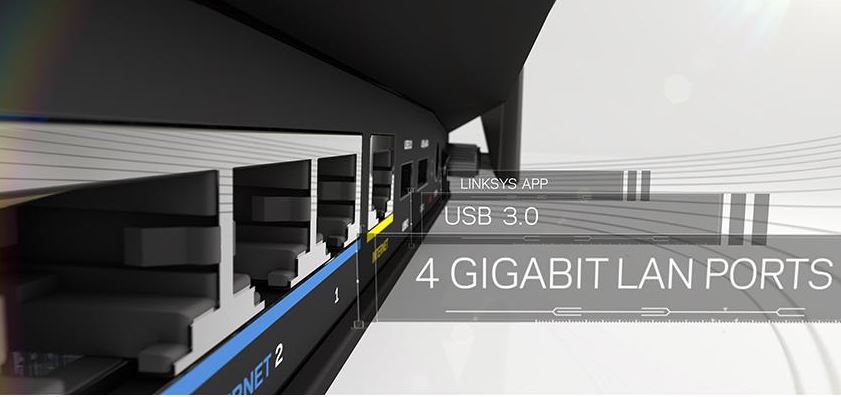 Using 802.11ac, we transferred a large file across the network at close range. Amazingly, the file downloaded at a rate of 480 Mbps. This is incredibly fast performance, only made possible with high speed SSD drives. But we all know that performance can drop significantly, so we had to redo the test from the other side of our house.
We went up to the second floor and set up our computer on the other side of the house. This means that the signal was going through a floor and two walls. We still managed to achieve a download speed of 418 Mbps. This is certainly a small drop, but other routers we've tested have struggled to even get a signal this far.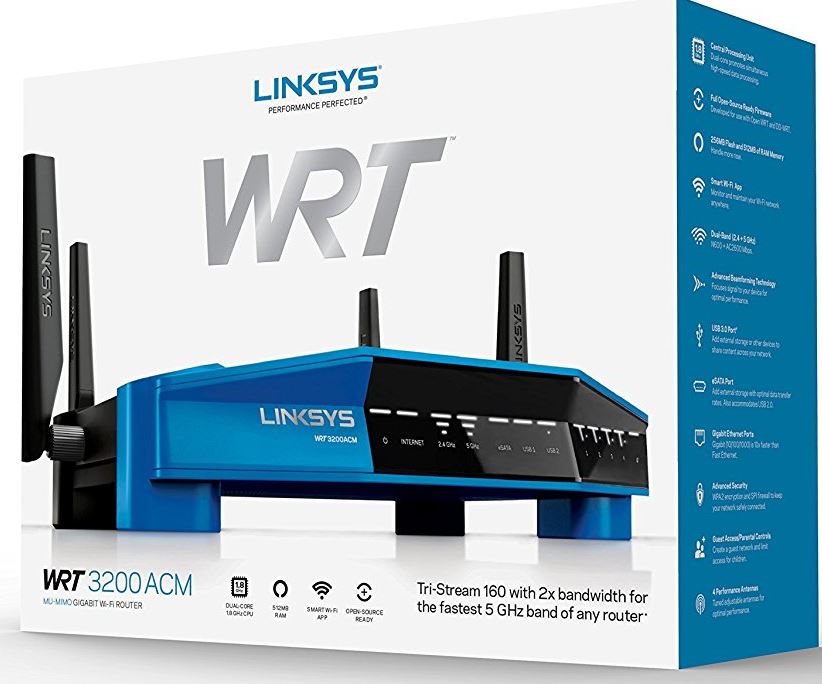 Specifications
Dual-Band 3×3 with Tri-Stream 160 Technology
MU-MIMO
Enterprise-grade 1.8GHz dual-core ARM-based CPU
256 MB Flash
512 MB DDR3 RAM
DFS certified to operate in the clearest Wi-Fi airspace
SOHO-grade 5-port Ethernet switch
4 Gigabit LAN ports, 1 Gigabit WAN port
1 x eSATA/USB 2.0 port
1 x USB 3.0 port
UPnP Server
Four detachable external antennas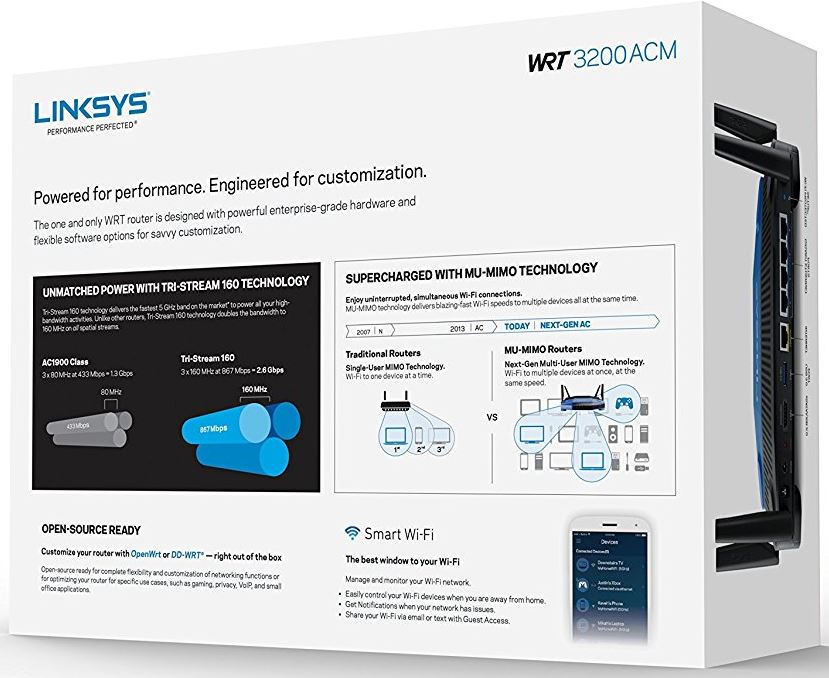 So, Should I Get the Linksys WRT AC3200?
This might not be the fastest router on the market, but it's pretty darn close. The question is, do you need all this power?
If you live in a household with a lot of people, then the MU-MIMO technology will be a godsend. Even if you use older devices that aren't individually capable of extreme bandwidth, most routers will quickly choke when there are too many open connections. The Linksys WRT3200ACM, on the other hand, handles it with ease.
Do you have a high speed internet connection? If you're bandwidth exceeds 50 or even 100 Mbps, you're going to want a router fast enough to handle it. This router offers that, and still leaves you room to grow.
Is there anybody who shouldn't get it? If you have a very slow internet connection and do not plan to share any files locally, then you won't see much of a benefit from upgrading to such a high-tech router. Your internet is only as fast as the weakest link in the chain. No router can turn a 5 Mbps connection into a 50 Mbps one. If you're sick of slow internet speeds, maybe consider upgrading your cable modem. Linksys makes the CM3016 high speed cable modem, allowing you to kill two birds with one stone.
Meet Derek, "TechGuru," a 34-year-old technology enthusiast with a deep passion for tech innovations. With extensive experience, he specializes in gaming hardware and software, and has expertise in gadgets, custom PCs, and audio.
Besides writing about tech and reviewing new products, Derek enjoys traveling, hiking, and photography. Committed to keeping up with the latest industry trends, he aims to guide readers in making informed tech decisions.