If you're looking for a good set of wireless earbuds, there are plenty of options on the market. That said, there's also a lot of junk. This is due to the fact that the markets have been flooded in the past few years. With the invention of True Wireless Stereo, and Apple going wireless-only, there's been a ton of demand. So, how do you know which earbuds are worth buying, and which you should avoid?
One way is to choose a reliable manufacturer. When it comes to wireless earbuds, Linsoul is one of the best. They produce a wide array of earbuds, as well as headphones and other audio devices. They also sell directly from their own website. These aren't just no-name devices being sold through major ecommerce sites. They're finely-tuned machines, built with pride by a quality manufacturer.
Linsoul is now releasing a new set of earbuds, the TinHifi T2000 Dual Dynamic Hi-Fi True Wireless Earbuds. These earbuds are brand new, but the product line isn't. Linsoul's T-Series has been their flagship line for a few years, and this new entry spent 12 months in development. Unfortunately, due to the pandemic, production and shipping has been delayed. But that doesn't mean you can't get a sneak peek at what these new buds have to offer. We'll go over all the features and benefits, as well as the overall design. We'll also talk about the battery life, the connection quality, and, of course, the sound quality. Once we've done that, we'll be ready to render a final verdict. Let's get started!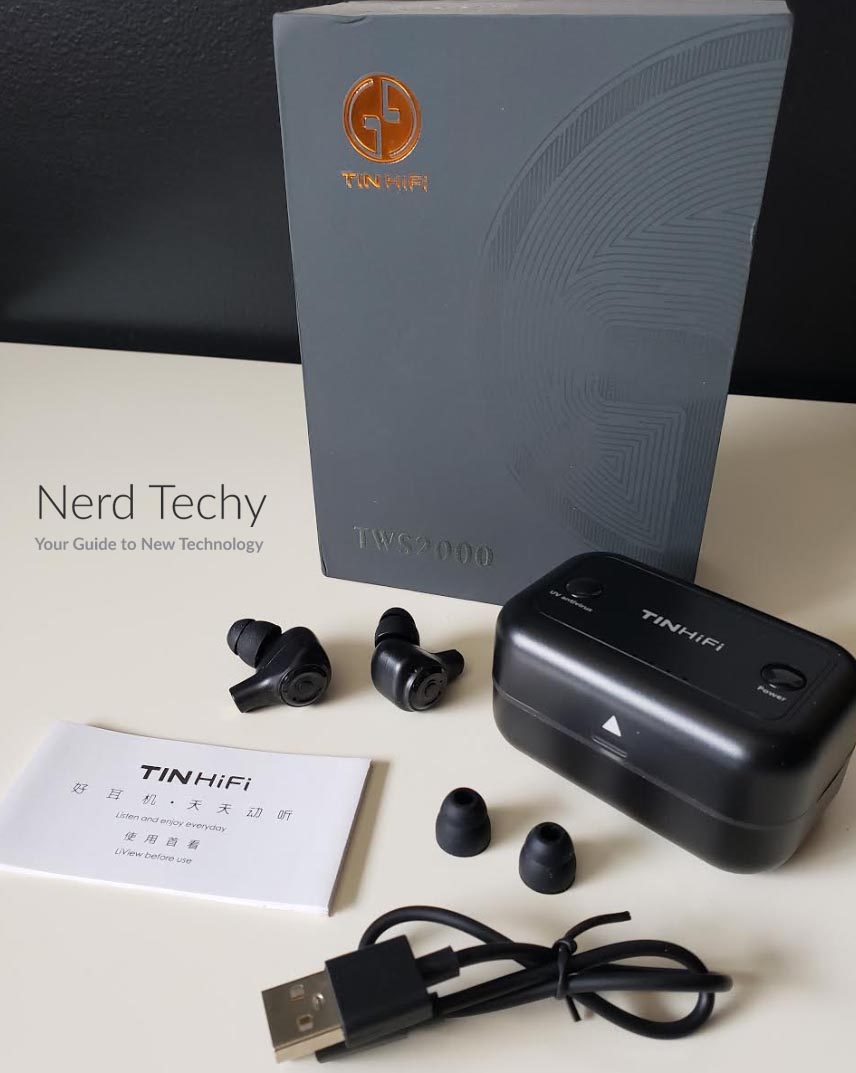 Overall Design
When you first look at the TinHifi T2000, you'll immediately notice that it has a set of wires. You're probably thinking: "What gives? I thought this was a pair of wireless earbuds!" You're correct. These are wireless earbuds. They're also wired earbuds. The modular design makes them useful for a wide variety of purposes. You can go wireless for workouts and other activities where batteries would be an encumbrance. When you're ready to relax, connect the wires to save batteries. Regardless of what you want, everything you need is in the box.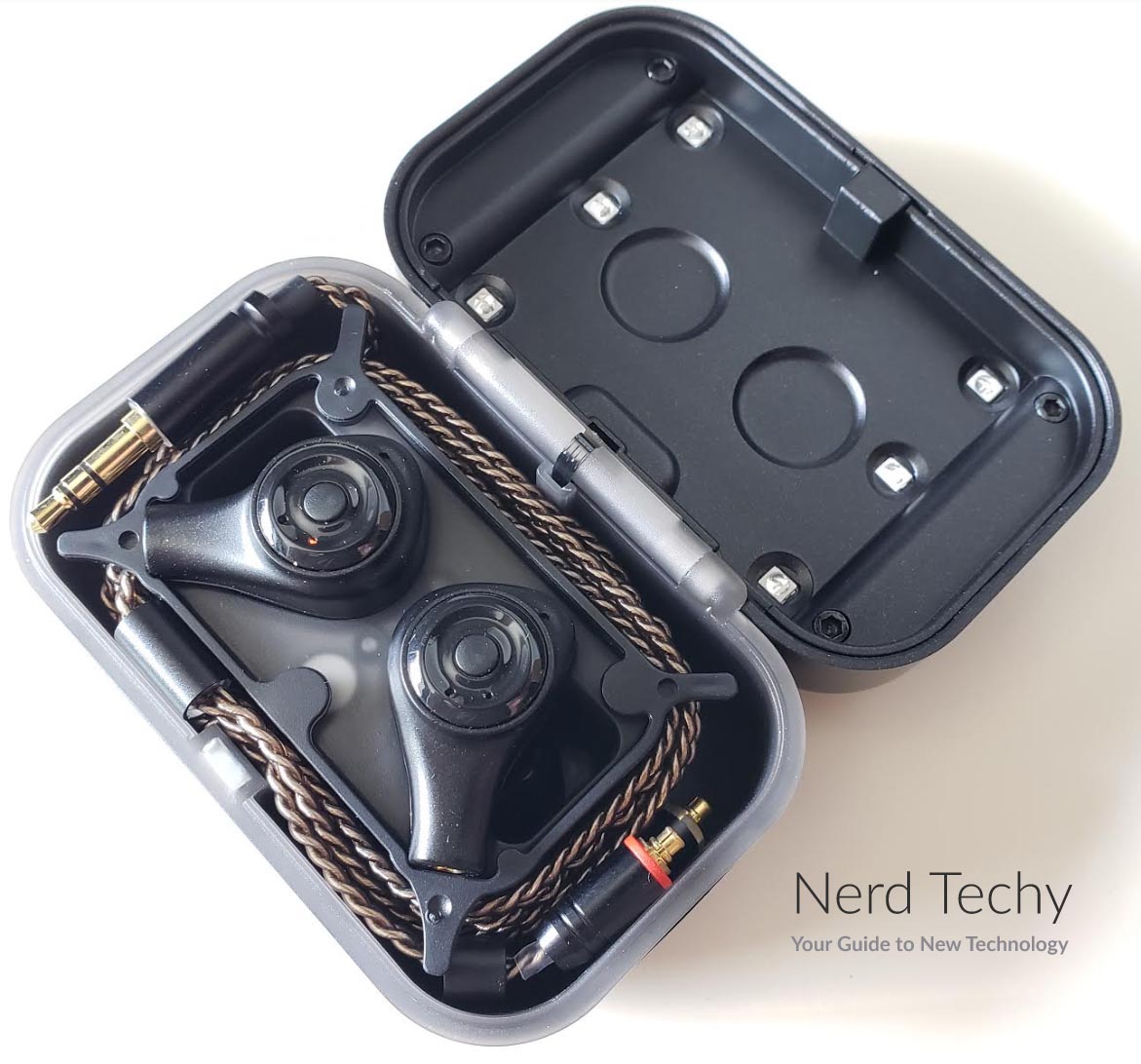 The earbuds themselves are compact, and they're designed to fit neatly in your ears. They stay in place with a set of ear tips that have a long, double-lobed profile. This design provides two layers of passive noise isolation, blocking out outside noise. It also provides added security to prevent the buds from falling out. Even if one level of the tip doesn't "stick", the other serves as a backup. Of course, all of this is going to depend how good your fit is to begin with. If the default tips are too big or too small, try one of the extras that come in the kit. You get three different options, so you'll be able to find a secure fit no matter what.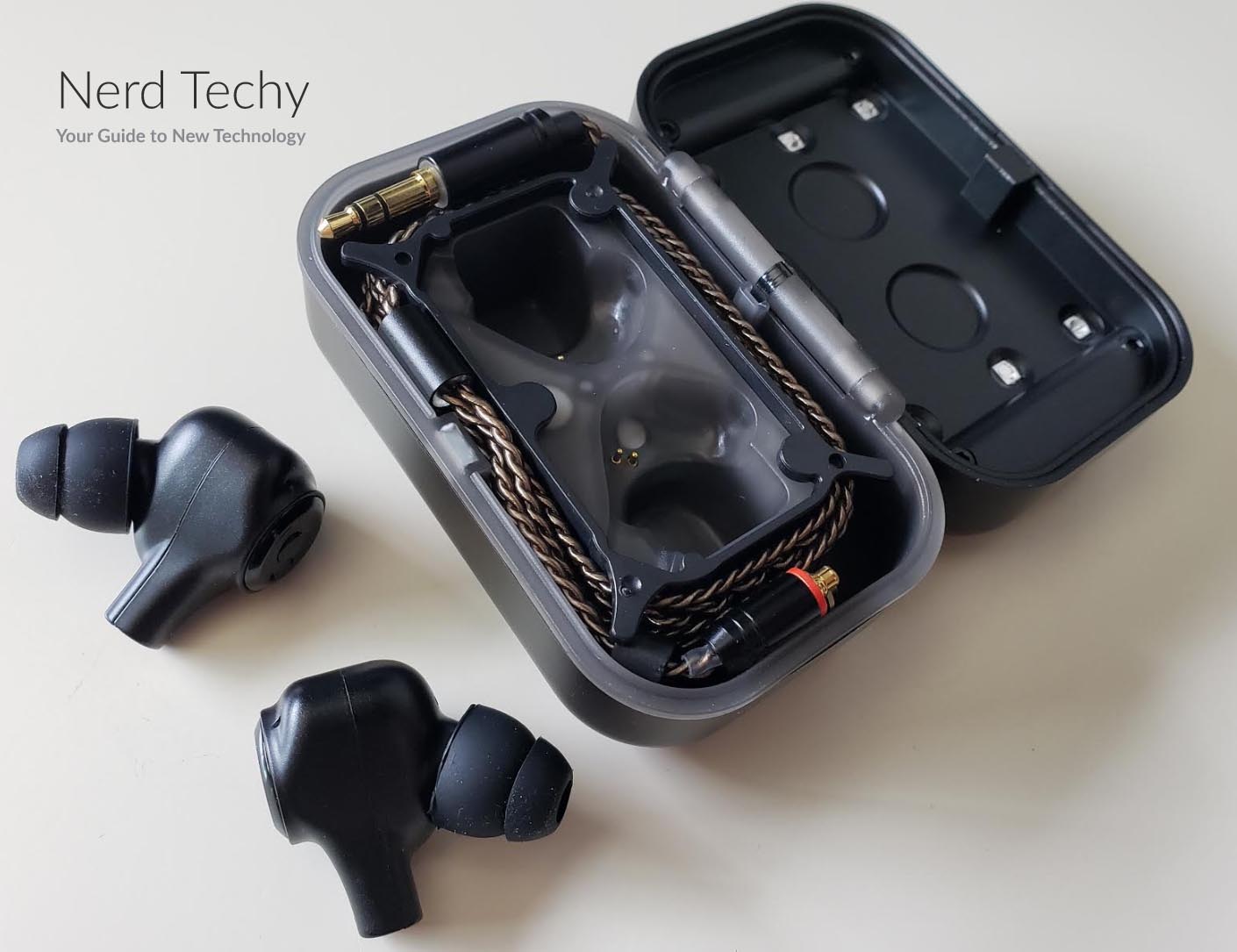 On the back of the earbuds, there's a set of soft-touch buttons that operate all the controls. You can skip tracks, play or pause your music, answer and end calls, or adjust the volume. Because the design is soft touch, you don't have to press very hard. This ensures plenty of comfort, even if your ear canals are very sensitive. Keep in mind, though, that the controls only work via a Bluetooth connection. If you're using the buds in wired mode, you'll have to rely on your phone's built-in controls.
The wires are very well constructed, with a 4-core copper cable. This allows for crisp, clear transmission. Moreover, the two cables for each earbud are each housed in separate, braided insulation. This reduces static and interference to the lowest possible level. The braided design looks delicate at first, but it's actually fairly tough. Moreover, it keeps the insulation from getting sticky. As a result, it's very easy to keep the cables from getting tangled. And when they do invariably tangle, they're very easy to straighten out. The cable tips have a simple, snap-in design that makes them easy to use. You don't have to worry about any tough, fiddly connections. An added benefit is that if you snag your cable on something, it will pull free without causing damage.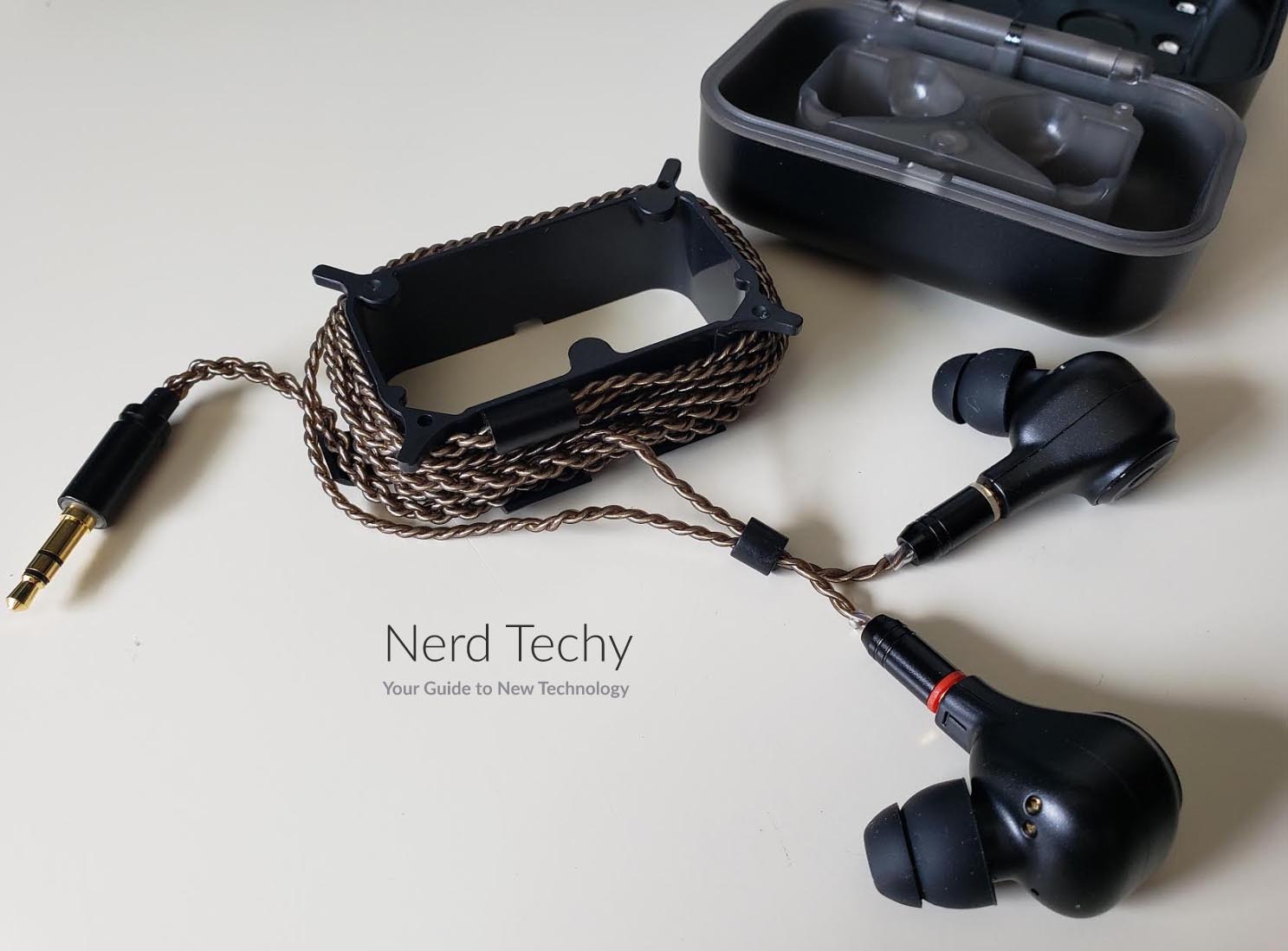 Of course, not every set of earbuds needs a wired option. If you're looking for good, wireless-only buds, check out the Linsoul KZ-S2 True Wireless Earbuds. It has a similar design to the TinHifi T2000, but with a smaller case and no wires.
One thing that did disappoint us is the fact that the TinHifi T2000 buds don't come with an IP rating. At first, we were confused. However, the reason is actually quite clear. The opening for the wire connection provides a route of entry for water. This shouldn't be an issue for a little sweat. But bear in mind that these are not waterproof earbuds. Put them away before you hop in the shower.
The TinHifi T2000 case is neat and well organized. It has a small central island where the buds are stored. Around the outer rim, there's a channel with retainers for wrapping up the cord. If you're not using the cord, this gives you a great place to store it while you use the buds. The lid has a clamshell-style design. It's spring-loaded and pops open easily. On the top, there's a row of six LEDs that indicate the current battery level. There are also two buttons. The one on the right is a simple power button that activates the charging case.
So, about that left button. It activates the T2000's ultraviolet sterilization mode. When this mode is activated, a set of UV lights in the case lid will activate to sterilize your buds. Keep in mind that this will burn through some of your battery. But if you value keeping your earbuds sanitary, you'll appreciate this added bonus. The downside? With the UV feature and the space required for the cable, the case is fairly large. You're better off carrying it in a backpack or purse than you are sticking it in your pocket.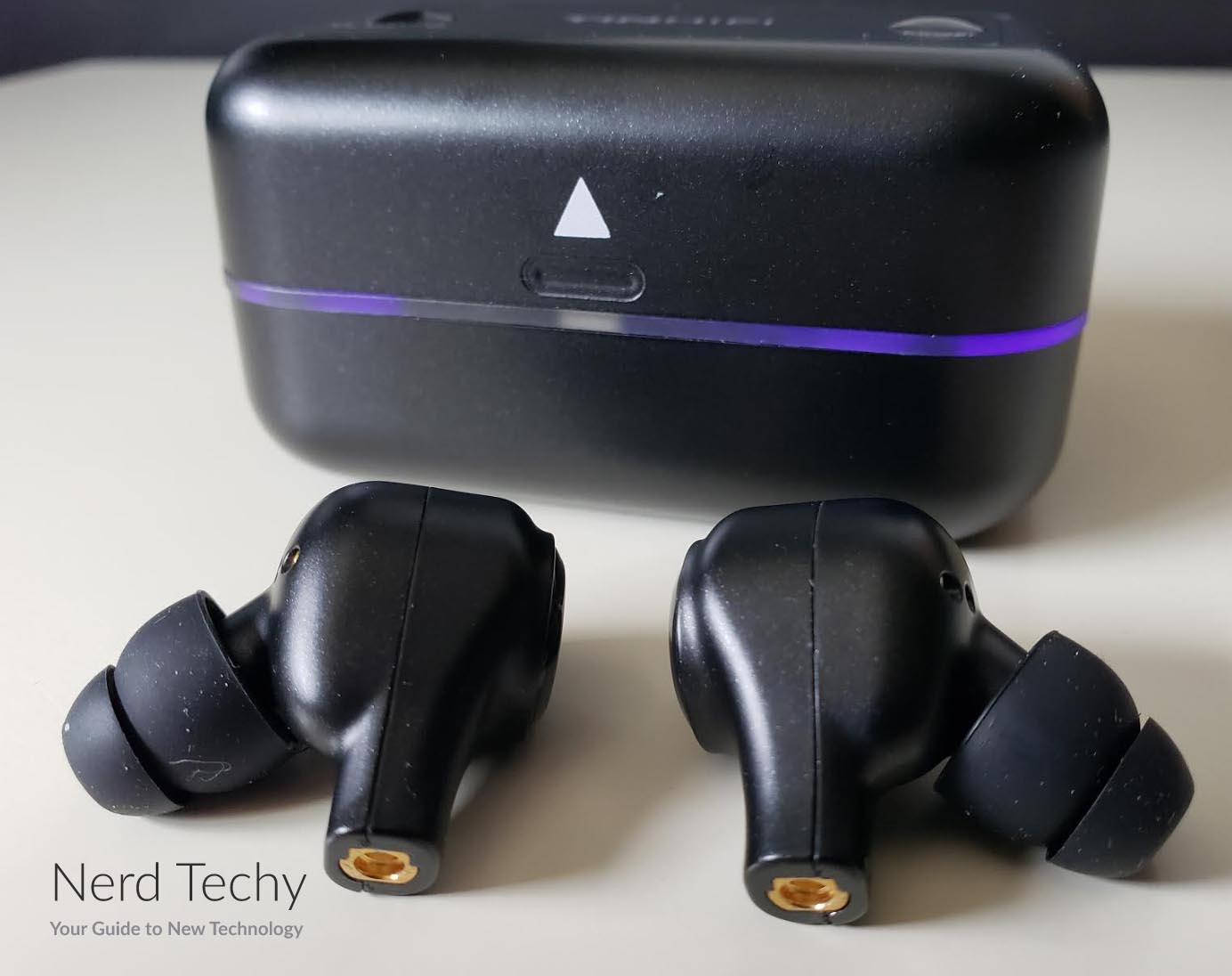 Battery & Connectivity
The TinHifi T2000 earbuds carry a charge of 40mAh apiece. The case, meanwhile, carries a charge of 600mAh. The earbud charge is enough to support about five hours of listening, although this can vary widely. Depending on the volume, bitrate, and even ambient temperature, you may get different results. You can recharge the buds about five times from the charging case, allowing for 30 hours of total use. Again, how well this works will depend on how often you use the sanitizer function. Remember, the more you use it, the less juice you'll have for charging the buds.
The buds and the case support fast charging. You can fully charge the buds in about an hour, or get an hour's worth of use from a ten-minute charge. The case itself will also charge in about an hour. Either way, it's easy to top of your batteries when you need to. If you want to extend your earbuds' usefulness even further, there's a simple solution; just use the wires.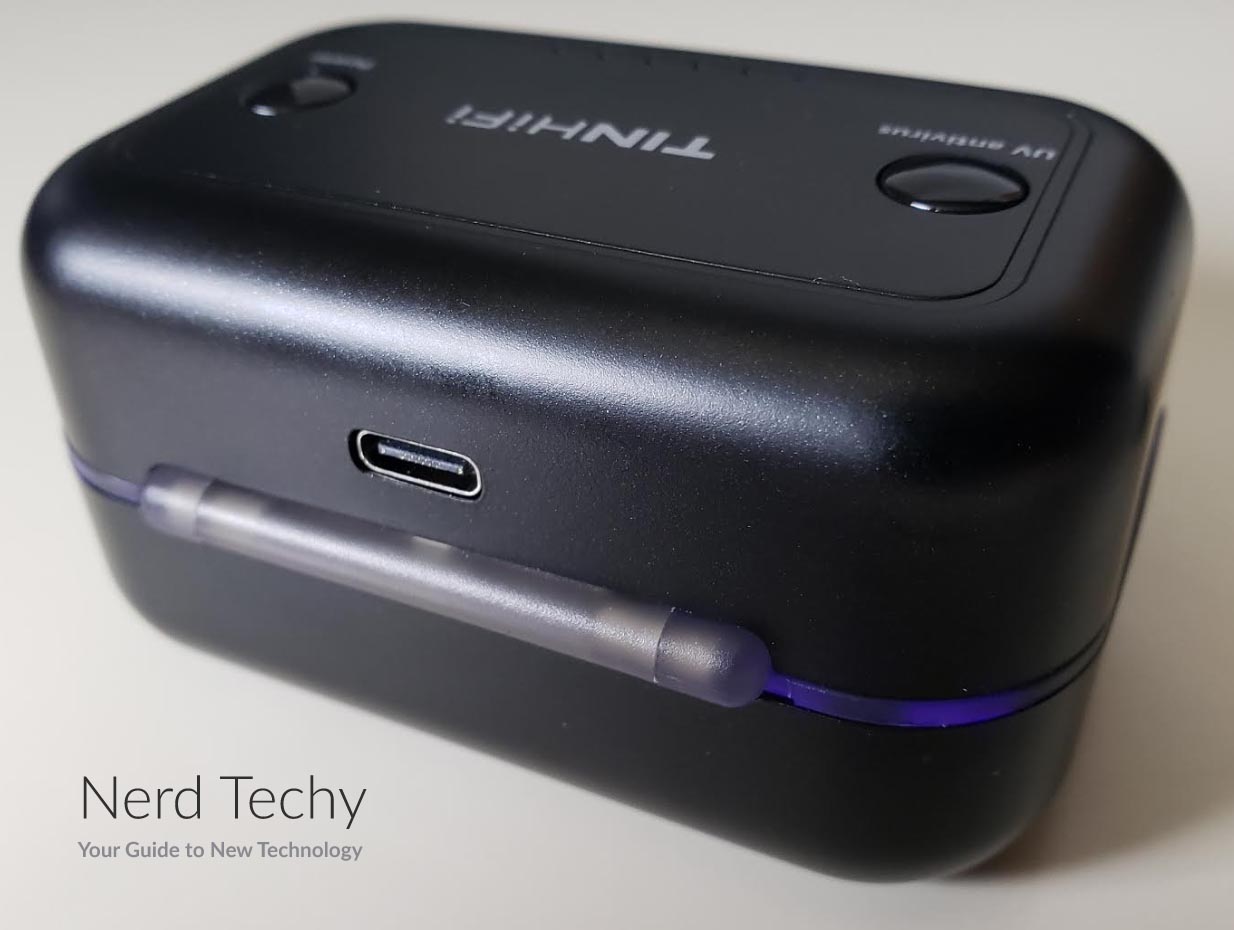 The T2000 buds utilize the latest Bluetooth 5.0 chipset. This chipset allows for listening to high-bitrate music, so you can enjoy plenty of depth and richness. It also ensures low latency for videos, and a more stable connection for all purposes. Most Bluetooth 5.0 devices have a range of 33 feet. However, the T2000 buds have an extended range of 39 feet. This isn't a huge difference, but it can be noticeable under certain circumstances.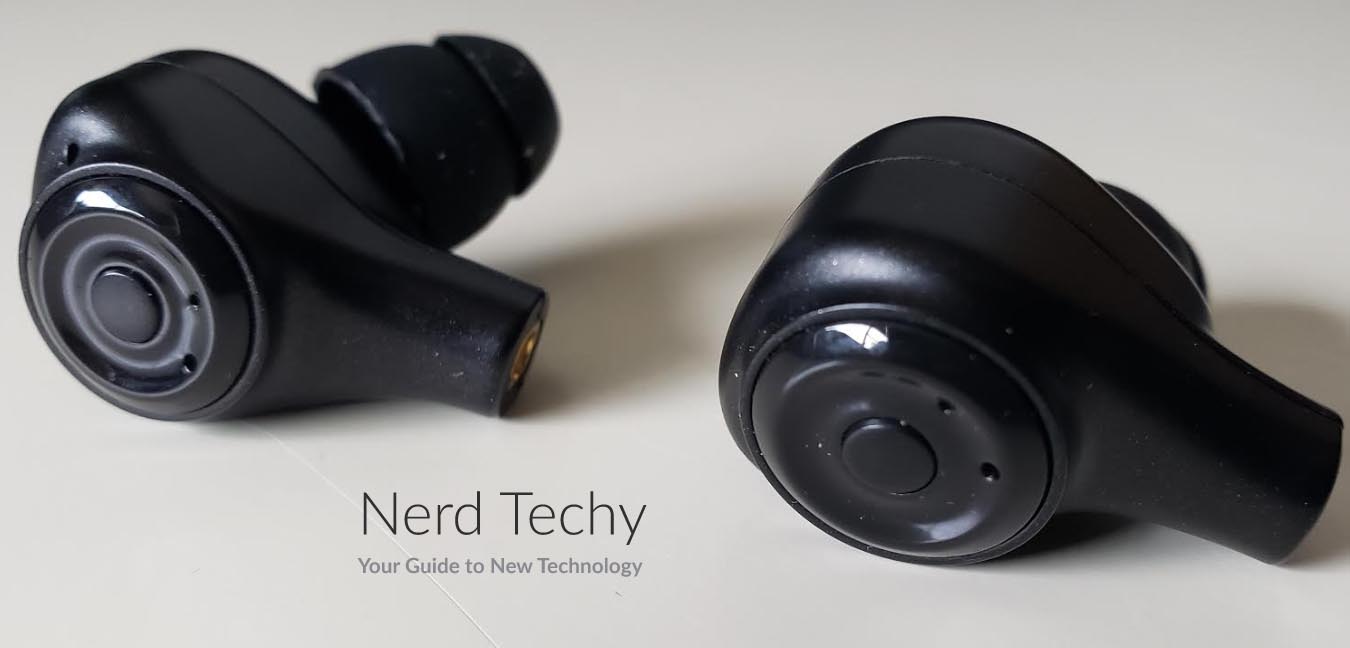 Sound Quality
The TinHifi T2000's driver is also a cut above the competition. Indeed, "driver" is an understatement. The proper term would be "drivers". There are both 8mm and 9mm Nitinol dynamic drivers, which pump out rich, full audio. For one thing, the dual drivers can transition from one tone to another faster than a single driver. Moreover, the Nitinol construction is more responsive than a beryllium or graphene driver.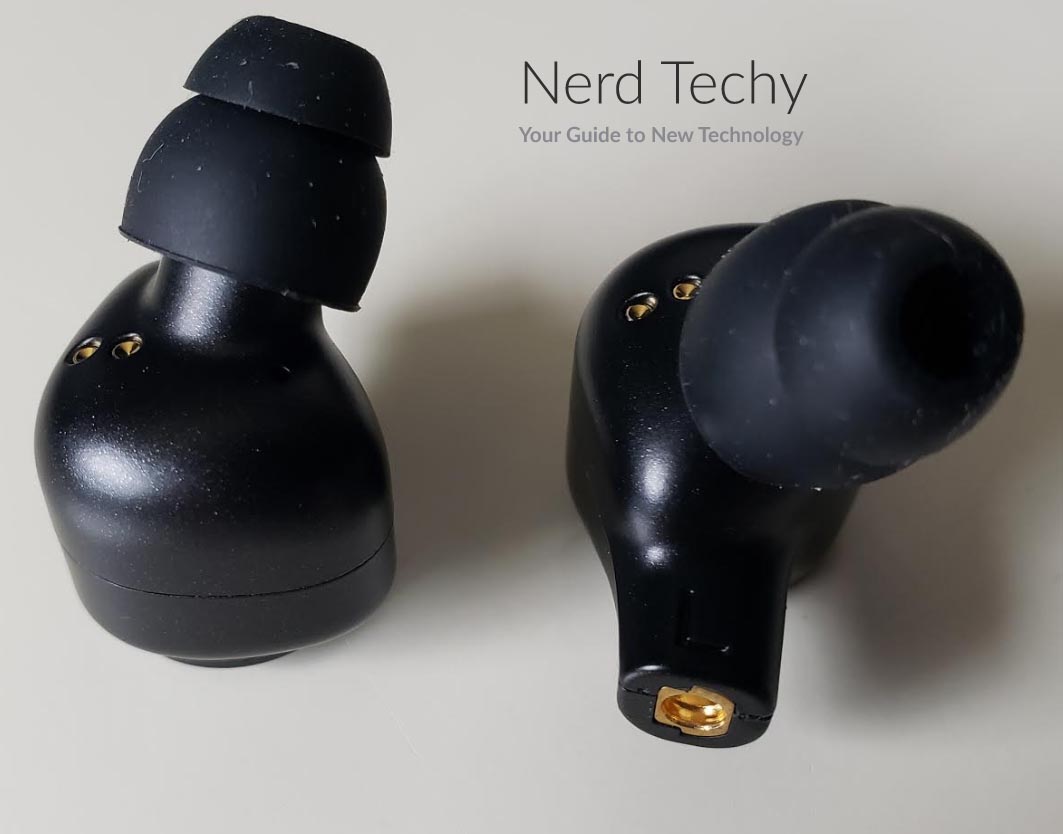 What this means for you is that the sound quality is exceptional. Bass is rich, full, and punchy. Mids are clear, with no interference or muddiness. And high frequencies have plenty of shimmer, so cymbals and strings sound fantastic. To complement this EQ, the soundstage is very wide. There's no crossover or interference between instruments, which audiophiles will absolutely love. Now, all of this is relative. You'll still get better bass and clarity from some proper over-the-ear headphones. But if you're comparing apples to apples, the T2000 buds are some of the best on the market.
If you want even punchier bass, there are some earbuds that offer it. For instance, consider the Tranya Rimor Wireless Earbuds. The bass is very powerful, but this comes at the cost of some clarity and separation from higher frequencies. Still, they're a great choice for dance music.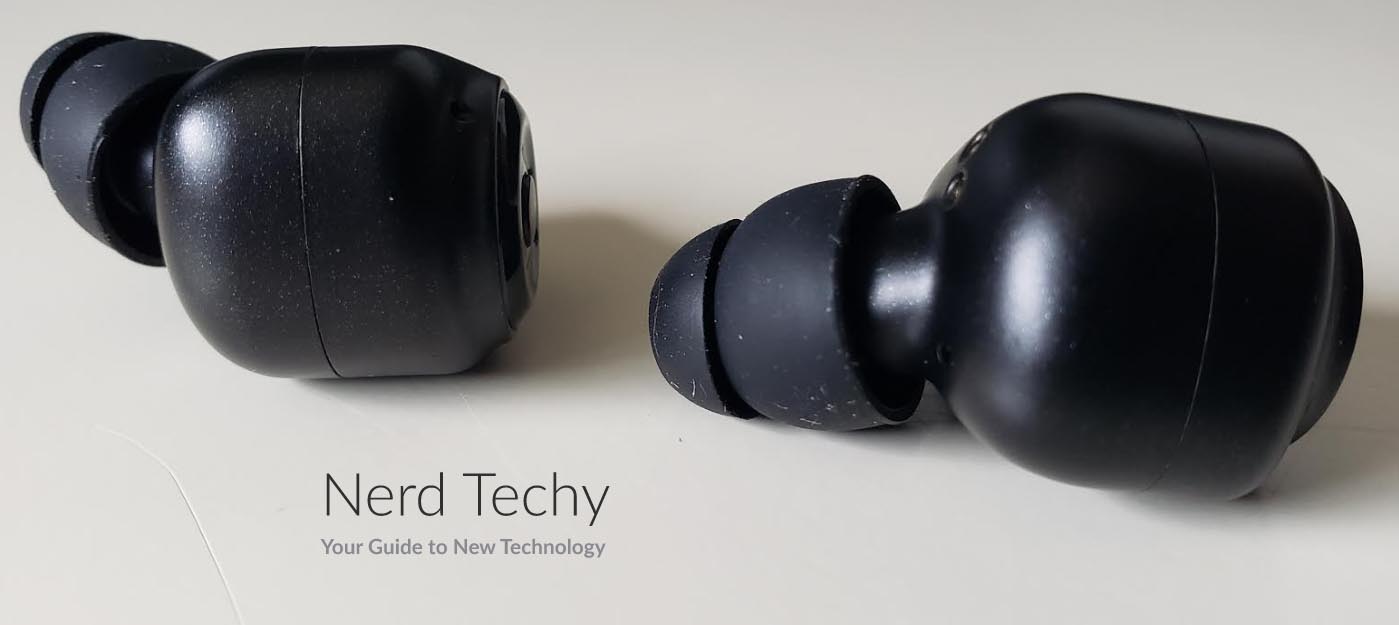 Final Verdict
As you can see, the Linsoul TinHifi T2000 Dual Dynamic Hi-Fi True Wireless Earbuds are some very innovative buds. To begin with, the modular design is almost unheard-of. Generally speaking, your earbuds are either wired or wireless. In this case, you can switch between the two modes in mere seconds. This does have the negative side effect of making the earbuds not waterproof. But even so, they're okay to get you through a sweaty workout.
Another great feature of the T2000 earbuds is the ultraviolet charging case. In today's world, you can't be too careful about sanitation. And with a UV sanitizer, your buds are just a button push away from getting clean. The batteries are not fantastic, but they're not bad, either. They're about par for the course for a quality pair of earbuds. Finally, the sound quality is out of this world. The dual drivers provide clean, responsive sound across the entire sound spectrum. Moreover, you get an extra-wide soundstage. No matter what genre of music you prefer, you'll be able to enjoy it just as the artists intended.
Meet Derek, "TechGuru," a 34-year-old technology enthusiast with a deep passion for tech innovations. With extensive experience, he specializes in gaming hardware and software, and has expertise in gadgets, custom PCs, and audio.
Besides writing about tech and reviewing new products, Derek enjoys traveling, hiking, and photography. Committed to keeping up with the latest industry trends, he aims to guide readers in making informed tech decisions.