Wireless earbuds are one of the hardest devices to shop for. The fact is, there are so many thousands of options on the market that it's tough to sort out what's worthwhile. There are a number of ways to limit your options. For one thing, you could choose a particular brand you're already familiar with. That's certainly not a bad way to go. For another thing, you could hone in on a particular feature. For example, you could focus on noise-cancelling earbuds or ones with wireless charging. Another thing you can do is look for a particular style. That's what we'll be doing today.
We're about to compare two of the best new, affordable pairs of ear hook earbuds. These buds have extensions that loop over the tops of your ears and hold them securely in place. We'll begin by reviewing the MuGo Q20 Wireless Earbuds. These earbuds have big, clicky buttons and voice isolation for your phone calls. Next, we'll compare them to the TikSounds Q25 Wireless Earbuds. These earbuds are a bit lighter, with soft touch controls and a different audio profile. Once we've gone over the details, we'll be ready to render our verdict. Let's begin!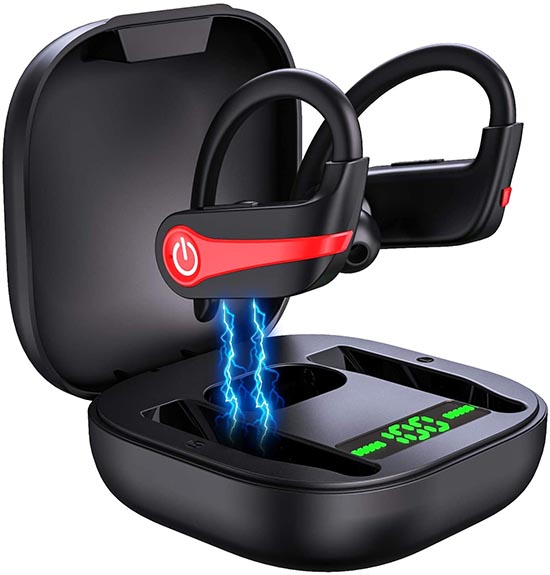 MuGo Q20 Wireless Earbuds
The MuGo Q20 Wireless Earbuds have a bold, beefy design that sets them apart from the competition. The bulk of the design is black, with an easy-to-clean matte finish. The sides sport a set of highly-visible power buttons, which sit in the end of red stripes. This makes the Q20 buds far more colorful than most other, similar options on the market. The ear hooks extend upwards from the front end, and wrap around the tops of your ears to the back.
On the inside of the housings, there are a set of smaller shells that protrude into your ears, with silicone tips. These are soft and comfortable, and provide a good seal to keep out outside noise. Not only that, but they assist the hooks with keeping the earbuds in case. For both of these reasons, it's in your best interest to make sure you've got the right fit. In addition to the standard, medium tips, there are additional large and small sets of tips.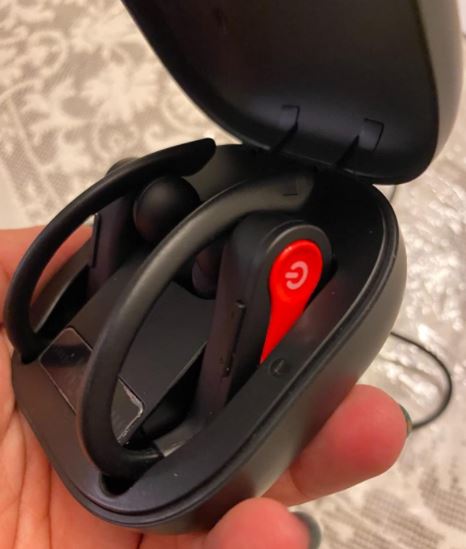 On the tops of the earbud housing, you'll find two sets of physical buttons. These aren't soft touch controls. They provide good tactile feedback, and they're not easy to actuate by mistake. This makes it easy to handle the earbuds without accidentally changing the volume. The controls can even activate your phone's voice assistant for complex commands.
The Q20 earbuds are IPX7-rated for weather-resistance. This is the highest standardized rating, and it indicates that they can withstand full submersion. They can be held under a meter of water for a bare minimum of 30 minutes. As a result, you don't have to worry about wearing these buds for your post-workout shower. It should go without saying that rain and sweat are no issue whatsoever.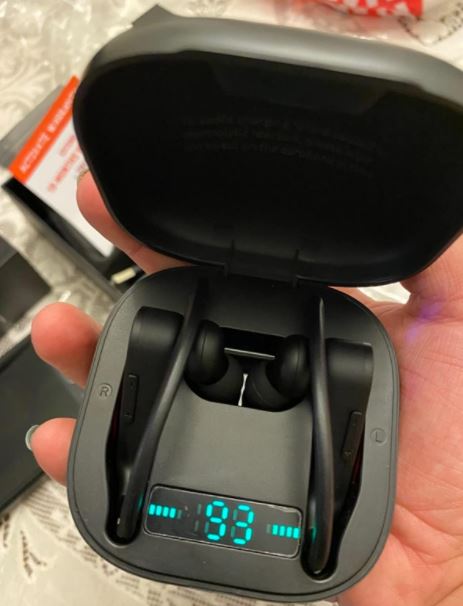 Along with the actual earbuds, you get a carrying case that doubles as a charger. It has a horizontal design, and the earbuds lay down flat inside. They each have their own molded well, so the charging contacts are always in the right position. The case has a clamshell-style lid, and opens easily with a little pressure from your thumb. It's also spring-loaded, which means it won't flip open in your pocket by mistake.
Inside the case, between the earbuds, there's a bright green LCD display. To the left and right sides, there are battery meters for your buds. They're standard, battery-shaped graphical displays like you'd see on your smartphone. Between them, there's a digital percentage readout of the battery level of the case itself. This makes it virtually impossible to run out of power. A USB Type-C cable is also included in the package, so you can stay charged.
If you prefer an earbud with a more subdued design, the Anker Soundcore Life P3 is a good choice. It has a traditional in-ear profile that looks more like a traditional AirPod. It also offers active noise cancellation, although it's not as secure as the Q20.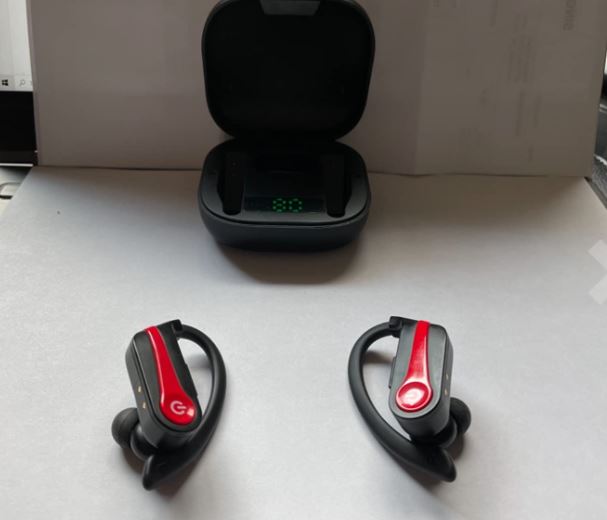 Battery & Connectivity
The MuGo Q20 earbuds have long-lasting batteries, which are rated for 10 hours per charge. Now, we always need to keep in mind that manufacturer ratings tend to overstate things. In this case, you'll get 10 hours of playback if you're listening at half volume. At full volume, seven or eight hours is more realistic. But even so, that's more than most people will ever need on a single charge.
Not only that, but the case provides a full 30 hours of additional playback. This means you can listen for a full 40 hours – at half volume – before you need to plug in. Charging takes about two hours, for both the earbuds and the case. Charging overnight is no big deal.
These earbuds use the Bluetooth 5.1 wireless protocol, which is an improved version of Bluetooth 5.0. The signal provides low latency, which means there's virtually no lag between the video and audio signals. If you're watching a movie, the audio will line up perfectly, unlike older Bluetooth versions. You'll also be able to listen at higher bitrates, so you can enjoy HD audio. One thing that did disappoint us was the signal stability. Bluetooth 5.0 and later provide a highly stable signal, at least in theory. But these earbuds cut in and out whenever there's a lot of interference. If you're in a dense urban area, this can be problematic.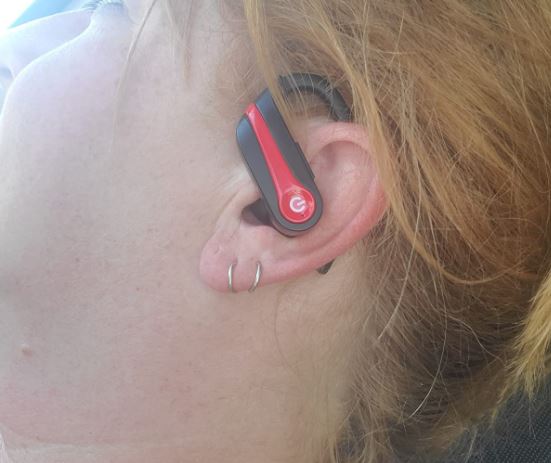 Audio Quality
The Q20 earbuds provide relatively good sound quality for their size and price. There's plenty of richness across all frequencies. Highs are shimmery and crisp, and basses have plenty of depth. There's also good separation between the highs and the lows, so there's space for medium frequencies. That's where the human voice lives, so it's an important part of the sound spectrum. There's also a generous amount of volume. If you like to crank up your music, you won't feel shortchanged.
We should point out that the EQ is flat, not bass-heavy. This is good for most genres, but it might not be ideal if you prefer "bass boost" headphones. If that's what you crave, consider the Anker Soundcore Liberty Air 2 Pro Wireless Earbuds. They provide ultra-rich bass, with a wide soundstage as well as ANC mode. On the downside, they have less battery life.
These earbuds come with a Qualcomm CVC 8.0 chipset. CVC stands for "clear voice capture," and it's a technology that focuses in on your voice during phone calls. Using multiple external mics, the chipset eliminates background noise so the other person can hear you more clearly.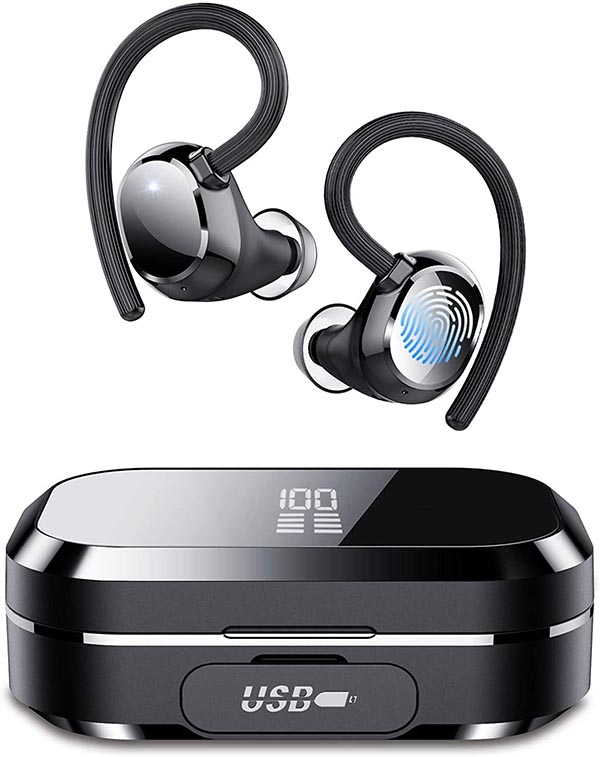 TikSounds Q25 Wireless Earbuds
The TikSounds Q25 Wireless Earbuds also have ear hooks that wrap around your ears. But that's where the similarities end. These ear hooks are extremely flexible, made of a rubbery material that's easy to conform to your face. The hooks attach into silver shells, which have a metallic sheen that's easy on the eyes. The backs of these shells act as soft touch controls, which are easy to operate. Just be careful when you're handling the earbuds, or you're liable to change the volume by mistake.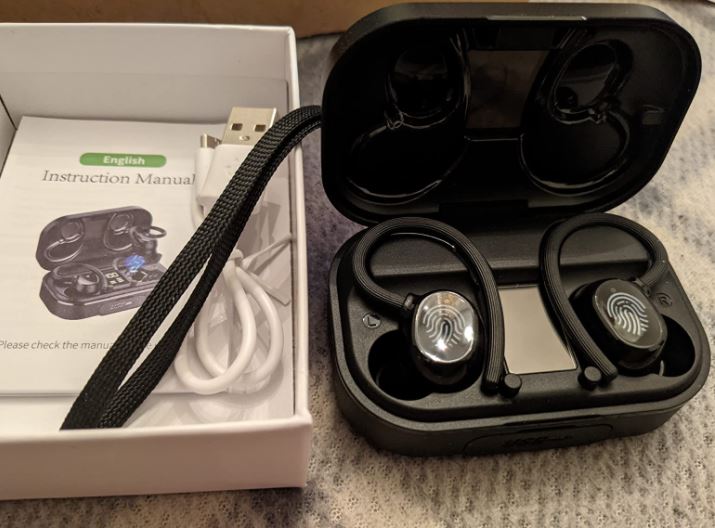 Like the Q20 earbuds, the Q25 buds come with three sets of ear tips. Take your time to get the right fit, and you'll be much happier with your experience. They're also IPX7-rated, so they can withstand sweat, showers, and even full submersion.
The Q25 charging case is beefy and heavy, with a large rubber flap on the front. This flap covers a USB Type-C port for charging, and a USB Type-A port for plugging in your other devices. There's an LCD display between the earbuds, which is bright and easy to read. There, you'll find individual meters for each earbud, as well as a 1-100 percent digital meter.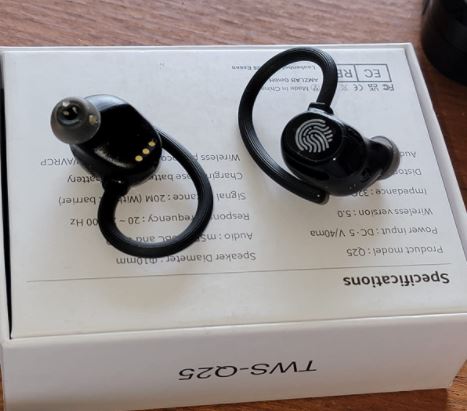 Battery & Connectivity
Each Q25 earbud has enough power for seven hours of rated playback time. In practice, six hours is more realistic, but that's not half bad. It's even better when you find out that the charging case provides more than 21 recharges. At half volume, you can get a full 150 hours of playtime without ever plugging in. Charging the earbuds takes about 90 minutes, and charging the case takes a little over two hours.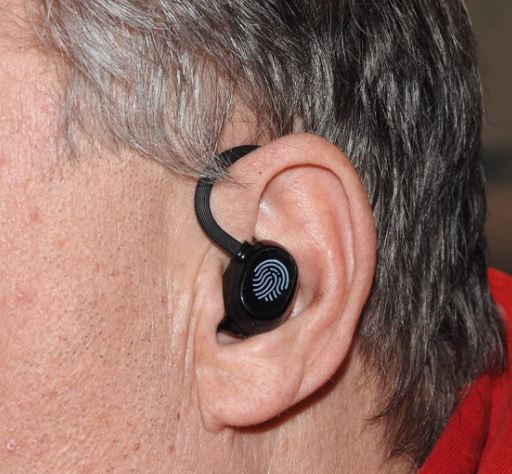 The case also doubles as a power bank. When you plug your smartphone or other device into it, it will draw on the battery. The 3,500mAh battery is enough to charge an iPhone 12 a little more than once. In other words, this isn't the power bank you take on a weeklong camping trip. But as an emergency backup, it's a nice thing to have.
The Bluetooth 5.0 connection is stable and reliable. It's also low-latency, and allows for playback at high bitrates. As an added bonus, these earbuds support both stereo and mono pairing. If you want to use just a single bud for hands-free calling, you can.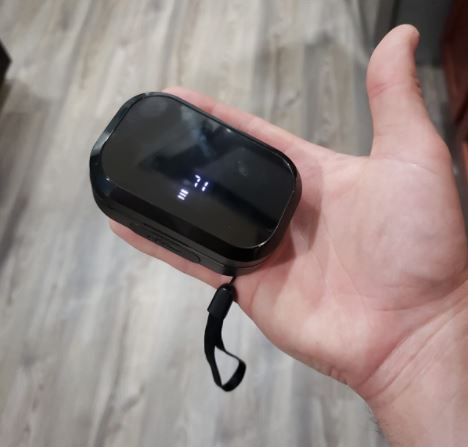 Audio Quality
The audio quality of the Q25 earbuds is very good. All parts of the sound spectrum have richness and depth, and come through clearly. That said, the EQ is on the bass-heavy side. If you prefer a more balanced EQ, you may find that it's a bit much.
Phone calls on the Q25 sound somewhat muffled to the person on the other end. This is a bit disappointing, given the otherwise-excellent quality of the rest of the design. If you need excellent audio quality and top-notch call quality, check out the JBL Vibe 100. The only downside is that it has an open case design, which isn't ideal for travel.
Final Verdict
So, which of these sets of earbuds is best for you? If you prefer a more balanced EQ, the MuGo Q20 Wireless Earbuds are going to be ideal. They also have easier-to-use physical controls instead of soft touch surfaces. That said, the janky signal is a major issue if you live anywhere with lots of interference.
For stronger bass performance, you'll want to go with the TikSounds Q25 Wireless Earbuds. They provide the bass heavy profile many people enjoy today. Not only that, but the charging case provides a truly insane amount of power. The only thing they're not really good for is phone calls.