If you want to enjoy watching a movie, there have never been more options than there are today. For picture quality, nothing beats a large LCD television. For convenience and portability, a simple smartphone is where it's at. But if you want a fuzzy, nostalgic, old-timey feeling, a home movie projector is an excellent choice. Better yet, even a top-tier projector comes at a lower cost than an HD smart TV. It's also easy to move from room to room. All you need is a blank white wall or a projector screen. There's no installation required.
But which home projectors are worth your money, and which are not? Anyone can produce a low-quality projector, then follow up with outrageous claims that it's the best thing since sliced bread. No worries. We'll help clear things up for you. We're about to review the Onson Mini Projector, a compact, portable projector for home use. It comes at a reasonable price, and is compatible with a wide variety of inputs. But is it the right choice for you? We'll take a look at all the Onson projector's features, from its video quality to its physical construction. After that, all you need to do is decide whether or not to click that "buy" button. Let's get started!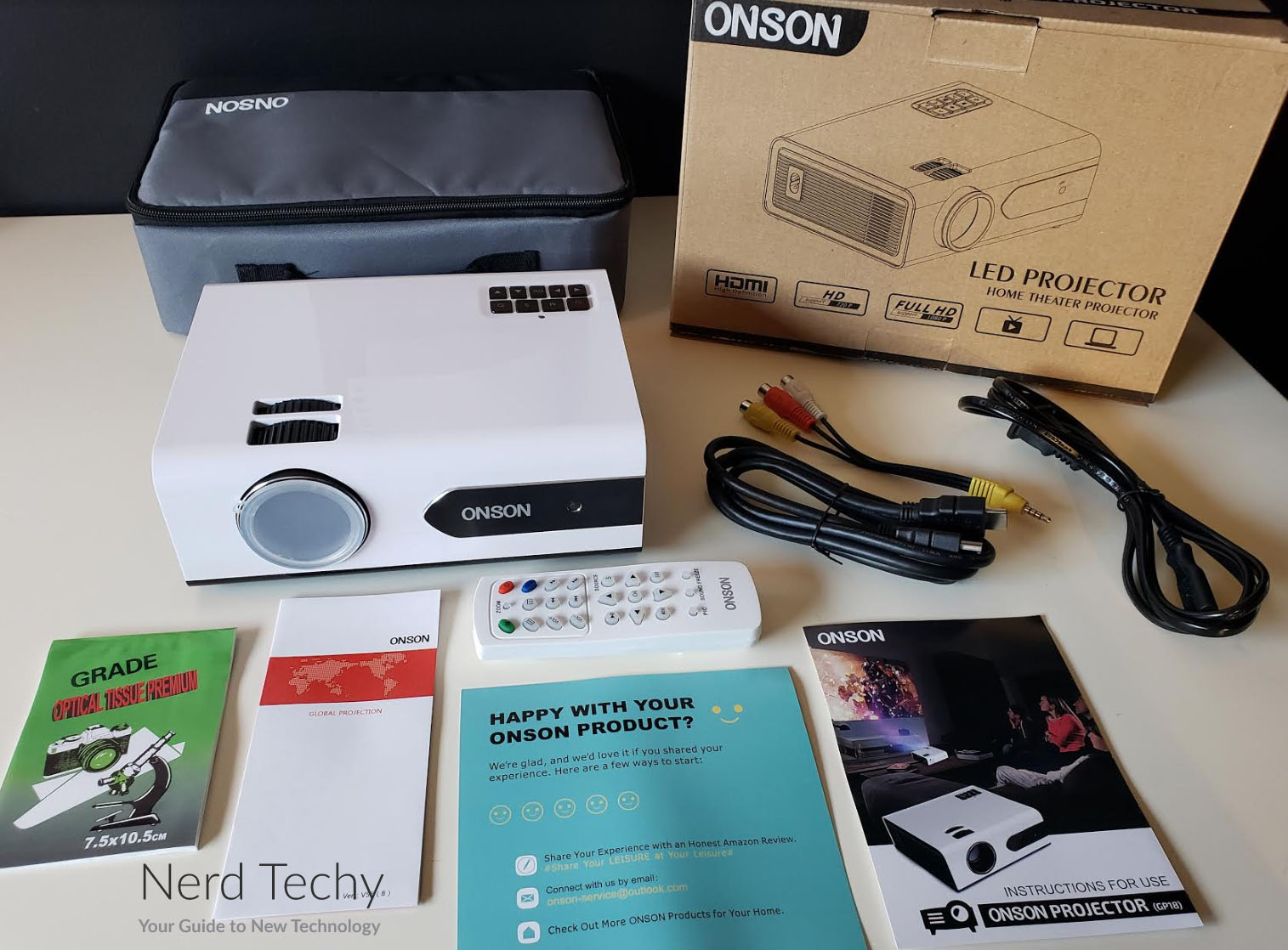 Overall Design
As its name implies, the Onson GP18 Mini Projector (Use code "70BQ9U66" for 70% OFF) is relatively compact. At 11.2 inches wide, 7.9 inches deep, and 4.3 inches thick, it can be stored just about anywhere. And at only 3 ½ pounds in weight, it's easy to transport. You can throw it in a backpack and take it to your friend's house to enjoy a movie together.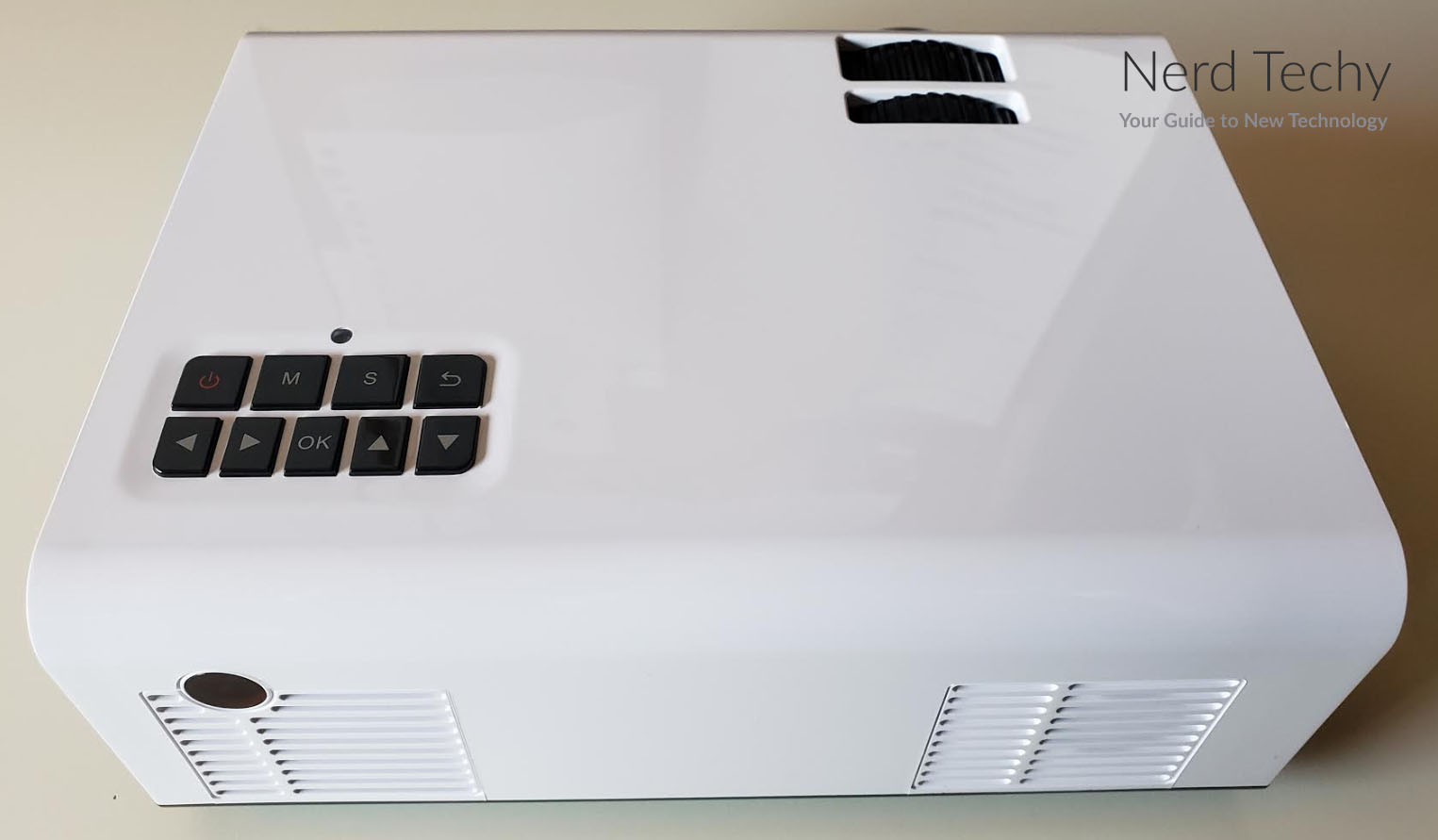 The bulk of the construction is white ABS plastic, which covers the front, top, and back of the projector. It has an attractive glossy finish, which resists smudging and is easy to keep clean. On the front of the projector, you'll see the lens, which is constructed from four layers of polished glass. It's housed in a black ABS housing, with a glossy finish that compliments the overall case. Next to the lens housing, there's a matching glossy black panel with a silver Onson logo. Within this panel, you'll see a small LED light. This light activates when the projector is powered on, so you know you're ready to go.
Use code "70BQ9U66" for 70% OFF on Amazon.com
On top of the projector, behind the lens, there are two ribbed black dials. These are used to make keystone adjustments, which we'll talk about more in a minute. Towards the back of the top, you'll find a control panel with eight rubbery black buttons. These buttons control all of the Onson projector's functions. The up, down, left, and right arrows allow you to navigate the menu, where you can make even more adjustments. If you prefer to use a remote, Onson has you covered. A remote is included with the kit, with a white finish that matches the projector. Throw in a pair of AAA batteries, and you're good to go.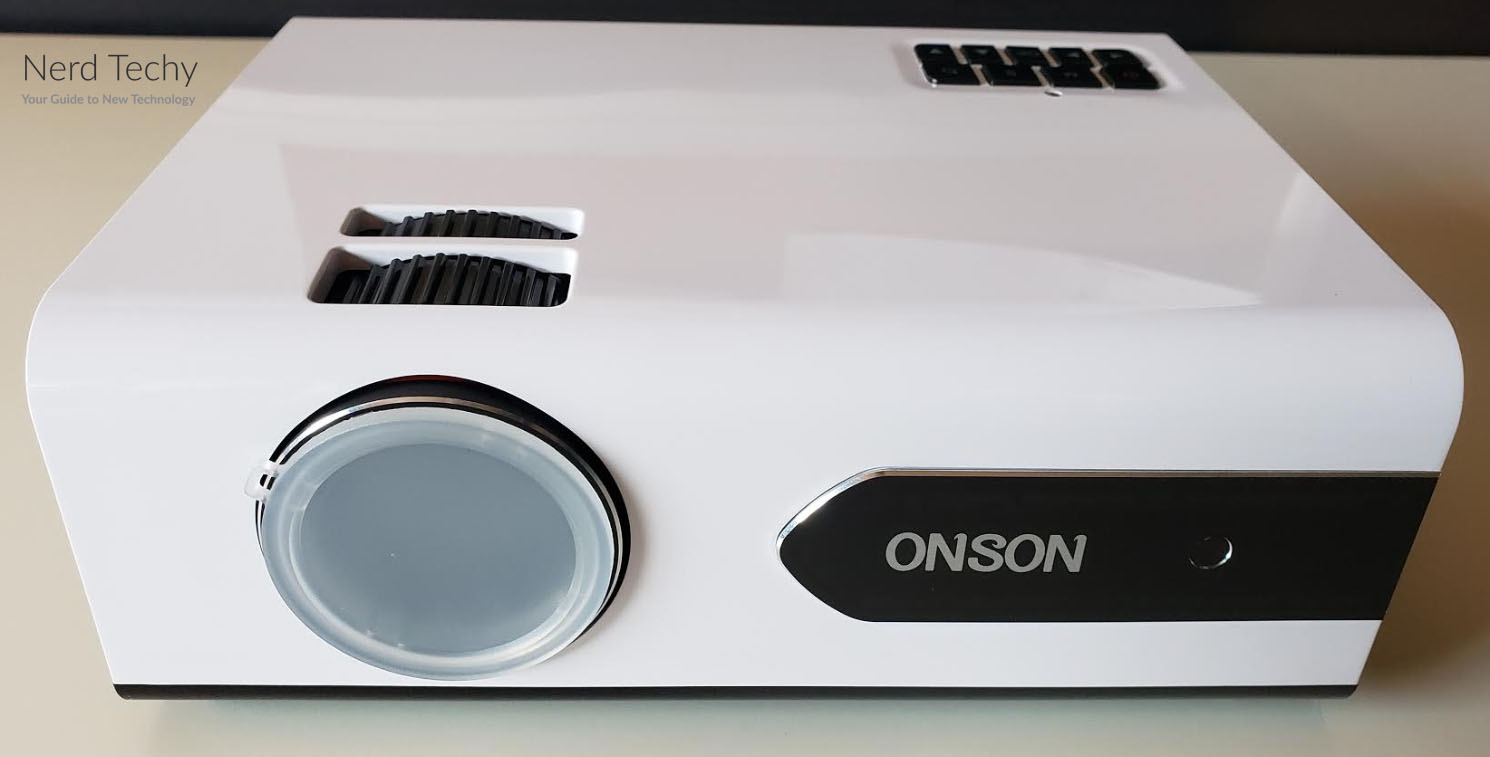 The left and right sides of the projector consist of vented black panels. The sides should be kept clear during operation, to allow for free air flow and cooling. On the left, there's a two-prong power connection for the projector's AC adapter. On the right, you'll find all of the inputs. At first, this unorthodox placement might seem odd, since inputs are typically located on the back. However, it's convenient if you're keeping the projector on a shelf with its back against the wall. You can still swap out inputs, without having to move the unit around. On the bottom of the unit, there are small rubber feet that prevent skidding or scratching.
In addition to the Onson GP18 itself, you also get a few extras. The kit includes a nylon carrying case that's surprisingly rugged. It has enough room for the entire kit, including the remote. There's also a zipper pocket in the lid that has room for the manual and cables. There's also a small tripod. It's not designed for supporting the entire unit. Rather, it's designed to tilt the projector so you can position it on the floor if you so desire. You even get an HDMI cable and RCA cable for connecting your devices. Finally, you get a one-year manufacturer's warranty, which protects you from defects in parts or manufacturing.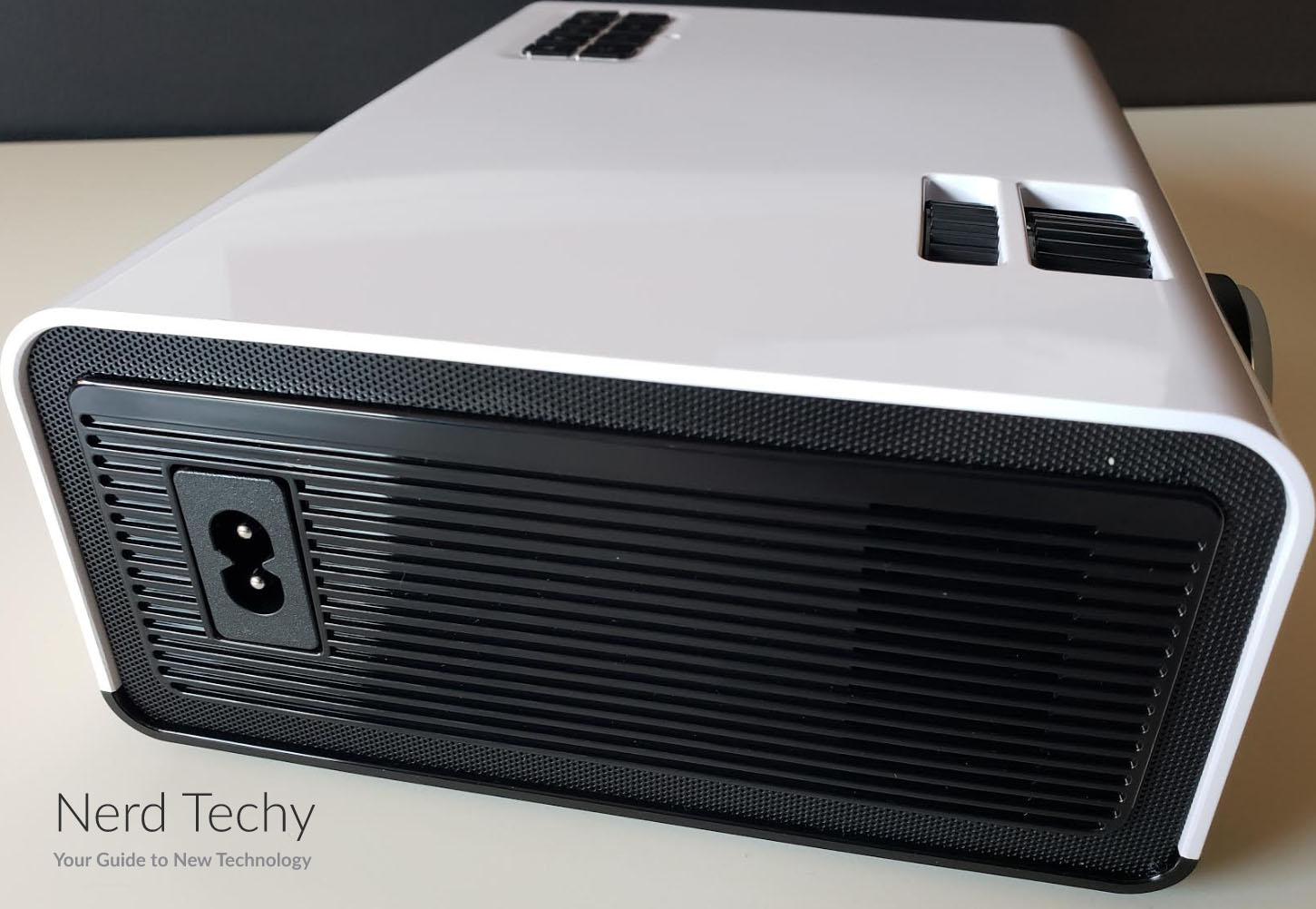 The Onson Mini Projector is portable, but it's not pocket-sized. If you want a projector that can literally go anywhere, you're going to need another option. In that case, consider the Canon Rayo S1. It's about the size of a cell phone, but it's not very bright. So you can only use it in a dark room.
Video Quality
The Onson Mini Projector is exceptionally bright, with a brightness of 2,400 LUX. This means you can use it under just about any lighting condition. It won't work in bright daylight, but that's to be expected. It will, however, work in a room that's lit by normal lightbulbs. In addition, it offers a 2000:1 contrast ratio. This number refers to the difference between the brightest and darkest tones on the screen. In general, a contrast ratio of 1000:1 to 3000:1 is considered good. Below 1000:1, it can be difficult to distinguish different tones of the same color, particularly blacks. Anything above 3000:1 is superfluous, since the human eye can't make the distinction. So at 2000:1, the Onson GP18 is quite good.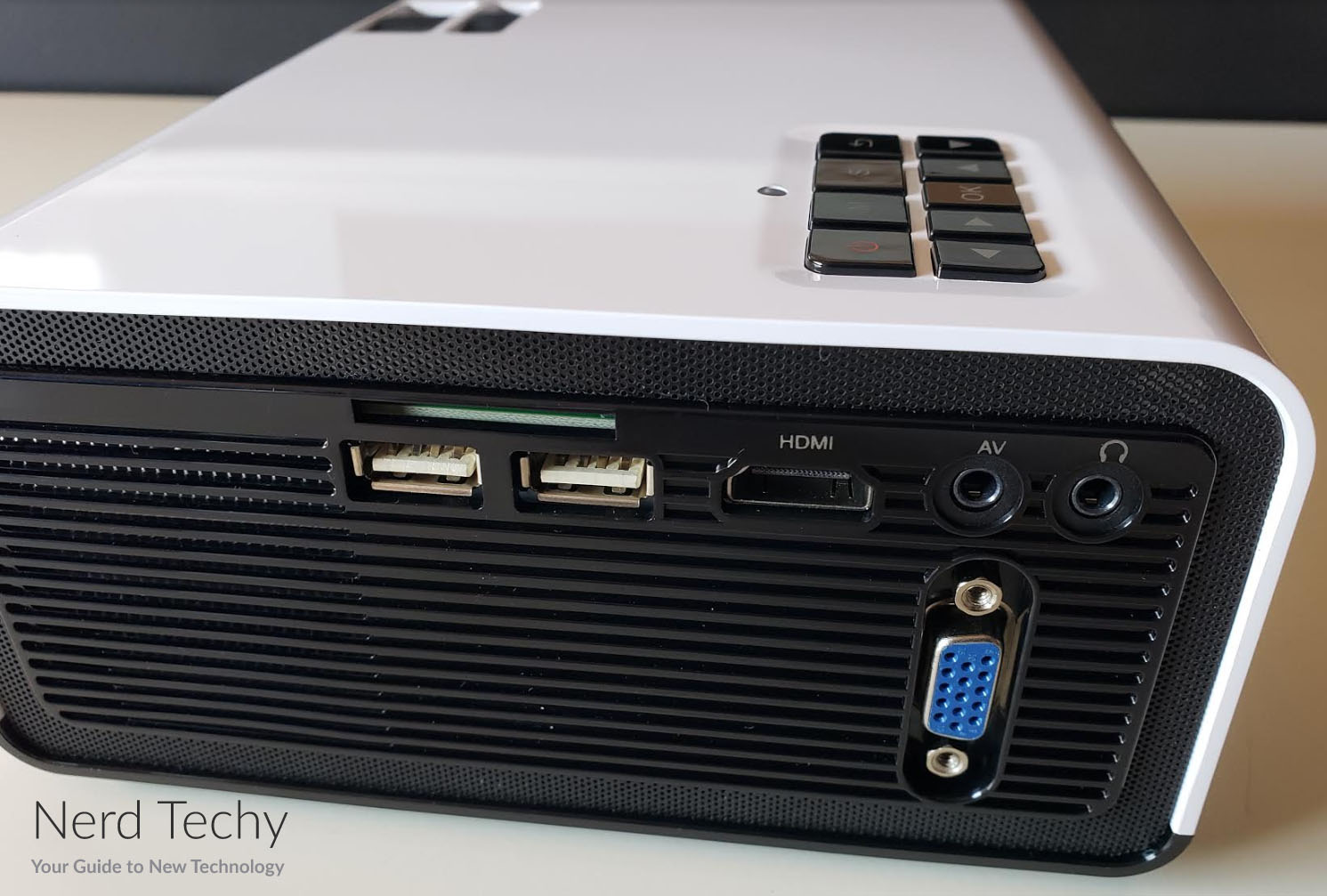 One area where the Onson Mini Projector disappointed us was the image resolution. It has a native display resolution of only 800 x 480 pixels, or 480p. In other words, you're not getting an HD picture. You're not even getting a 720p image. That said, it still supports inputs at up to 1080p. The image will simply get downscaled to 480p. In other words, you can watch your Blu-Ray disc, but you won't get Blu-Ray quality.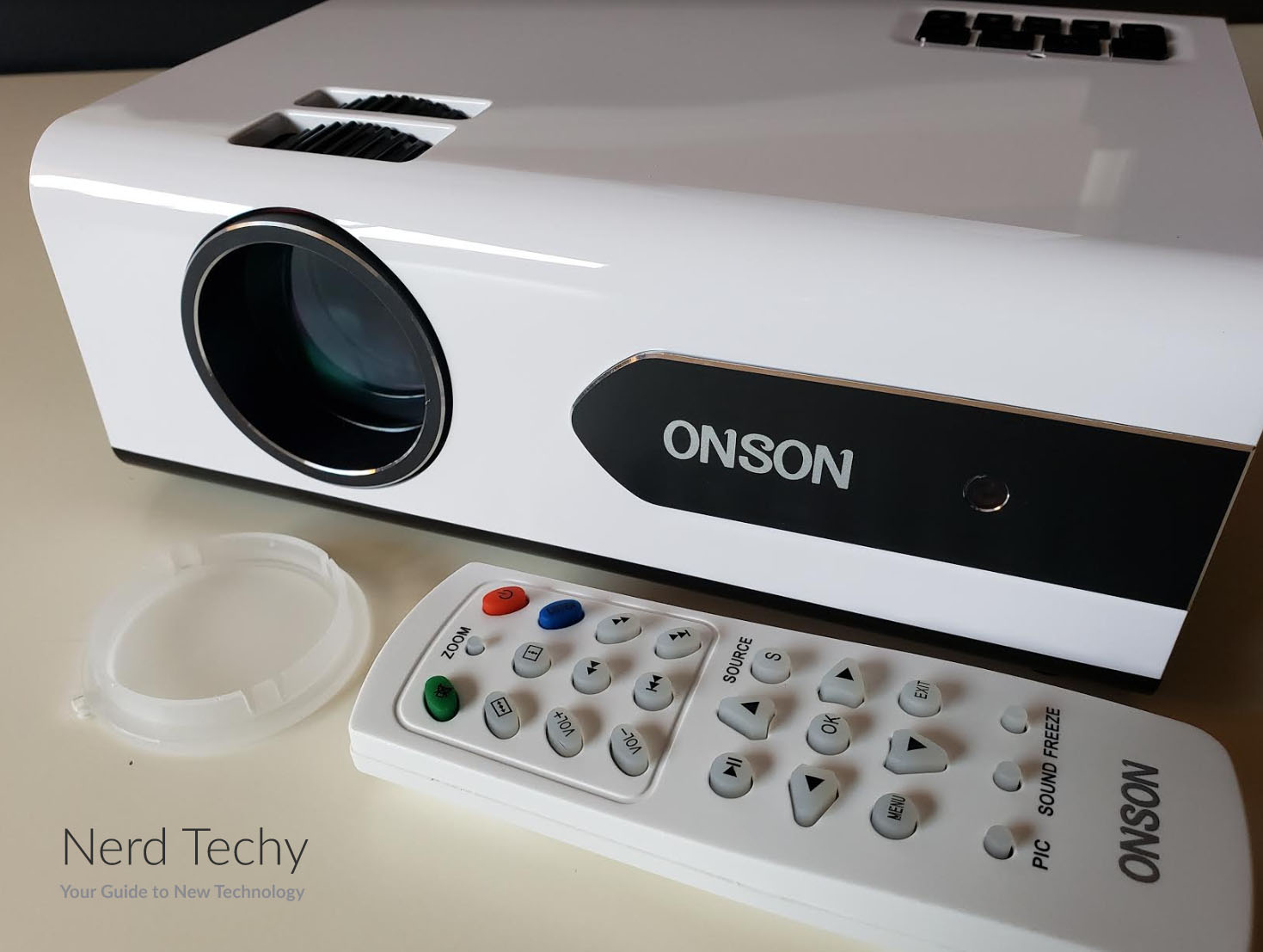 If you need 1080p quality, you're going to need a more powerful projector. If that's what you're looking for, check out our review of the VANKYO Performance V630 Full HD Projector. It projects video in true 1080p, so you can get the full benefit of your Blu-Ray player. On the other hand, it tends to run a bit hot, so keep your hands clear while it's running.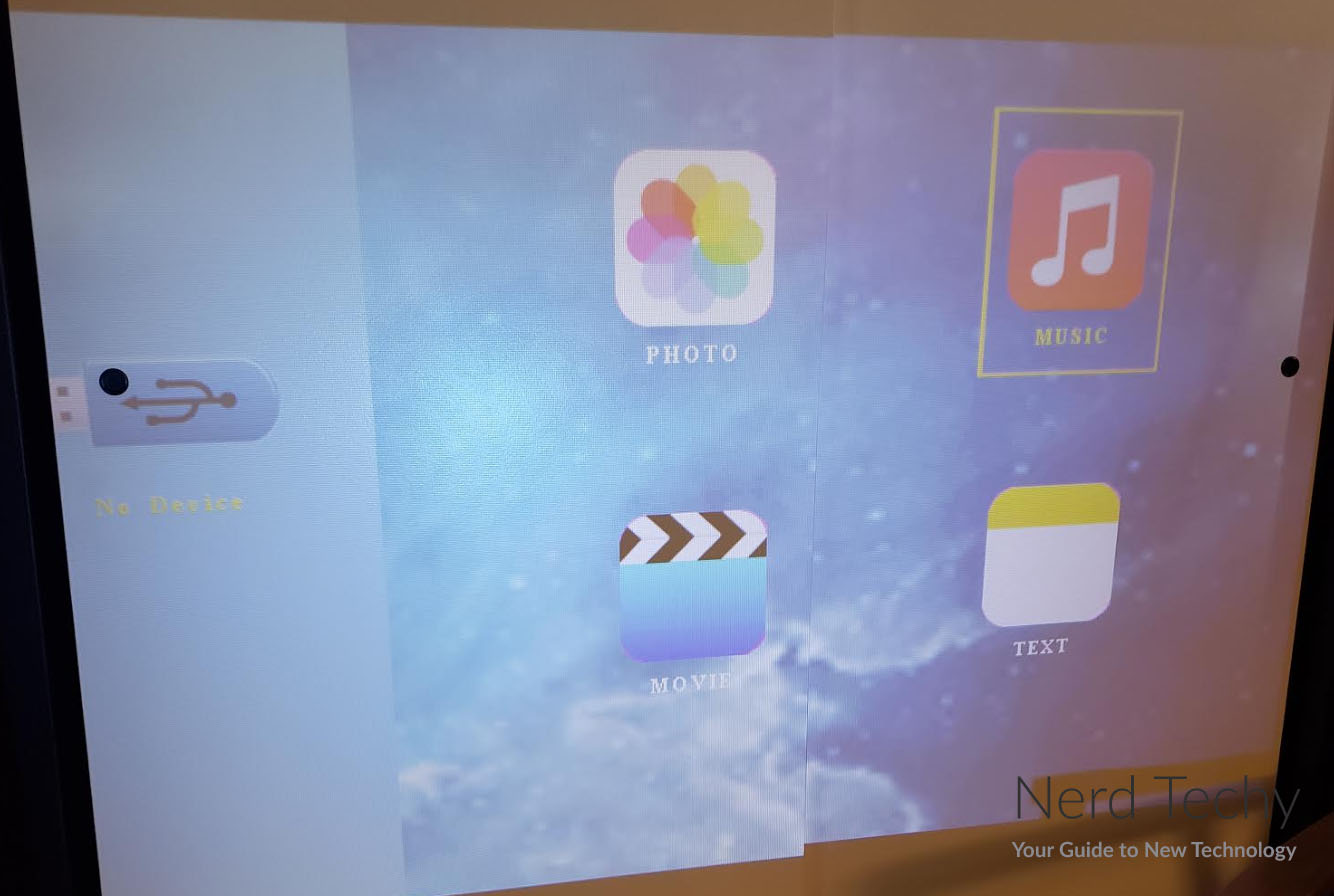 The aspect ratio can either be 16:9 or 4:3. The first is standard for HD video, while the second is standard for older television shows. Regardless, the Onson Mini Projector will automatically adjust the aspect ratio based on the input source. When it comes to image size, that will depend on how far your projector is from the screen. It will be clear and blur-free at any size from 32 to 170 inches. For the best possible quality, Onson recommends positioning the projector 3 meters (about 9.9 feet) from the screen. At this distance, the image will be 100 inches on the diagonal.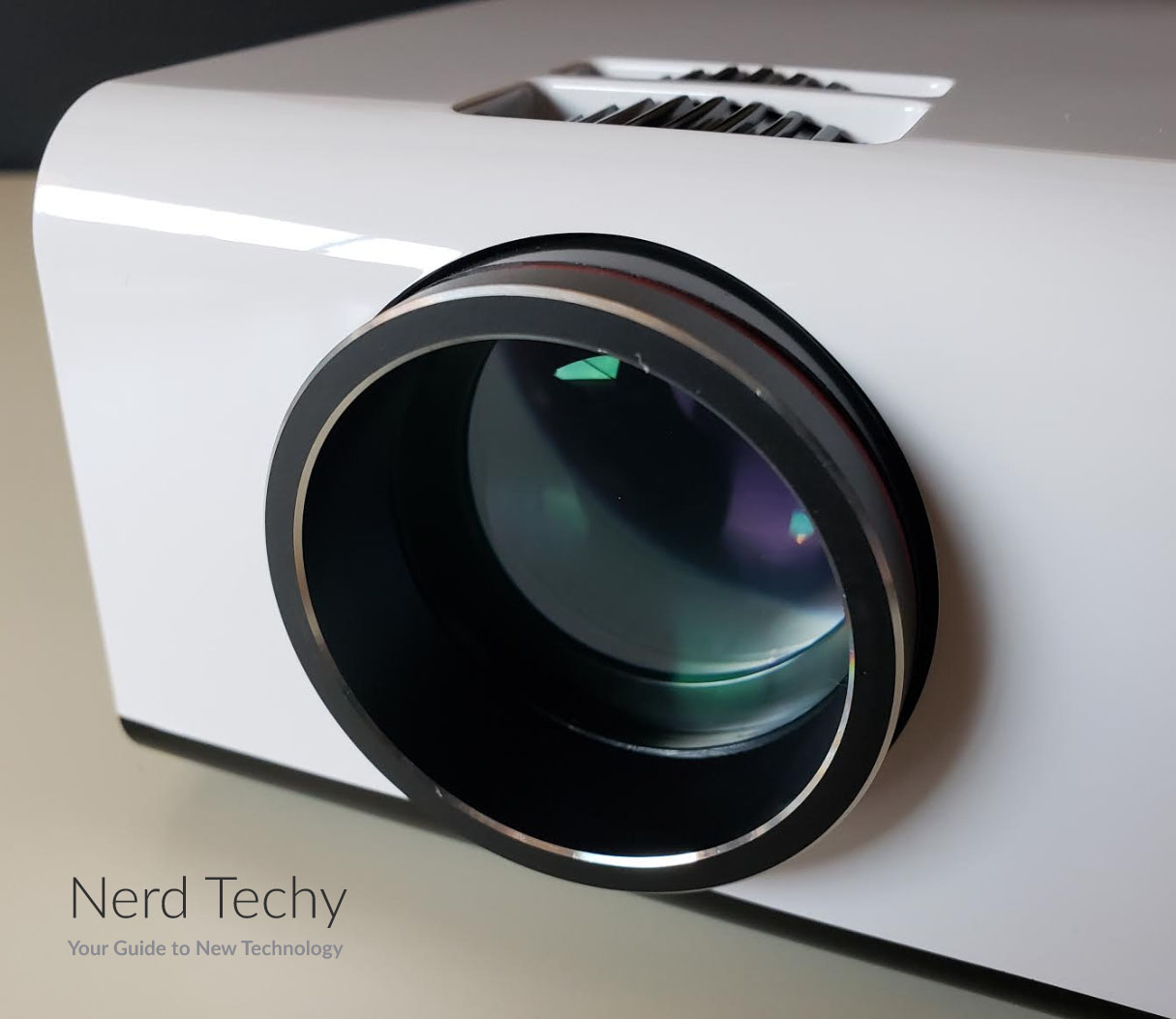 The Onson Mini Projector has a pair of built-in 3-watt stereo speakers. The sound quality is very good, without any distortion. You won't have to worry about high or low tones muddying up the middle frequencies. The highs are shimmery and clear. And the lows are nice and punchy. With that being said, these are 3-watt speakers. They can't put out very much volume. If you want louder sound for a larger room or a party, you'll need external speakers. On the other hand, this is a projector, not a sound system. The fact that it has any speakers at all is a nice added value.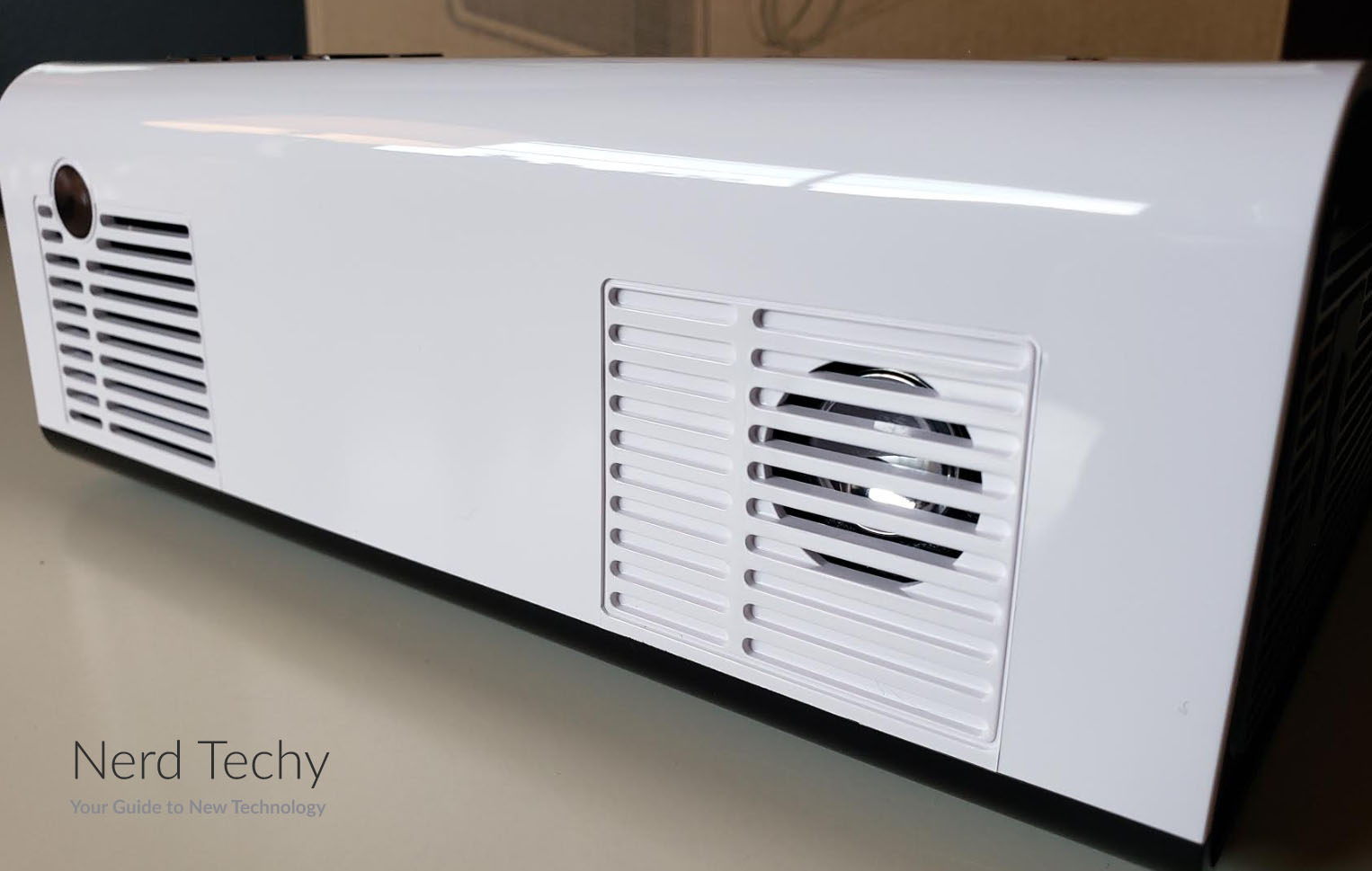 Use code "70BQ9U66" for 70% OFF on Amazon.com
Operation & Compatibility
As we already mentioned, the Onson GP18 Mini Projector is easy to operate. You can use either the remote or the on-board controls to manage all the functions. No smartphone app is required. In addition, placement is very easy. You can adjust the keystone up or down by 15 degrees, both vertically and horizontally. As a result, you can set the projector off to the side, down on the floor, or install it up near the ceiling. This is far more versatility than you'll get from most projectors in this price range.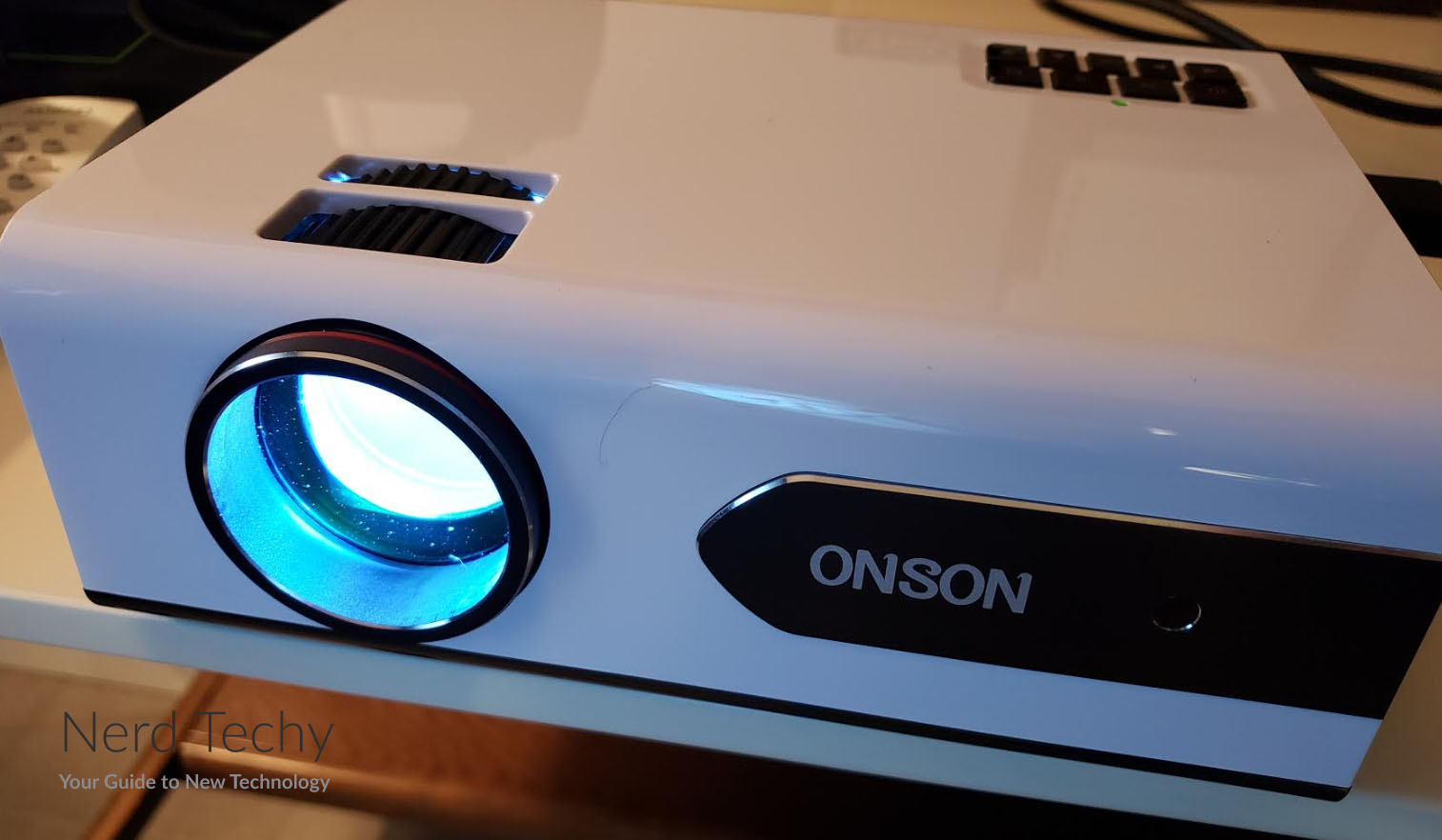 Another good feature of the Onson Mini Projector is that you can play video from almost any device. For most purposes, you're going to want to use an HDMI cable, which is included in the box. That said, since the image is only 480p anyway, you can also use the RCA input for older devices. For computers, you also have plenty of options. You can use an old-school VGA cable to connect, or use an HDMI cable for newer systems. In addition to these options, you can also play video directly from an SD card. Admittedly, many people won't use this option. But if you're watching home videos from a smartphone, it's quick and easy. You can even play videos from a USB thumb drive. The Onson Mini Projector supports most video formats and codecs, so compatibility should rarely be an issue.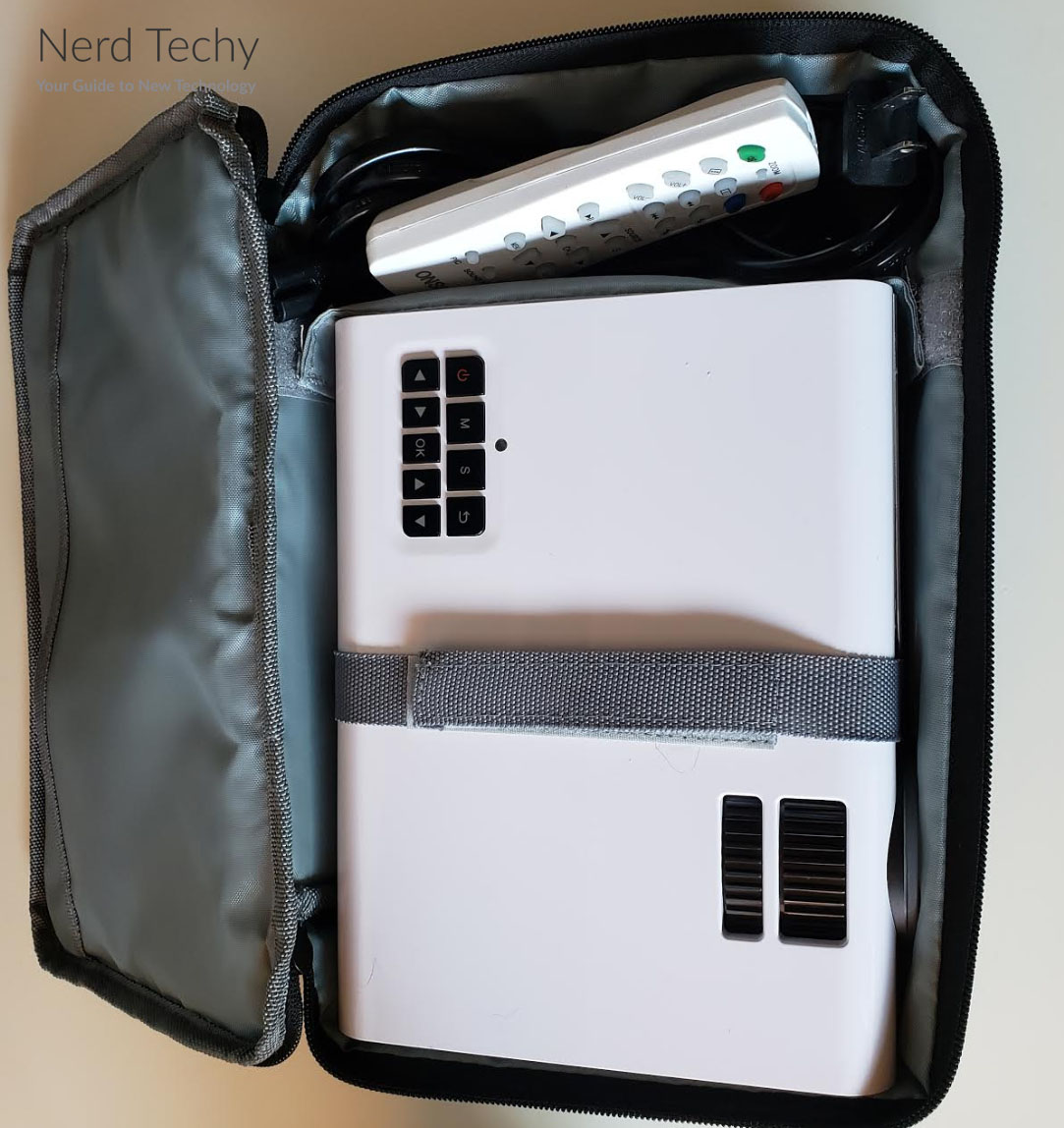 Final Verdict
So, how does the Onson GP18 Mini Projector (Use code "70BQ9U66" for 70% OFF) compare to others in its class? Let's start with where it falls short. The 480p resolution is disappointing. Granted, this isn't a premium projector, but it would have at least been nice to see 720p. On the other hand, the brightness is excellent. You won't have any problems with watching a movie in a lit room. The contrast ratio is also good. At 2000:1, you'll be able to distinguish a variety of tones, and dark scenes will look great.
The control scheme is simple and intuitive. Use the buttons on the projector, or use the remote. Either way, the menu is easy to navigate. Finally, there are more inputs than you'll know what to do with. You can watch video from just about any source, from your PC to your thumb drive. You can even play video games. Provided you pair it with a pair of external speakers, the Onson Mini Projector is an excellent choice.