A few years ago, only businesses and millionaires used home security cameras. When you think about it, this only makes sense. Old-school security cameras were expensive and difficult to install. And local storage and monitoring was a pain. You needed a dedicated TV and VCR to actually review your footage. And if you wanted to use multiple cameras, you needed multiple monitors and VCRs. But with modern technology, just about anybody can get their hands on a home security camera. This new technology has allowed a number of affordable security cameras to enter the market. So, how do you decide which ones are worth your money, and which ones are junk?
No worries. We've got your back! Today, we'll be reviewing the SimCam 1S Home Security Camera. This is a mid-sized, pod-style home security camera that's designed primarily for indoor use. Better yet, there are no subscription fees for using it, so the cost of the camera is all you'll pay. But is it actually any good? We'll go over the SimCam's physical design, and explain the installation process. Next, we'll talk about the video quality and night vision capabilities. We'll also talk about the camera's best features, its various detection modes. Let's take a closer look, and find out what the SimCam 1S has to offer!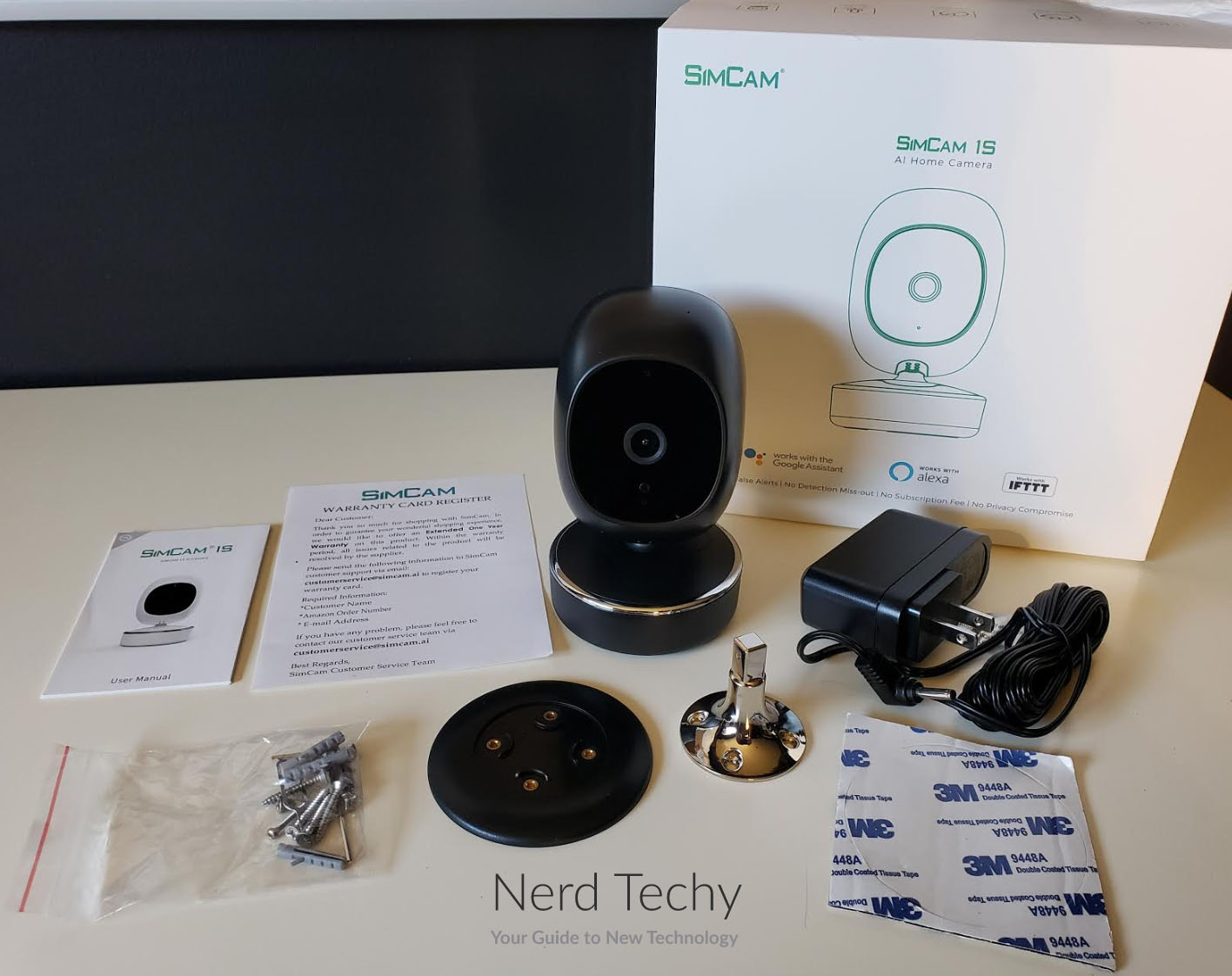 Overall Design
Like many home security cameras, the SimCam 1S has a pod-style design. This means it's not designed to mount on your wall. Instead, it's ideal for positioning on a table or a shelf. The camera measures 8 inches tall, with a maximum width of 4.2 inches. The base itself is round, and measures 4 inches in diameter. It's entirely black, with an attractive silver ring around the top. The camera base houses a motorized gimbal, which allows the SimCam 1S to rotate 360 degrees. This can happen either automatically or manually, depending on your settings.
The power cord comes out of the back of the base, and measures 9.8 feet in length. This allows for easy positioning, with plenty of distance between the camera and a power outlet. And the battery-free design ensures that your camera will never fail because it ran out of juice. You don't have to worry about charging or maintenance. On the downside, if your power goes out, so does the camera. Comme si, comme sa.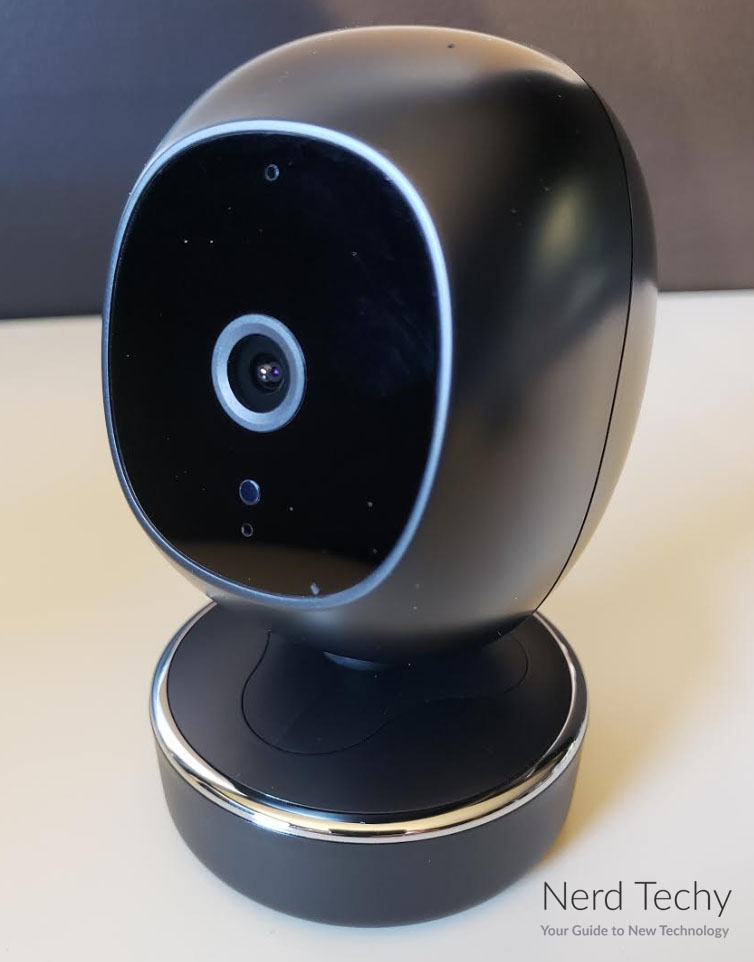 The camera rests on top of the base, and has an oblong shape with soft, gentle curves. On the front of the camera, you'll see a tempered glass cover that protects the lens. Inside, the lens is located directly in the center. Just above the lens is a small green LED that lets you know when the SimCam 1S is powered on. Underneath, there's a small infrared LED that looks to the naked eye like a little black circle. It's necessary for the night vision function, which we'll talk about in a minute.
The SimCam 1S is IP55-rated for water resistance. This means it's splash-proof, not immersion-proof, but that's okay. As we said, the SimCam isn't really designed for outdoor use. But there's no reason you couldn't position one on your porch or patio. A little bit of rain isn't going to hurt it. And if something does go wrong, you're protected by SimCam's 12-month manufacturer's warranty. This warranty covers any defects in parts or workmanship.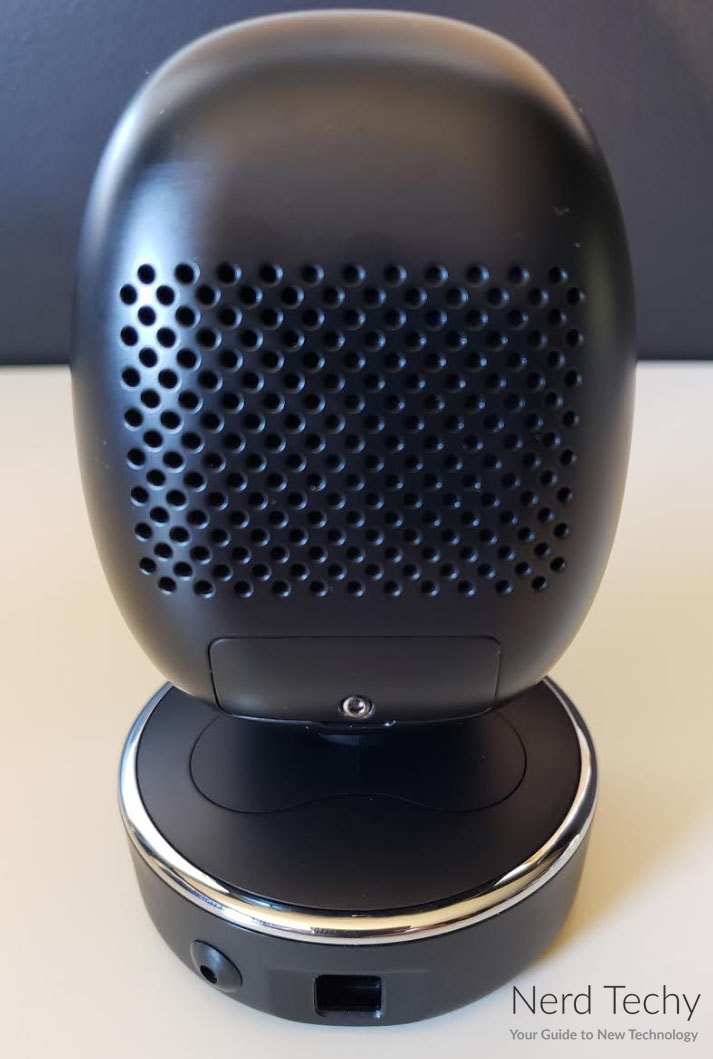 With all of that being said, if you need an outdoor security camera, choose one that's designed for that purpose. The TP-Link Kasa 2 Home Security Camera System is an excellent choice. The system comes with two cameras, and supports monitoring and cloud storage for up to four cameras.
Video Quality
The SimCam 1S records video in 1080p HD. This allows you to easily recognize people, pets, and objects in your home environment. Once again, if you want an outdoor security camera, you might want something a bit different. For example, 1080p isn't going to be good enough to read a license plate on the road from your porch. But for what the SimCam is actually designed to achieve, 1080p is more than good enough. When it comes to night vision, the SimCam performs very well. Because it uses active infrared, it's able to record even in a pitch black space. The video is crisp and clear, although it does look better if there's at least some minimal amount of light.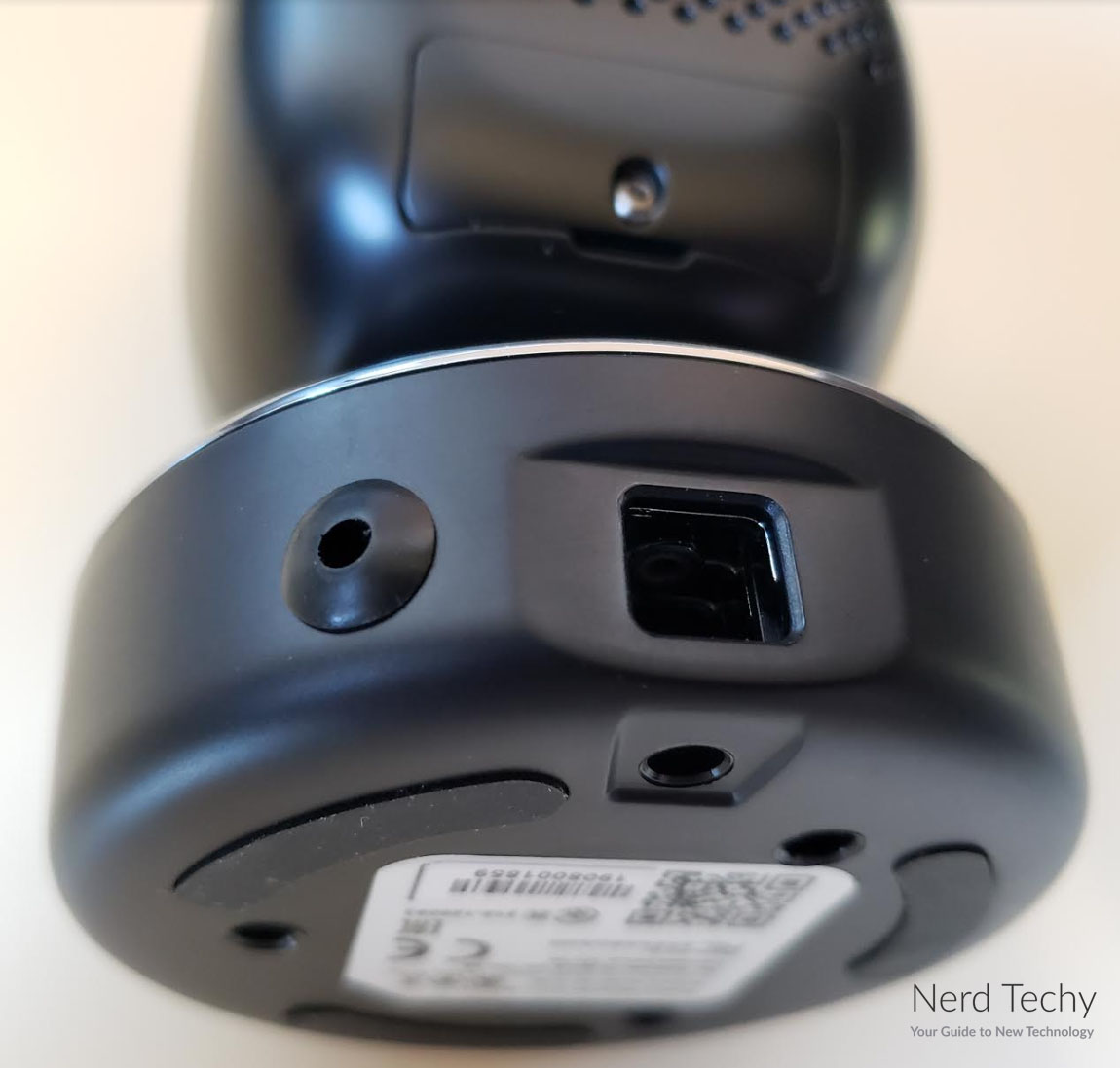 One thing the SimCam doesn't support is audio recording. Again, this isn't what it's designed for. But it's a feature that you might want to have. If you want audio recordings, check out our review of the Motorola Connect40. It has lower video quality than the SimCam S1. But not only does it record audio, it allows two-way audio, which makes it useful as a baby monitor.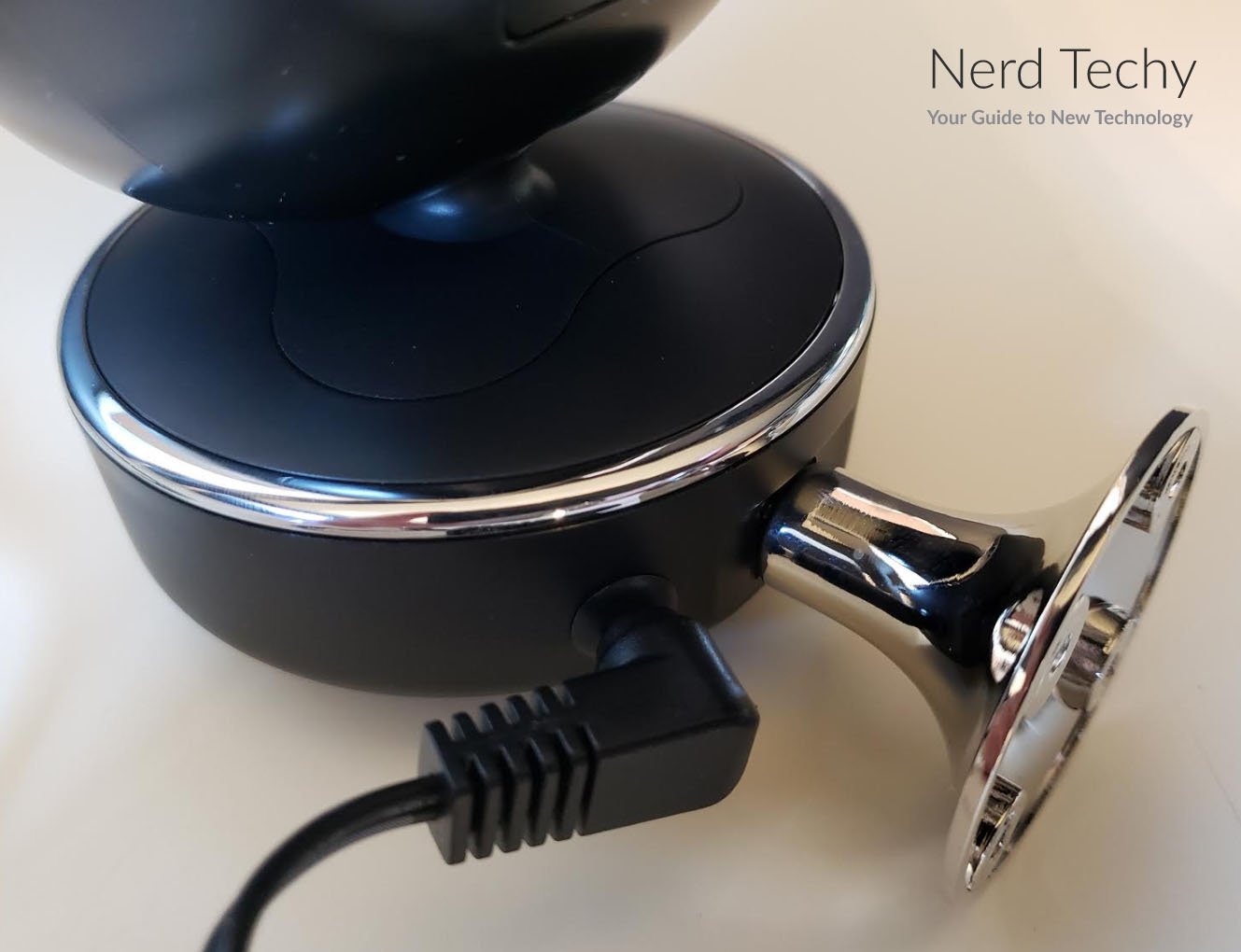 App & Connectivity
The SimCam 1S comes with a companion smartphone app, available for free on the Apple Store and Google Play. This app allows you to control all of the settings we'll talk about in the next section. It also allows you to monitor your camera feed anytime, anywhere. While you're monitoring, you can even use the app to pan your camera around the room. In addition to your smartphone, you can also control the SimCam with Amazon Alexa or Google Assistant. With simple voice commands, you can operate your camera just as you would from the app. This makes it easy to open your feed or dismiss alerts while you're in hands-free mode.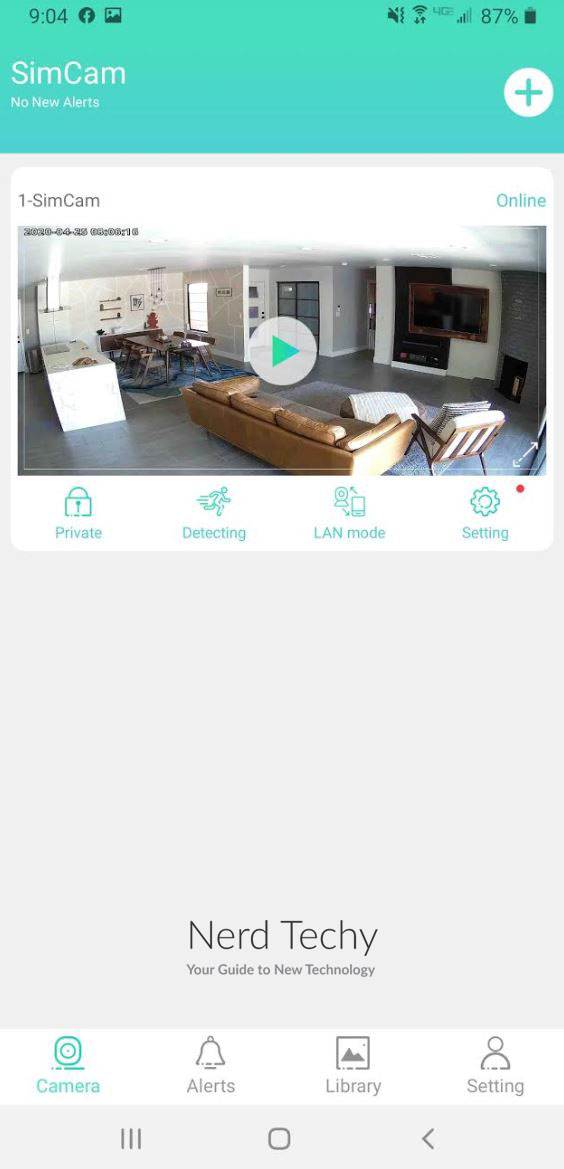 SimCam advertises that their camera uses an Ambarella 10nm local processor. This might be confusing to some people, so let's try and clear it up. Ambarella is a manufacturer of cutting-edge semiconductors that are specifically designed for video processing. Their processors are commonly used in commercial grade security cameras and even police surveillance equipment. The benefit of an Ambarella processor is that it allows for latency-free broadcasting, even with a weak WiFi signal. This can be a significant benefit if you have a very large house. You can position the SimCam S1 anywhere in your home, and you won't have any monitoring issues.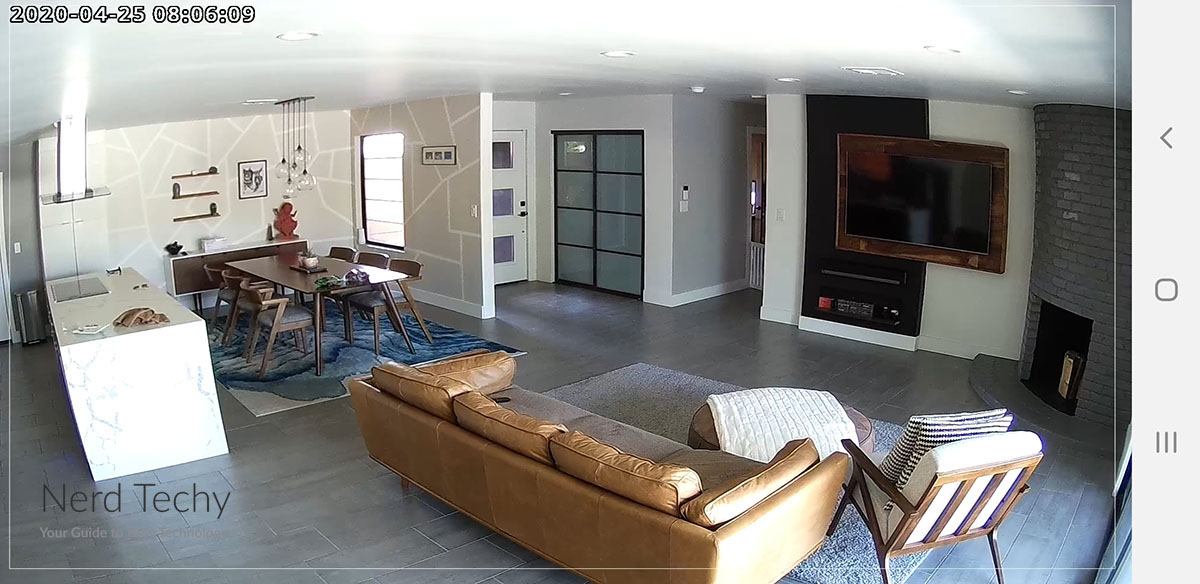 Storage & Monitoring
All of your SimCam's storage is local, not cloud-based. On the one hand, this means you won't have access to cloud-based storage. On the other hand, it also means you don't need to pay any subscription fees. Once you've paid for the camera, everything else is free. That said, you'll need to have a home PC running in order to record your footage. For most people, this shouldn't pose a significant problem. All storage is AES 128-encrypted by default. If you want even better security, you can also enable 256-bit encryption. Keep in mind that the home PC is only necessary for recording. It's not necessary for monitoring. So you can still monitor your camera feed from your smartphone even if your PC is powered down.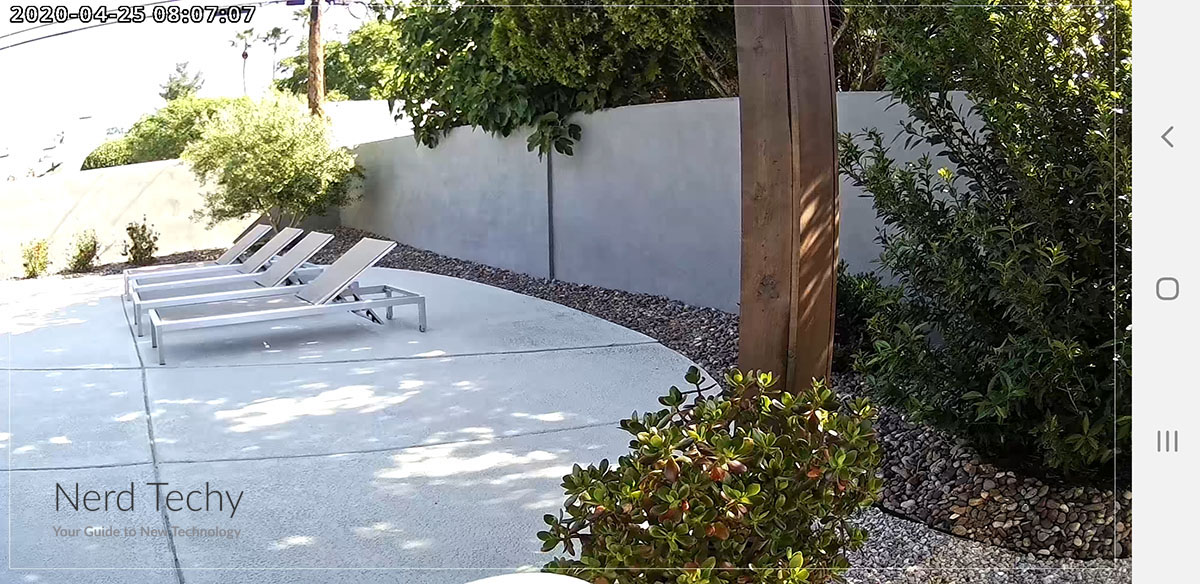 That said, you might want cloud-based storage. This is perfectly understandable if you don't have a home PC. In that case, consider the Motorola Focus89W. Not only does it support (subscription-based) cloud storage, but it also supports two-way audio.
The SimCam 1S is capable of recording 24/7. However, you'll get the best value from its event recording. In this mode, motion-detection will activate the camera and record a 15-second video. This will keep you from quickly filling up your hard drive with days of meaningless video. It also means you'll get a smartphone alert every time there's activity.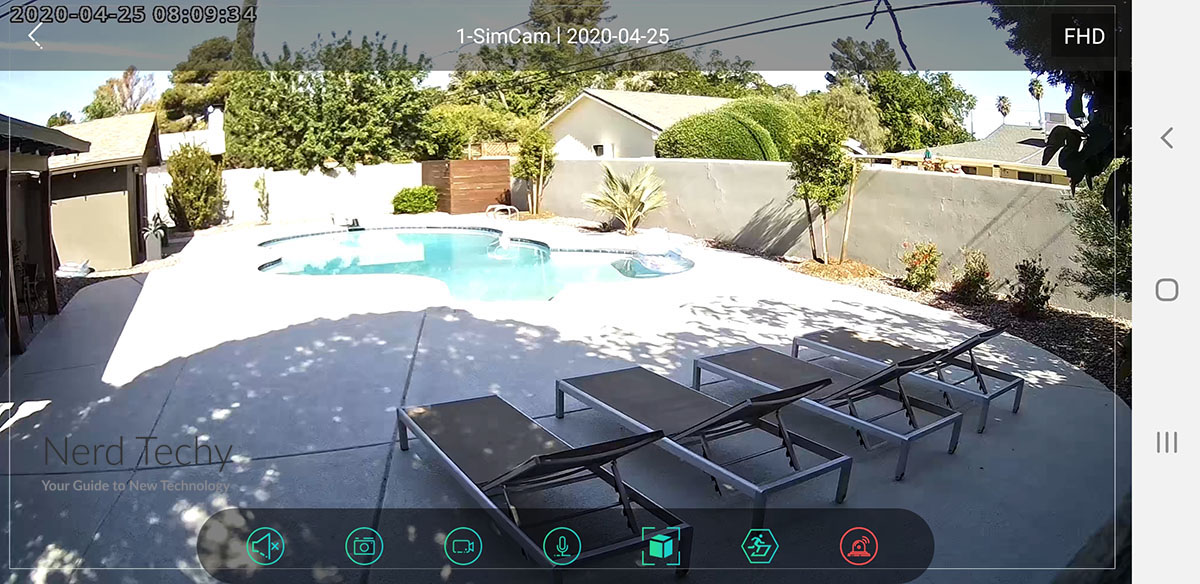 In this mode, there are several different features you can use that make the AI even smarter. To begin with, you can program the SimCam 1S to recognize family members. This will keep alerts from popping up every time your partner walks through the living room. The facial recognition system works with 99 percent accuracy, which means it's very efficient. In addition, the SimCam S1's recognition system can also recognize dogs and cats. You'll get a special pet alert when one of them is active. So if your dog has gotten out of their crate, you'll know immediately. When a stranger enters the frame, you'll also get an alert. The SimCam S1 can even recognize vehicles!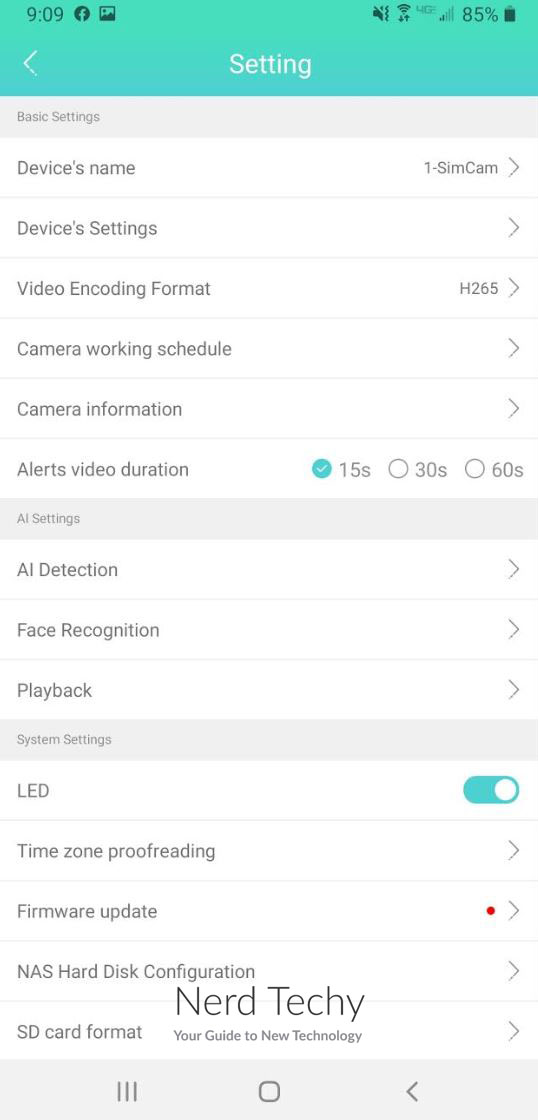 Regardless of what it's detecting, the SimCam S1 will always follow its target. It does this automatically, so an intruder will be tracked as long as their in the range of the camera. This feature is very useful for home security, since you'll get the maximum amount of information from your recording. You can also program the SimCam S1 to monitor a particular object. In the app, you can draw a box around a particular area to limit alerts to activity in that area. For example, suppose one of your kids is constantly raiding the cookie jar. You can draw a box around the cookie jar, and figure out who it is very quickly. On a more serious note, you can also protect valuable objects like jewelry and collectibles.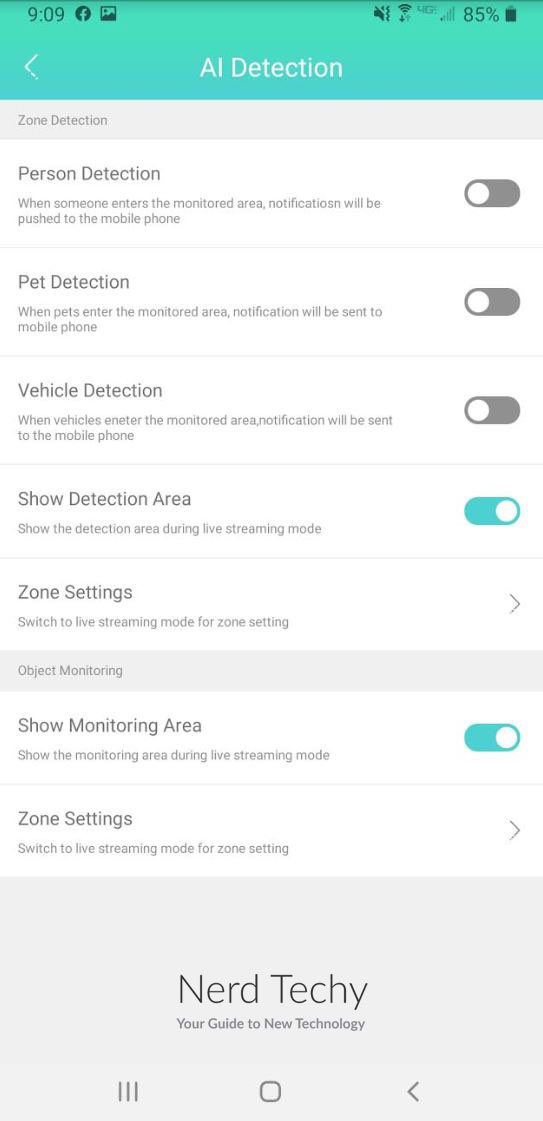 Final Verdict
Clearly, the SimCam S1 has a lot to offer. Its best feature is the intelligent recognition and tracking system. The ability to recognize family members is a major plus, since it can prevent false alerts. The same goes for pet recognition, which is a feature we haven't seen before. And while the SimCam is designed as an indoor camera, the vehicle recognition technology is icing on the cake.
The storage method is a bit of a mixed bag. On the one hand, you don't get the convenience of cloud storage. On the other hand, you get the maximum amount of storage. Since your storage is local, it's much safer from hackers than it is in a cloud system. Moreover, the encryption is virtually unbreakable, so even if you do get hacked, no third party can view your footage. The camera design itself is also excellent. Its gimbal base is tough and sturdy, and capable of tracking motion. And with 1080p video, you're not going to have trouble making out what you've recorded.