Quick Analysis
Pros
360-degree camera.
Two-way audio.
Can monitor on your phone or through the control unit.
App includes several helpful extra features.
Good quality night vision.
Cons
Blinking blue LED is annoying.
Relatively short battery life.
A quality baby monitor is one of the most important tools for new parents. It helps you keep tabs on your baby's health and safety, even when you're not in the room. You can put your baby down for a nap, and not have to worry about something going wrong. A good monitor is also useful if you have an elderly relative living in your home. Trips and falls are a major risk for seniors, and a monitor can let you know the moment they happen.
But you know what's even better than a baby monitor? A monitor that includes a camera. With a camera, you can find out why your baby is crying, or what that loud thump was. Today, we'll be reviewing the Motorola Connect40 Wireless Security Camera. While it's technically a security camera, it really shines when it comes to use as a baby monitor. We'll talk about its features, its benefits, and where it could do better. Let's get started!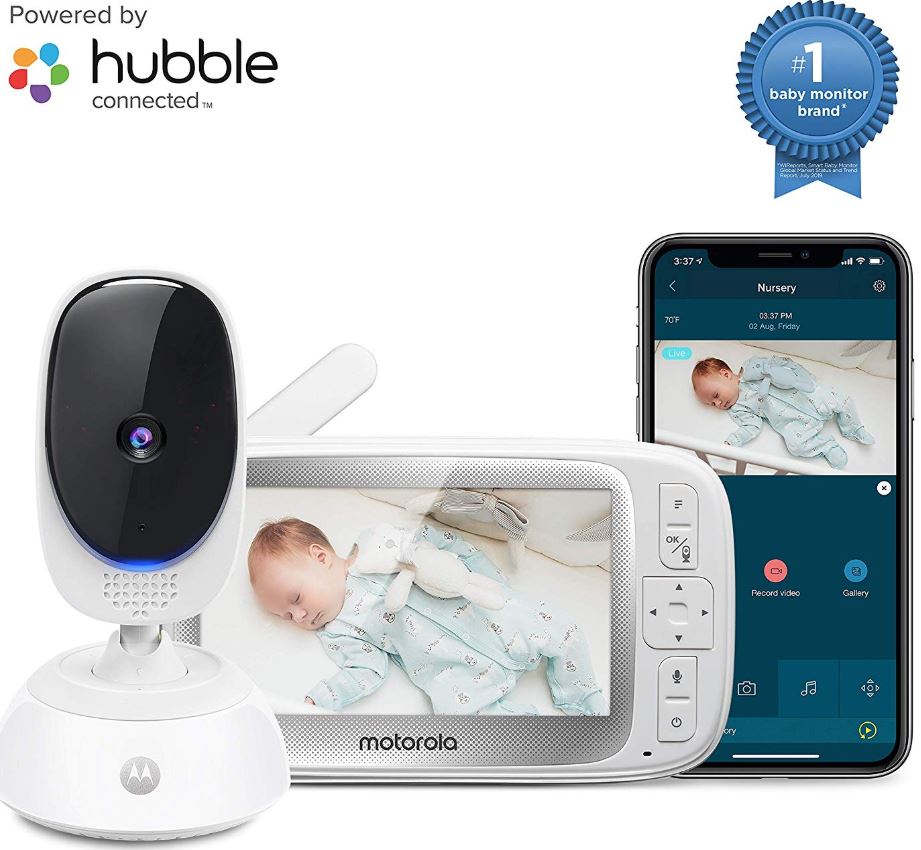 Overall Design
As you might expect from a baby monitor, the Connect40 comes as a two-part kit: the monitor and the receiver. The monitor itself is a compact camera, which sits inside a chunky, motorized base. It's relatively lightweight, but the base is the heaviest part, which keeps it from falling over easily. The overall construction is white ABS plastic, with a small Motorola logo on the front of the base. There are also small, elegant perforations in the bottom of the camera, which is where the microphone is located.
The front of the camera itself is black, with a small lens visible in the center. Alongside the lens are two pairs of infrared LEDs, which enable the Connect40's night vision capability. We'll talk more about that in a minute. A dongle protrudes from the back, doubling as both an antenna and a thermometer. The one thing we didn't like about the design is the blue LED on the front. It's bright, it blinks, and you can't turn it off. This is a bizarre choice for a device that's designed to go in the room with your sleeping infant. It also defeats the purpose of the night vision mode by adding a weird strobe effect.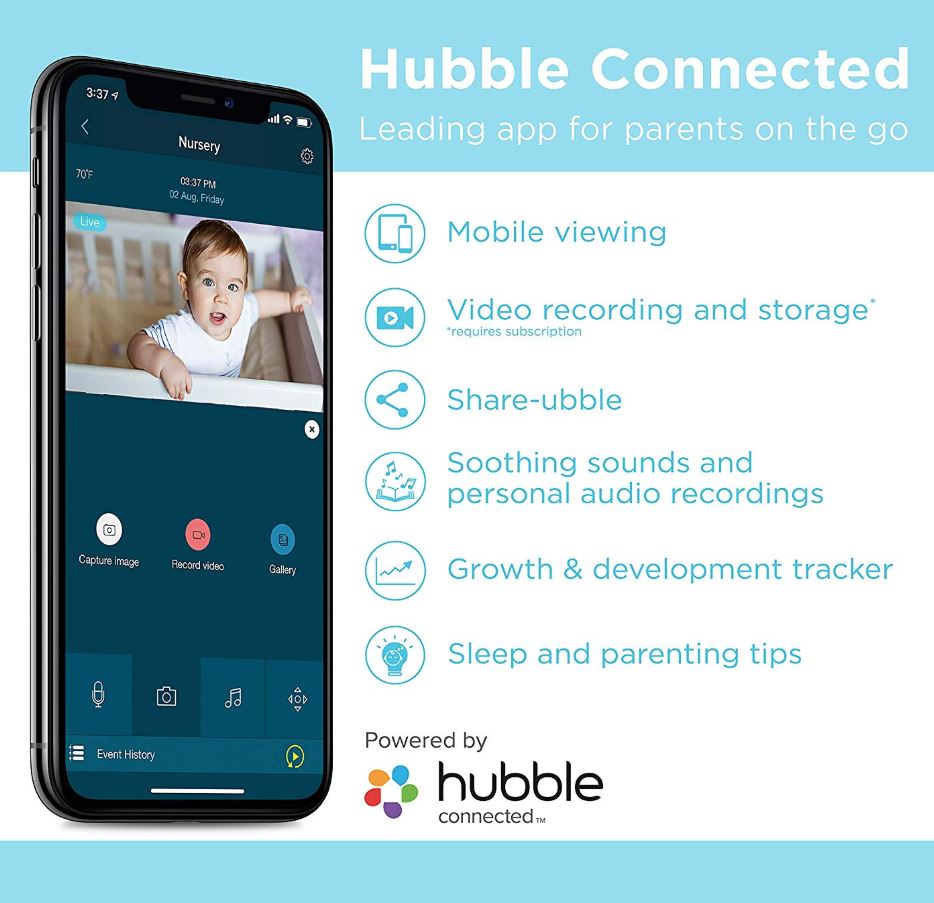 The battery life was also disappointing. It only lasts from 3 to 4 hours in audio-only mode. If you're streaming or recording video, this drops to about 90 minutes. That's simply inexcusable for any modern device. On the other hand, you can always just leave it plugged in. Considering the fact that you'll typically always be using it in the same spot, that's an easy choice to make.
The other half of the Connect40 is the receiver, which has a built-in speaker and a 5-inch LCD screen. This allows you to keep tabs on your baby, including video monitoring. The antenna on the back is relatively small, and can be rotated to maintain the best possible signal. There's also a set of controls, which provide you with several options. You can activate or mute the speaker, turn video monitoring on and off, and even pan the camera. You can also access advanced options and settings inside the menu.
Alternatively, you can use Motorola's Hubble app to access the monitor from your phone. The app also offers a variety of other features, which we'll talk about later on. However, perhaps its biggest benefit is the ability for multiple users to access the monitor. If you and your partner aren't in the same room, or even the same house, it doesn't matter. You can still keep tabs on your baby.
Needless to say, the Connect40 has more features than you'd expect to see on your average baby monitor. It's perfectly well-suited for use as a security camera if you should so desire. For a dedicated baby monitor without all the bells and whistles, the Nanit Smart Baby Monitor is a solid choice.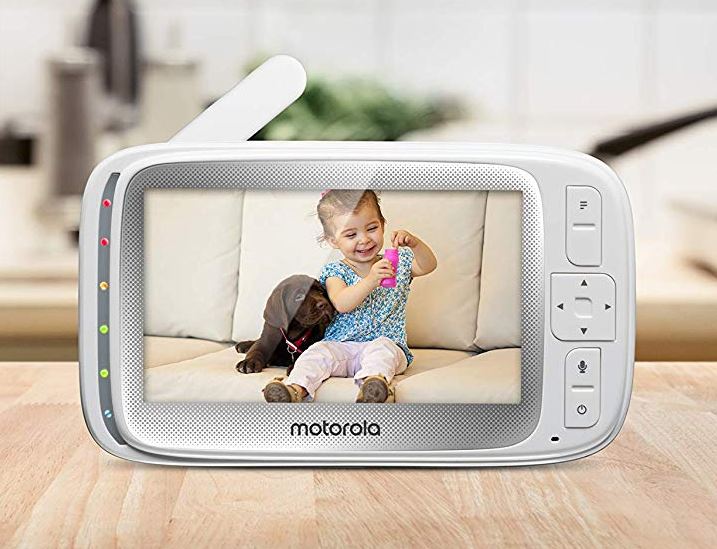 Advanced Monitoring Features
We were a bit critical of the Connect40's overall design, but the monitoring features are fantastic. To begin with, the camera can be rotated 360 degrees, both from the controller and from the app. The motorized base can also tilt the camera up and down, and even zoom in or out. This is an excellent feature if you're trying to keep track of an entire room, rather than just watch a crib. With this feature, you can keep an eye on your pets, elderly relatives, or even toddlers in a gated-off room.
The camera resolution itself is not mentioned. At a glance, it looks like 420p, which wouldn't be impressive for a dedicated security camera. However, for a baby monitor, it's more than good enough. You won't be able to read a car license plate from 50 feet away. But you'll be able to see what your infant is up to. The night vision is also very good, minus the aforementioned strobe effect from the LED. The image will display in black and white, but it's crisp and clear. It looks like real life, not like the fuzzy image you'll see on a lot of night vision cameras.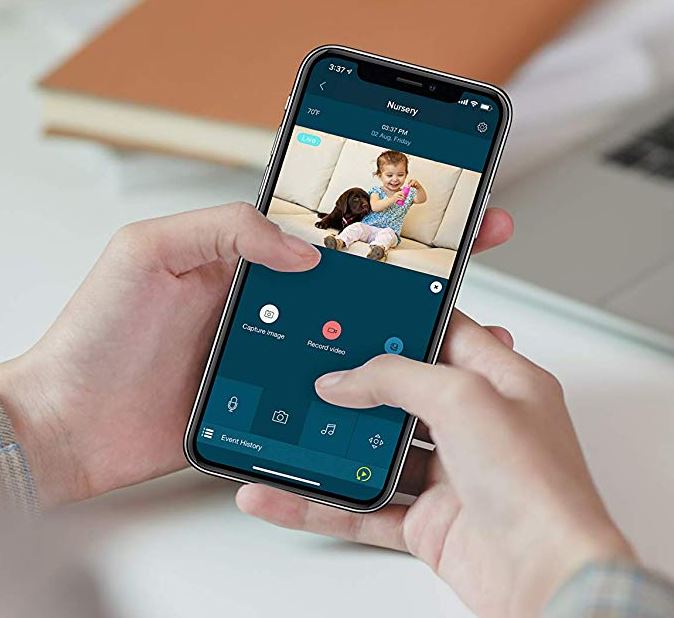 The microphone is very sensitive, so you won't miss out on even the quietest noises. You might even find that you want to keep the volume lower to keep sudden sounds from startling you. It also allows for two-way audio communication, both from the receiver and from your phone. If your baby only falls asleep to the sound of your voice, why stress when you have a sitter? You can pop in and sing her to sleep, then go back to whatever you were doing. This also allows for two-way chat with Grandma, or even for telling your dog to behave. It's a common feature on many security cameras, to be sure. But it's nice to see it implemented on a baby monitor.
In addition to audio and video, the Connect40 monitors your room's ambient temperature. At first, we were puzzled why anyone would actually need this feature. But there are a few situations where it makes sense. For example, suppose it's getting chilly outside, and you forgot whether or not you left the window open? A quick temperature check can put your mind at ease. Similarly, it's a great feature if you use a wood stove or another heating system that isn't "smart". Why stress over your baby's temperature when you don't have to?
If you're looking to spend a little less coin on a more barebones monitor, consider the Motorola Focus 68. It has similar video quality and two-way audio, but it doesn't pan or track the temperature.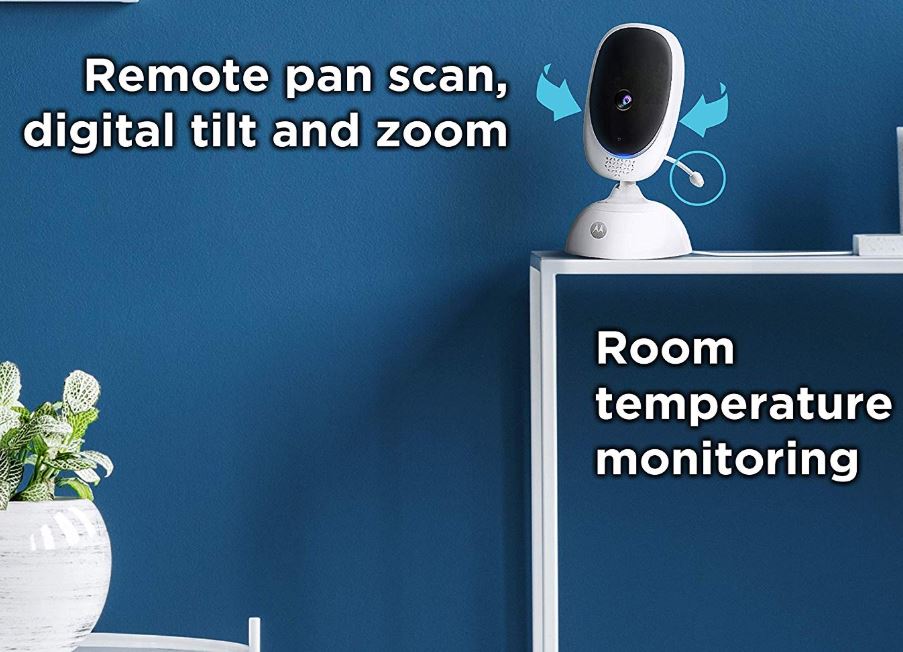 App and Connectivity
The Connect40 works just fine as a standalone monitor. But there are several ways to upgrade your experience without spending a dime. To begin with, Motorola's free Hubble app adds a ton of extras. Not only can you use it to keep track of your monitor, but you can use it as a scheduling tool. It allows you to set alerts for naptimes and mealtimes, and adjust these alerts as your baby grows. It also lets you track diaper changes, as well as the duration of pumping. In addition, it has a built-in tracker for keeping tabs on your baby's length and weight.
You can even flag milestones like their first word, first time standing up, and so forth. The app also includes a slew of guide videos and articles about parenting. And you get a "Fact of the Day", which is tailored for your baby's exact age. That's a great value for a free app.
The app also allows you to store videos in the cloud, and save them for later viewing. This is a common feature on security cameras, but it's good to see on a baby monitor. That said, as with most security camera cloud services, there's a monthly fee for this feature. Whether or not the juice is worth the squeeze will depend on your personal preferences.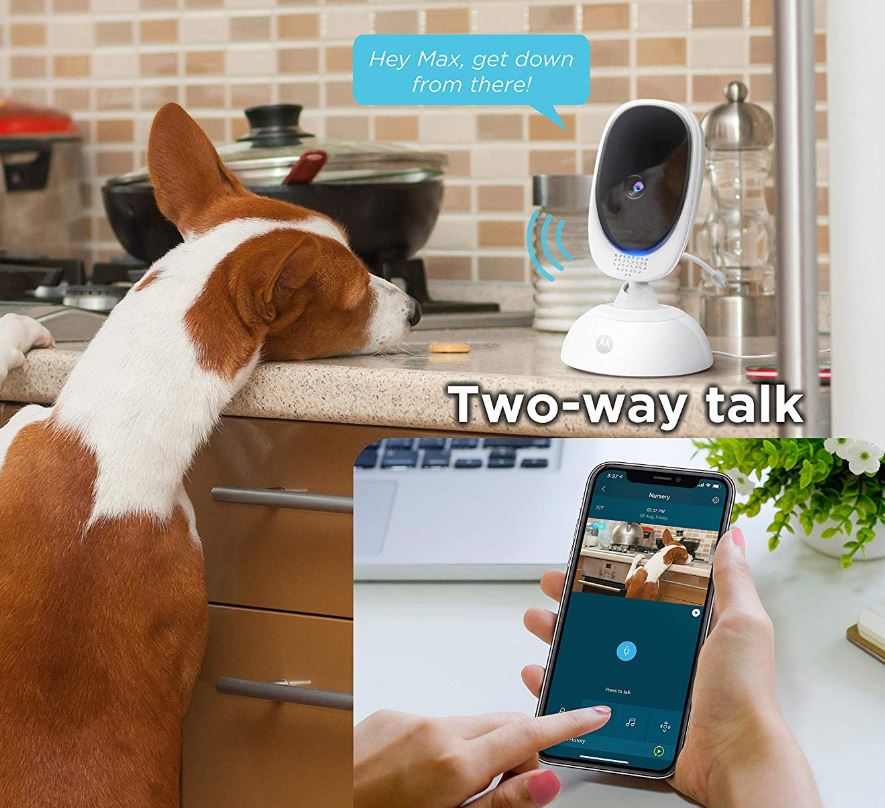 When it comes to control, you're not limited to just the app. You can also pair the Connect40 with your Alexa or Google Assistant. Want to pan the camera while you're elbow-deep in dishwater? Just have your smart home assistant do the work for you. You can even activate two-way audio while you're driving, making this a truly hands-free monitor.
In addition to all these features, you can also pair up to 4 Connect40 cameras with your controller. Want to keep an eye on Grandma and the new baby? You can do that. And once your baby has outgrown their monitor, your extra cameras can double as a home security system. All in all, this is a great bonus feature.
All of that being said, not every baby monitor is ideal for every family. If you want to see more options, check out our review of the best Bluetooth-connected baby monitors. At least one of those options is sure to meet your needs.
Final Verdict
At the end of the day, the Motorola Connect40 has a lot to offer. The monitoring features are very effective, particularly the high-sensitivity mic. The video quality is middling, but it's as good as you need for keeping an eye on your little one. The two-way audio is also useful, even if you just need to tell the sitter what shelf the diapers are on.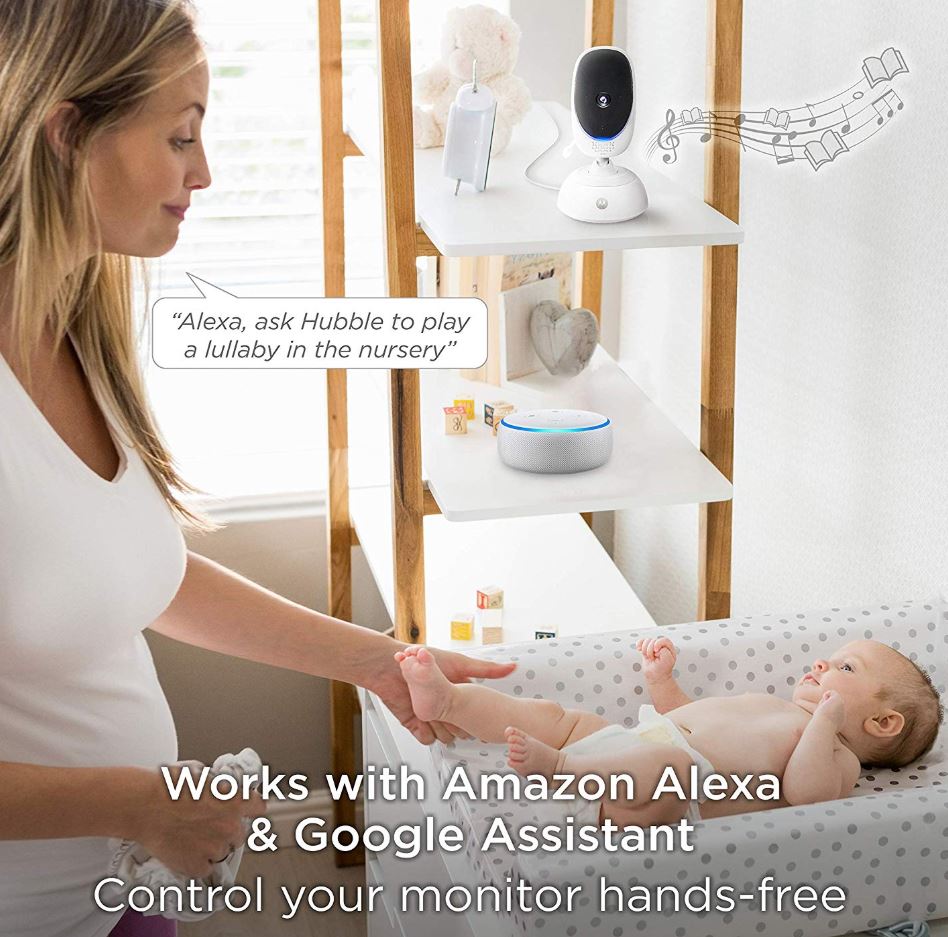 To be sure, this system isn't without its drawbacks. The battery life was particularly disappointing, since you essentially have to use the Connect40 as a wired unit. We also cringed at the blue LED. We have no idea why Motorola thought it was a good idea to put a bright, blinking light next to a sleeping baby.
That said, the app provides a ton of added value. To begin with, you can access your monitor from anywhere in the world. But all the tracking tools and articles are also useful. Throw in the voice assistant compatibility, and you've got a versatile system that you're sure to enjoy.