If you're looking for your next Bluetooth speaker, it can be easy to get overwhelmed with the options. With speakers available in all shapes and sizes, it seems as if there is a speaker for every person out there. But the question is, which is the one for you?
For most of us, we need our speakers to be adaptable. They're not being purchased just for one specific purpose, we'll want them to work in a variety of situations and environments.
Ultimate ears is a company known best for their high end headphones. What stood out most about them was that they were compact, portable, and sounded great with a variety of styles of music. With their latest Bluetooth speaker, they've taken what made their brand great and put it in a product that can enable you to share your music with the world. Is it any good? We decided to go hands-on to find out.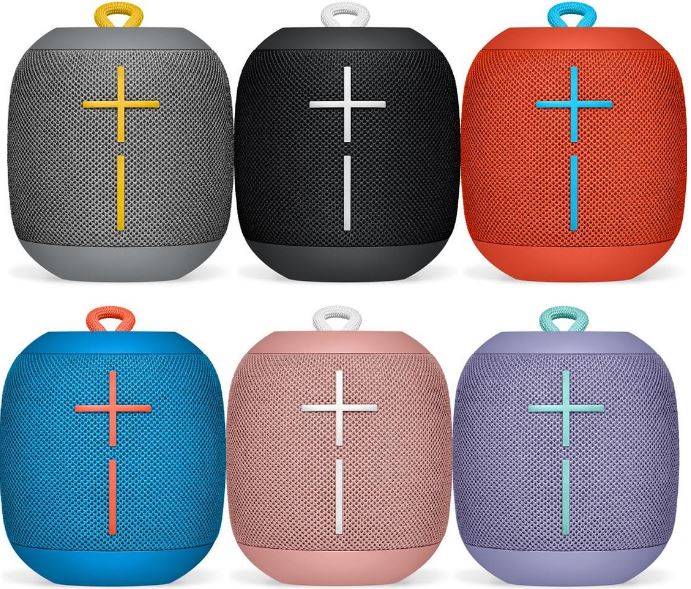 First Look
The UE Wonderboom speakers are roughly the size of a coffee cup, but pack a punch that sounds as if it's coming from a speaker much larger. The design is very stylish, but very simplistic. You can tell, even from the first glance, that it was designed with a few key things in mind. Ultimate Ears wanted it to be easy to use, sound good, and work in all kinds of environments. Did they manage to meet all of these objectives? Let's go in-depth to find out.
Design
Although there isn't anything totally unique about the Wonderboom, the design definitely has a way of reaching out and grabbing you. From the gently rounded edges to the simple center-mount controls, it's clear that design was a major focus. There are six different colors available, each of which is almost electric in appearance. Our personal favorite is the red mode, although pink, purple, black, grey, and blue are also available. What we liked about the color choices is that each speaker has a two-tone design. The Large volume buttons on the front are usually colored with a highly contrasting color. For example, the red model has baby blue controls. While this is a seemingly simple choice, it really gives a peppy appearance to the speaker.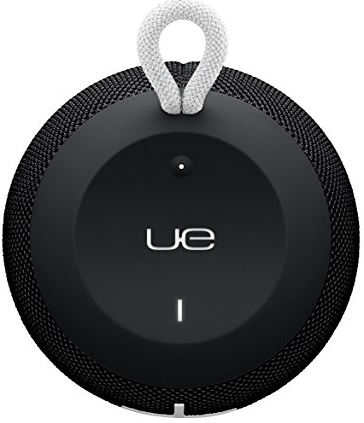 Durability
With the soft fabric cover over the speakers and plastic exterior, you might not think that this is a particularly durable speaker. After all, most Bluetooth speakers marketed for their durability look like something sold to the military. But the Ultimate Ears Wonderboom is a firm reminder that you can't always judge a book by its cover. There is no doubt in our mind that this is one of the most durable speakers that you can buy.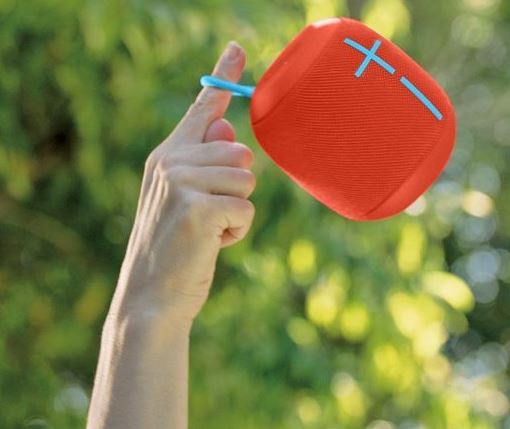 The most notable feature is the IPX7 waterproofing. IP ratings are a 3rd party verification that determines how resistant to liquid and dust is. IPX7 is a pretty high rating. While you can't exactly take it swimming, you're absolutely not going to damage it by spilling a drink or getting caught in a rainstorm. As long as you make a little effort to keep it out of long term exposure to water, there is very little to worry about. This is the kind of speaker that we'd be comfortable taking down to a day on the beach, or an evening by the pool.
But Ultimate Ears knows that there are greater hazards out there beyond water. After all, water is pretty soft. The real trouble comes from things that are less-than soft. As much as we'd like to try to avoid it, sometimes our hands slip or our devices wriggle their way free from our bike carrier. In these situations, a high velocity transition from air to concrete could spell the death of your hardware. But this speaker refuses to be a victim. We could tell from the moment that we held it in our hands that this was one tough cookie. It's officially rated at being drop-proof from five feet, although we feel that you could safely double this rating.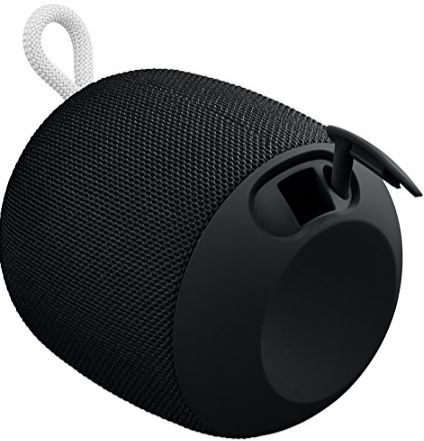 Ease of Use
With only volume buttons on the face, it might seem that this speaker is pretty basic. In some ways, this is true. But there are more than a few tricks up its sleeve.
Let's start with the basics. The big plus button turns the volume up. The big minus button turns the volume down. This part is self-explanatory. But what we didn't realize at first was that the UE logo on the top of the speaker is actually a button in disguise. When the speaker is not currently connected to anything, holding this button for a few seconds will enter it into pairing mode. You can then bust out your phone, hit the Bluetooth icon, and search for the speaker in your list of devices.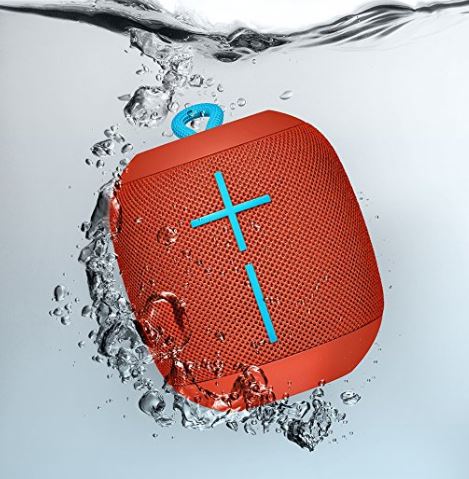 Once paired, the purpose of this button changes completely. Tapping it quickly will pause or resume your music. Long-pressing it will skip the current track – a feature that you'll find helpful if you don't want your gym bros to find out how much Taylor swift you have in your Spotify library. (Don't worry, we do too.)
Beyond the above features, the speaker is pretty minimalist. You can pair two of them together to get a stereo system, but there isn't even an AUX connection. That being said, the simple design gives you all the basics, so it's unlikely that you'll feel as if you're missing out with the UE Wonderboom.
Sound Quality
Despite it's compact size, this peppy little speaker really surprised us. It has a very forward presentation to the sound. Bass is heavily emphasized, but it's still retains a clear, honest presentation. Even at high volumes, upper-range details still sounded crisp and clear. But what we liked most about the speaker was the energetic feel to the sound. It is incredibly precise in terms of timing. This gives drums their punchy kick, and vocal their organic feel. It doesn't have that "smoothed over" feel that many heavily filtered speakers have, and this can only mean one thing. UE used a high-quality speaker.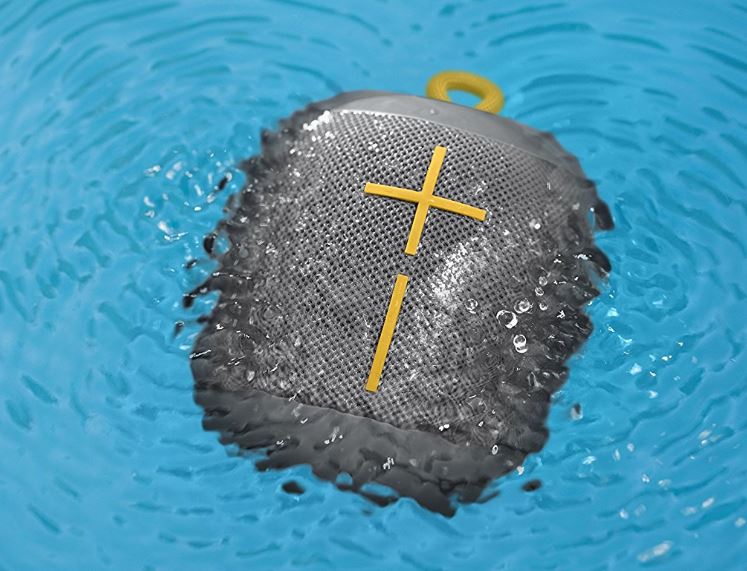 Here is the catch with speakers. They cheaper they are, the worse they are. Filtering is a way around this. If a speaker tends to distort during large bass kicks, a filter can quickly turn the bass down a couple notches in those exact times. Frequencies can be slightly shifted, and the speakers performance is generally modified so that it sounds acceptable at all times. However, the result of filtering is that your songs lose a little detail. This is common practice in the Bluetooth speaker industry. It's so common, in fact, that it's easy to forget what raw, unadulterated sound is like.
Are these speakers perfect? Of course not. But they certainly have character, and they are the perfect example of what a good speaker should sound like.
Disadvantages
If you're a basshead, you'll love the UE Wonderboom. But if you're looking for something to enjoy a little causal listening, it might not be for you. The speakers has a very specific style, and that involves heavily accentuated bass. For that reason, there are specific types of music it sounds great with and specific types that might not be quite as enjoyable.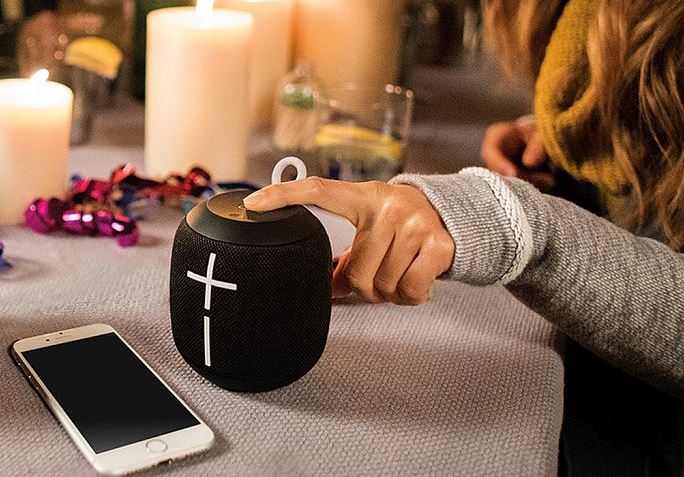 Final Verdict
Overall, there was a lot to love about the UE Wonderboom. It's extremely durable, able to be submerged in water for up to 30 minutes. It can withstand bumps, scratches, or anything else that comes with day to day use. But most importantly, it sounds great. With a very peppy, active sound signature, anyone who's looking for something to get the party going will love this option.
The main takeaway from this speaker is that it's a very well rounded product. It's clear to us that Ultimate Ears spent a lot of time creating something that was well rounded, and we're confident that it won't disappoint.
There was only one small area that we found the Wonderboom to be lacking. There is no auxiliary input, so you're stuck using exclusively Bluetooth sources. If this is an issue for you, then you might want to pick up the Jack by Podo Labs. This handy little adapter takes any 3.5mm input, and rebroadcasts it to a Bluetooth audio device.
If you're finding that this speaker is a little large for your liking, you might want to consider the Sony XB10. This speaker is extremely compact, but still packs a bassy punch.