Until recently, it was easy to get your hands on the best wireless earbuds. You just had to spend a small fortune on one of a handful of major brands. But with advancements in technology, all kinds of manufacturers are making their own wireless earbuds. This is both a blessing and a curse. On the one hand, if you know what you're looking at, you can get a great deal. On the other hand, there are so many options, it's tough to determine what's what. If you're not constantly staying on top of the market, you can easily end up buying a box of disappointment.
We're about to review two new pairs of earbuds from up-and-coming manufacturers. Starting off, we have the APEKX Bluetooth Headphones. These earbuds have a secure, over-the-ear fit and a sturdy magnetic case. We'll follow up with the Motast Bluetooth Sport Earbuds. These buds have a long-lasting battery, as well as convenient, one-handed controls. Which pair is the right one for you? To find out, we'll need to take a look at all of their features, benefits, and drawbacks. We'll talk about the battery life, the audio quality, and the ergonomics. At that point, we'll know everything we need to render our final verdict.
Note: At no extra cost to you, we may earn a commission for purchases using our links. Learn more.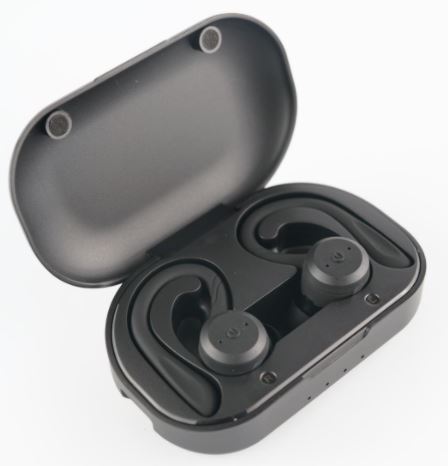 APEKX Bluetooth Headphones
The APEKX Bluetooth Headphones are equipped with large ear hooks, which fit over your ears and hold them in place. In addition to black, they're also available in neon green or pink, so you can match them to your style. Unlike many ear hook earbuds, the APEKX model doesn't lock you into that design. The hooks can be swapped out for one of a pair of smaller ear fins. These fit inside your outer ear, rather than clamping over the top. It's a less obtrusive design that some people find more comfortable. Not only that, but there are two extra pairs of silicone ear tips in the package. If the initial fit is too loose or too tight, try switching to a larger or smaller tip.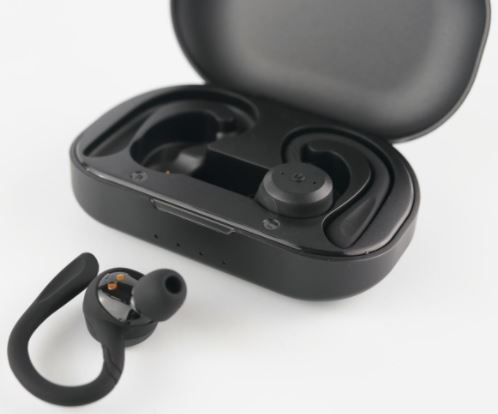 No matter which color you buy, the backs of the APEKX buds are always black. These circular buttons perform all the earbuds' functions. You can skip tracks, adjust the volume, and even answer phone calls. The button-style design can be superior to a soft-touch control, since you won't press it accidentally. On the other hand, if you have sensitive ears, the required pressure may be uncomfortable.
For a more traditional design, consider the iWalk Amour Air Duo 2. These buds have a vertical build, with a standard in-ear fit and soft touch controls. They also include an innovative split case that's space-saving as well as eye-catching.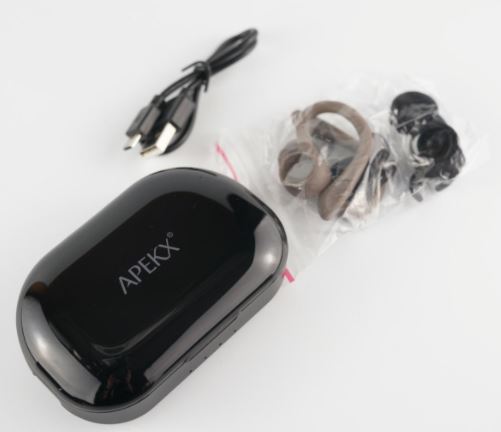 These earbuds come with an IPX7 water-resistance rating, the highest achievable without customized testing. IPX7 means the APEKX buds can be submerged at a depth of one meter for a minimum of 30 minutes. Dropping it in a puddle, or even taking it in the shower, is not going to damage one of these earbuds.
The charging case has a wide, flat profile, similar to a deck of cards. This size is necessary to accommodate the ear hooks, which also fit inside of the case. The buds fit into molded wells, and start charging as soon as they're inserted. They stay in place securely, thanks in large part to a pair of round magnets on the lid. These magnets are just the right strength, neither excessively loose nor too difficult to open. On the front of the case, you'll also notice a row of four LED lights. These show you the current status of the battery.
The APEKX earbuds and accessories are all covered by a one-year manufacturer's warranty. If there are any issues with materials or workmanship, you'll get a free replacement or a refund.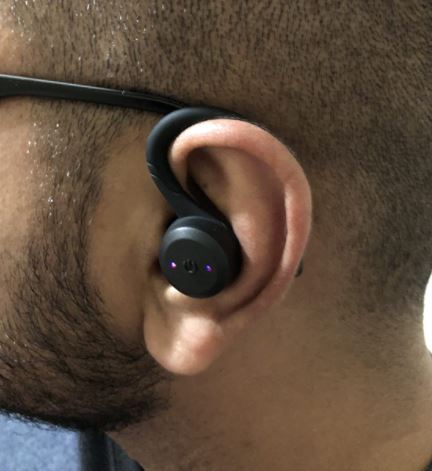 Battery & Connectivity
Each APEKX earbud has enough battery life to last for four to five hours per charge. This is a manufacturer rating, which means it's what you can expect at medium volume. If you prefer to crank your music up, you can get as little as three hours per charge. That's far less than most wireless buds, and was a bit of a disappointment. Still, for most people, four hours of listening will be plenty to get through the day.
If you need even more battery life, there's enough juice in the charging case for about 4 ½ additional charges. This will net you up to 22 hours of battery life, assuming you're listening at medium volume. Charging is easy for both the buds and the case. Either way, the process takes just under two hours, so you'll be back up and running in no time.
The APEKX earbuds utilize the Bluetooth 5.0 protocol to make their connections. This protocol has a few notable upgrades over the earlier Bluetooth 4.2 protocol. To begin with, it offers significantly less latency. This means that audio and video will be well-synced, ideal for gaming and watching videos. Secondly, there's more bandwidth, so you can stream audio at higher bitrates. Finally, the signal is more stable. You won't have to worry about random disconnects and dropped phone calls.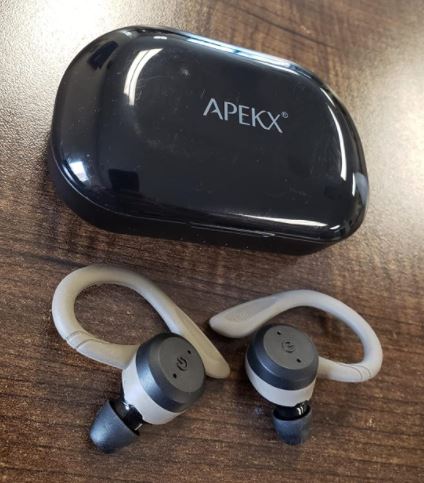 Audio Quality
When evaluating an earbud's audio quality, it's important to consider the price range and type of bud. Obviously, a barebones earbud isn't going to sound as good as a high-priced set with all the bells and whistles. Even so, the APEKX earbuds' audio was a bit of a letdown. Let's start with the positive; there's a reasonably wide soundstage. You can hear good separation between all the instruments, as if the band is in front of you. Unfortunately, there just isn't much richness or texture to be heard. This is especially true on the low end, where the bass is fairly weak. At moderate volumes, the quality is passable. But if you like to turn up the volume, you'll probably be disappointed.
For gorgeous, detailed audio, the Mpow MX3 Bluetooth Wireless Earbuds are a better choice. In addition to beautiful sound, they also feature an ergonomic fit and wireless charging capability. On the downside, there's only one ear tip size, so you don't get as much versatility.
On the plus side, the APEKX Bluetooth Headphones actually offer reasonably good sound quality. They have noise-isolating microphones that filter out the background noise from your conversations. Even if you're in a crowded train terminal, the other person will not have any trouble understanding you. How well you can understand them will depend mostly on their headset.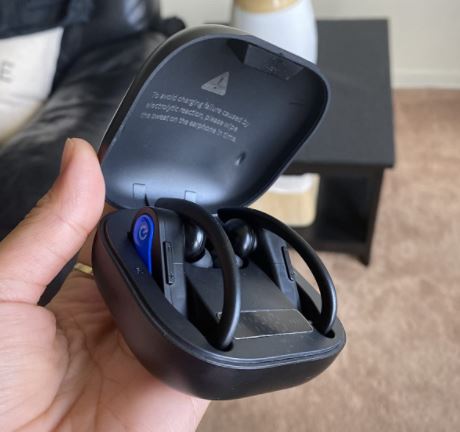 Motast Bluetooth Sport Earbuds
The Motast Bluetooth Sport Earbuds have a superficially-similar design, with large rubber ear hooks. They're only available in black, even though the backs have large blue buttons. These buttons work similarly to the soft touch controls found on most earbuds. However, they give tactile feedback and they're tough to press by accident. As with the APEKX buds, they can also be a bit uncomfortable if your ears are sensitive. To help out, Motast includes a pair of extra tips in larger and smaller sizes. These tips are comfortable enough, but offer poor noise isolation.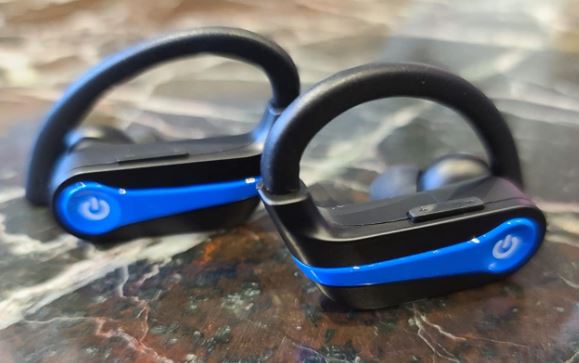 In addition to the large buttons, these earbuds sport volume buttons on the top. The volume buttons are operated with your forefinger and middle finger, and you don't have to press into your ear. Moreover, the controls are identical on both earbuds. If you're using just the left or just the right, you'll still have access to all your controls. Like the APEKX earbuds, the Motast buds have an IPX7 water-resistance rating. You don't have to worry about getting it wet.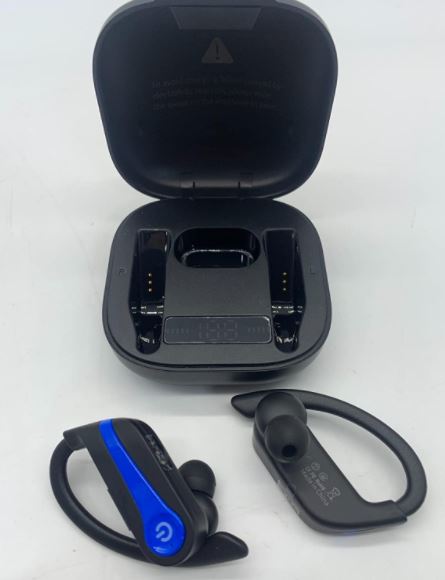 Battery & Connectivity
The Motast batteries are capable of providing 10 hours of use on a single charge, assuming medium volume. Even at full blast, you can expect to achieve at least eight hours, which isn't half bad. The case has enough power for three additional recharges, for 32 to 40 hours in total. USB Type-C charging takes only about two hours, and a cord is included in the package.
For a different design with similar battery life, the Origem HS-3 Pro "Bass Heavy" Bluetooth Headphones are ideal. They're connected with a neck strap, allowing for a built-in nine-hour battery and no carrying case. On the other hand, they're not water-resistant, so you'll need to be careful.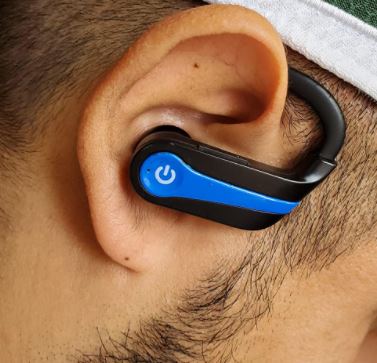 The Motast earbuds use the latest-and-greatest Bluetooth 5.1 protocol for connectivity. This protocol is backwards-compatible with Bluetooth 5.0 and 4.2. However, with Bluetooth 5.1 devices, it supports even lower latency. Moreover, these earbuds can be paired either in stereo or mono mode. In mono mode, either earbud can be used individually. This makes them an excellent choice for hands-free calling.
Audio Quality
The Motast Bluetooth Sport Earbuds utilize large, 14.2mm dynamic drivers. With this much surface area, they can produce rich, detailed audio across all frequencies. Cymbals and strings are beautifully textured, and the bass is strong and powerful. They're still not studio cans. But for a mid-priced pair of earbuds, they sound remarkably clear. Moreover, the soundstage is wide. The audio won't sound squished like it does with many pairs of earbuds.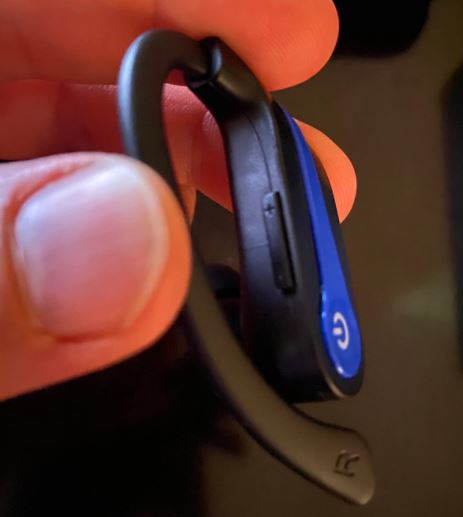 Not only that, but the Motast buds include CVC 8.0 noise cancelling technology. This technology uses multiple external mics to focus on your voice. As a result, most background noises are either completely removed or significantly reduced. This makes hands-free calls as noise-free as normal calls.
Final Verdict
Which of these wireless earbuds is the best? In most respects, the Motast Bluetooth Sport Earbuds take the cake. The audio quality is better across the board, but particularly on the low end. There's plenty of bass here if that's what you're looking for. Moreover, the battery life is very good. You can practically listen from sunup to sundown without stopping for a recharge.
One area where the APEKX Bluetooth Headphones does perform better is ergonomics. We appreciated the ability to switch between an ear hook and ear wing design. It's an innovative idea, and APEKX executed it well. Unfortunately, the battery life and audio quality are both lacking. Maybe these earbuds will be better after a trip back to the drawing board, but not today.
Please consider sharing:
Note: At no extra cost to you, we may earn a commission for purchases using our links. Learn more.