Projectors are one of those technologies that never seem to die. Like vinyl, they've been around since our grandparents' times, and they're still useful today. In vinyl's case, the technology was nearly killed by CDs. CDs were smaller, you could use them in a car, and they provided nearly as good quality as vinyl. But then came MP3s and streaming music, which have more or less killed the CD market. But since MP3s and streaming services use compression, there's some loss in quality. So audiophiles have started returning to vinyl as a high-quality, analog format for home use.
In the case of projectors, it's advancement in the projectors themselves that has kept them relevant. Our grandparents' home projectors were reel-to-reel machines that required multiple bulky film reels. Not only that, but they couldn't provide audio, and they were expensive. As a result, they were only used by hobbyists, or for business and educational purposes. But modern projectors can receive video and audio input from a variety of sources. Using your smartphone or Blu-Ray player, you can project a movie on your wall for an old-school movie night. Far from declining in popularity, projectors are becoming more popular as time goes on.
We're about to review the ASAKUKI Avigator 410W Mini Portable Projector. ASAKUKI is a newer manufacturer, but we liked their essential oil diffuser, so we gave their projector a look. At first glance, it seems to hold up well, with wide compatibility and good video quality. But in order to find out how well it really performs, we'll have to look closer than that. We're about to take a deep dive into all the Avigator's features, benefits, and flaws. After considering the design and function in detail, we'll have a better understanding of this projector. Let's look closer, and see what we find!
Design & Controls
The ASAKUKI Avigator 410W Mini Portable Projector is about the size of an Xbox Series S. It's rectangular in shape, with a molded white ABS plastic housing. The corners are rounded to avoid creating sharp edges, and the material has a matte finish. As a result, it won't gather fingerprints as much as a glossy machine. The projector only weighs 2.2 pounds, so it's easy to carry around.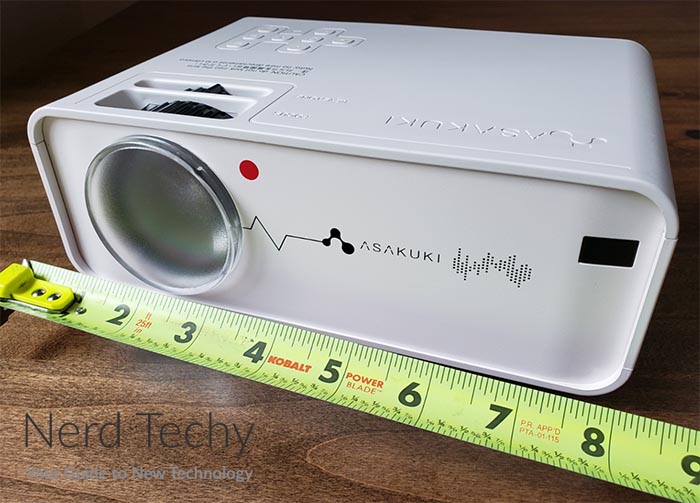 In fact, the kit includes a soft fabric carrying case with a zipper closure. The case is well-padded and semi-rigid, with an attractive grey outer shell and a nylon-reinforced carrying handle. It's better designed than most projector cases, which tend to run cheap if they're included with the kit. By contrast, this one is well-designed, and actually seems to keep your projector safe.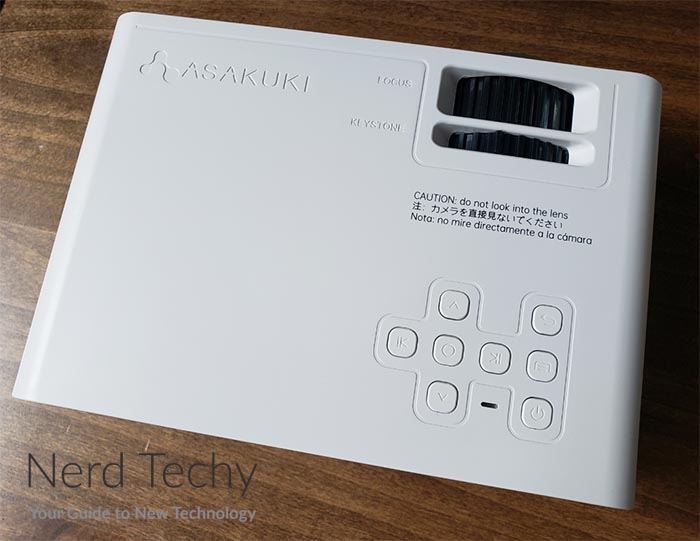 On top of the housing, you'll find a full set of controls. These allow you to play and pause video from some devices, and to navigate DVD and Blu-Ray menus. You can also bring up the projector menu to adjust your video settings. There, you can change the brightness, contrast, color balance, and input source. There's also a small remote in the kit, so you don't need to use the physical controls. Just be aware that it's line of sight only. You have to have it pointed at the front of the projector for it to work.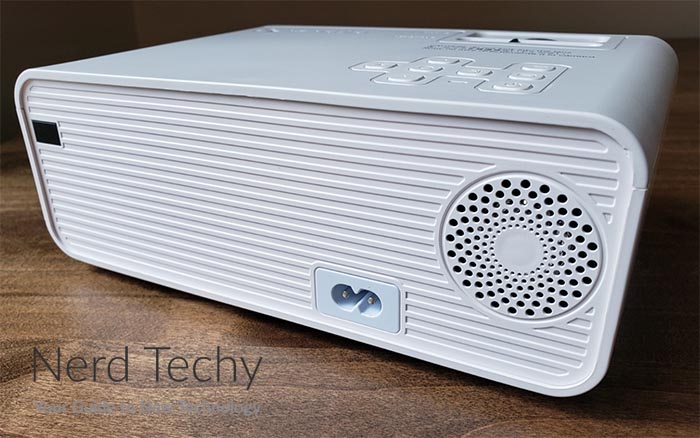 The sides and top of the housing project slightly forward of the main housing, creating a recess in the front. Most of the front is a flat panel, with a grey ASAKUKI emblem and the IR remote sensor. But on the left side, you'll find the large lens housing. This housing is recessed into the main housing, which makes the design safer than most. With fewer hot surfaces exposed, there's less risk of burning your fingers. That said, you still don't want to touch the lens while the projector is in use; it gets pretty hot. The keystone and focus dials are located on top of the main housing, directly above the lens housing.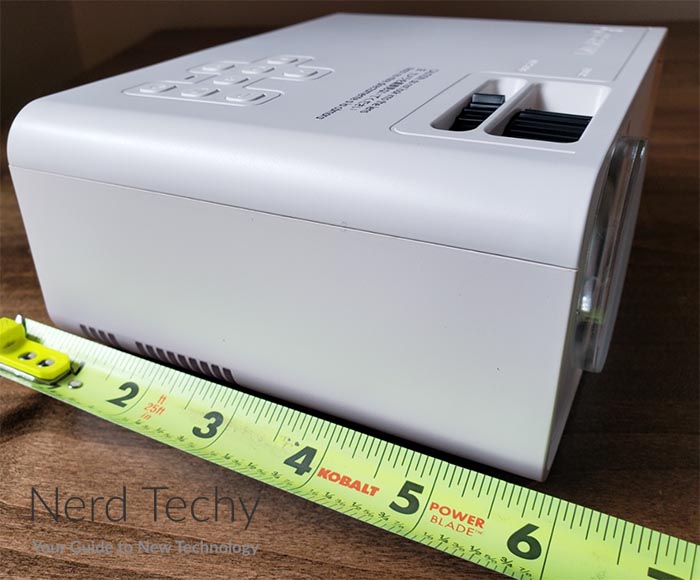 All of the video inputs, as well as a 3.5mm aux jack, are located on the right side of the projector. They're positioned towards the back, to make room for large vents towards the front. The only important feature on the back of the unit is the AC power input. The bottom of the projector sports four small rubber feet, which prevent it from skidding or scratching your surfaces. There's an adjustable screw-down foot that you can use for pointing the lens upwards. And there's a socket for attaching the Avigator to a standard ceiling mount.
ASAKUKI backs this projector with a three-year warranty, which is one of the best in the business. During the first six months, you receive a free replacement in the event of any issues. After that, the projector will either be repaired or refunded.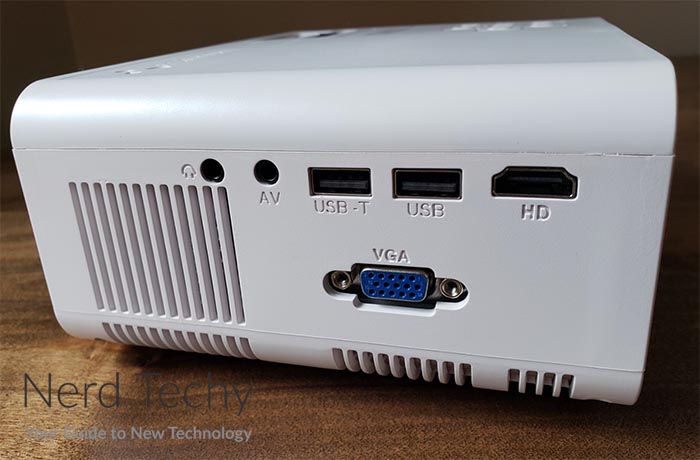 The Avigator is already a small projector, and it's easy to transport. But what if you need the smallest projector possible? In that case, consider the PVO YG300 Mini Projector. It's tiny, and small enough to put in your laptop bag, but it also has fewer inputs. Not only that, but it's not as bright as most larger projectors.
Video Quality
The Avigator has a native resolution of 720p, which means that's the highest resolution you'll see. This might seem disappointing, since most screens these days are at least 1080p. But projectors are a more complex technology, and there aren't many 1080p or higher projectors out there. 720p is still the standard for home use. Moreover, the Avigator can support inputs of up to 1080p – they'll just be downscaled to 720p. In other words, any video that's 720p or lower will play in full quality. Anything that's higher-resolution will play back in 720p.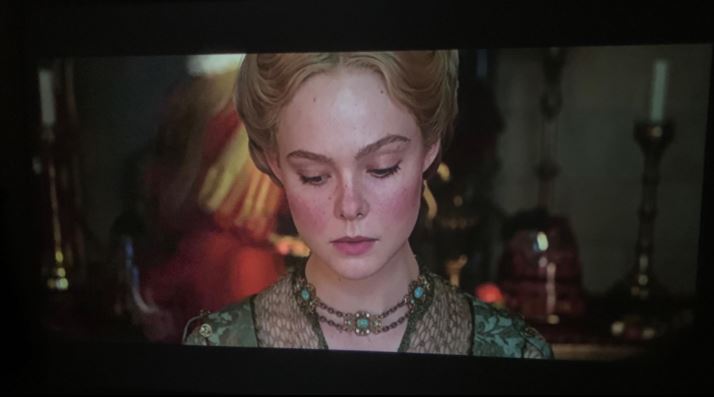 The display size can be anywhere from 30 to 200 inches, depending on the distance to the screen. The closer the projector is to the screen, the smaller the image, and vice-versa. As long as you're within this range, you'll be able to adjust the focus dial to get a crisp, clean image. Outside of this range, your image will start to get blurry. Positioning the projector is easy, thanks to a 15-degree keystone adjustment. You can hang it overhead, put it on the floor, or set it towards the side of a table. As long as the angle is reasonably close to straight, you'll be just fine.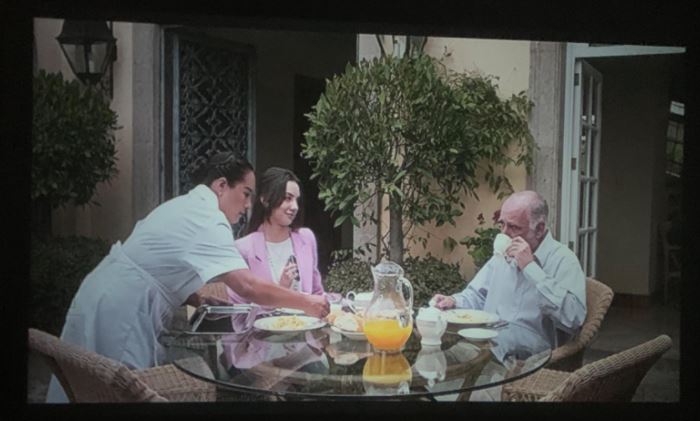 The bulb brightness is 7,500 Lumens, which is very bright. A lot of home projectors are only suitable for use in a darkened room, or outside on a dark night. The Avigator is capable of projecting a bright, clear image even under fluorescent lighting. This makes it suitable for conference rooms and office presentations. It's also a good feature to have if you like to watch movies with the lights on.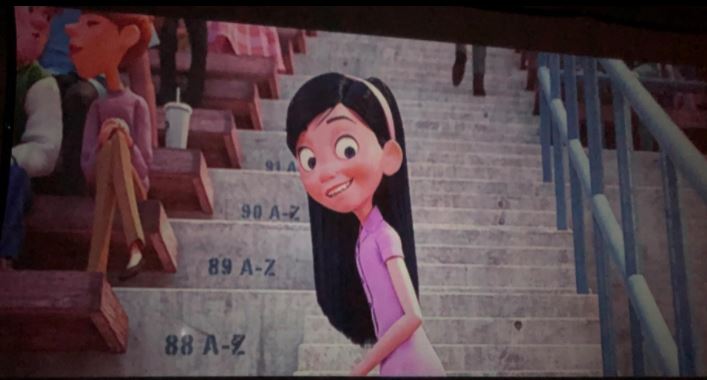 The contrast ratio is 5,000:1. This is the ratio between the brightest and darkest parts of the screen. High contrast ratios are desirable, since they make dark scenes and images easier to see. With a low contrast ratio, different shades of black will all blend together, which can become unwatchable. That said, any contrast ratio of 1,000:1 or higher is generally considered good. And 3,000:1 is the highest ratio that most people can even see. Anything above that is proof of quality, but it's not any real benefit.
This projector has a color gamut of 70% of the NTSC color space. That's over 98% of the sRGB color space used for most digital content. You'll see bright, vibrant video that looks as rich as its creators intended. This combination of high contrast and rich color makes the Avigator equally well-suited for horror movies and children's movies alike.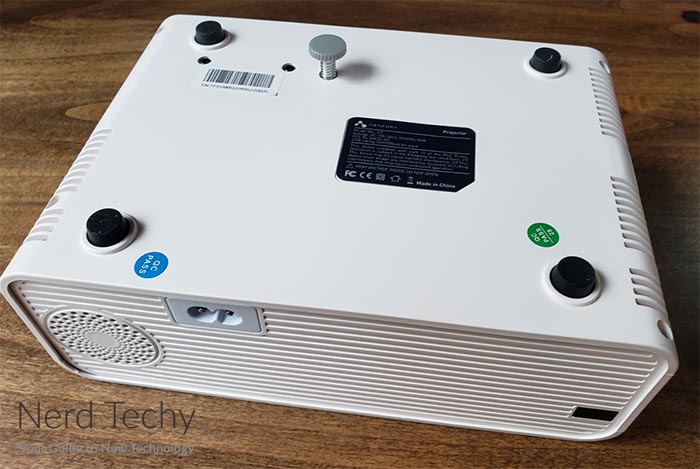 Compatibility & Extra Features
So, what can you use as a video source for the Avigator? The answer is just about anything. To begin with, there's an HDMI input, which you can use for most standard sources. Blu-Ray players, laptops, game systems, and even full-sized PCs will connect in this fashion. If you have an older computer, you can use the VGA port instead. This is the blue port with the dozens of tiny pinholes. Other devices, like older game systems, might use an AV cable connection. In practice, you'll usually need an RCA to AV adapter for these types of devices.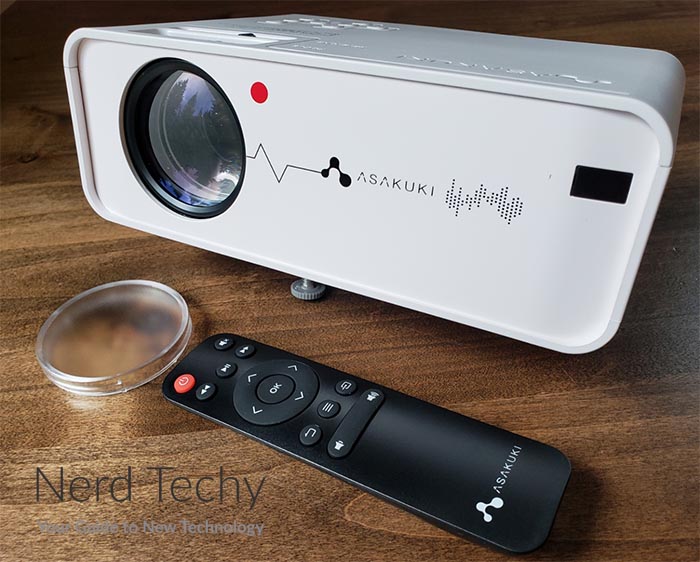 Alongside the HDMI port, there are a pair of USB ports. These can be used for connecting a thumb drive or external hard drive. If you have a home media server, you can plug it right into the projector for easy playback. In addition to all that, the Avigator can connect to your WiFi network. This way, you can stream directly to the projector from your smartphone. Keep in mind that this only works if your smartphone supports wireless casting.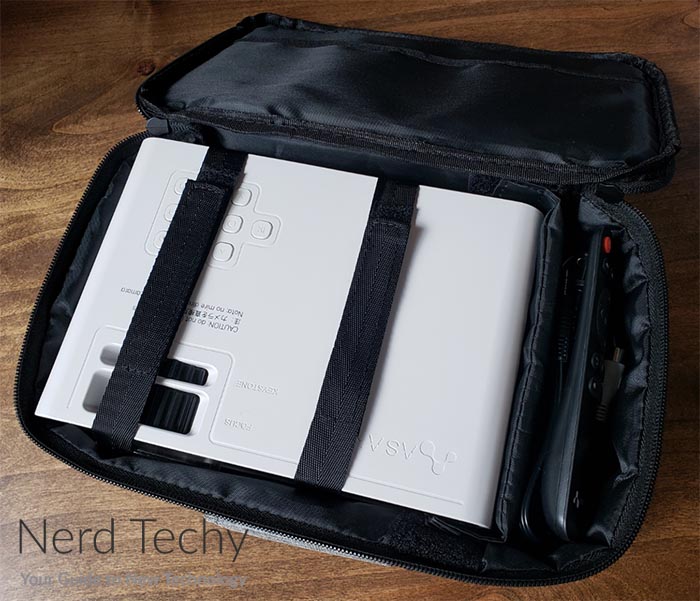 The built-in speakers are surprisingly good quality. You can hear more detail and texture than you'd expect from a small, built-in speaker. That said, the maximum volume isn't very loud. If your outdoors or even in a crowded room, it might be difficult to hear. Thankfully, there's a 3.5mm aux jack in the side, so you can plug in a set of external speakers.
But what if you want to use Bluetooth speakers instead of a wire? In that case, you'll need a Bluetooth-capable projector like the WiMiUs S25. It supports Bluetooth speakers as well as WiFi casting, and offers similar video quality. On the downside, there's no horizontal keystone adjustment, so placement can be an issue.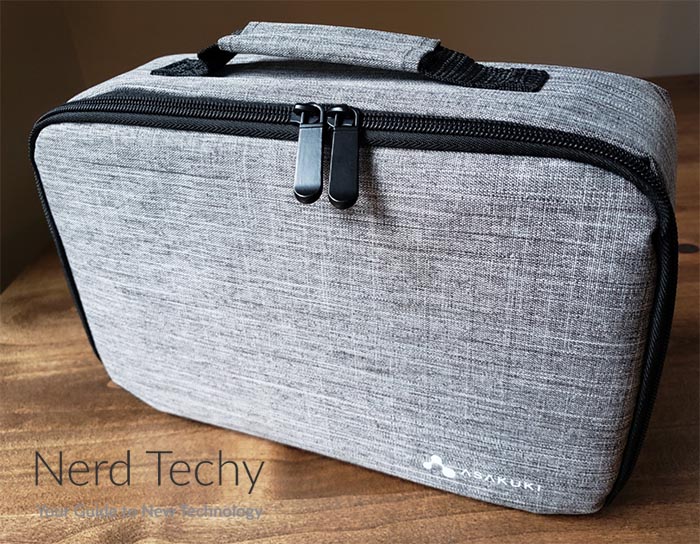 Final Verdict
The ASAKUKI Avigator 410W Mini Portable Projector is portable, but still offers beautiful image quality. With crisp focus and clear colors, it's one of the best mini projectors on the market. Just as importantly, it's very bright. You won't have trouble using it even in a well-lit space. Not only that, but you can connect via a wide variety of methods. As a result, it's compatible with pretty much any device. And with WiFi casting support, you can even ditch the wires altogether. We call that a win.