There could be any number of reasons you need a pair of TV headphones. Maybe you're hearing impaired. Maybe you need to keep quiet so someone else in the house can sleep. Maybe you have an elderly relative who can't hear the TV without maxing out the volume. Regardless of your reasons, a pair of wireless headphones are a great solution. They allow you to enjoy your favorite movies, games, or shows without needing to manage a cord. But for those of us who aren't technologically inclined, ordinary Bluetooth headphones can be a pain. A dedicated pair of wireless TV headphones, on the other hand, is more or less impossible to mess up.
Today, we're going to be looking at two different pairs of wireless TV headphones. First off, we'll examine the Avantree HT280 Wireless Headphones. This is a widely-compatible headphone with a several different audio inputs. Next, we'll check out the Artiste ADH300 Wireless TV Headphones. These headphones are designed to work in a complete set, so the whole family can listen in. Of course, there are other important benefits and features of both headphones. Let's go over everything we've learned, and render our final verdict!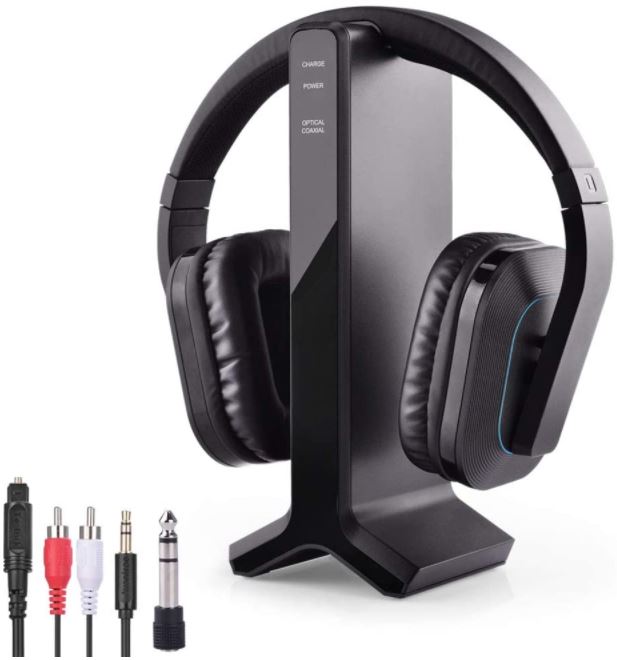 Avantree HT280 Wireless Headphones
Avantree is a well-regarded manufacturer of audio equipment. Their Aria Pro and Aria 2020 headphones are highly-rated, and they've even manufactured a car visor speakerphone. Considering this pedigree, we were eager to see their dedicated wireless TV headphones. The Avantree HT280 Wireless Headphones are a two-part kit, which consists of a transmitter and a pair of headphones.
The headphones themselves are comfortable and lightweight. They have a square profile, with wide ear cups that fit comfortably even over large ears. The ear cups can flex freely, so they can conform to most faces. They're also thickly-padded. This isn't just for comfort; it also ensures a good seal, blocking out noise in the environment. Like most headphones, the HT280 phones are adjustable. Tug on the head band to extend it, or press it together to collapse it.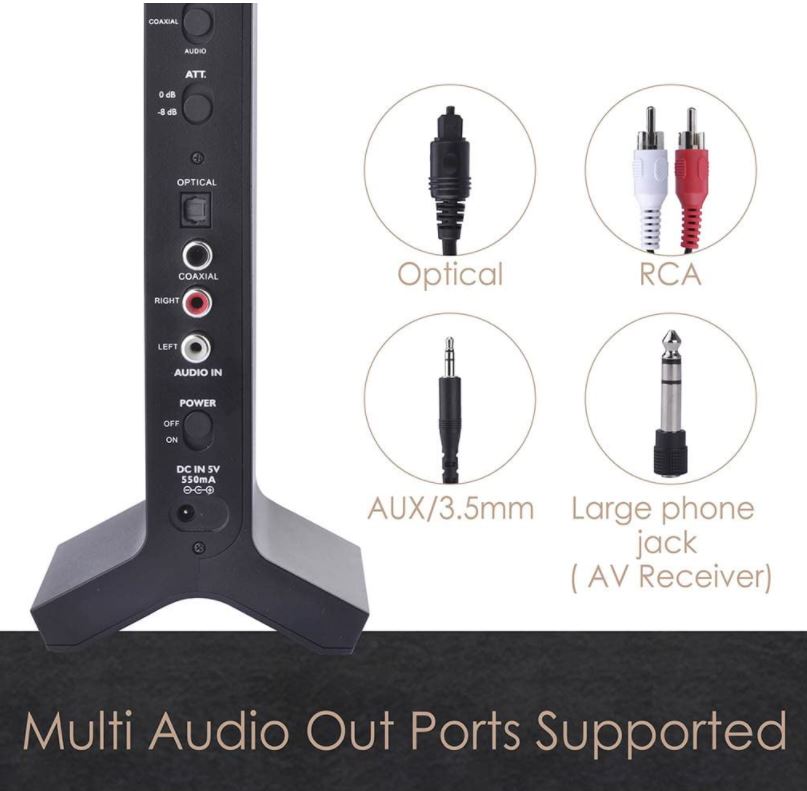 The transmitter is a slab that measures 10 inches high, 9.4 inches deep, and 4.2 inches wide at the base. It's mostly plain, but there are a few LEDs on the front that indicate the power and charging status. The top has a cutout, which is designed to fit into a matching slot in the top of the head band. When the earphones are sitting in the slot, the batteries will constantly be charging. When you pick them up, you'll automatically start listening.
All of the inputs, as well as the power input, are located on the back of the transmitter. This allows for easy cable management and minimizes the risk of cable spaghetti. Regardless of what kind of connection you need, you'll already have the cable. The kit includes a 3.5mm cable, an RCA cable, an optical audio cable, and a 3.5mm to RCA adapter. A 6.35mm to 3.5mm adapter and AC adapter round out the kit. Unless you have a very highly specific need, you won't need to buy anything else to make the HT280 work.
Battery & Connectivity
The HT280 headphone battery will last for up to 12 hours on a single charge. It will also recharge overnight. As long as you remember to put them back on the transmitter whenever you're done, you won't have any trouble. Keep in mind that battery life can also vary depending on the volume. The louder you have the headphones turned up, the shorter they're going to last.
The main reason to buy a dedicated pair of wireless TV headphones is ease of use. You don't want to have to mess with setting up a Bluetooth connection every time you sit down at your TV. Because of this, the HT280 doesn't use Bluetooth at all. Instead, it communicates with the transmitter via a 2.4GHz wireless signal. This signal has a range of 100 feet, so you can roam freely while you're watching. You don't have to take your headphones off just because you're grabbing a snack from the fridge.
Of course, just because you don't need a Bluetooth connection doesn't mean you don't connect to your TV. You just connect your TV to your transmitter just like you'd connect it to any other speakers. The HT280 is exceptionally versatile, with 3.5mm, RCA, optical, and coax support. Just plug your audio source in, select it with the switch on the transmitter, and you're ready to go. You can even connect your AV controller if you've got one. This makes the HT280 an easy plug-and-play set of headphones that doesn't require a lot of fiddling around.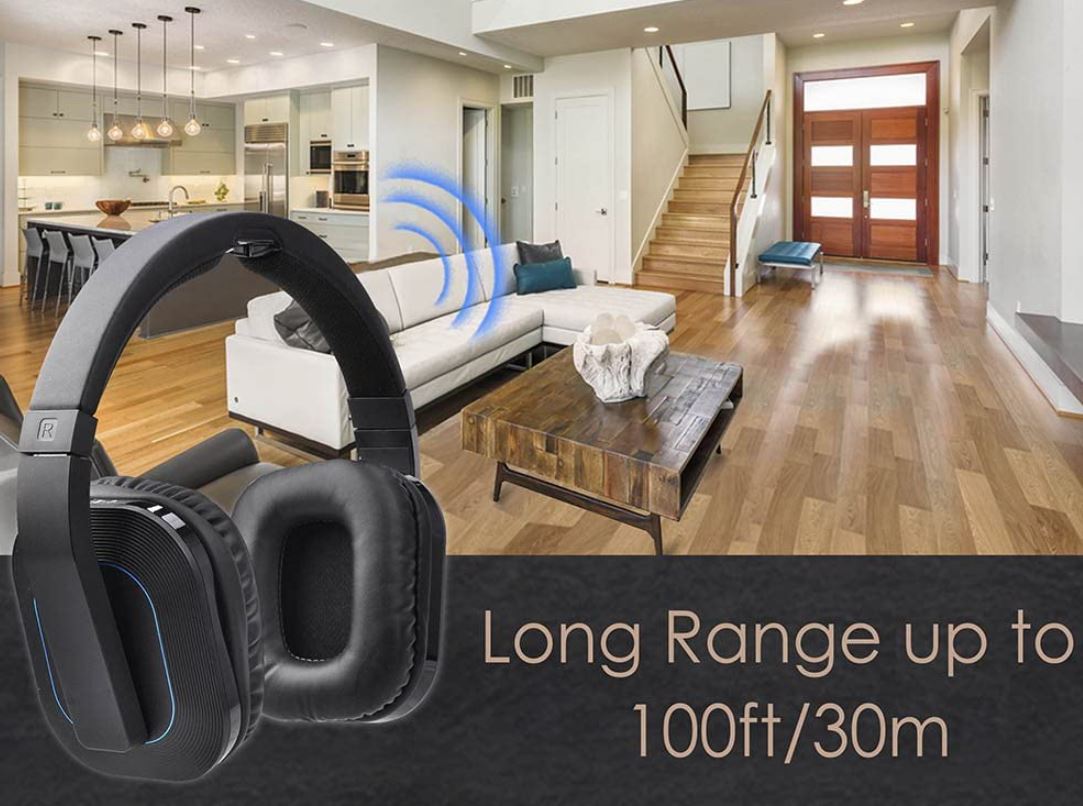 Sound Quality
When we talk about sound quality on a pair of TV headphones, we're not talking about studio-quality audio. Sure, it would be nice to have rich, powerful bass and shimmering highs in our music. But these headphones are designed for watching TV or movies, not primarily for listening to music. This means that their primary function is simply to boost the volume. It doesn't mean the audio quality is bad. It means it's comparable to what you hear from your TV speakers, but louder. Besides, if you want studio-quality sound, you're probably better off using wired headphones.
There are also a couple of things you should be aware of about the sound. The first is that the HT280 headphones don't support Dolby or DTS sound. Make sure your TV's audio output is set to PCM. If it's set to Dolby or DTS, you won't hear anything over the headphones. Another thing you should be aware of is that turning on the headphones might mute your TV speakers. This can be a problem if you're trying to watch your TV with family. In that case, check your TV's settings, as there may be a way to avoid this.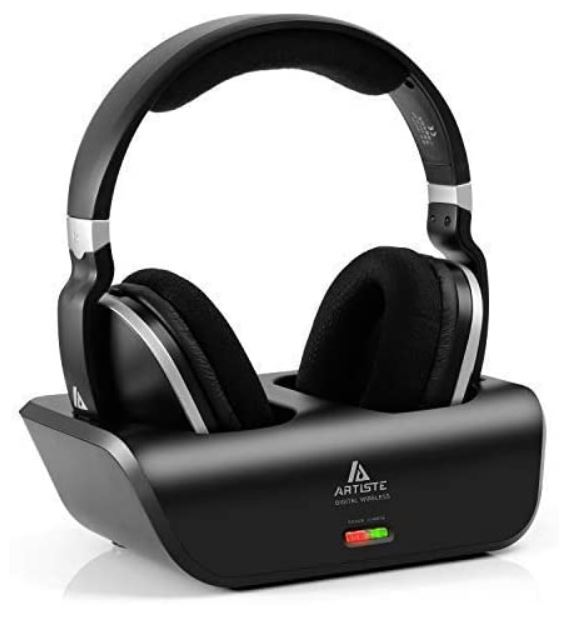 Artiste ADH300 Wireless TV Headphones
The Artiste ADH300 Wireless TV Headphones look a bit more "traditional" than the HT280 phones. They have an oval design rather than square, which you may or may not prefer depending on what you like. The padding on the ear cups is lush and provides a secure seal, while a protein shell wicks away sweat. They also have a thicker, more heavily-padded head band. The band is fully adjustable, and also sports an aluminum slide that's more than durable enough for our purposes. This is a very comfortable pair of headphones that you can easily wear for hours.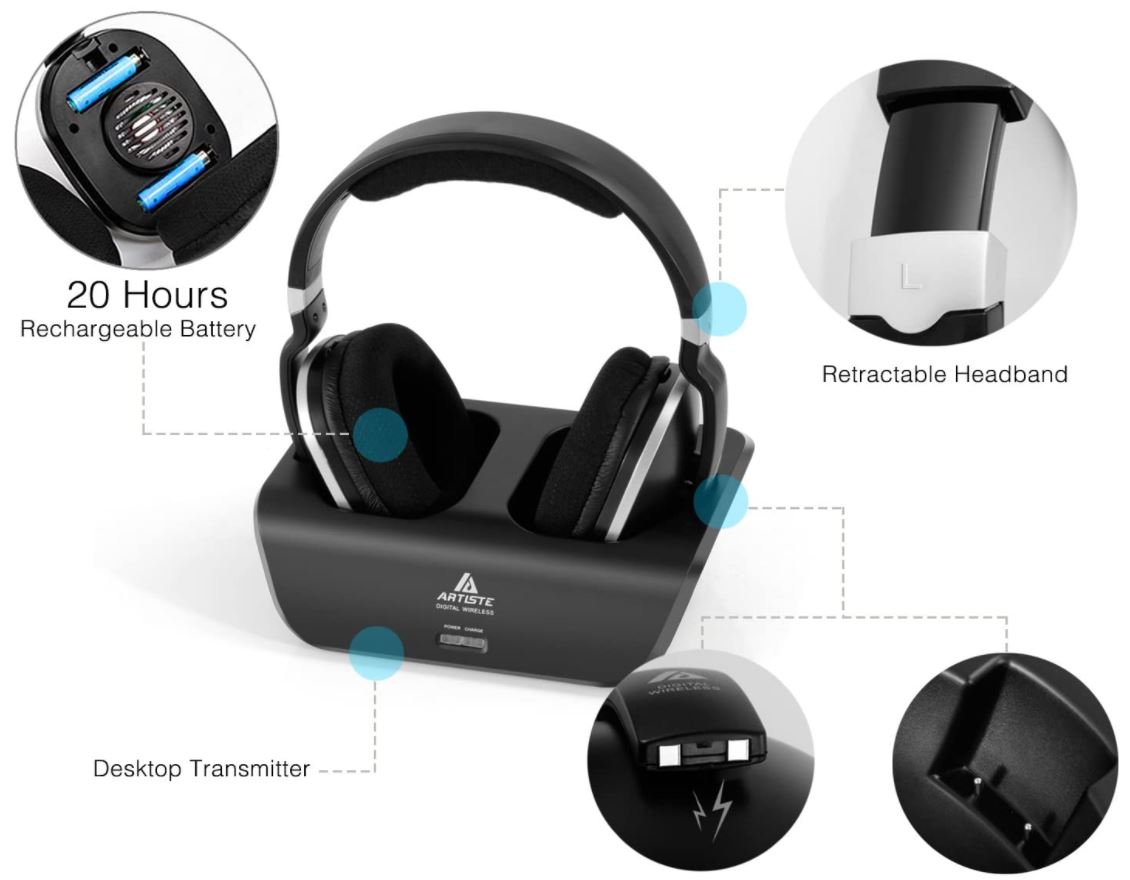 Like the HT280, the ADH300 headphones come with a transmitter that doubles as a charging dock. The ADH300 transmitter has a flat, wide design similar to a cordless phone dock. The charging contacts are on the bottom of the ear cups, and they drop into a pair of slots for charging. On the front of the charging dock, there's a pair of indicator lights. These let you know when the charger is plugged in, as well as when your headphones are charging.
On the back, you'll find the audio inputs, as well as the power port. The kit includes an RCA cable, as well as a 3.5mm to 6.3mm adapter. There's also an AC adapter, so you've got everything you need to get started.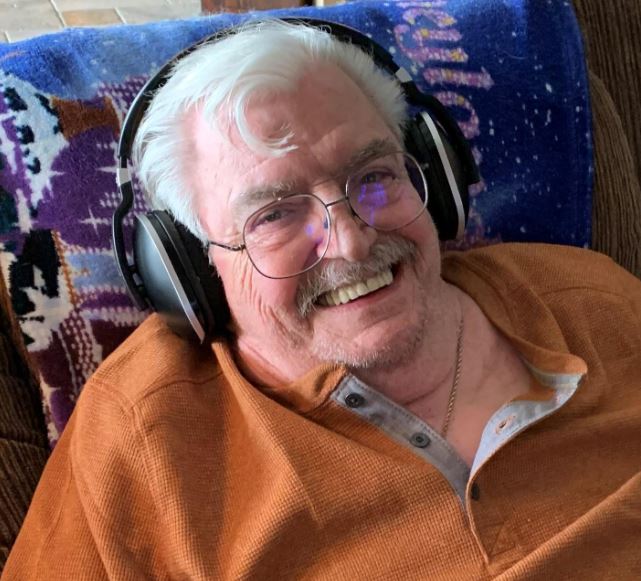 Battery & Connectivity
The battery of the ADH300 headphones will last for a full 20 hours, which is simply outstanding. There's no reason to ever run out of battery, even if you watch TV all day. As with any battery-operated device, though, the performance is only as good as your memory. If you forget to put your headphones on the charger, you'll find them dry the next day.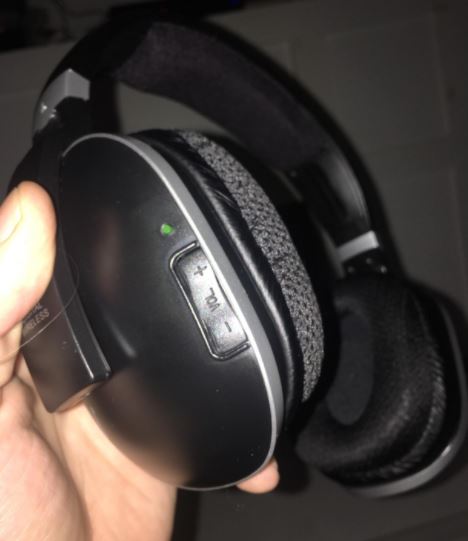 Like the HT280, the ADH300 headphones operate on a 2.4GHz wireless frequency. This gives them plenty of range, so you can roam up to 100 feet away. It also means you don't have to mess with any pesky Bluetooth pairing. Unfortunately, the only inputs are RCA and 6.3mm. With the included adapter, you can also connect a 3.5mm aux cable. For anything else, though, you're going to need an adapter. This shouldn't be a problem for most modern devices, but it can be a pain if you're using optical cable.
The best feature of the ADH300 is the ability to connect to multiple headsets. With a single transmitter, you can connect up to six headsets. You'll have to buy the headsets separately, and you'll have to keep them all charged. But it's a great way for two or more people to enjoy a movie without waking up the neighbors.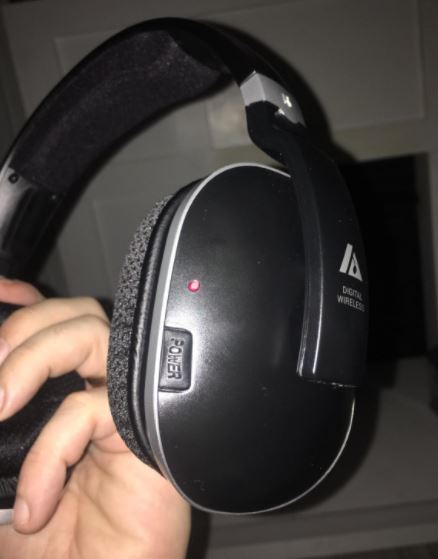 Sound Quality
The audio quality of the ADH300 headphones is roughly equivalent to the HT280. There's no extra sizzle, punch, or pizzazz like you'd expect from studio headphones. Instead, you get a straightforward audio profile comparable to TV speakers. There's a volume adjuster on the headphones, so you can easily adjust up and down. One thing to be aware of, though, is that the ADH300 drivers have a lot of attack. In other words, even if the volume isn't that loud, they can sound loud when you first start listening. For the best results, start listening at a lower volume and turn it up as needed.
Final Verdict
Without a doubt, both of these pairs of headphones are worth a second look. But they offer different features that will be best for different people. To start with, we looked at the Avantree HT280 Wireless Headphones. These are big, square headphones designed for easy donning and doffing. They're also designed for maximum compatibility. You can connect to virtually any TV or AV controller, or even to a radio or CD player. Even better, all the cables are included in the kit, so you're ready to go as soon as you open the box.
The Artiste ADH300 Wireless TV Headphones, on the other hand, offer less compatibility. You can only use them with RCA, 3.5mm, or 6.3mm audio jacks. As a result, it will only work with a limited number of TVs or other inputs. But what it lacks in versatility, it makes up for in sociability. You can connect up to six sets of headphones, so the entire family can watch together.