If you've ever had to work on a rack-mounted server, you know how valuable a good keyboard drawer is. A good drawer makes a stable, steady typing platform for quick and efficient work. It also won't break if someone decides to use it as a storage shelf. A low-quality drawer can shake and wobble while you work. It can even get damaged, leading to extra expenses. It might be tempting to save a few dollars here, but consider whether that makes sense. The cost of the equipment in your server rack is in the thousands or tens of thousands of dollars. It would be silly to try to save $20 by installing a cheap keyboard drawer.
Today, we'll be looking at three sturdy, stable options that will get the job done. First up, we'll look at the NavePoint Rack Mount Drawer. This is a basic, straightforward keyboard drawer without a lot of extra frills. Next, we'll review the Raising Electronics 1U Rack Mount Sliding Keyboard Tray. This is a more heavy-duty drawer with two sets of cable guides. Finally, we'll examine the StarTech 1U Sliding Server Rack Mount Keyboard Shelf. This is a two-in-one unit that can be installed either as a drawer or as a shelf. Which one is the right choice for your server rack? Let's take a closer look at each of them, and see what we've learned. After that, we'll be well equipped to render a final verdict.
Server Rack Hole Types
As with many things in the tech industry, there's no one single standard for server rack holes. Different manufacturers have their own preferences, and have been slow to come to an agreement. To be honest, we're lucky they've even agreed to a standard 19-inch width. That said, there are three hole types that are most commonly used, and are generally considered "standard."
The first type are round threaded rack holes. These are the most longstanding type of hole, and they offer an obvious benefit. With a threaded hole, you don't need a nut. Unfortunately, manufacturers haven't agreed on a standard threading. Depending on the rack, you can be dealing with 10-32, 12-24, or M6 threading, just to name a few. This can be a pain, since you never know whether your equipment will ship with the right kind of screws. As a result, you end up having to keep a bunch of screws on hand.
You also run into trouble mounting anything with rails, and can end up needing third-party rails. For that reason as well as others, many manufacturers have moved away from threaded rack holes. The only place you'll typically see them these days are on audio equipment racks, which typically don't require rails.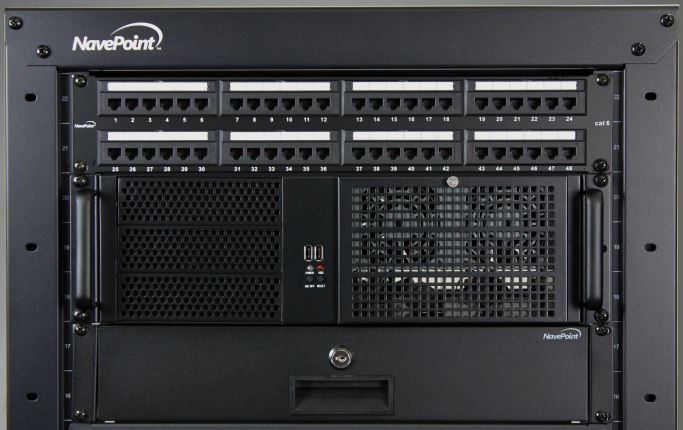 For server racks, most manufacturers moved on to unthreaded round holes. IBM was the first to use this design, but the design quickly caught on. It became so popular, in fact, that Dell actually designed the Versa rail specifically for IBM's racks. Most IBM and HP rails will work with these types of holes.
The disadvantage of round unthreaded holes is that it's tough to make a universal rail standard. As a result, other manufacturers lagged behind. You also needed to use a nut for retaining screws. If you wanted to convert the holes to a threaded hole, you needed a cage nut. For these reasons, most manufacturers no longer make racks with round unthreaded holes.
The latest and greatest server racks are now built with square holes. Most measure 3/8 of an inch on each side, bringing some level of conformity to a hectic industry. Upright thickness is still variable, ranging from 0.085 to 0.11 inches. Still, it's close enough that most server rails can now be deployed on a "standard" rack. Dell, IBM, HP, and other manufacturers have all released their own type of quick rails, which are snapped into place.
If you're going to screw anything into a rack with square holes, it's important to use a cage nut. A standard nut can get pulled back through the hole. It can also put uneven stress on the hole, causing damage to the rack itself. The advantage of a cage nut over a threaded hole is simple. You're not tied to a single threading. If you need to use a different screw, simply switch out the cage nut.
All three of today's rackmount keyboard drawers will mount in any kind of hole. They have oval holes, which makes them compatible with anything. That said, you'll need to make sure you have the right mounting hardware for your rack. For example, if a drawer ships with square cage nuts and your rack has round threaded holes, you'll need screws.
As an aside, "1U" simply refers to server height. 1U is 1.75 inches, and equates to the standard height for 19 and 23-inch server racks. Double-height servers are referred to as 2U, and larger devices can be 3U or even 4U high. All of today's drawers are standard 1U drawers.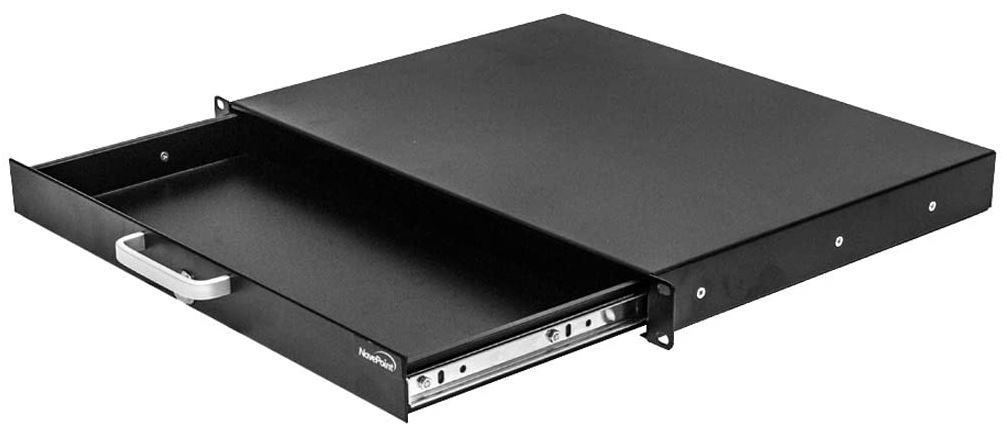 NavePoint Rack Mount Drawer
The NavePoint Rack Mount Drawer is a 19-inch drawer that's 14 inches deep. That said, it will mount on any standard 19-inch rack. The mounting points are only located on the front, so rack depth is simply not a concern. The quality of construction is quite good, with a black powder coated finish that's easy to dust off. The drawer glides easily and smoothly on its bearings, without any roughness or unwanted noise.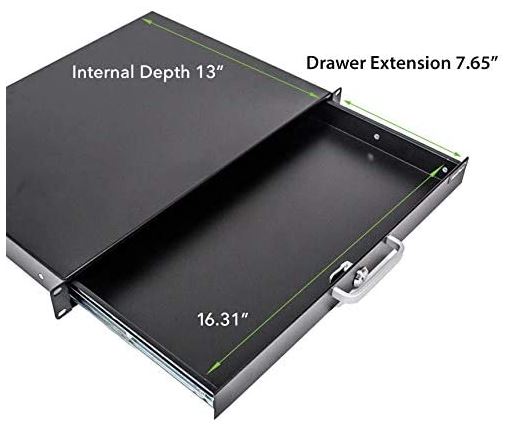 The drawer only extends 7.65 inches, so you won't be able to type with the keyboard inside. That said, it's easy enough to pull the keyboard out and set it on top. Whether or not this will work for you will depend on the configuration of your particular rack.
Along with the drawer itself, you get two sets of rack screws. They're sized in 10-32 and 12-24 respectively, so you'll be good to go on most racks. That said, there are no cage nuts in the kit. If your rack doesn't have any spares, you'll need to buy some. In addition, if your rack has M6 threading, you'll need to buy your own screws. Nonetheless, for most people, the NavePoint kit includes everything you need.
Bonus Features
There are three holes in the back of the NavePoint drawer. These can be used for routing your keyboard cable. Because there are three of them, placement is no issue. You can even have a mouse or other accessory inside the drawer. For larger devices, NavePoint offers 2U, 3U, and even 4U drawers, but we only looked at the 1U version.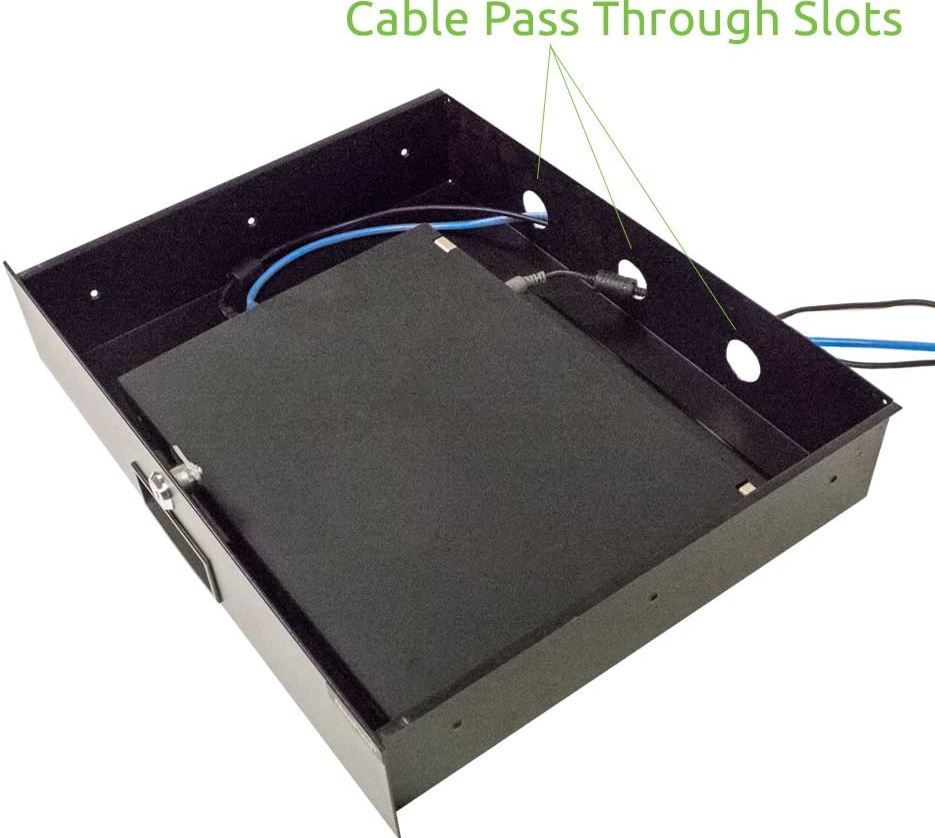 The NavePoint Rack Mount Drawer also has a lock. This is a great way to protect a laptop or other valuable equipment. On a more mundane note, it's also a great way to keep unauthorized people from accessing the server. With the keyboard locked up, there won't be any way to gain access.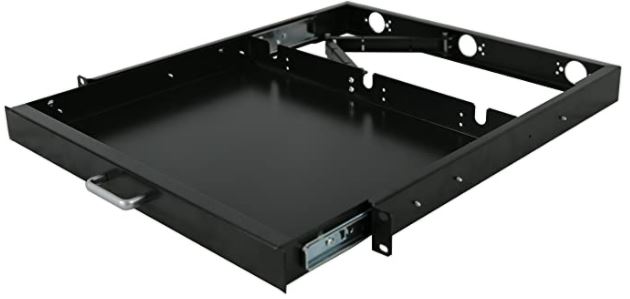 Raising Electronics 1U Rack Mount Sliding Keyboard Tray
The Raising Electronics Sliding Keyboard Tray is a bit beefier than the NavePoint. It's made of cold rolled steel, so it's tougher and more durable. It also features a full frame, which gives the back of the drawer a little extra support. That said, it still only mounts on the front. As a result, you can easily mount it in any 19-inch server rack. The outside depth is 14 inches, so it will fit even in most shallow racks. Even so, it will pull out a full 9 inches, so you can access your keyboard without taking it out. Admittedly, you'll still want to take the keyboard out for longer tasks. But if you just need to enter a few keystrokes, you can do it very quickly.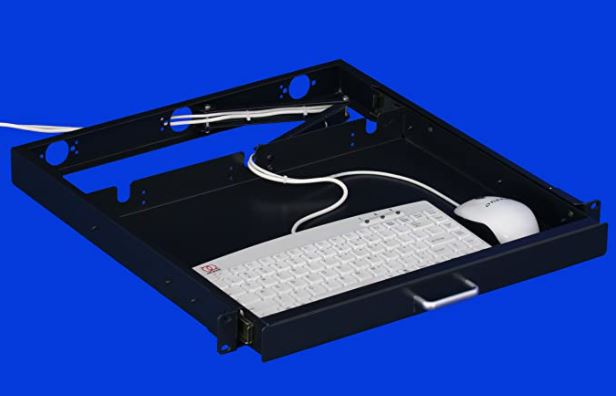 Along with the keyboard tray itself, you also get a set of four M6 screws and four cage nuts. The cage nuts are 3/8-inch square nuts, and will fit most modern racks. That said, you'll need your own nuts and screws if you've got rounded holes. You'll also need your own screws if you have threaded holes in anything other than M6.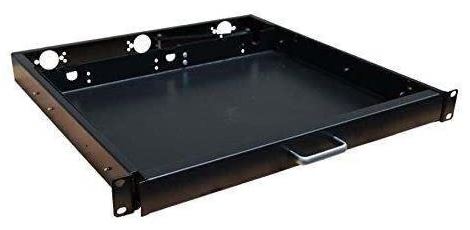 Bonus Features
Like the NavePoint drawer, the Raising Electronics 1U Rack Mount Sliding Keyboard Tray has three cable holes. However, these holes are in the drawer and in the back frame. This minimizes cable movement when you open and close the drawer. It doesn't sound like much, but it will reduce wear and tear if you use your keyboard frequently.
Another thing we liked about the Raising Electronics drawer is its capacity. It can hold up to 20 pounds, so you don't have to worry about weight. Admittedly, that's more than any keyboard in the world. But if you absentmindedly lean on the drawer, it's not going to snap off the server rack.

StarTech 1U Sliding Server Rack Mount Keyboard Shelf
StarTech is primarily known for electronic equipment. In the past, we've reviewed their video adapter cables, Ethernet extenders, and USB expansion cards. Their 1U Sliding Server Rack Mount Keyboard Shelf is a beefy, sturdy addition to their lineup. It sports a two-in-one design, and functions as both a shelf and a drawer. Mount it right-side up or upside-down as needed.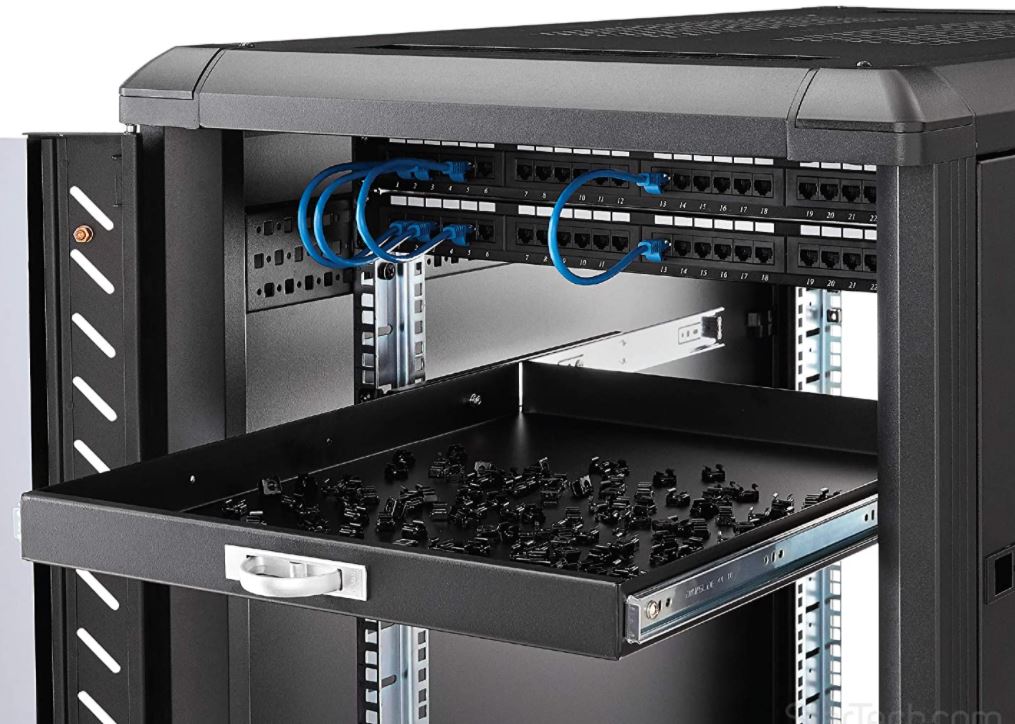 The product description states that the StarTech drawer has a universal fit. This is true, but let's talk about what that means. Like the other drawers on our list, it will indeed mount on any kind of hole. It ships with screws and 3/8-inch cage nuts, so installation is easy on modern racks. However, it needs to be supported at both the front and the back. This means you'll need to install a pair of rear support brackets. The brackets are nice and long, so they'll fit pretty much any rack. But keep in mind that installation of the StarTech drawer is a bit more involved than the others.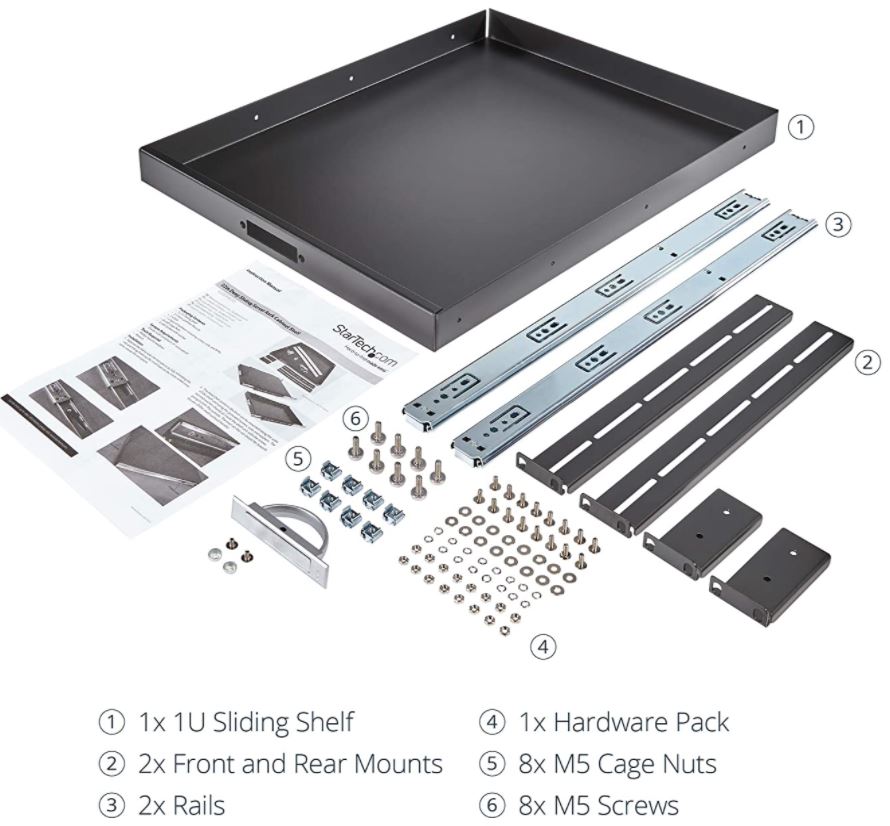 Bonus Features
When used as a drawer, the StarTech rack doesn't have any cable guides or holes. That said, it's the sturdiest drawer on our list, with a whopping 55-pound capacity. This makes it exceptionally useful as a shelf. You can set just about anything on it, and it's a lot more versatile than a drawer. The impressive capacity is also a great safety feature. You don't have to worry about your equipment getting damaged because somebody leaned on it or set something on it. StarTech backs this rating with a lifetime warranty, so you're well and truly protected.
Final Verdict
As you can see, each of these rackmount keyboard drawers is an excellent choice for some people. But which one is right for your server rack? Let's quickly recap what we've learned.
We started out by looking at the NavePoint Rack Mount Drawer. This is a simple, no-nonsense drawer that's suitable for keyboards or laptops. It's reasonably deep, and a trio of cable holes allows for easy management. The most noticeable feature here is the lock, so you can limit access to your server. You can also keep a laptop safe from anyone with itchy fingers.
The Raising Electronics 1U Rack Mount Sliding Keyboard Tray is a beefier option that's designed for frequent use. It doesn't lock, but it does have extra cable routing holes. This minimizes movement when you open and close the drawer, reducing wear and tear on your equipment. If you don't need to use your keyboard very often, this isn't a necessary feature. But if you use it on a daily basis, you'll benefit from the added protection.
Last, we looked at the StarTech 1U Sliding Server Rack Mount Keyboard Shelf. This is a unique, two-in-one unit that functions as both a drawer and a shelf. As a keyboard drawer, it performs admirably, but it's probably overkill. The real benefit of the StarTech shelf is its impressive 55-pound capacity. Forget about a keyboard. You could store your dumbbells on this shelf. If you want durable, in-rack storage, it's an excellent choice.