EcoFlow RIVER 2
Pros
Extremely fast AC input for recharging.
Doubles as an uninterruptable power supply.
Rated for 3,000+ duty cycles.
Portable and very lightweight.
Excellent build quality.
Cons
Relatively low capacity but larger versions available.
Tends to run warm with higher outputs.
It's tough to overstate how much we rely on our electronics these days. Think about your smartphone, and all the apps on it. You may use it for banking, hailing a rideshare, sending money to friends, and getting directions. And those are just a few of its functions! Now think about how frustrating it is when you don't have access to a charger.
For most people, a smartphone is a convenience we can do without for a few hours. But what if you rely on a CPAP machine, or you're going on a days-long camping trip? In that case a portable power station can be the solution to your problems. A power station can supply electricity anytime, anywhere. As long as you're able to carry it with you, you'll have a reliable backup battery.
Note: At no extra cost to you, we may earn a commission for purchases using our links. Learn more.
We're about to review the EcoFlow RIVER 2. This is one of the most compact power stations out there, and is light enough to carry pretty much anywhere. But what else does it have to offer, and is it the optimal choice for your needs? To find out, we'll have to take a deeper dive into its design, features, and functions. Let's get started, and see how it stacks up!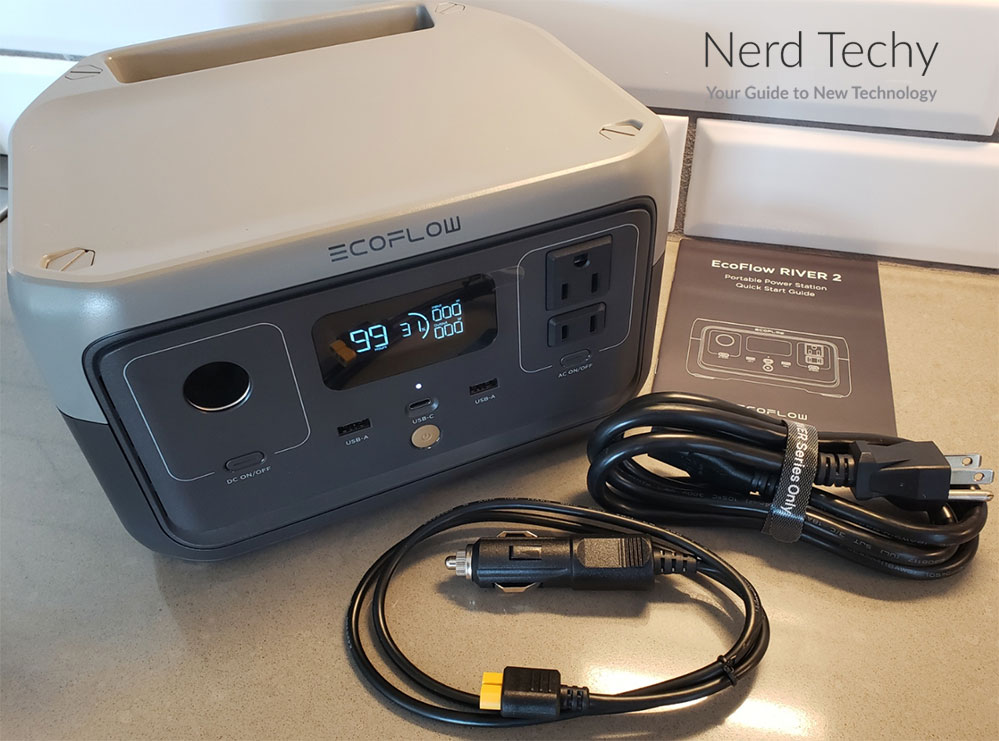 Design and Durability
The EcoFlow RIVER 2 is a compact portable power station with a mostly black housing. It has a matte finish that won't collect fingerprints, and the upper, silver-grey portion creates a nice contrast. The overall size of the housing is 8.4 inches wide, 5.5 inches high, and 9.6 inches deep.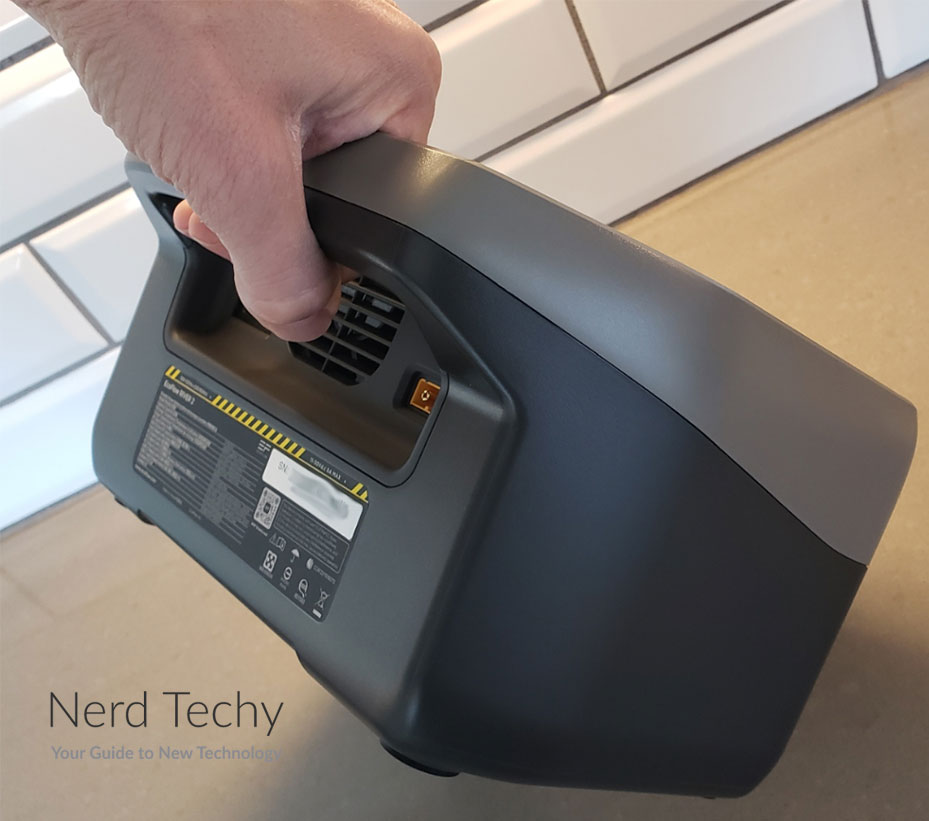 The extra depth is due to a molded handle that extends from the top back of the housing. Most power stations require two handles to carry them around, but that's not necessary here. At only 7.7 pounds, the RIVER 2 is light enough to easily carry in one hand.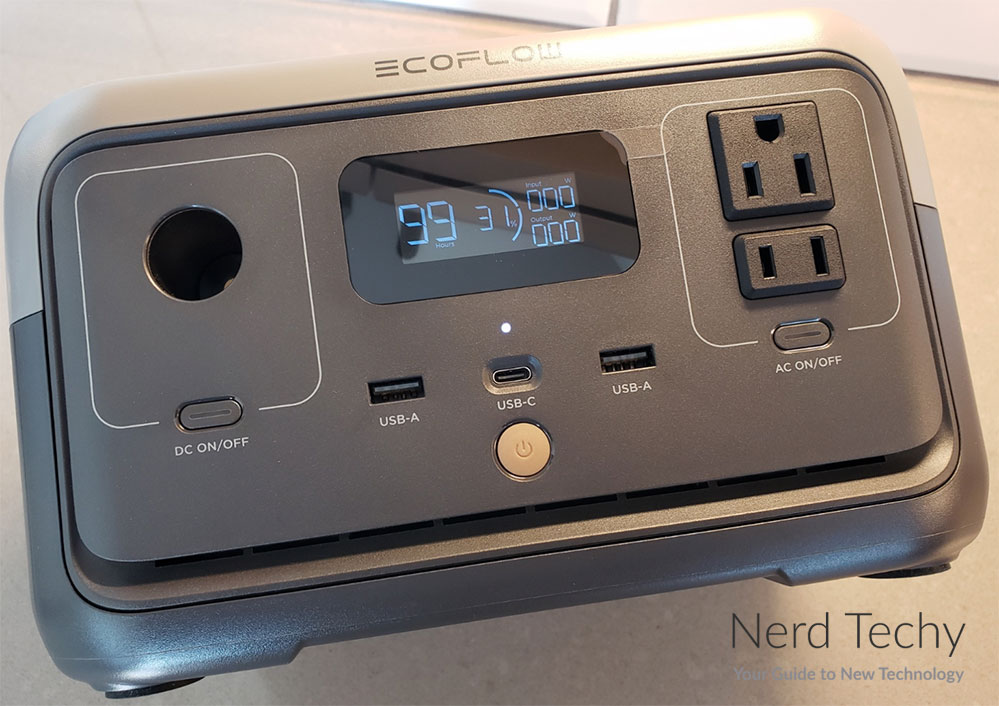 The charging ports and display are located on the front, and we'll discuss them momentarily. On the back of the housing, you'll find the input for the AC and DC chargers to the left. To the right is a solar charger input. Smack in the middle is a single large vent with a fan inside. The fan isn't excessively loud, but we would have liked to see some more vents. As it stands, the power station tends to somewhat warm when subjected to a higher load.
As far as durability goes, we have no concerns. It feels solid and well made. The internal battery pack is rated for 3,000 duty cycles. Even after almost 10 years of daily use, it will retain 80% of its original capacity. The entire power station is also covered by a five-year manufacturer's warranty. If there are defects in materials or labor, you'll be fully protected.
Ports and Display
On the front center of the housing, you'll see a large LCD display. At the left, the display shows your estimated operating time remaining. Keep in mind that this will change as you plug devices in or unplug them. In the middle is a visual battery meter ring with the charge percentage shown in the center. At the right are your current incoming and outgoing wattages.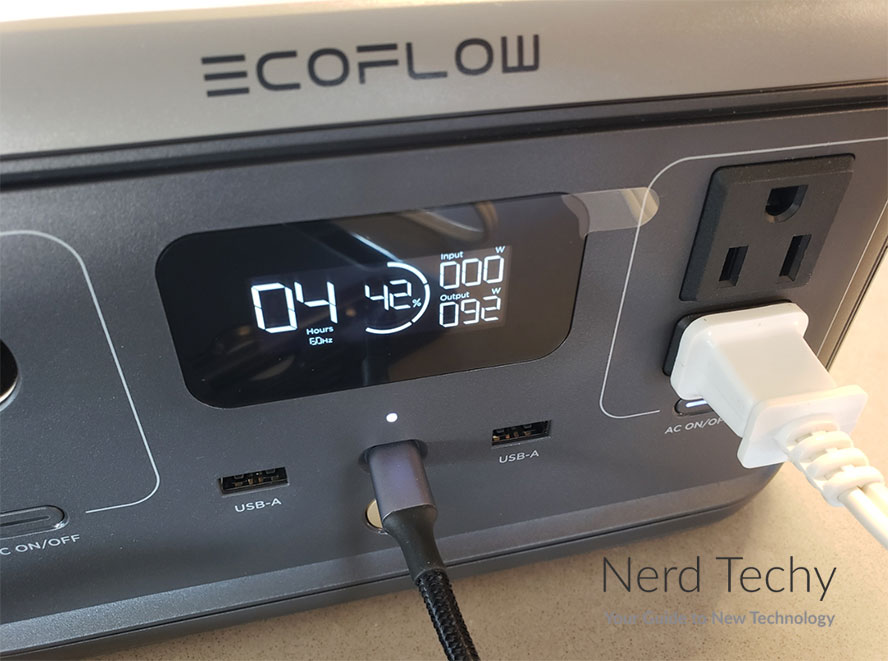 Towards the left is a single automotive-style DC charging port. This port has a separate control button underneath it. By turning the port off when it's not in use, or any of the outputs for the matter, you can save a little bit of power.
Directly beneath the display is a trio of USB charging ports. The left and right ports are standard USB Type-A ports. The one in the center is a USB Type-C port for charging your higher-wattage devices. Underneath the USB Type-C port is an orange power button that controls the entire power station.
To the right side of the display, you'll find the AC power outlets. The top outlet is grounded, and is positioned upside-down with the ground prong on the top. The bottom outlet is a standard polarized, non-grounded outlet. Like the DC power port, the AC outlets have their own separate control button.
Battery Capacity and Recharging
The RIVER 2 has a battery capacity of 256 Watt-hours (Wh). That's enough for 10 to 12 charges on a typical smartphone. You could run a 60-watt mini fridge for around four hours. If you're a drone operator, you're looking at roughly five full recharges.
When the battery runs dry, you'll have four different ways to recharge it. The most efficient method is just to plug into your wall outlet. The AC adapter draws 360 watts, and will fully charge the battery in only an hour.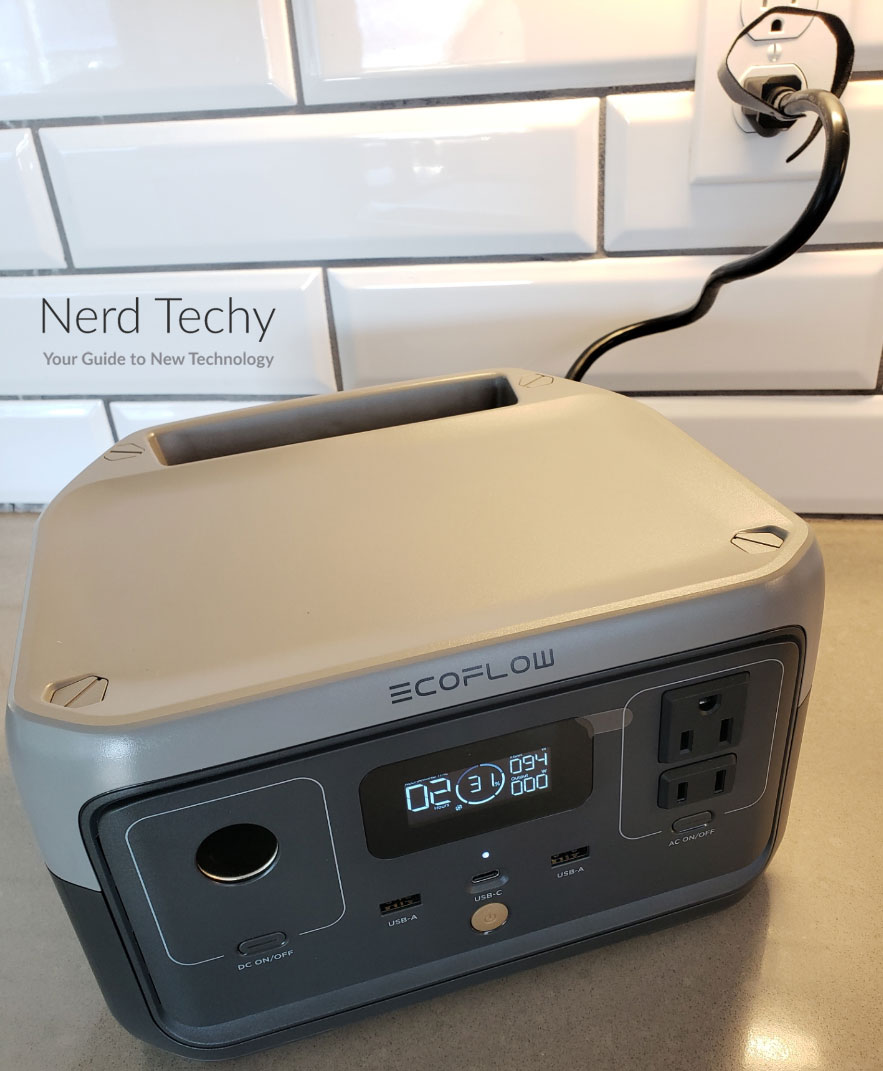 Alternatively, you can charge from your car's 12-volt DC power outlet. This method draws a maximum of 96 watts, and takes a little over four hours to provide a full charge. Both an AC power adapter and an automotive-style DC charger are included in the package.
If you want to charge off-grid, you can use a solar charging panel. The RIVER 2 can draw up to 120 watts of solar power, and charge in as little as three hours. Keep in mind that this is a theoretical maximum. Solar charging performance varies widely depending on how much sun you're getting.
Alternatively, you can use the USB Type-C port to charge the battery. It can draw up to 60 watts, and charge in around 4 ½ hours. In most cases, AC charging would make more sense. But there are niche situations where USB charging could come in handy.
If you need a power station with more capacity, check out the EcoFlow Delta Max. It has a powerful, 2,000Wh battery, with 2,400 watts of maximum output and 5,000 surge watts. Then again, it has a bigger, bulkier design that isn't nearly as portable.
Charging Capabilities
The RIVER 2 provides up to 300 watts of power via the AC outlets. This is enough to power a laptop, portable speaker, or other low-powered devices. You also get 600 watts of surge power. This can come in handy when you're running compressor-driven devices. You can power a small mini fridge without the compressor tripping the power station's breaker. The DC outlet, meanwhile, provides 12.6 volts at 8 amps, for a maximum of 100 watts. That's the same amount of power you'd get from your car's power outlet.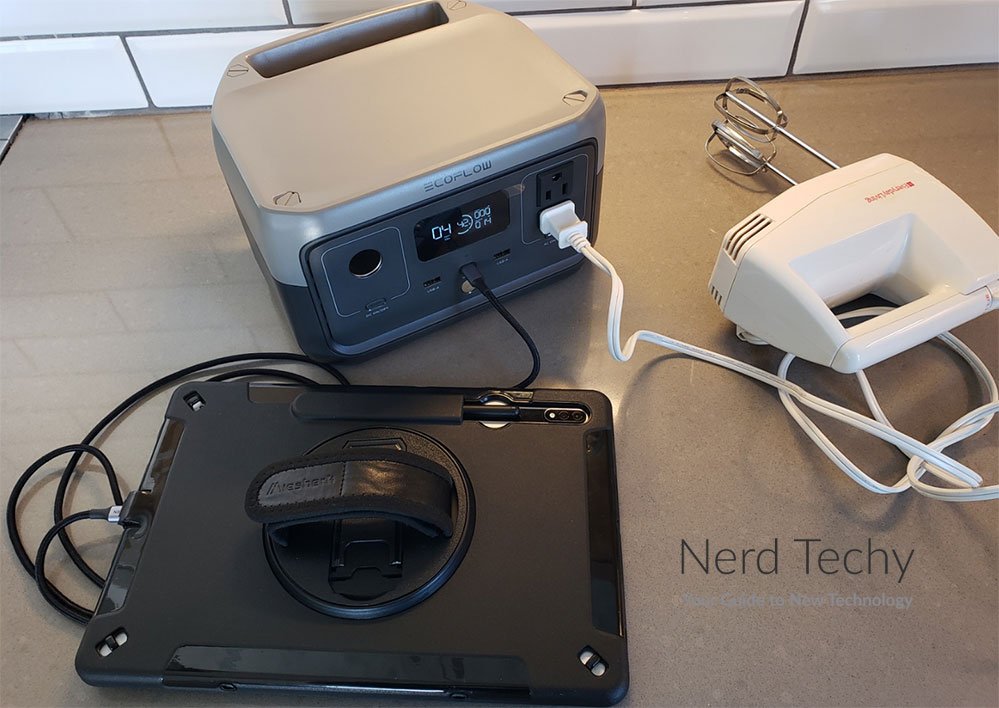 The USB ports are a bit of a mixed bag. On the one hand, the Type-A ports only deliver a standard 12 watts. They don't have any quick charging capabilities. On the other hand, the Type-C port delivers power at a brisk 60 watts. That's sufficient for any smartphone, as well as for the majority of USB Type-C laptops.
If you need to plug in more devices, you'll need a larger power station. The EcoFlow Delta 2 is a great choice. It's a little too big to easily carry around, but it has a total of 12 outlets and power ports. It also has an impressive 1,200 watts of maximum charging power.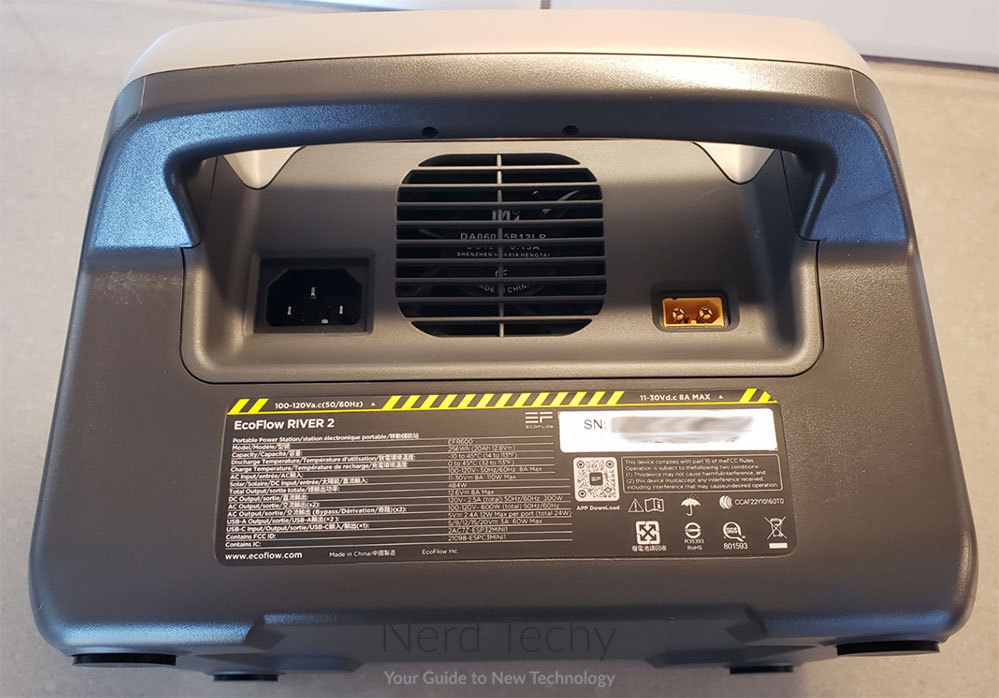 Safety and Extras
There are a handful of useful safety features on the RIVER 2 that are worth pointing out. To begin with is the LFP (lithium ferro-phosphate) battery. The LFP cells are incredibly long-lasting, but they also work better than most batteries at high temperatures. It can operate at up to 113 degrees Fahrenheit, which is pretty impressive.
If anything does get too hot, the battery management system (BMS) will shut the charger down altogether. The same system provides protection against overcurrent and overvoltage. That way, your devices won't get damaged by receiving an excessive amount of juice.
The RIVER 2 supports pass-through charging, and works as a uninterruptable power supply (UPS). This means it can function as a backup in the event of a power outage. Plug your laptop into the power station, then plug it into your wall. If the power goes out, backup power will kick in in under 30 milliseconds. Unfortunately, it's not pure sine wave power, so it's not suitable for CPAP machines.
If that's not enough, you can control the power station remotely using the smartphone app. Connect via Bluetooth or WiFi, and you can monitor your status and even adjust your settings.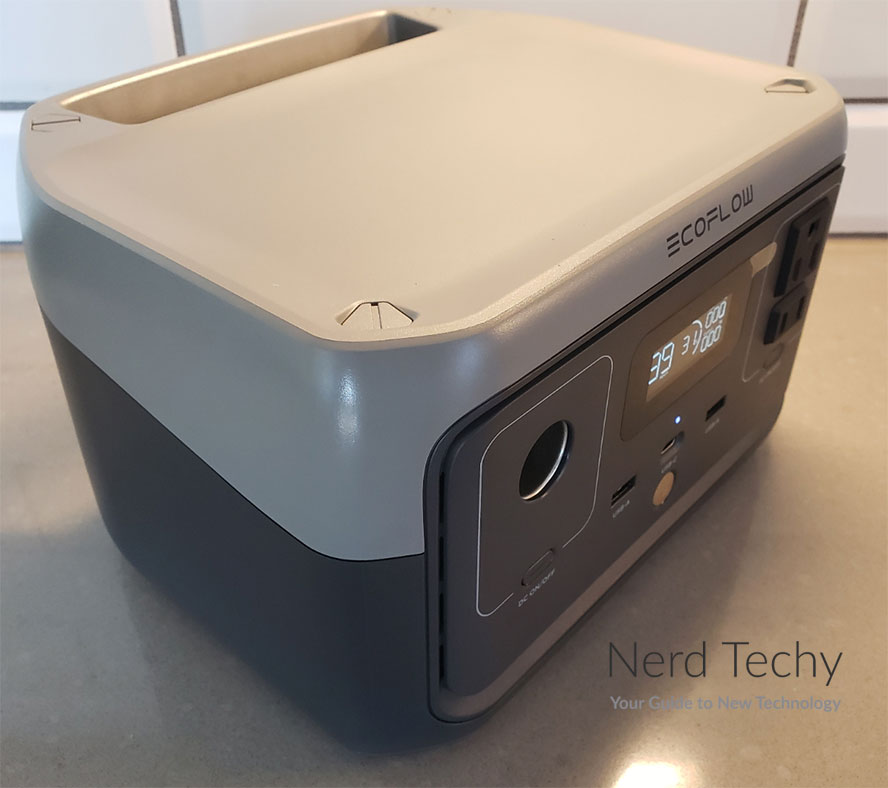 Higher-Capacity Versions
In addition to the base model RIVER 2, there are a pair of alternate versions with a higher capacity. To begin with, there's the RIVER 2 Max. The Max has twice the capacity, at 512Wh. It also has twice the AC outlets, with two each grounded and ungrounded. Each can deliver 500 watts of power, or 1,000 watts of surge power. There's an extra USB Type-A port, and the USB Type-C port has been upgraded to 100 watts. EcoFlow also added a pair of barrel-style DC outlets, although the weight has increased to 13.2 pounds.
The RIVER 2 Pro comes with the same upgrades as the Max, only even more so. It has triple the capacity, with 768Wh, and all four AC outlets are grounded. They provide 800 watts of continuous power and 1,600 watts of surge power. Not only that, but the AC power is pure sine wave, so you can run a CPAP or other sensitive device. That said, the Pro runs fairly loud, and tips the scales at 17.2 pounds.
If you need the maximum possible amount of power, look no further than the EcoFlow Power Kit. It's a large, modular system with a separate control panel. And it's designed to install in your RV or van, or to use as a home backup. Then again, it's not really suitable for taking on a camping trip.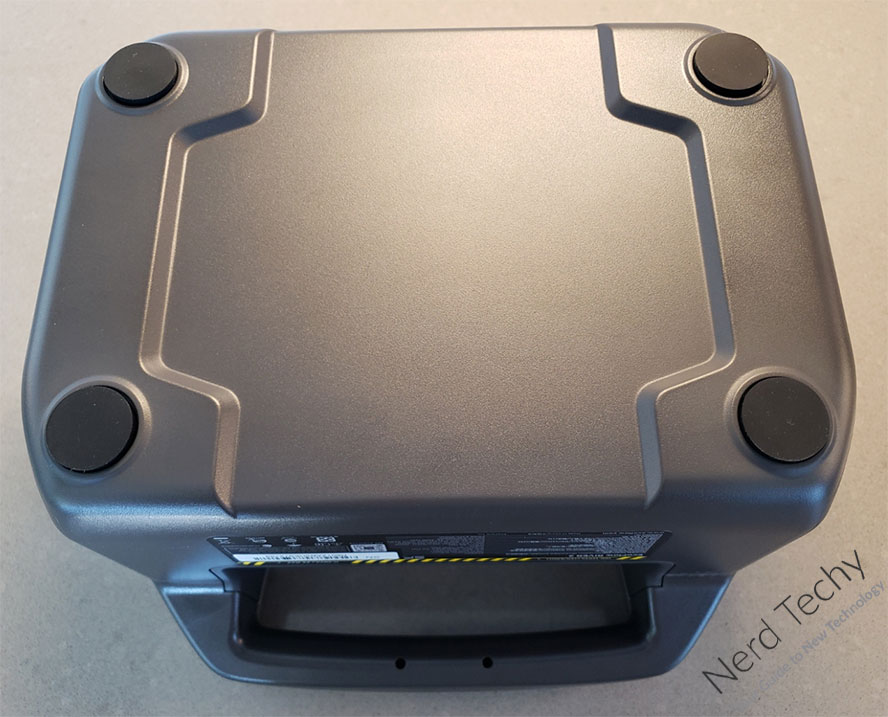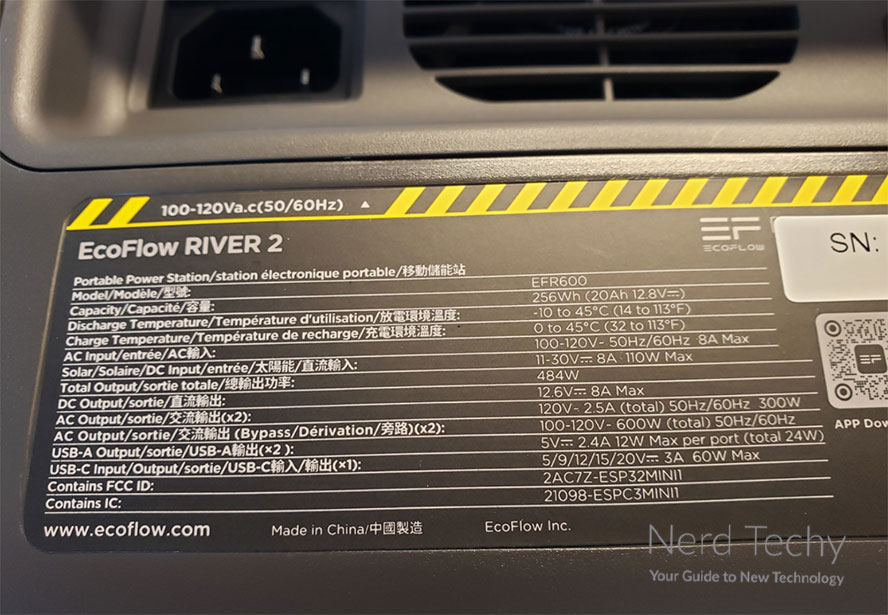 Final Verdict
The EcoFlow RIVER 2 is an impressive little power station. While it doesn't have a huge amount of power, it's compact enough to take with you anywhere. It's also more than capable enough to charge everyday devices like smartphones and laptops. The AC recharging capability is impressive, with less than an hour required to go from 0% to 100%. And if you need more capacity, you can opt for the Max or the Pro version.
Please consider sharing:
Note: At no extra cost to you, we may earn a commission for purchases using our links. Learn more.