Quick Analysis
Pros
Compact and easy to use.
Fun, colorful design.
Long-lasting battery.
More affordable than other Instax cameras.
Cons
Cannot edit photos or store digital copies.
Selfie viewfinder is inherently inaccurate.
Doesn't include any film.
If you're old enough to remember Polaroid cameras, they probably bring back a lot of good memories. Not too long ago, they were a fixture of parties and other social gatherings. You snapped a picture, and it popped out of the bottom of the camera. Instead of taking film to a store kiosk and waiting for development, you just had to shake the picture. In about a minute, you had a photo. In the pre-digital age, this was as close as you could get to a truly instant photograph.
Nowadays, most people just use the camera on their cell phones. This has several advantages when compared to a Polaroid. For one thing, you can simply delete pictures you don't like. You can also perform basic editing functions, and share your pictures on social media. And with the rise in quality of some top-tier cell phone cameras, you can even do professional-grade photography. No, you won't get the same performance as a $4,000 Nikon camera with a telephoto lens. But for most purposes, your cell phone does a great job. However, there's one thing a cell phone camera won't do: instantly print photos.
Fujifilm has jumped into the market to fill that demand. Their Instax line of cameras work like old-school Polaroids, and pop out a picture at the push of a button. Many of these cameras also offer the same benefits as a cell phone or digital camera. They allow you to edit your photos, save them on an SD card, or even share them on social media. Today, we'll be looking at the Fujifilm Instax Mini 11. The Mini 11 is the "starter" camera of the Instax line, and doesn't have as many features as some others. On the other hand, it comes at a more affordable price point. It releases on March 20th, and we've had the opportunity to take a close look at it. Now, we'll share everything we've learned, so you can make an informed purchasing decision. Let's dig in!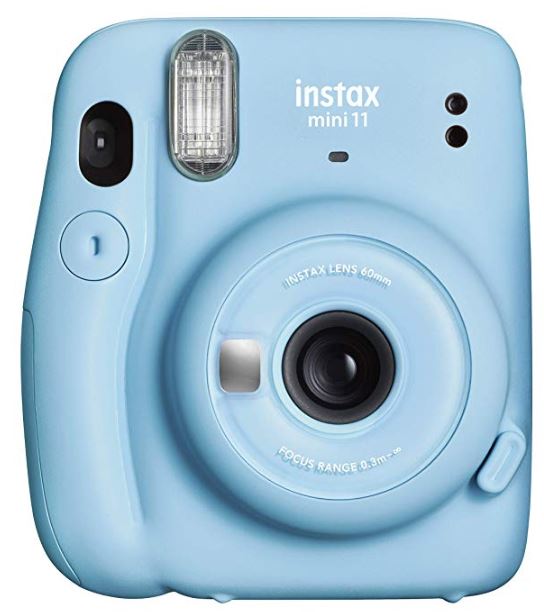 Design & Appearance
The Fujifilm Instax Mini 11 has an attractive, ABS plastic case with a playful, ergonomic profile. The overall dimensions are 4.8 inches high, 4.2 inches wide, and 2.6 inches thick. However, the height and width aren't fixed. The sides are curved, with a flowing profile that's surprisingly comfortable in your hand. That said, to be honest, it kind of looks like a toy. Depending on what you want, this might not even be a bad thing. If you want a camera with a fun look, it's actually a good thing. The overall weight is 1 pound, fairly light for the size. In keeping with its' fun appeal, it's available in several fun colors. There are 5 options in total: sky blue, lilac purple, ice white, charcoal grey, and blush pink.
The Mini 11 has two different shutter buttons. The first is positioned on the side, and is designed for tilting the camera to take landscape-oriented photos. The second is actually located on the front of the camera, just under the viewfinder. This button is designed for taking selfies, one of the Mini 11's primary functions. There's also a power button, which is located directly next to the 60mm lens. By default, the lens sits relatively close to the face of the camera. However, you can extend it manually, which we'll talk about more in a minute.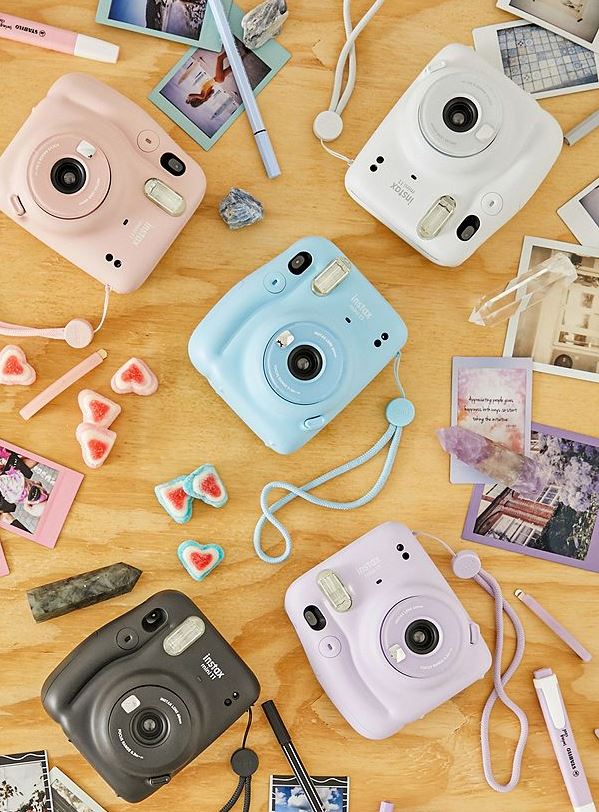 In addition to the lens, there are also two small light sensors on the front of the camera. These are used to adjust the exposure time, which is another important feature of the Mini 11. There's a small mirror next to the lens, which is built into the lens housing. This mirror is used for taking selfies. There's also a flash next to the viewfinder, just as you'll see on most cameras. The back is relatively smooth, with a curved groove for your finger. You'll also see a small tab for opening the compartment for batteries and film. The compartment cover has an engraved Instax logo that's the same color as the case.

In addition to the camera itself, you get a matching carry strap. This small lanyard connects just above the viewfinder, which makes it easy to carry securely. You also receive a pair of decorative accessories for the front shutter button. One of these is a small jewel, which is slightly darker than the camera. The other is a small, glow-in-the-dark dot. These are purely decorative, but they add a bit of extra fun to the design.
If you're looking for a camera that's a little more "grown up", there are other options in the Instax line. For example, check out our review of the Fujifilm Instax Square SQ6. It's less ergonomic, but it has a professional-looking appearance. It also includes color filters that can be placed over the lens.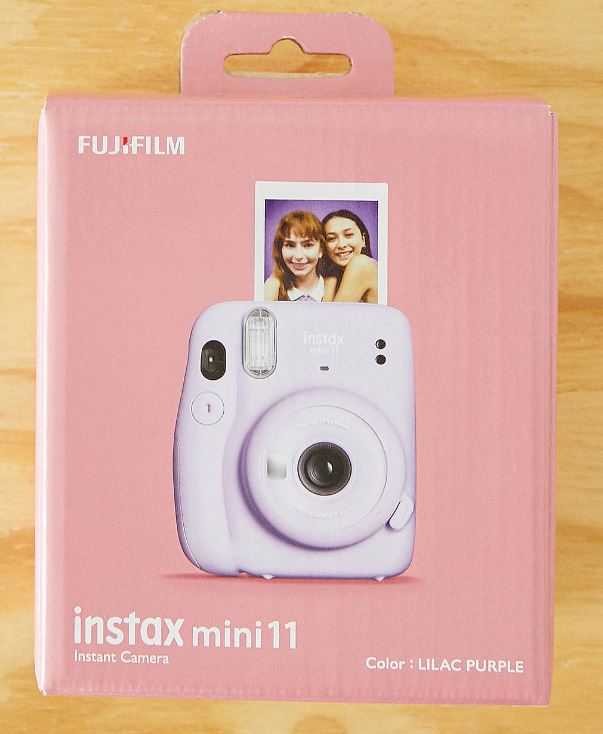 How it's Used
To use the Fujifilm Instax Mini 11, all you have to do is point and click. If that sounds simple, it is. It's easy enough to use that just about anybody can operate it. The focus distance is from 1 foot to infinity, and automatically adjusts in fractions of a second. That said, there are no digital controls or focus adjustment. So taking wide, complex shots isn't really an option. Ideally, the Mini 11 should be use for selfies and small group photos. Keep it simple, and you won't experience any significant problems.
That said, it's understandable that some people might want a camera with more bells and whistles. After all, maybe you want to take complex photos or make your own adjustments. In that case, consider the Fujifilm Instax Square SQ20. It has a digital viewfinder, built-in editing software, and multiple flash options. That said, you'll have to spend more than you would for the Instax Mini 11.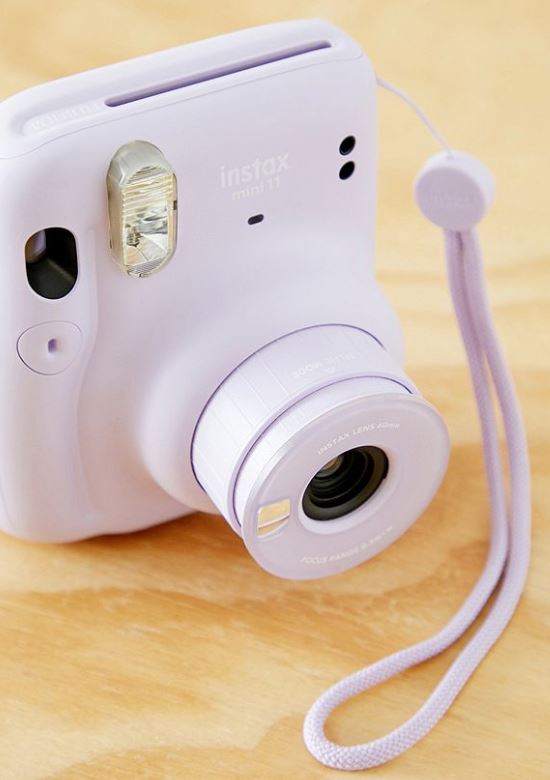 One thing the Mini 11 does very well is handling complex lighting situations. This is because it doesn't rely entirely on the flash. For example, many inexpensive cameras will rely too much on the flash. In a dark environment, it can look like your subject is floating in blackness. The Mini 11 compensates by adjusting the shutter speed automatically, to capture the background as well as possible. The flash will still illuminate your subject, so you get the best of both worlds. Similarly, in well-lit environments, the shutter speed will automatically slow down. This results in rich color, instead of the washed-out look you'll get from many cheaper cameras.
As we mentioned, the Mini 11 is purpose-built for taking selfies. All you need to do is pull out the lens barrel until you see the words "Selfie Mode" on the size. In this mode, the focal distance ranges from 12 to 20 inches, perfect for an arm's-length photo. To take the perfect selfie, just use the selfie mirror to frame your picture. Be careful, though. The mirror is slightly off-center, so you need to aim slightly to the right to frame the picture properly.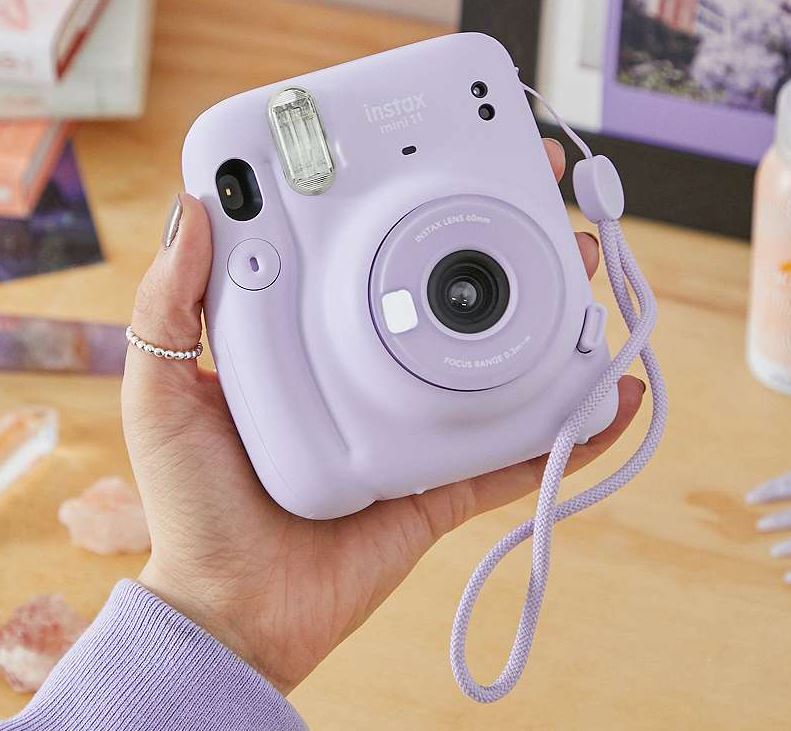 Battery & Film
Unlike other cameras in Fujifilm's Instax line, the Instax Mini 11 doesn't have a built-in rechargeable battery. Instead, it takes a pair of AA batteries. This has advantages and disadvantages. On the upside, you don't have to wait for hours for your battery to recharge. Just pop open the back of the case, swap out your batteries, and you're good to go. On the downside, batteries cost money, so you'll end up spending more over time. That said, a pair of AAs lasts for about 50 pictures, which should be good enough for most people. Unless you spend more time taking pictures than you do socializing, you shouldn't have any issues.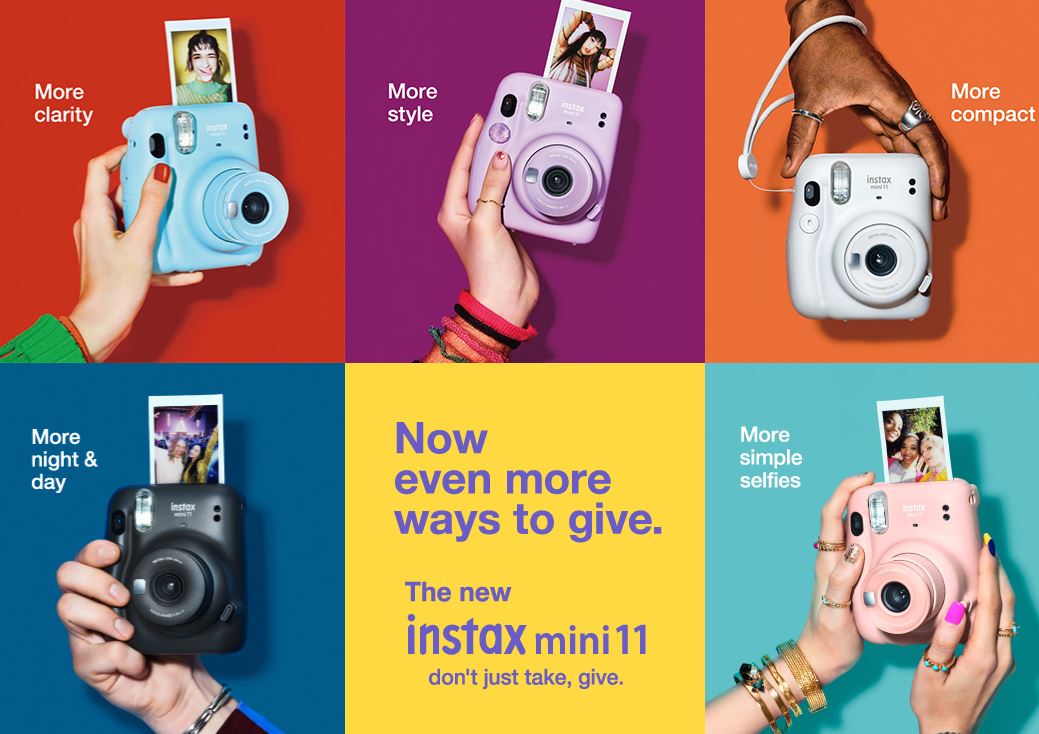 One thing that bummed us out was that the Instax Mini 11 doesn't actually include any film. To be sure, you're going to have to buy film eventually. But it would have been nice to be able to use the camera right out of the box. The Mini 11 takes Fujifilm's Instax film, which comes in a box of five 10-packs. You load a single 10-pack into the camera at a time, so you need to reload after every 10 pictures. This is the case with every camera in the Instax line, so it's not surprising to see here. That said, a single box of film costs almost half as much as the entire camera. As a result, your cost of operation is a lot higher than it might seem at first glance.
Another disappointment was that the Instax Mini 11 doesn't have any on-board storage. To be fair, this isn't the primary purpose of the Mini 11. It's supposed to produce instant physical photos, but it would be nice to have some digital storage. Without that feature, there's no way to edit your photos before printing. In addition, it means you're limited to printing a single copy of your photo. This can be disappointing if you want to share multiple copies of a photo with your friends. If you want an Instax camera with an SD card, consider the Fujifilm Instax Mini LiPlay Instant Camera. It also has a built-in rechargeable battery, so you won't need to worry about replacing AAs. That said, it's a bit pricier than the Mini 11.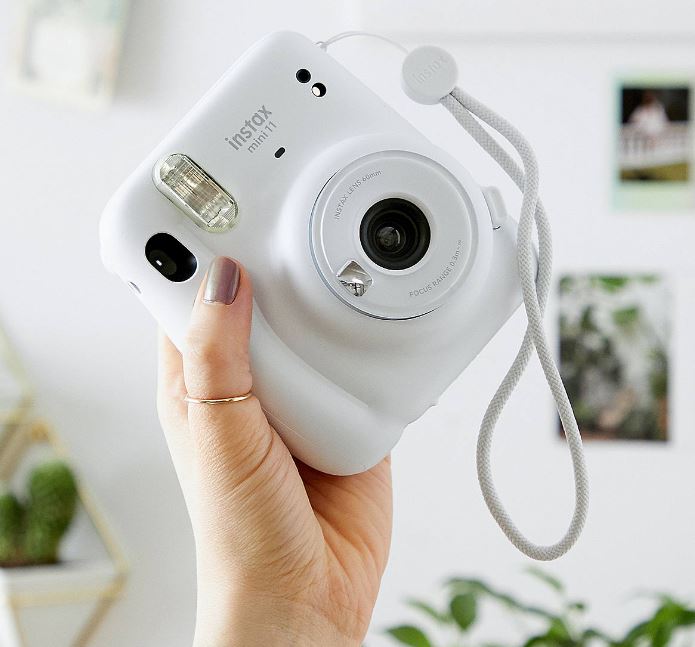 Final Verdict
So, how does the Fujifilm Instax Mini 11 compare to the competition? As we said earlier, this is a starter camera. It's not designed for professionals, or for taking professional-quality photographs. There are also some significant "missing" features. For example, you can't store and edit photos, and the selfie viewfinder is off-kilter. We understand the lack of storage, but Fujifilm could have at least gotten the viewfinder properly aligned. That said, the Mini 11 is fun and playful, and adjusts well to different lighting conditions. It's also easy to use, so you don't have to be an expert to print instant photos. If you want a starter camera at a reasonable price, it's worth a second look.
Meet Derek, "TechGuru," a 34-year-old technology enthusiast with a deep passion for tech innovations. With extensive experience, he specializes in gaming hardware and software, and has expertise in gadgets, custom PCs, and audio.
Besides writing about tech and reviewing new products, Derek enjoys traveling, hiking, and photography. Committed to keeping up with the latest industry trends, he aims to guide readers in making informed tech decisions.