For most of the personal computing era, computers have come in two varieties: desktops and laptops. You could make the case that smartphones and tablets also qualify as computers. But we're talking about systems that can handle things like AAA gaming and graphic design. And laptops and desktops have non-overlapping costs and benefits.
Laptops are by far the most portable option, but they're practically impossible to upgrade. Desktops are easy to upgrade, but they're a pain to haul around. Thanks to advances in technology, there's now a third option: the mini PC. Like a laptop, a mini PC is small enough to take with you in your carry-on bag. And like a desktop, you can upgrade it over time to meet your growing needs.
Today, we're going to review the GEEKOM Mini IT11 i7-1195G7 Mini PC. This is a fast little computer that's one of the first in its class to come with a dedicated graphics card. But is it going to meet all the requirements you need in your next PC? To find out, we'll have to dig into all aspects of the system, from the connection ports to the GPU. Let's get started, and see what we learn!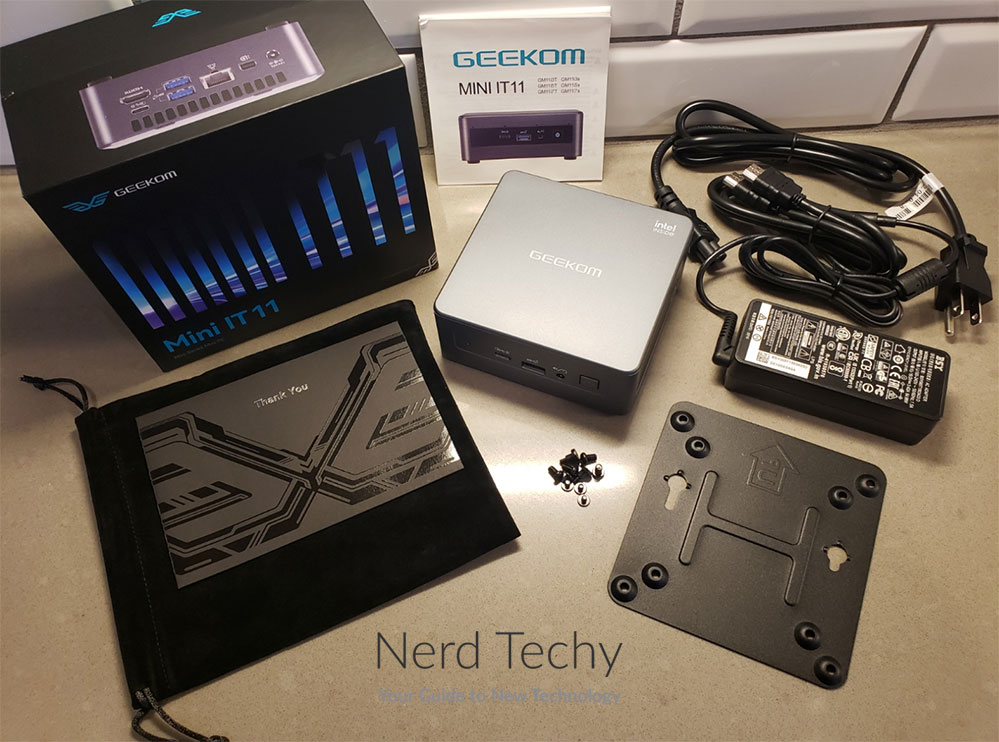 Overall Design
The GEEKOM Mini IT11 is as small as they come. It measures 4.6 inches wide, 4.4 inches long, and 1.8 inches thick. And at only 1.24 pounds, it's exceptionally lightweight. The housing is constructed primarily from a glossy black plastic, but there's a metal frame inside. On the bottom is a set of four little rubber feet, which keep it from skidding and protect your desktop.
The square power button is located at the right side of the front of the housing. It has a blue LED backlight, which lights up when the power is on. To the left of the button are a few commonly-used ports. The bulk of the ports are located on the back side of the housing.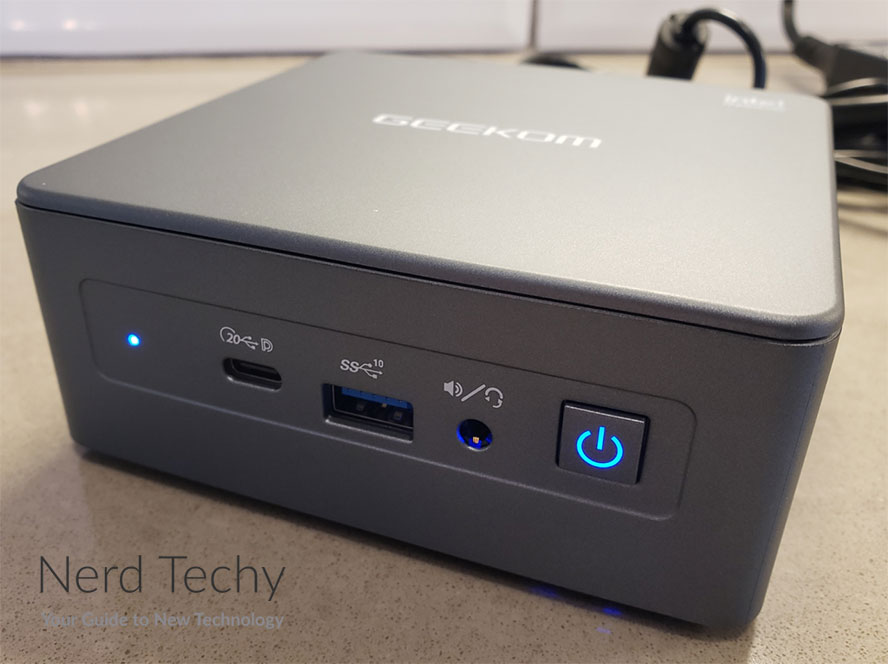 Both sides of the housing are mostly covered by a vented metal panel that's designed to allow air flow. The fans inside do a good job of moving air, and we didn't have any issues with overheating. That said, the fans are also pretty loud when they're at maximum power. If you need a quiet PC, you'll be disappointed.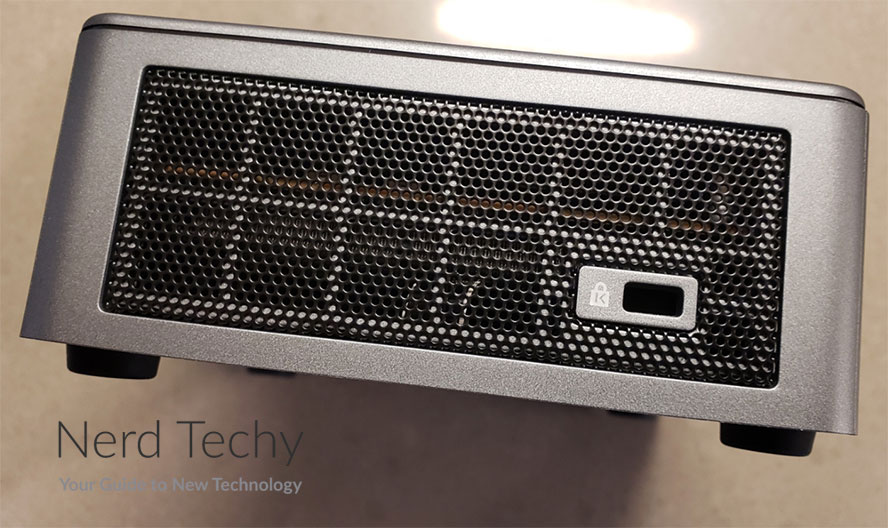 On the right side, you'll notice a little slot. This is a Kensington security slot, designed for special locking cables. You can secure the Mini IT11 to your desk or another secure object to prevent theft. On the left side is an SD card slot, where you can insert a card from your camera or smartphone.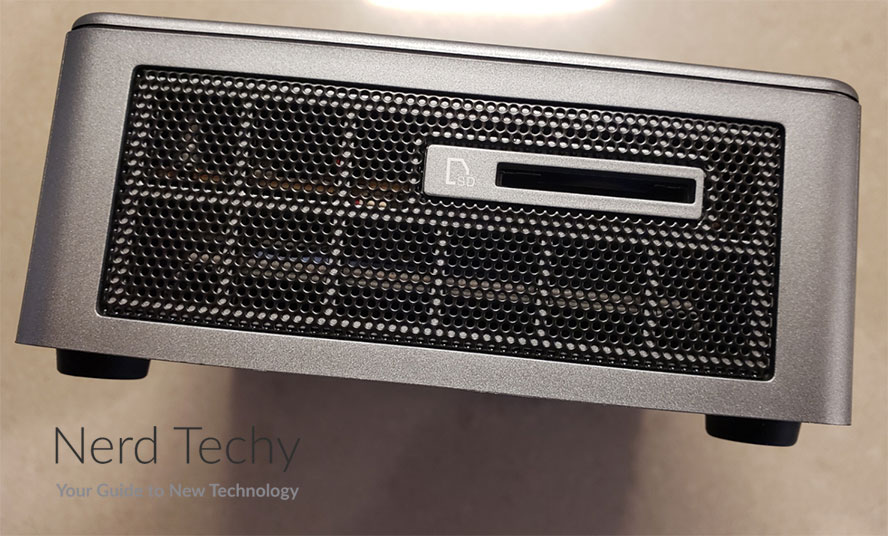 This mini PC is VESA-mountable. It even comes with a little mounting plate. This allows you to attach it directly to the back of a display that sits on your desk. Or you can attach it to one arm of a multi-monitor stand. The kit also includes a wall power adapter and a drawstring storage bag.
If you want a quieter computer, consider the GEEKOM MiniAir 11. It's ultra-compact and lightweight, and it's exceptionally quiet. That said, it's also not as fast, and the graphics aren't as good.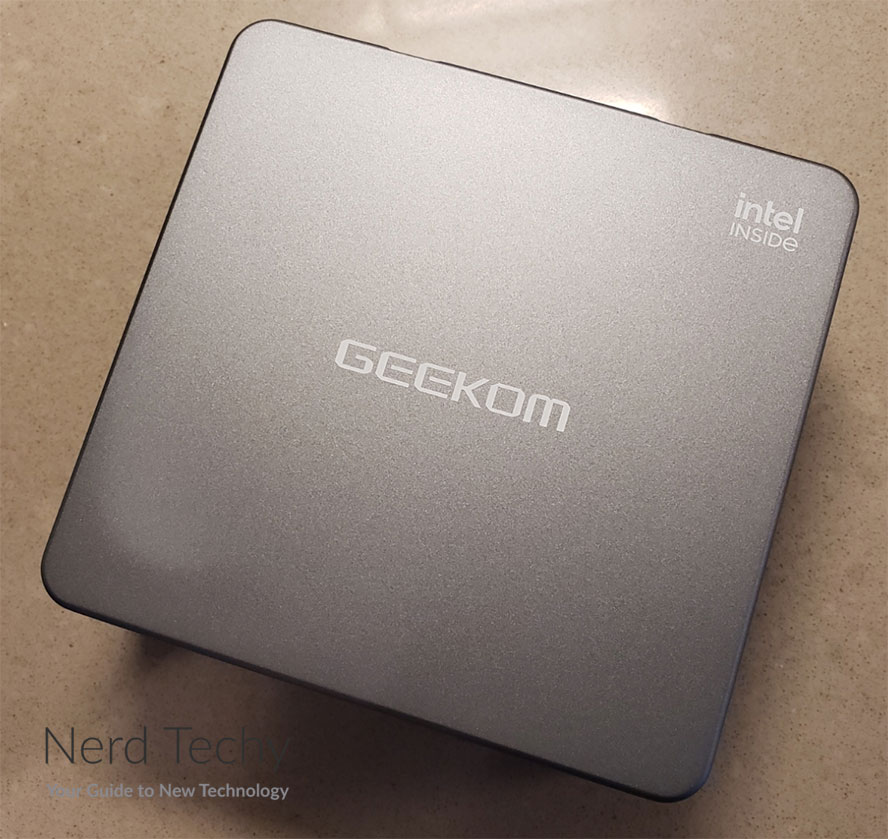 Ports and Connectivity
On the front of the housing, at the left, is a USB 4.0 port. This is a newer, more powerful version of USB Type-C with much faster data transfer rates. Next, you'll see a USB 3.2 port, with a blue inner tab that helps you to orient your plug correctly. Last in line, next to the power button, is a 3.5mm aux port for your headphones or wired external speakers.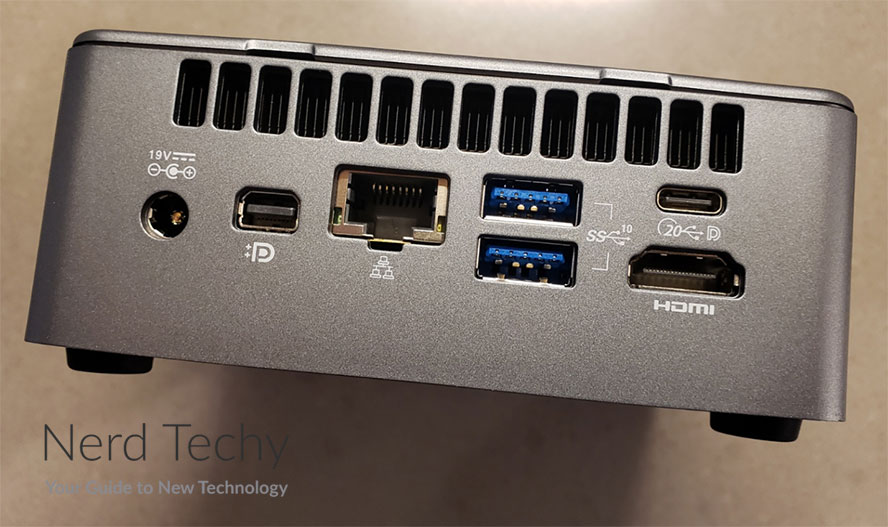 On the back of the housing is a DC power jack for plugging into the wall. There's also a Mini Display Port for connecting to your monitors. The Gigabit Ethernet port provides a lower-latency alternative to WiFi. And a pair of USB 3.2 ports with blue tabs are all set up for your mouse and keyboard. At the right end, you'll find the HDMI 2.0 port and a second USB 4 port. This makes it easy to connect a high-speed external SSD if you want to expand your storage quickly.
The Mini IT11 supports the latest version of WiFi, WiFi 6. It's a dual-band system and can connect to both 2.4 and 5GHz WiFi bands. This allows you to get the maximum range and bandwidth possible for your router.
Along with all this, you get support for Bluetooth 5.2. This is an upgraded version of Bluetooth 5.0 that offers significantly reduced latency. It also fixes some issues with signal stability, so your connection will be more secure. Provided you have compatible earbuds, it won't cut out nearly as often as earlier Bluetooth versions. And if you want to keep using your existing earbuds, you can. The Bluetooth card is still backwards-compatible with earlier versions.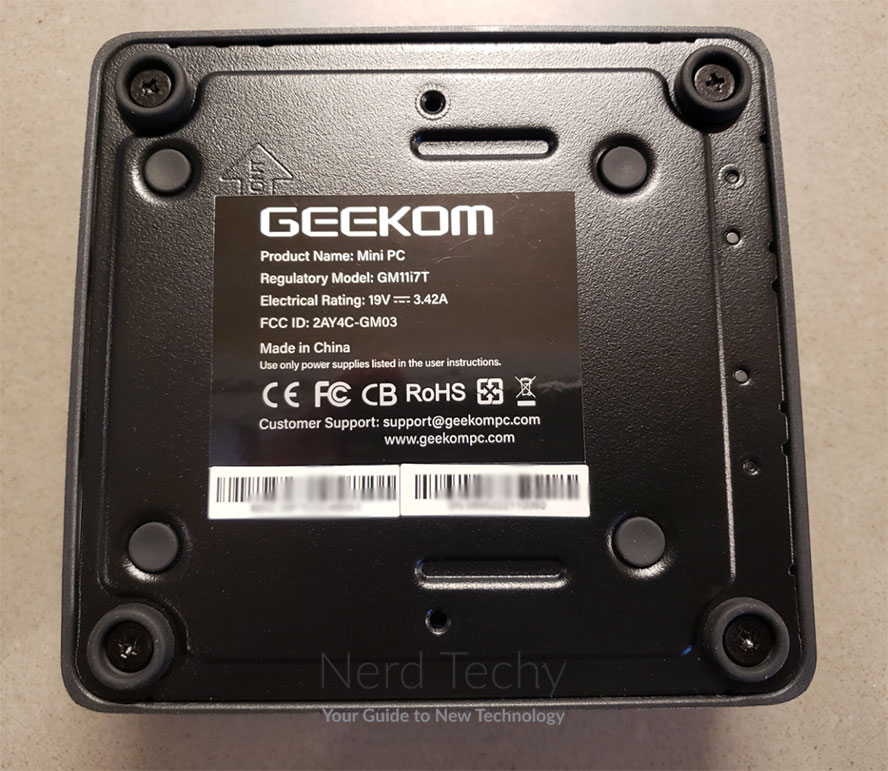 Performance and Graphics
The Mini IT11 comes with an Intel Core i7-1195G7 processor. This is a blazing-fast quad-core CPU with a base frequency of 2.9GHz and a turbo frequency of 5GHz. You'll have more than enough power to push through the most demanding tasks. And with eight threads, you'll also get great performance during multitasking.
In addition, this computer comes equipped with Intel Iris Xe Graphics. This is the first dedicated graphics card designed specifically for mini PCs. It supports up to four monitors in 8K. Using the Display Port, you can even use an 8K monitor at 60 frames per second. The HDMI port supports a 4K connection at up to 60 FPS. Regardless, you're looking at a great computer for everything from graphic design to gaming.
Let's be clear. If you're looking for bleeding-edge gaming performance, you'll want a system with a more powerful GPU. But for now, that's simply not realistic on a mini PC. If you're trying to play in 8K at 120 FPS, you really need a full-sized desktop. When you make an apples-to-apples comparison to other mini PCs, you're looking at a top performer.
If you don't need top-tier performance, the Beelink SER5 5560U might be a better fit. It's just as compact, and it comes with a clean, bloatware-free software. And while it's nowhere near as fast, it's a fantastic value.
Memory and Storage
The Mini IT11 comes with a 512GB SSD drive. This is a slim PCIe drive that uses an M.2 connection. This connection is capable of an absurdly fast 4Gbps transfer rate. You can transfer the contents of an entire hard drive in just a few minutes. Better yet, the slot supports up to a 2TB SSD. If you want to upgrade your storage, it's easy.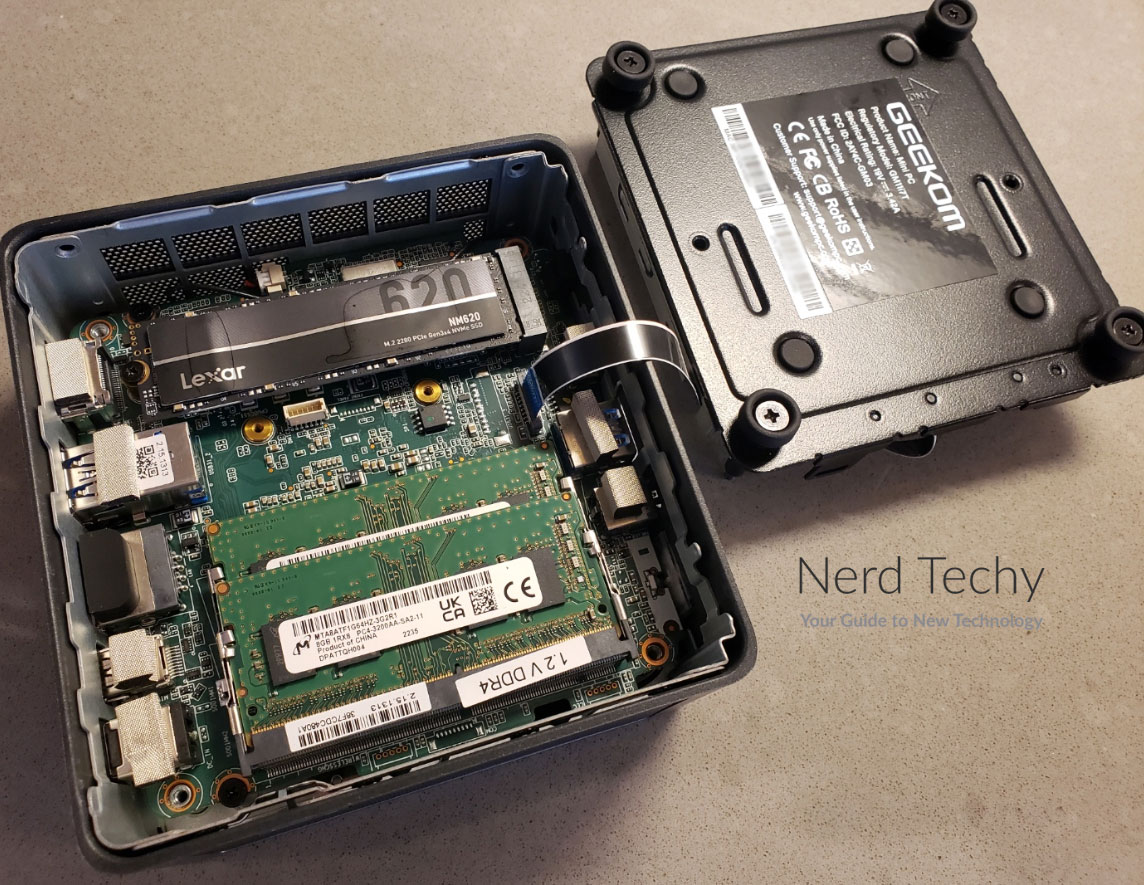 In addition to that, there's a second 1" x 2.5" SATA HDD slot. This slot is a bit slower, at 600Mbps maximum. That's still fairly fast, and it's as fast as you'll need for any HDD. It also supports up to 2TB of storage, so you can expand to a total of 4TB if you need to.
The 16GB of dual-channel DDR4 RAM will be more than enough for most realistic purposes. The only reason you should ever need more is if you're doing video editing with lots of raw files. Even then, the Mini IT11 has got you covered. It's expandable to 64GB if you install a pair of 32GB cards. Unless you're working for a major movie studio, you'll never need more than that.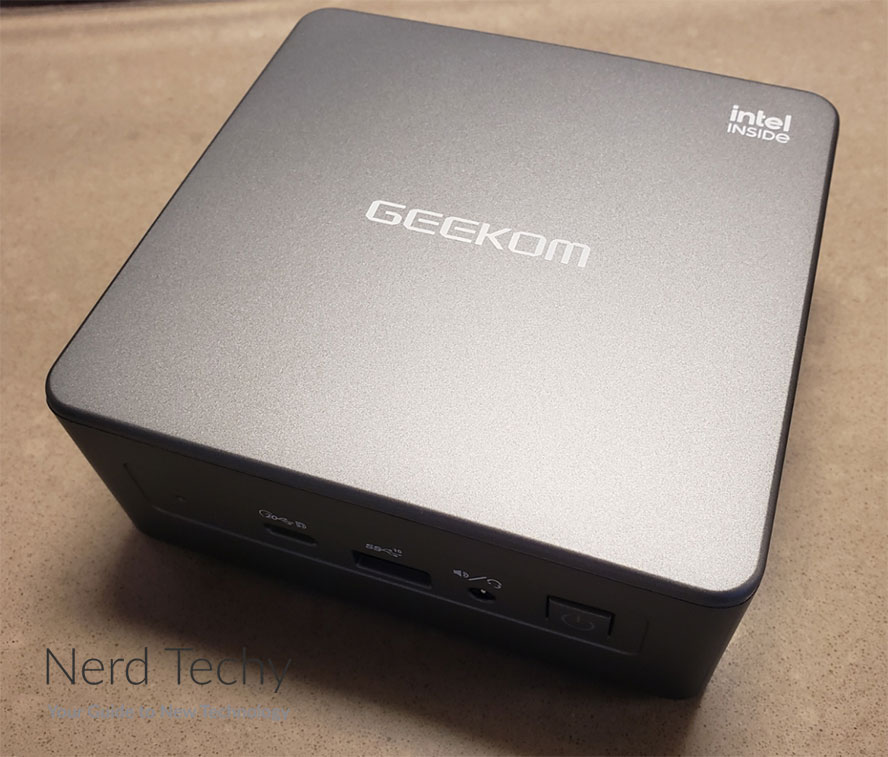 Extra Features
The Mini IT11 comes pre-installed with Windows 11 Pro. This is both a blessing and a curse. On the one hand, you're getting a fully functional computer with an OS installed. It also doesn't come with an excessive amount of bloatware. On the other hand, many people prefer to continue using Windows 10. It's a cleaner system and it's more fleshed-out, while Windows 11 still has many kinks to work out. Windows 11 also has a lot of built-in ads. All in all, we would have preferred a Windows 10 install.
That said, there's no reason you can't buy Windows 10 and perform a clean install. The system also supports Ubuntu and other versions of Linux. So if you want to mine crypto or do something else offbeat, you'll be able to.
If you're looking for a different feature set, check out the Beelink GTR6. It has a higher base frequency, at 3.3GHz, albeit the 4.9GHz turbo speed is a hair slower. It comes with a fingerprint unlock feature, so you don't have to enter any passwords if you don't want to. And while it doesn't have a dedicated GPU, the graphics are nonetheless respectable for a mini PC.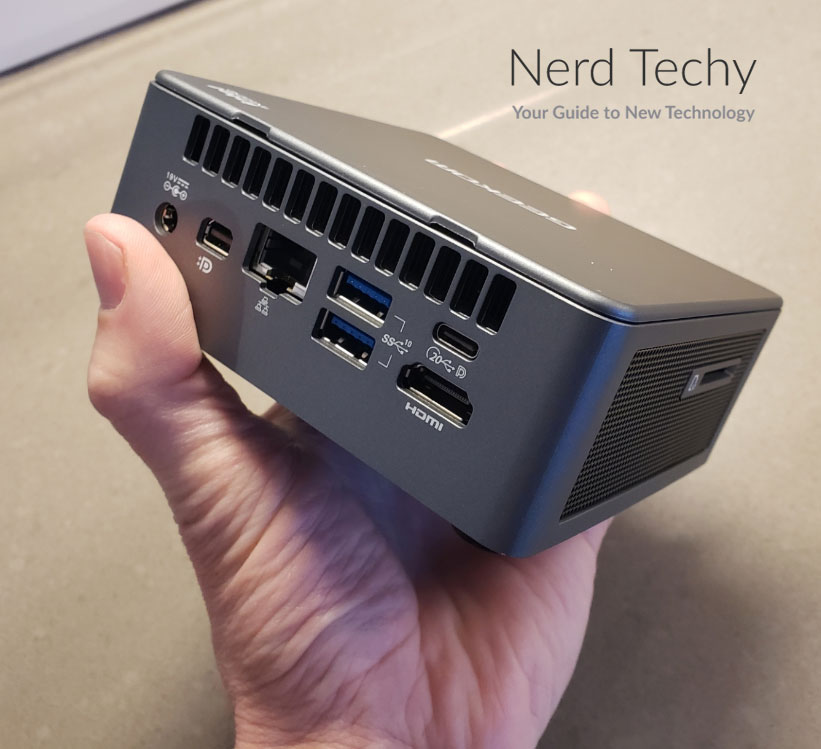 Final Verdict
The GEEKOM Mini IT11 i7-1195G7 is a powerful system for a mini PC. To begin with, the quad-core processor runs at up to 5GHz turbo, which is exceptionally fast. But the most impressive feature was the dedicated GPU. That's not something you'll often find on a mini PC, and it makes a huge difference in the performance. As a result, the Mini IT11 might just be the best mini PC for gaming that money can buy. It's also powerful enough for video editing and other creative work. In a nutshell, this machine is a workhorse!
The physical design is well thought-out. We would have appreciated some quieter fans. But the Kensington slot and VESA-mounting capability make it very versatile. The port layout is also convenient. The aux port and a pair of USB ports let you plug in your headphones or USB Type-A or 4.0 thumb drives. The ports on the back are better suited for peripherals that you leave constantly plugged in.
We also appreciated how easy it is to upgrade the system. While 512GB of storage is a good start, it's nice to be able to up that to 4TB. And while you won't need more than 16GB of RAM any time soon, upgradability is always a plus. Add to that a pre-installed operating system, and you're ready to go right out of the box.