Not long ago, security cameras were the domain of rich people and businesses. This was only sensible. To begin with, they were expensive. You could easily drop a few grand just to get a grainy 240p video feed. And if you wanted to record or monitor your cameras, you needed a bank of TVs with a VCR. You also needed storage space for a bunch of tapes. In other words, for the average person, owning a home security system just wasn't worth the trouble.
Nowadays, things are a bit different. For just a small investment, you can get your hands on a quality home security camera system. These cameras are much better than the ones you'd see in the past. They can record in 720p, 1080p, and even 2K or 4K under some circumstances. Moreover, your storage and monitoring options are much wider. You can view playback on a computer monitor or smartphone, without the need for a dedicated television bank. And modern storage solutions are more compact and versatile than simple video tapes.
All of this has led to the rise in availability of home camera systems. Today, we'll be reviewing one of these, the HeimVision HM241 Surveillance System. This is a powerful, four-camera security system that's designed to keep tabs on your home 24/7. But does it actually live up to HeimVision's tradition of excellence? Or is at an unfortunate blooper? We're about to look at all the HM241's features and benefits. We'll look at the overall construction, the quality of the video, and how easy it is to use. Once we're done, we'll be able to render a verdict. Let's take a closer look!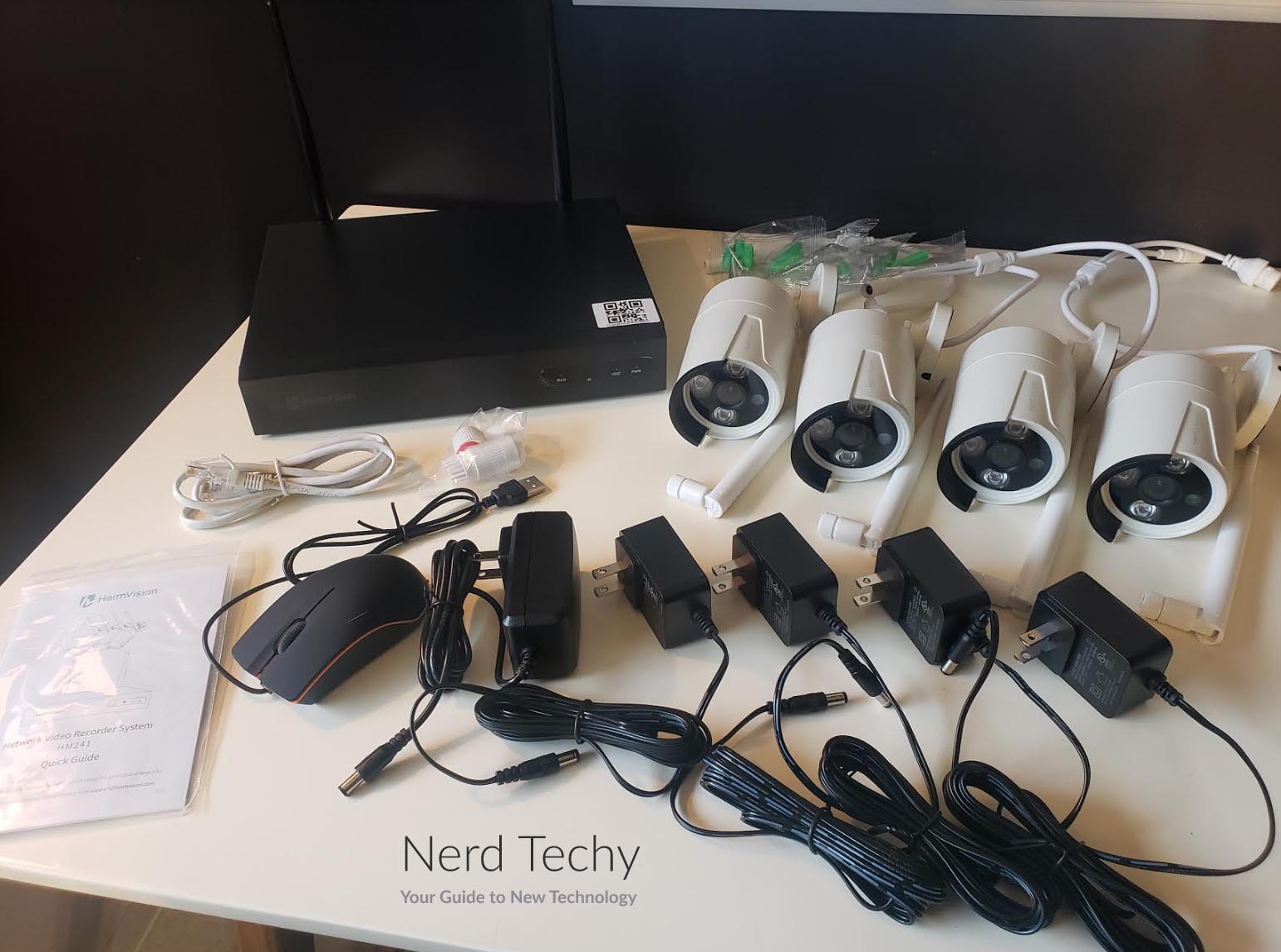 Design & Construction
The HeimVision HM241 Surveillance System ships with five primary components: four cameras and a central monitoring station. Each camera measures about six inches in length, with a familiar, barrel-shaped design. The cases are white anodized aluminum, with a matte finish that won't scuff or get dirty easily. The top part of the frame extends over each camera's lens, keeping it safe from water and dust. Even if water does come in sideways, you don't have to be terribly concerned. The HM241 cameras are IP66-rated for water-resistance. This is sufficient to protect the cameras from just about anything short of full immersion.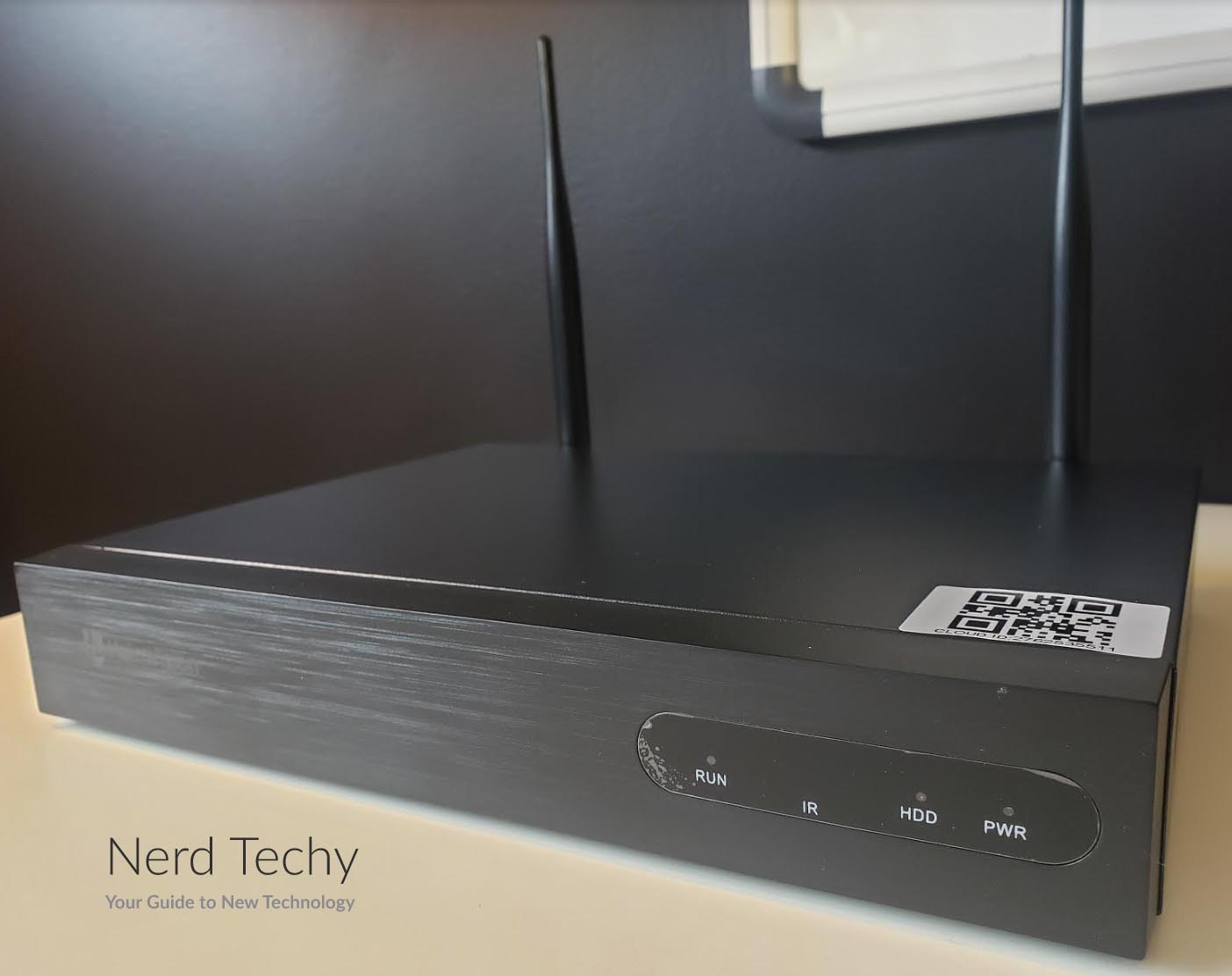 The top of each water shield has a black tip, and is black on the underside. This makes for an attractive compliment to the black cover on the lens. However, it's much more than an aesthetic touch; it's also practical. Because it's black instead of white, it won't reflect extraneous light into the lens. This makes the HM241's videos as glare-free as possible. Each camera sports a lens in the center, with three infrared LEDs at the top and sides. At the bottom, there's a small pinhole for the motion detector. There are no flashing lights or other unnecessary items to make the camera stand out.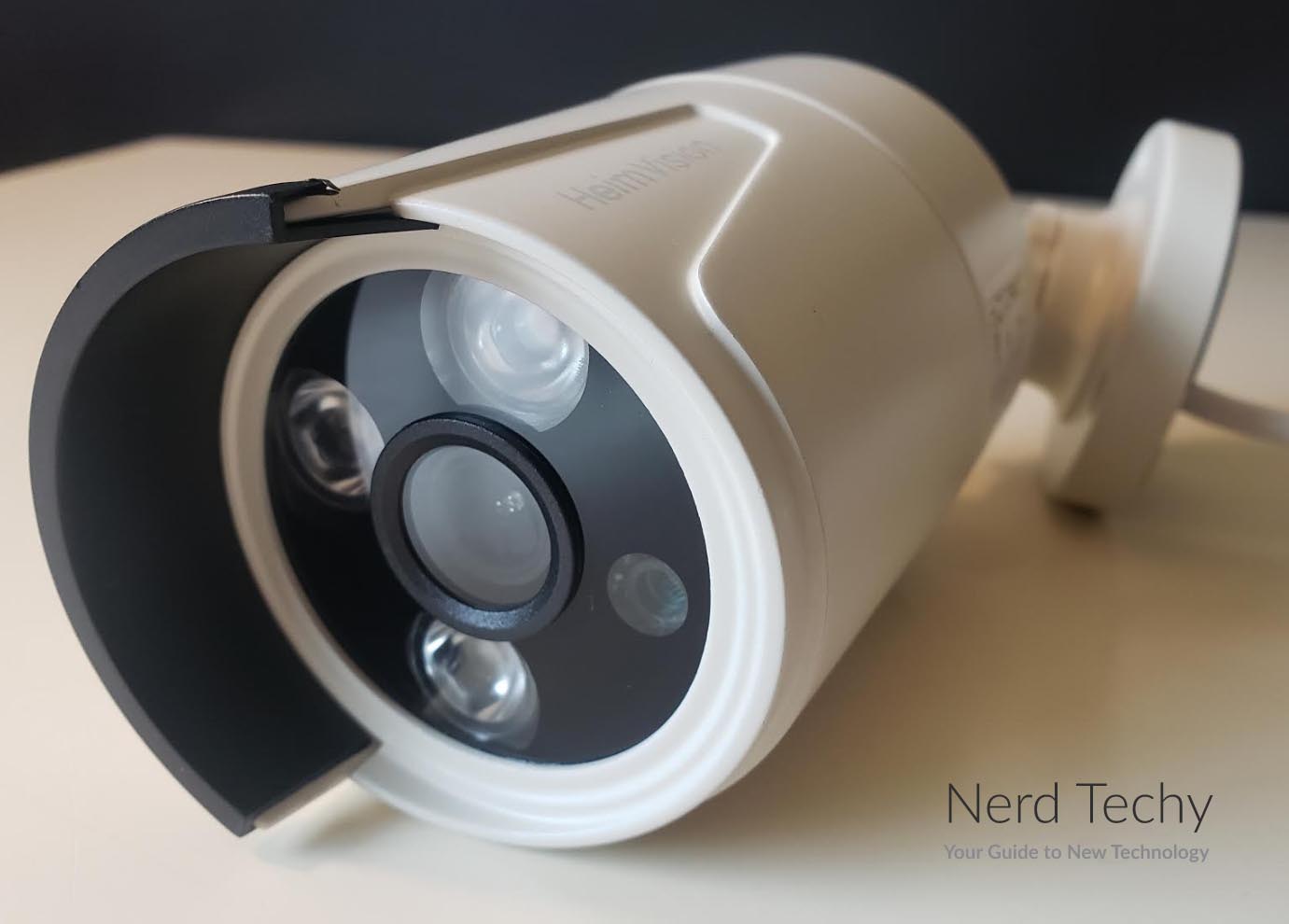 Each camera comes with its own mounting hardware. You get a simple, screw-on base that attaches to a bracket. The bracket itself gets screwed into your wall. It will go right into wood, and includes drywall anchors for indoor mounting. For mounting on masonry or brick, you'll need to buy your own anchors. Just above the mount is a rotating antenna that can be adjusted to get the best possible wireless signal. Each camera comes with an 8-foot cable and DC adapter for power. This means you don't have to worry about battery life. And because the adapters use a two-prong plug, any extension cord can get you to the nearest outlet.
A battery-free design requires less maintenance than other camera systems. With a battery-powered system, you need to recharge your cameras from time to time. On the other hand, a wired camera will fail during a power outage. A solar-powered camera like the HeimVision HMD2 Security Camera w/ HMS1 Solar Panel is a good compromise. Installation is a bit trickier, but your camera will work under any conditions.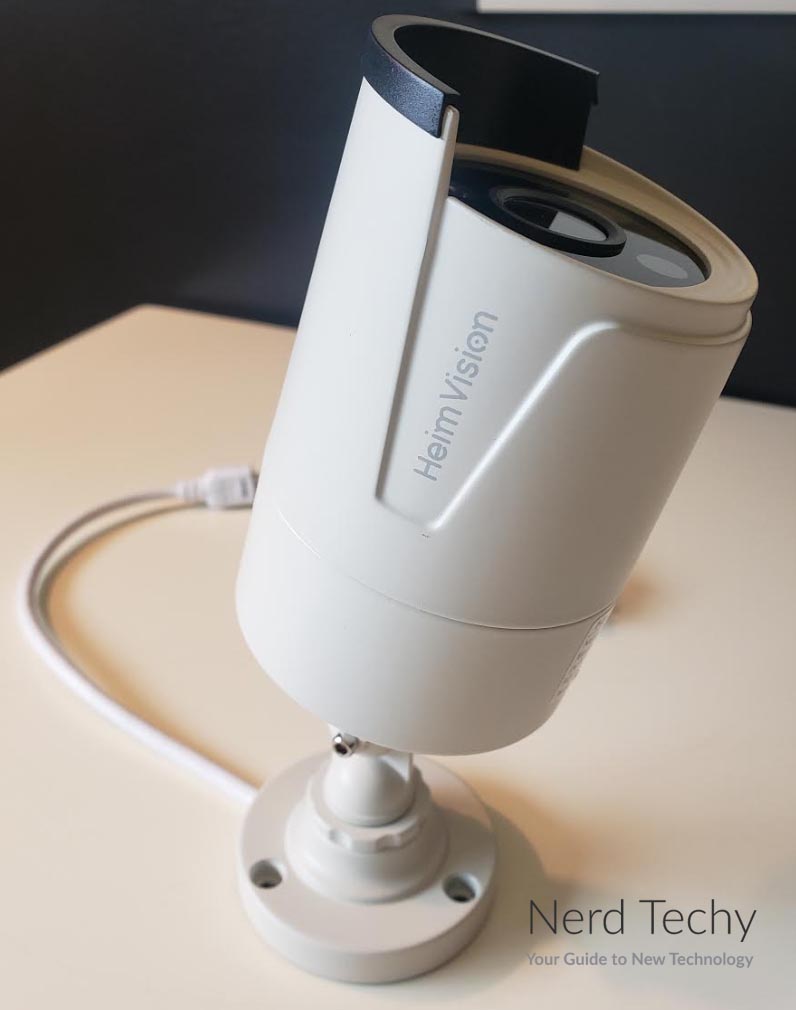 The HeimVision HM241 kit includes a mouse, which allows for easy use of the monitoring station. The monitoring system needs to be connected to a display in order to function. Otherwise, you'll be limited to online use only. When a monitor is connected, you can view all connected cameras simultaneously. The control unit itself is about the size of a DVD player, with a black ABS plastic shell. There's a pair of antennas on the back which receive the signals from the cameras. On the front, there's a series of green LED lights, which indicate what types of devices are connected.
Image & Video Quality
The HeimVision HM241's cameras record in full 1080p. This makes them good enough for any indoor surveillance, or for outdoor surveillance within about 50 yards. It's not as good as 4K, but good enough for 90 percent of purposes. Moreover, the image is sharper and cleaner than most 1080p cameras. This is because the system uses digital noise reduction (DNR) to remove fuzz. In other words, you won't have any issues making out fine details. And with a 110-degree field of view, you get a nice wide angle. The camera feed also looks fantastic at night. The three infrared LEDs illuminate a wide area, and the image is black and white, rather than green. So even at night, you'll still be able to see details easily.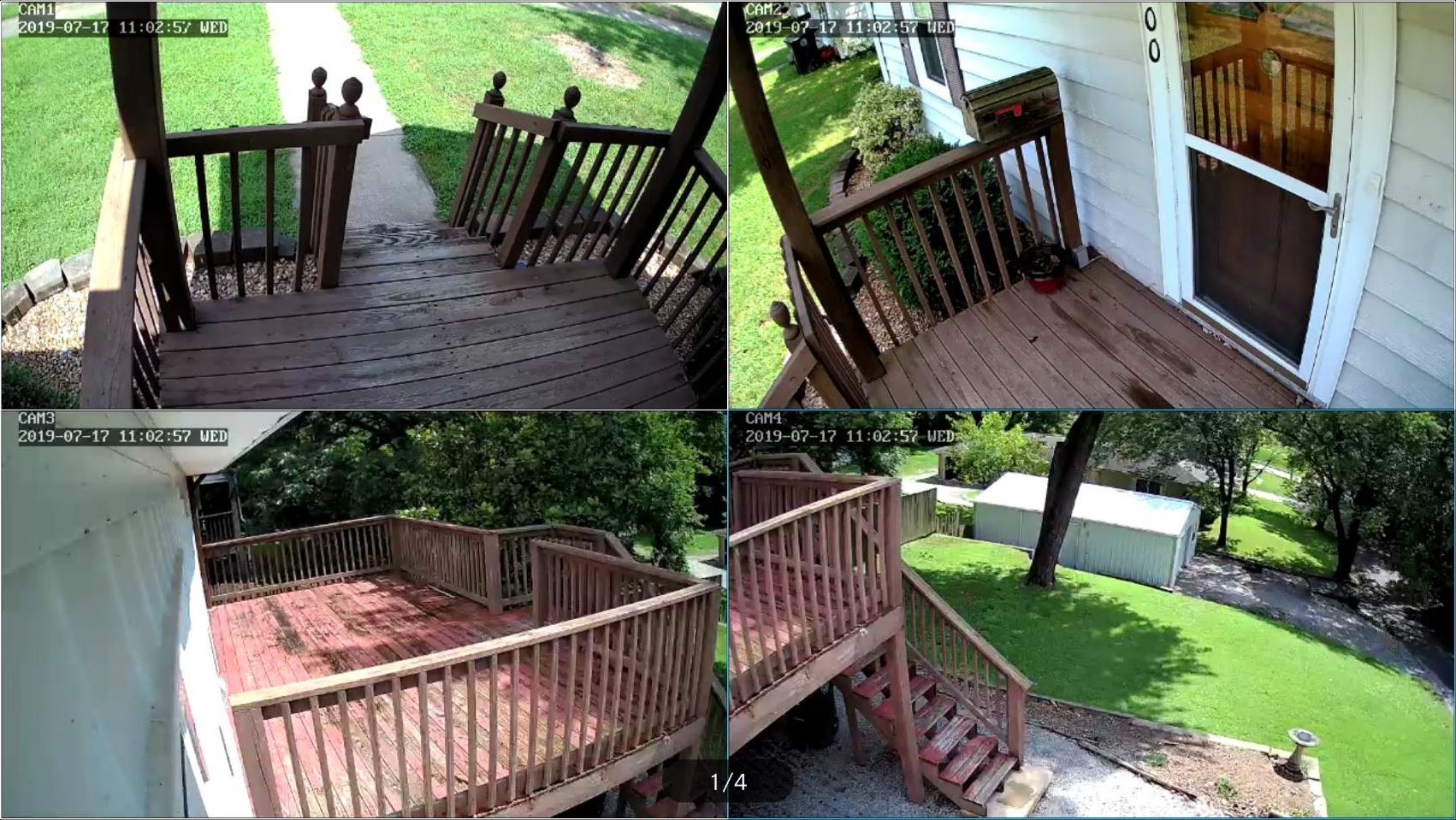 The HM241 cameras' motion detector will trigger on just about any action within about 30 yards. This can help you save storage space that could be wasted on recording nothing. Moreover, it's necessary for triggering phone alerts, which we'll talk about more in a minute. Better yet, you can install up to four additional cameras, expanding your system to a total of eight.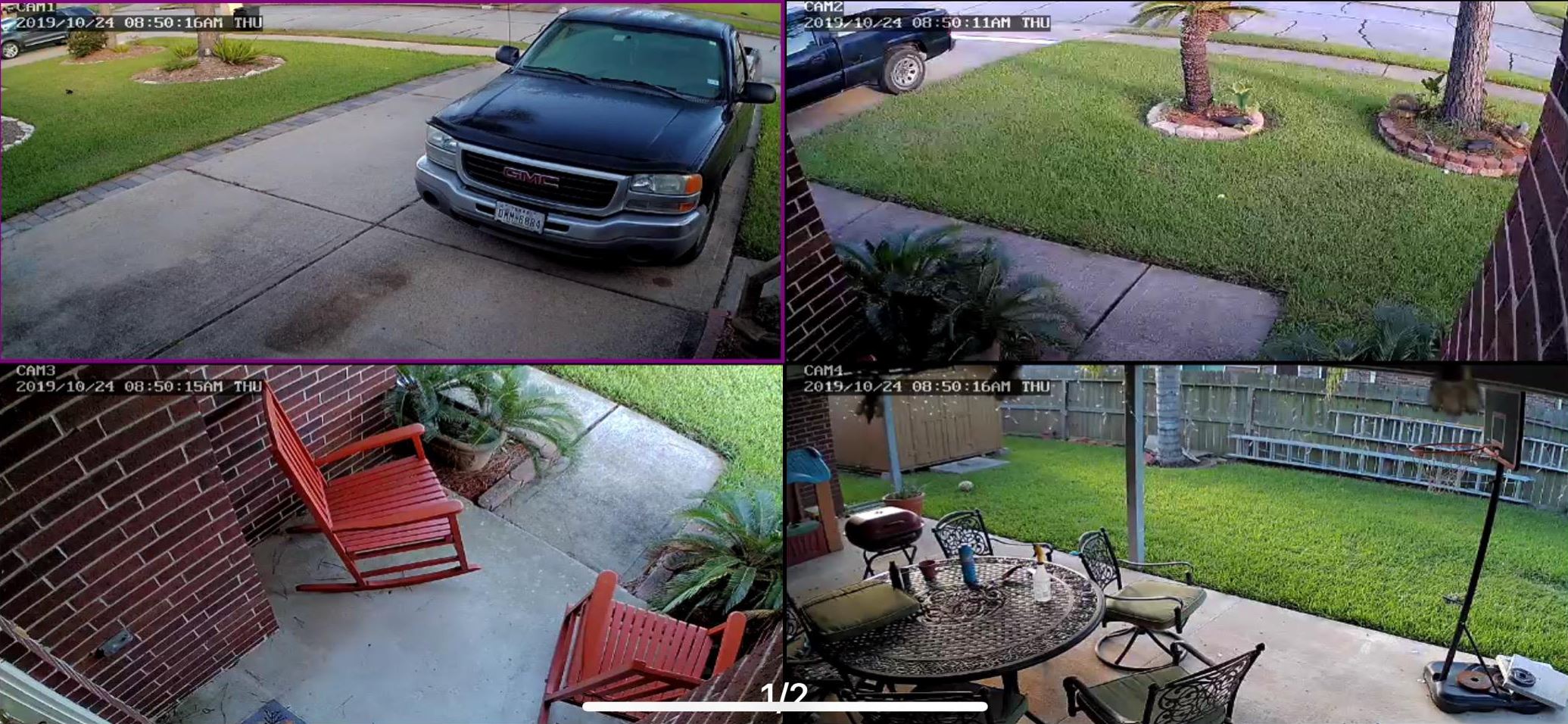 One thing the HM241 doesn't offer is audio recording. This can be both a good thing and a bad thing. On the one hand, you can't hear what's going on on the other end. On the other hand, if your state requires two-party consent for recording, it can keep you legal. Keep in mind, though, that this also means that there's no capability for two-way audio. This is strictly a security system, not a communications system.
Connectivity & Storage
One thing we appreciated about the HeimVision HM241 Surveillance System is the completely wireless design. The cameras themselves connect to the monitoring station via an RF signal, so you don't need to run any wires. They come paired with your monitoring station out of the box. Just plug everything in and Moreover, the monitoring station also connects to your network via WiFi. Alternatively, you can use your monitoring station offline. Keep in mind, though, that you won't be able to use any smartphone features in this mode.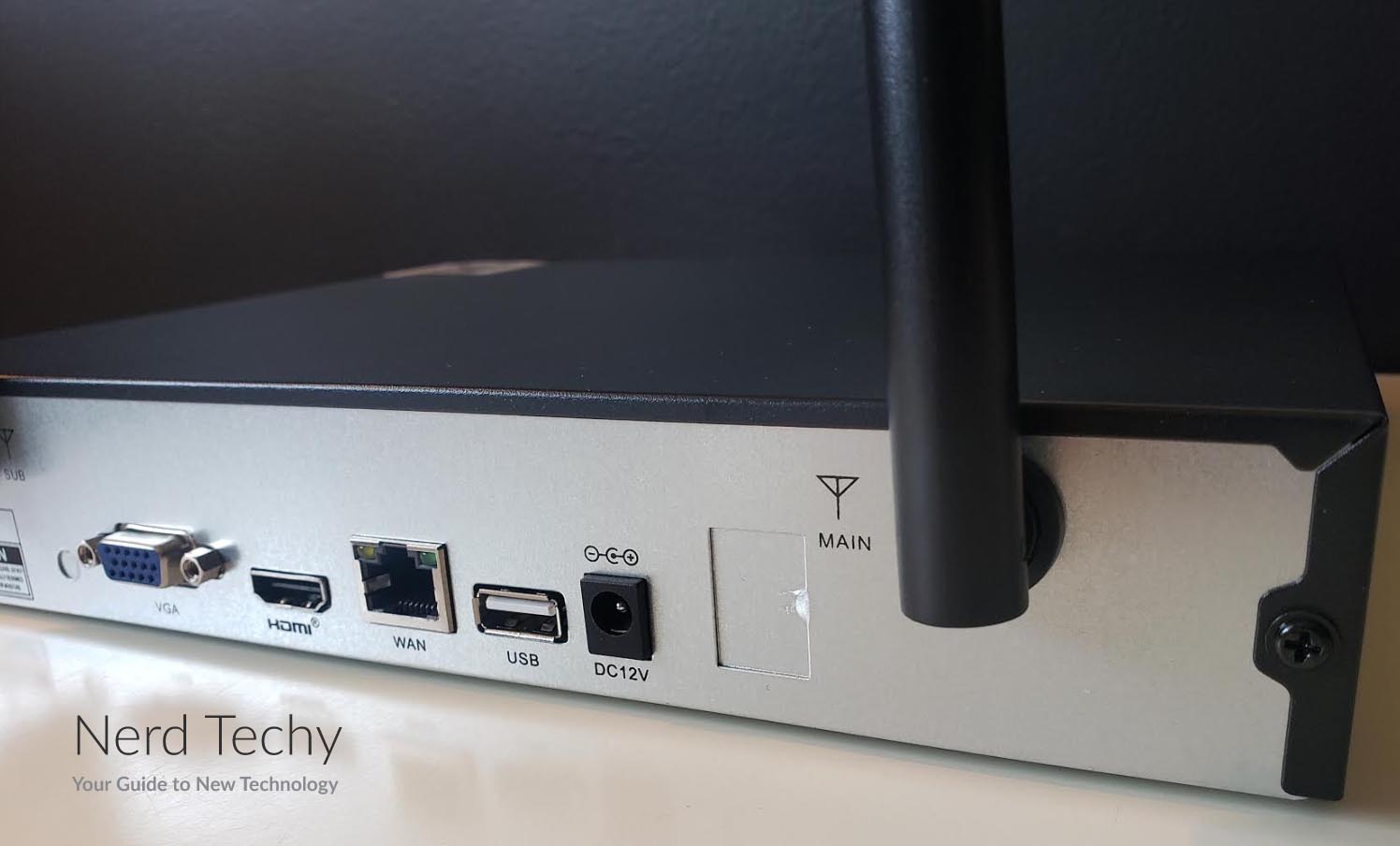 Of course, there are situations where you might prefer an Ethernet connection. For example, if you're worried about WiFi vulnerabilities, an Ethernet connection is harder to hack. In that case, consider the HeimVision HM243. It's similar to the HM241, but it works over Ethernet instead of WiFi.
The HM241 cameras can record on motion detection, or in 24/7 mode. 24/7 mode is just what it sounds like. The cameras will record nonstop as long as they're powered on. Alternatively, in motion sensor mode, the camera will only record when it senses motion. In this case, it will run for 30 seconds every time something moves.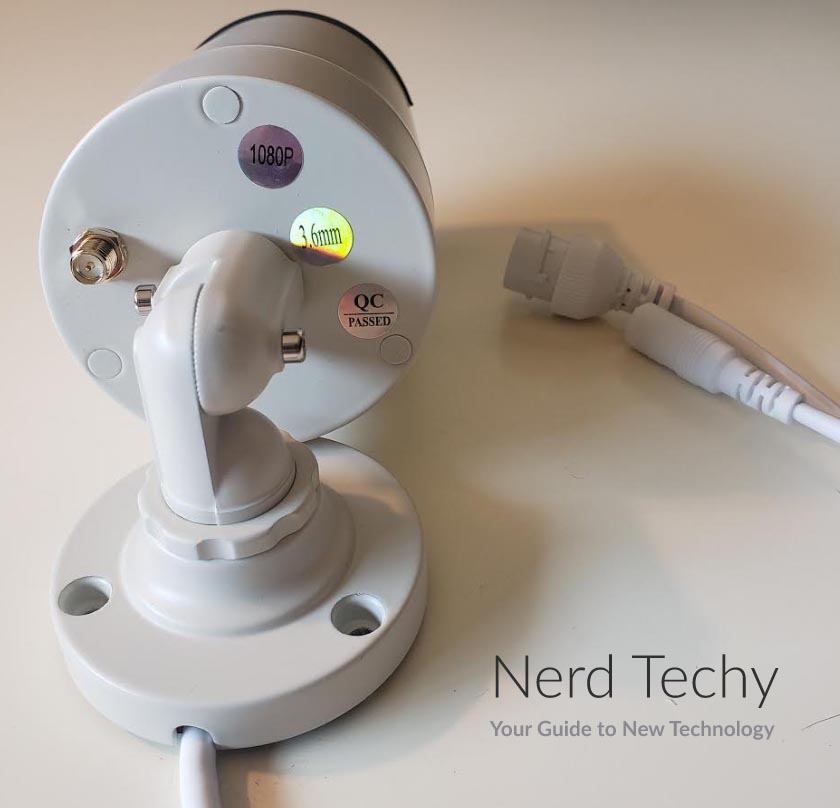 Either way, you'll need to come up with your own storage solution. There's no on-board storage included with the kit. To save your videos, you'll need to install a 3.5-inch SATA-connected hard drive in the monitoring station. Also, there's no online storage. That said, online storage normally costs a monthly fee. As a result, a physical hard drive is actually cheaper over time than paying for an online subscription.
If you want online storage, the Heimvision HM205 is an excellent choice. It's designed for indoor use only. However it can pan 360 degrees, and it comes with free 72-hour cloud storage.
Extra Features
As we already mentioned, you can either monitor your video feed on the monitoring station or your phone. This makes it useful for on-site security as well as for homeowners on the go. However, you'll be able to do a bit more if you install the smartphone app. The HeimVision app is available for free on iOS and Android, and takes just a minute to install.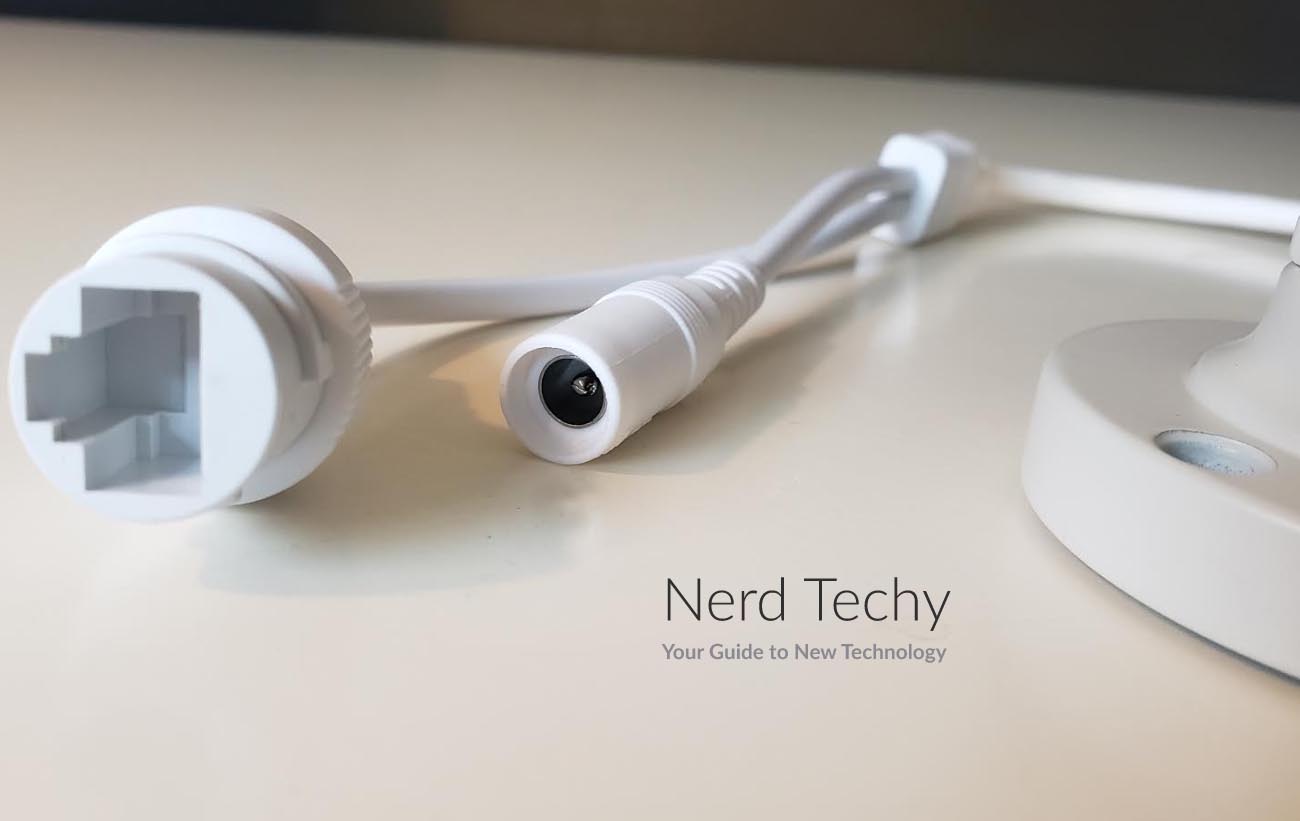 Once the app is installed, you'll have the opportunity to sync your phone with your security system. At that point, you'll get instant alerts on your phone whenever your camera starts recording. As a result, you'll be able to keep tabs on your home or business at any time, anywhere. You can also peek in on your camera feed remotely whenever you like. Keep in mind, though, that you still won't be able to save this video without a hard drive installed.
Final Verdict
As you can see, the HeimVision HM241 Surveillance System is one of the better-designed security camera systems on the market. All four cameras are well-engineered, with sturdy aluminum frames. They're also highly water-resistant, so mounting them outdoors is easy. They're powered by AC power adapters, so you don't need to worry about batteries running out. Moreover, they connect to the base unit via RF. This means you don't have to running wires throughout your home or business. The only things that needs to be permanently installed are the camera mounts.
The image quality is good, with a crisp 1080p image that's clear at any reasonable focal length. The night vision is also highly-detailed, without any significant fuzz or distortion. We would have liked to see some kind of native storage capacity, but a 3.5-inch hard drive isn't too expensive. With a full set of mobile features, you get as much visibility as you need, at home or on the road. Motion alerts keep you posted when anything suspicious is going on. And if your hard drive is installed, you can even activate recording direction from your smartphone.