These days, the world of wireless audio is rapidly expanding. This is largely thanks to the development of True Wireless Stereo in the mid-2010s. Prior to TWS technology, wireless signals could only be sent in mono mode. This made wireless earbuds a poor choice for anyone who wanted good audio quality. In 2017, Apple built the AirPods, and the iPhone went wireless-only. Thanks to TWS, the AirPods sounded as good as or better than most wired earbuds. Suddenly, the race was on to create the latest and greatest wireless earbud. Everyone from major manufacturers to small startups was rushing to bring their products to market.
Lost in all of this rush have been similar developments in wireless headsets. Unlike with earbuds, a headset only has a single audio channel, so there's no need for stereo. As a result, wireless headsets have been in wide use for much longer than their stereo counterparts. But TWS has not been the only advancement of the last decade. The Bluetooth protocol itself has also evolved. Modern headsets offer much lower latency and crisper audio than older ones. Mic technology and noise cancellation have become more advanced, so calls are clearer than ever before. And with modern batteries, a newer headset can last for much longer than one from a few years ago.
Today, we're going to review the New Bee M50 Wireless Headset. This is a single-ear headset with a reversible design that can be worn on either side. It has a boom mic, and a long-lasting internal battery. It also provides noise cancellation, so you can carry on conversations in a noisy environment. But does it work as well as advertised, or should you find your new headset somewhere else? To find out, we'll need to take a deep dive into the M50's features and operation. We'll look at the design and the ergonomics, as well as the accessories. We'll talk about the battery life and the quality of the wireless connection. After that, we'll discuss the audio quality, and we'll be ready to render our verdict. Let's get started!
Overall Design
The New Bee M50 Wireless Headset is a slick over-the-ear device with a battery pack on the back. This forms a wide, flat panel that sits behind your ear. It's mostly black in color, with a matte finish that won't show fingerprints. That said, there are a pair of copper-colored highlights. One runs along the back of the battery, and the other runs down the side of the boom mic. The mic is long and slender, and is mounted on the opposite side from the silicone ear tip. One thing we appreciated is that the ear hook swivels 180 degrees, and the mic will pivot 270 degrees. This means you can wear the headset in either your left or your right ear.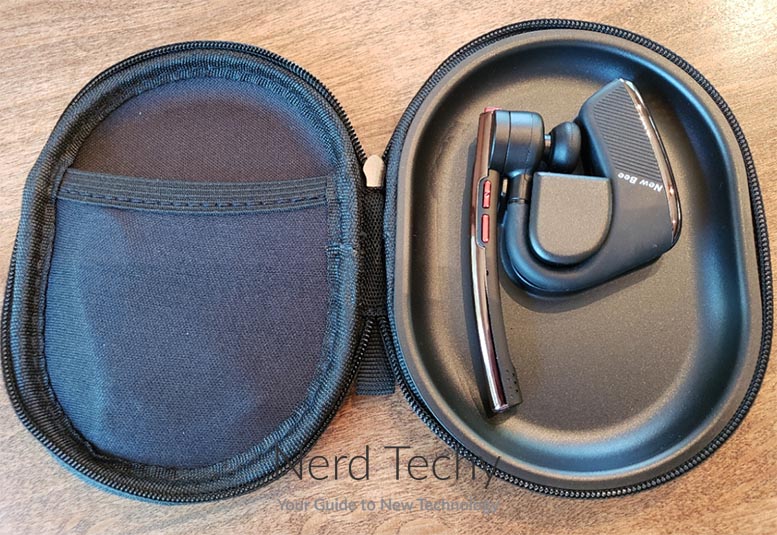 Keep in mind that this is a headset, not a pair of headphones or earbuds. There's only one, and it only goes over one of your ears. In that regard, it's similar to the Bluetooth headsets for truck drivers we recently reviewed. On the flip side, you might want something different if you're listening to music.
When it comes to comfort, the M50 is a bit of a mixed bag. On the one hand, the ear hook and battery pack can be uncomfortable if you wear glasses. That's par for the course for any ear hook-style headsets, but it's important to remember. On the upside, the ambidextrous design means you won't have to worry as much about ear fatigue. Not only that, but it comes with three different sets of ear tips in different sizes. If you're not happy with the fit, you can choose a larger or smaller pair as needed. This isn't just a matter of comfort. A proper fit will also provide better noise isolation to keep out ancillary sounds.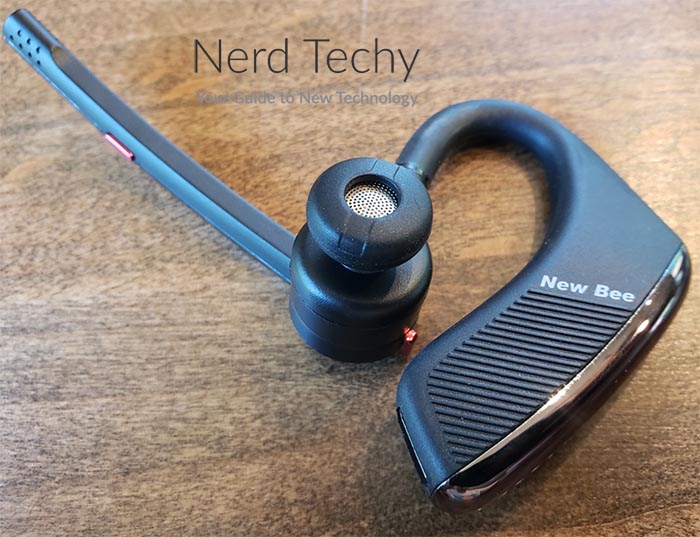 The controls are located on the boom mic, and are easy to operate. They're also bright red, so you can find them visually when you're holding the headset in your hands. The first is a power button, located directly on the back end of the mic boom. On top, there are a pair of volume buttons. The forward button turns the volume down, while the rear button turns it up. If you're wearing the headset on your left side, this will be reversed. The volume buttons will also be located on the bottom, and operated with your thumb.
When worn right-handed, the mute button is located on the bottom of the boom, towards the front. This is a simple toggle, and mutes and unmutes your audio when you press it. There's a blue LED on top of the boom that lets you know when the mic is live. One small disadvantage of wearing the headset on your left ear is that you can't see this light. But that's a minor complaint. The mute button is also used to access your phone's voice assistant. When you press and hold it for three seconds, it will call up Siri or Google Assistant. This enables you to perform any function you're capable of doing with voice commands.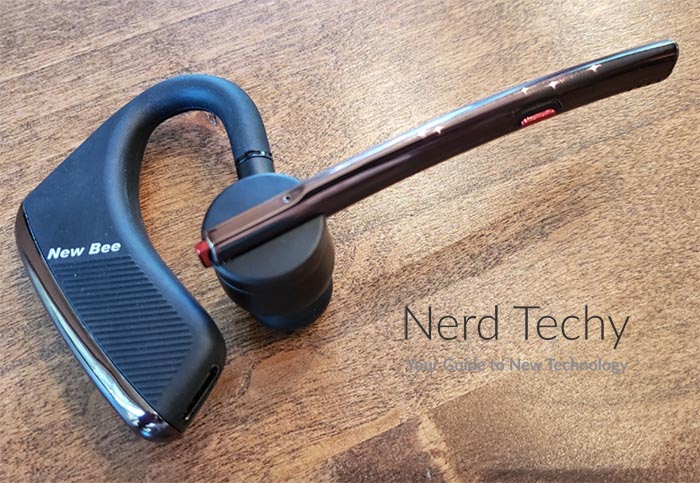 Unlike standard wireless earbuds, the M50 headset doesn't have a charging case. It does, however, come with an attractive carrying case. This case is oval in shape, and has a flat profile that's easy to fit into your pocket. So while it won't charge your headset, it will at least keep it safe from bumps and scratches.
Instead of the case, this headset plugs directly into a USB port for charging. There's a tiny USB Type-C port on the bottom of the battery compartment, and a USB cable is included. All you need to provide is a power block or any other USB power source. Along the back edge of the battery compartment, you'll notice a row of four small LEDs. These indicate the current battery level, so you always know your charging status. This is comparable to many popular wireless earbud cases, which often sport battery-indicating LEDs.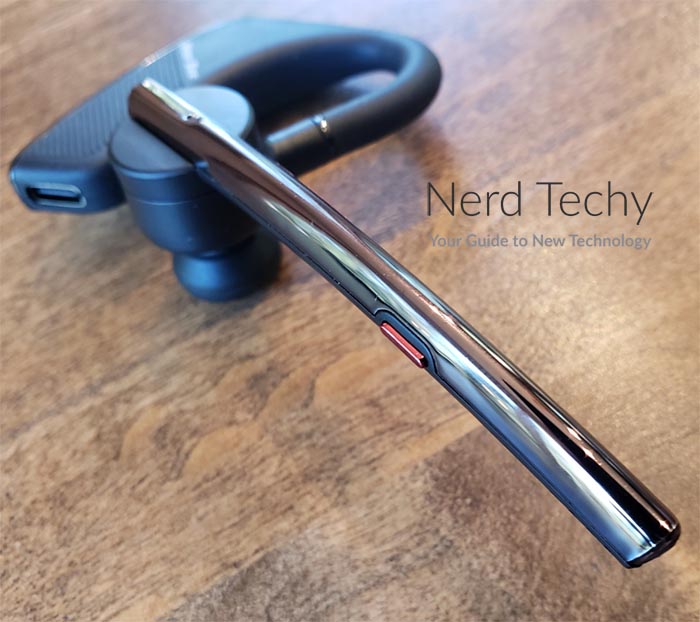 One unfortunate downside of this direct-charging design is that the USB port is vulnerable to water. As a result, the New Bee M50 doesn't have a water-resistance rating. It's not a big deal if it's exposed to a little sweat, but serious water exposure can eventually damage it. If you need a water-resistant audio source, consider the TaoTronics SoundLiberty Pro P10. It's IPX8-rated for water resistance, which means it can withstand full submersion. It's also a pair of buds instead of a single headset, although the battery life is shorter.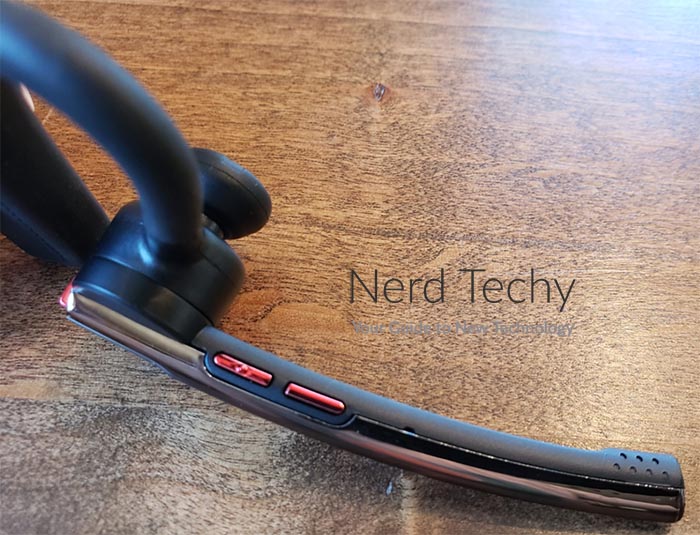 Battery & Connectivity
Without a backup battery in the case, we had high expectations for the M50's on-board battery. It did not disappoint. The battery is rated for 22 hours of talk time and 24 hours of music listening time. However, this is a bit fuzzy, since a lot depends on your volume. At full blast, you can expect as little as 17 hours of talk time. On the plus side, the medium volume setting is already reasonably loud. For many people, you'll never need to go up to a higher setting. More to the point, how long are you going to realistically need to wear a headset for? If nothing else, you're going to need to sleep at some point.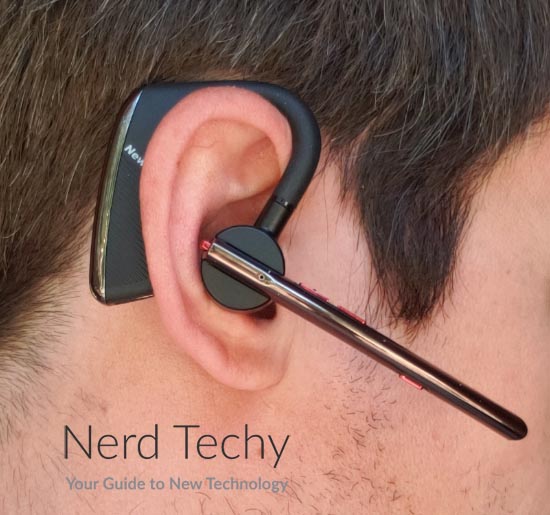 Another thing we appreciated was that the battery charges relatively quickly. Even if it's completely dead, it will fully charge in about two hours. You don't even need to charge overnight. Plug it in every now and then, and you'll have effectively limitless battery life.
The M50 connects to your wireless device via the Bluetooth 5.2 protocol. This is the latest and greatest Bluetooth version. It builds on and improves upon the already-fast Bluetooth 5.0 protocol. With a compatible phone, you'll get near-zero latency, very high audio bitrates, and a stable signal. Dropped calls and stuttering connections will be a thing of the past. For a headset in particular, the low latency is probably the most important feature. It reduces the risk of cross-talk, and allows for a more natural conversation. Best of all, the headset is backwards-compatible with earlier Bluetooth versions. If you're using an older smartphone, you won't have any issues.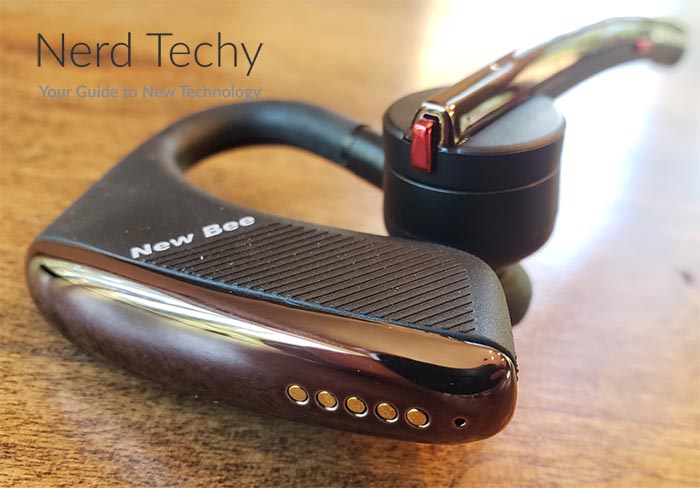 One other useful feature of this headset is that it can be paired with two devices simultaneously. For example, let's say you're listening to music on your personal phone. You can still keep your work phone connected in the background, and accept any calls that come your way. We appreciated the flexibility this extra connection provided.
Audio Quality
The M50 headset provides excellent audio quality on both ends. You'll be able to hear the other person clearly, and the silicone tips provide a good seal against outside noise. For what it's worth, you'll also get rich audio when you're listening to music. But the use of only a single channel is a non-starter if music is your primary purpose. If that's what you want, the Cirtek EA05 is a better choice. It also has excellent audio, but it's a pair of earbuds that sit inside your ears. This provides you with true stereo sound, at the expense of a shorter battery life.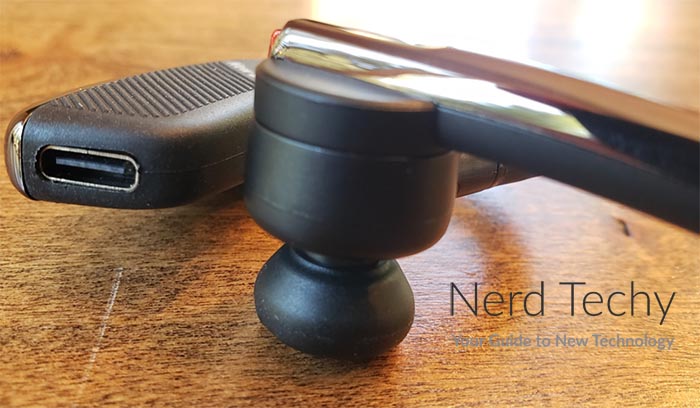 For phone calls, you get to take advantage of CVC 8.0 noise reduction technology. This technology uses a set of dual mics to capture your voice and background noise separately. An algorithm then filters out the noise, leaving your voice clean and clear. This makes it very easy for the other person to hear you, even if you're in a noisy environment. That said, it won't be any easier for you to hear the other person.
Final Verdict
The New Bee M50 Wireless Headset provides plenty of excellent features for hands-free calling. It's ambidextrous, it provides clear audio, and the battery lasts for over 20 hours. You can even pair it with two phones at once. Our main complaint is that you can't listen to music in stereo, but that's not what it was designed for. If you're looking for a headset as opposed to headphones, the M50 is an excellent choice.