If you haven't shopped for a vacuum cleaner in a while, you might be surprised at how far they've come. Not too long ago, if you wanted a good vacuum, you needed a full-sized upright vac at a bare minimum. If you could get your hands on a canister vacuum, so much the better. But while larger vacuums remain the most powerful, smaller, battery-operated vacuums have started to catch up. It used to be that handheld vacuums were only useful for dust. Now, you can do all your everyday cleaning, and even tackle deep pile carpets with one. That's a far cry from how things stood just a few years ago.
There are several reasons for this advancement, but the most important one is better battery technology. Older batteries simply couldn't hold enough juice to run a powerful vacuum for more than a few minutes. As a result, even if manufacturers had the ability to make such a vacuum, it wouldn't be terribly useful. Better to have a weak, but functional vacuum than one that dies after cleaning six square feet. Another development has been cheaper manufacturing of precision parts. Nowadays, more people can afford more powerful electric motors, which require precise machining.
Today, we're going to be reviewing the RedRoad V17 Handheld Cordless Vacuum. This is an exceptionally powerful stick vacuum that comes with a number of attachments. These include a dual carpet roller and a specialized mite roller, among others. The V17 also boasts a long-lasting battery, so you won't have to stop cleaning in the middle of the job. But how well-constructed is it, and how well does it perform in the real world? We're about to take a deep dive into all of this vacuums features and functions. By the end, we'll know what we liked, as well as what could be improved. Let's begin!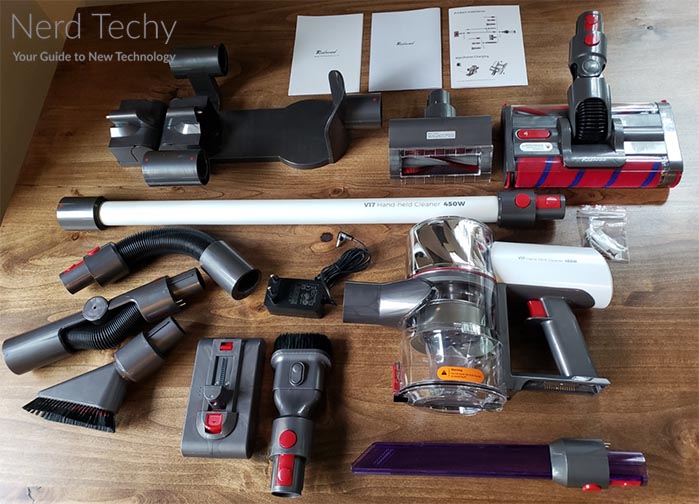 Design & Construction
The RedRoad V17 Handheld Cordless Vacuum is designed to be operated with one hand. It's put together a lot like a power drill, with a pistol grip at the back, just beneath the motor. The housing is an attractive silver-grey plastic, with a glossy finish that's easy to keep clean. The horizontal motor cylinder terminates in the side of a larger, vertical cylinder which houses the filter. The dust bin hangs underneath, with transparent plastic sides that allow you to see how full it is. It has a capacity of 600ml, a bit larger than the average battery-operated vacuum, and it's easy to empty. You push the big red button at the base, the bottom opens up, and the debris falls into your trash can.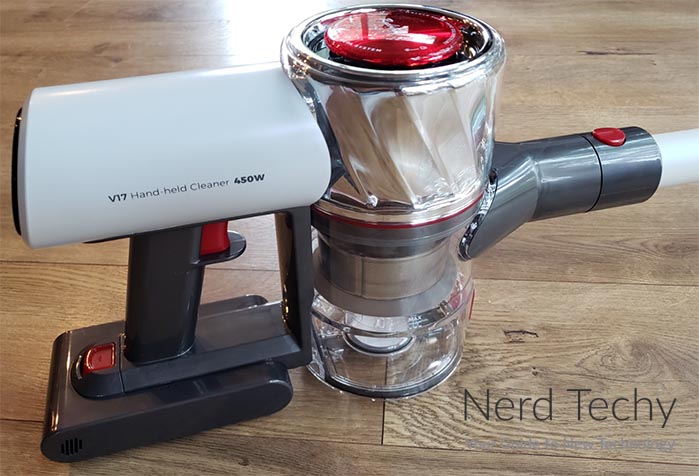 The battery is rectangular and removable, and sits at the base of the grip. It's the heaviest part of the machine other than the motor, and this placement keeps the vacuum back-heavy. As a result, it's easy to handle, even if you're reaching overhead to clean a valence. Another nice ergonomic feature is the locking trigger. Instead of holding the trigger down, you can pull it in, and press a button to lock it. This is a great feature if you suffer from arthritis, or if you have another condition that affects your joints.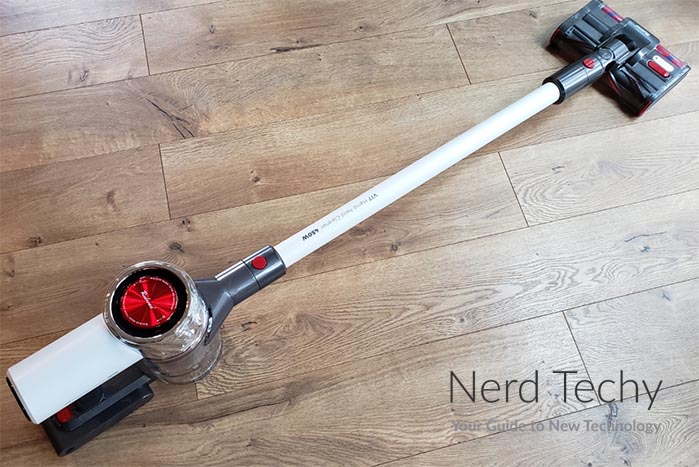 On the back of the motor housing, you'll find a color LCD display. This serves as your main interface, so you can operate the vacuum and monitor its status. The display consists of three nested rings, which are green, blue, and red from outside to inside. The ring that is currently illuminated is your current power level. Green is the lightest, "Eco" mode, while blue and red are medium and high respectively. The lighted ring will also act as a battery meter. As your battery drains, so will the ring, so you get a visual representation of your battery status. In the top left corner, there's also a percentage readout of your remaining battery life. A silver button at the bottom allows you to switch between modes and lock the display. Finally, the display will let you know when your filter is dirty, so you know when to clean it.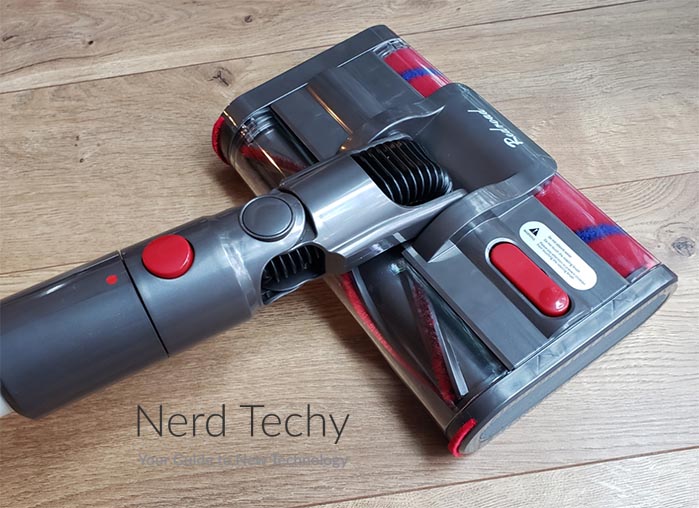 Along with the vacuum, you get a load of accessories, most of which we'll discuss in the next section. But the most important of these is the charging station. It's a big, wall-mounted base where you hang your vacuum and all the other accessories. Some vacuums come with smaller wall mounts, but then you have to find somewhere to stow the attachments. This system is a lot neater, and helps you keep track of all your parts. Just make sure to install the charging station near a power outlet, so you'll have somewhere to plug in.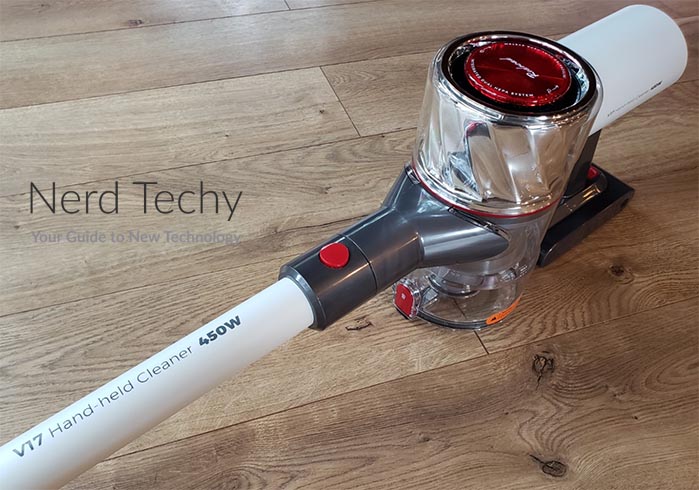 One thing to note about the V17 is that it's currently not available for shipment to North America. That said, it will ship anywhere in the EU, as well as most other countries. Not only that, but it's available with a US, UK, EU, or Australian plug design. So no matter where you're going to use it, you'll be able to charge your battery.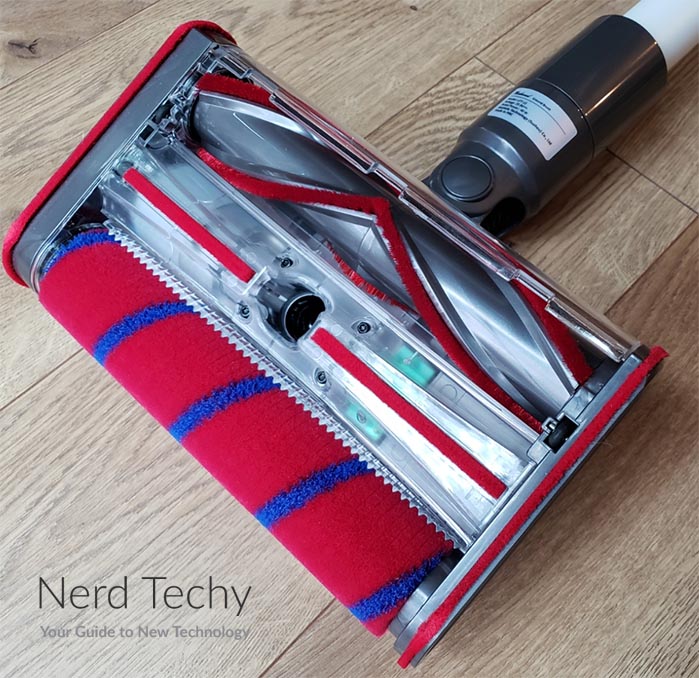 If you live in North America and need a powerful stick vacuum, check out the MOOSOO K17. It's almost as powerful as the V17, and ships to North America. The only major drawback is that its battery only lasts about half as long.
RedRoad provides a three-year manufacturer's warranty with the V17, one of the best in the business. You don't have to worry about premature failure due to defective parts or a manufacturing error.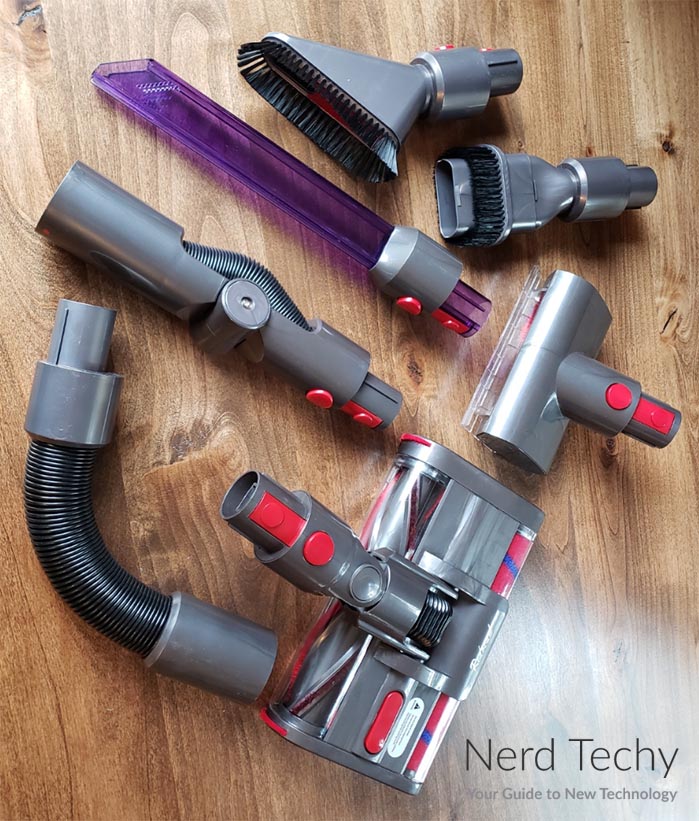 Cleaning & Accessories
The V17's motor is capable of providing up to 26,500 Pascals (Pa) of suction. Of course, you'll only get that much performance on the highest setting, but it's exceptionally powerful. The average upright vacuum gets around 14,000Pa of suction, so we're talking about a big number. Even at that setting, the vacuum is very quiet, producing a maximum of 60dB of noise. That's by no means silent – it's about the volume of a loud conversation. But it's not so loud that you'll need to shout over it.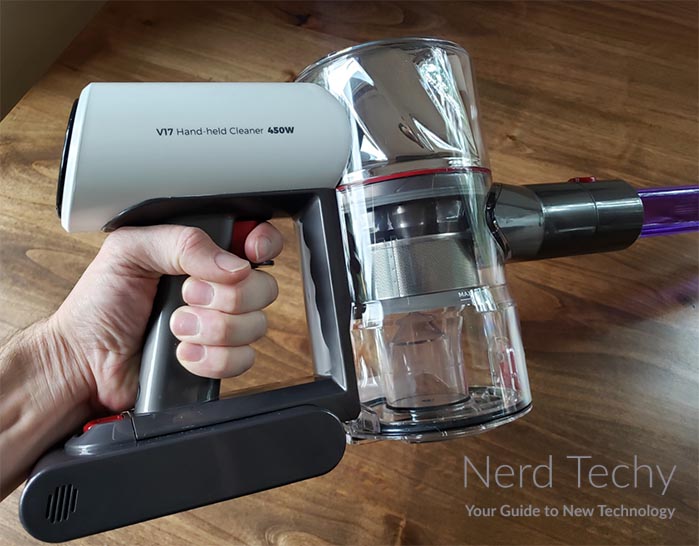 In addition, you won't always want to use the highest setting. The medium setting is just fine for most situations, except for deep pile carpet. And for everyday cleaning on a solid floor, the Eco setting is more than powerful enough. These lower settings will produce less noise, and they'll drain the battery slower.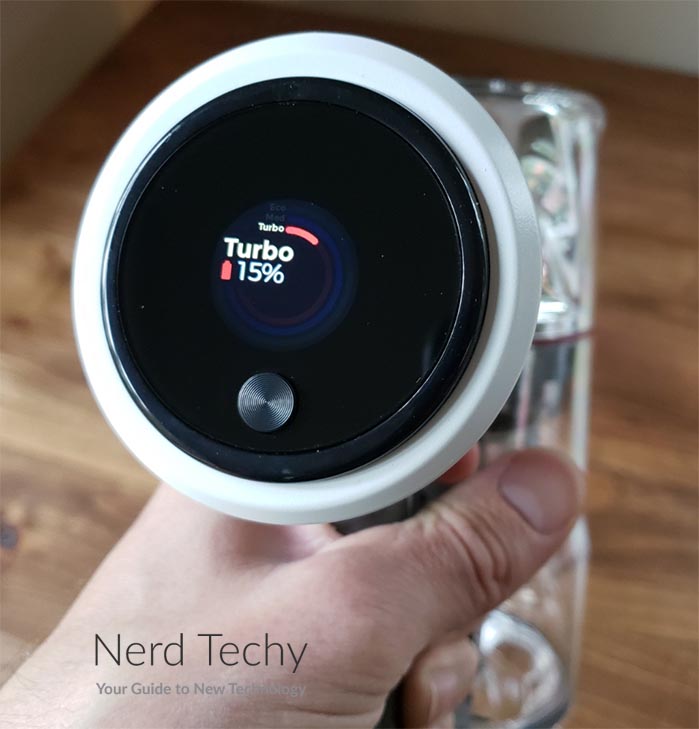 The main attachment consists of a broad dual roller with not one, but two barrels. The first is a soft brush, which is more effective on solid floors, but doesn't penetrate carpets as well. The second is a traditional stiff spiral brush, which will dig into deep pile carpets and pull out embedded dust. The front of the roller has a bright LED light, so you can see under furniture. And a 360-degree rotating attachment point makes it easy to maneuver. If you prefer not to bend over, you can attach the included folding tube, which will flex at a 90-degree angle. That way, you can reach under obstacles without bending or stooping.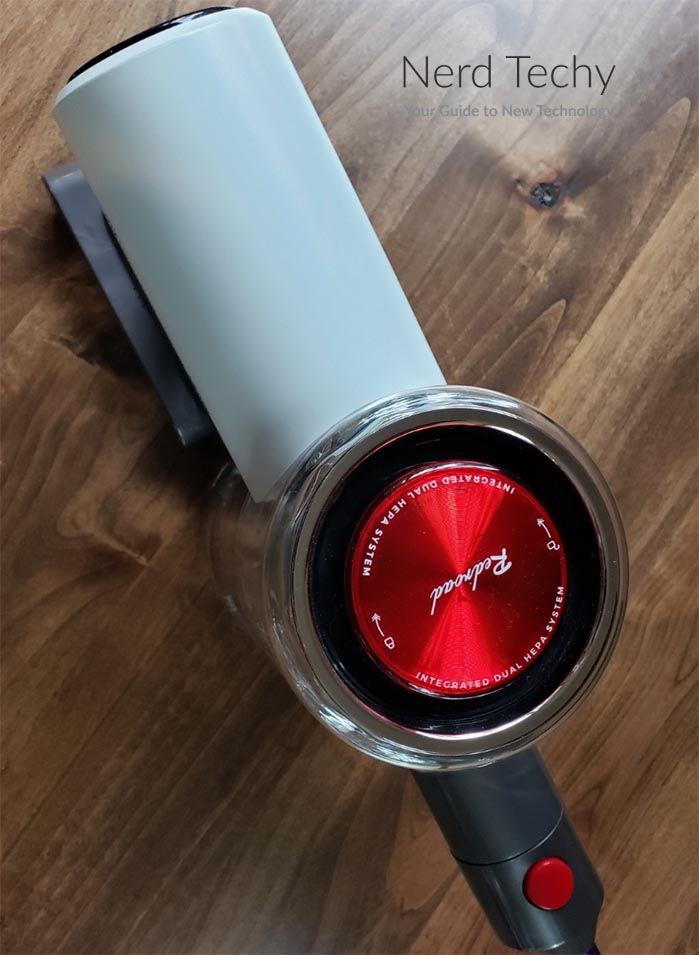 In addition to the main roller, there's also a mini roller for cars and upholstery. This roller's brush is specially designed to remove dust mites, which makes it great for bedding. If you're allergic to dust mites, you can use this on your mattress, and even your pillows.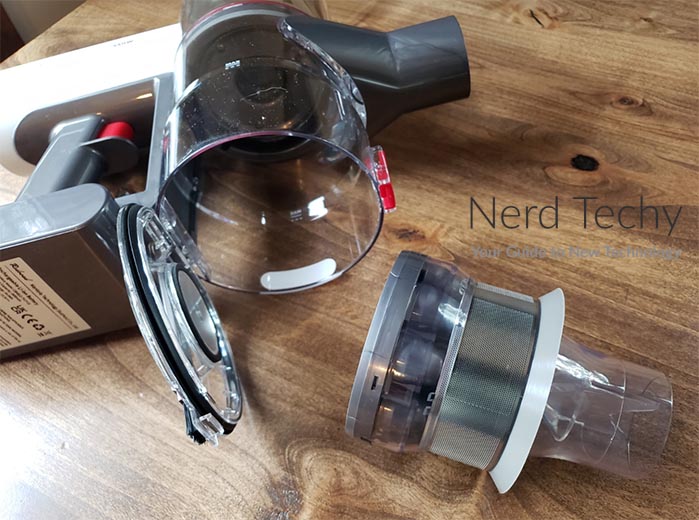 The kit includes two different brush attachments for more delicate surfaces. The first is a wide, angled brush that's made for reaching overhead. It's great for curtain valences, overhead vents, or reaching the tops of cupboards. The second is a smaller, straight brush for electronics. It's ideal for keyboards and other similar surfaces. The last attachment is a crevice tool, which is thin and flat and made of plastic. It's also semi-transparent, so you can easily see if it gets jammed. Finally, the package includes a hose extension as well as a standard rod. This is a great way to work inside your car, or any time you're working on your hands and knees.
The V17 can do just about anything you need it to do. The only thing it doesn't offer is automatic cleaning, like the Ultenic D5s Pro robot vacuum. With a robot vac, you can clean your house on a schedule, even when you're not at home. That said, even the strongest robot vacuum is nowhere near as powerful as the V17.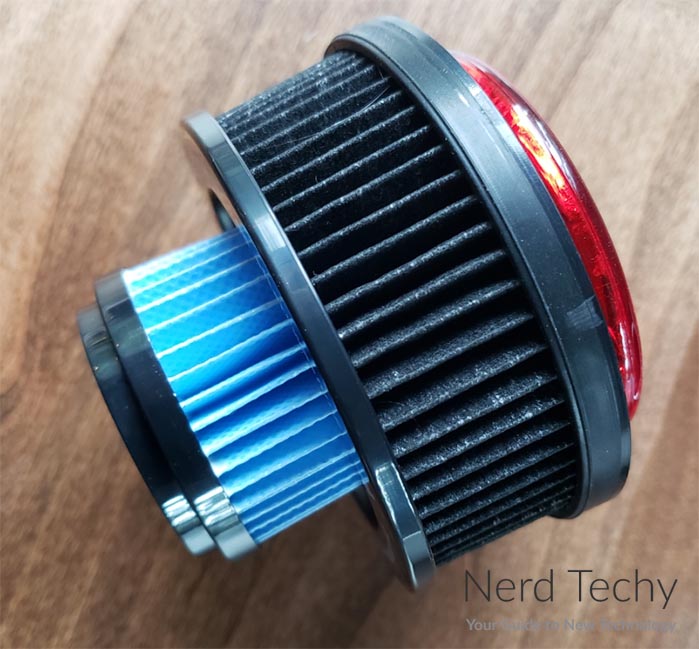 Battery & Filter
The RedRoad V17's 2,500mAh battery will last for up to 60 minutes on a single charge. Now, we should clarify that this is the maximum battery life on Eco mode. If you're using a more powerful setting, you'll get correspondingly less battery. But no matter how you cut it, the battery will last longer than most comparable battery-powered vacuums.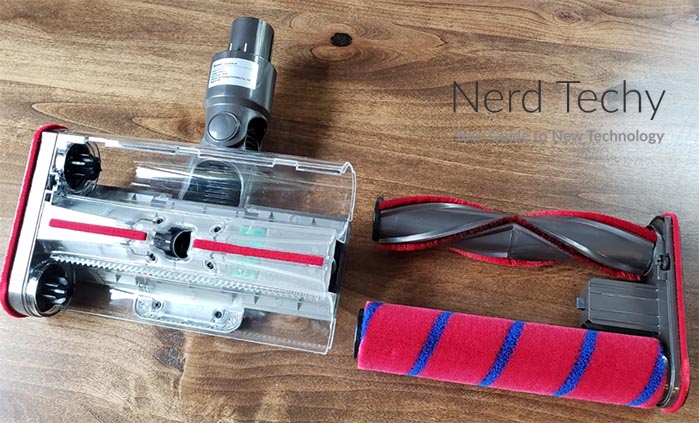 The filter system consists of a multi-layer system, starting with a cyclone that causes most dirt to drop out. The air then passes through a removable, washable metal mesh, which removes almost everything else. Finally, it gets sucked through a HEPA filter. This filter removes 99.97 percent of particles, down to as small as 0.1 micron. This includes dust, dust mites, pollen, mold spores, and even some bacteria. The filter is washable, but eventually it will wear out and need to be replaced.
One downside of the V17 is that it costs more than many vacuums. For a more affordable option, consider the MOOSOO XL-618A. It costs less, but there are fewer features and it's not as powerful.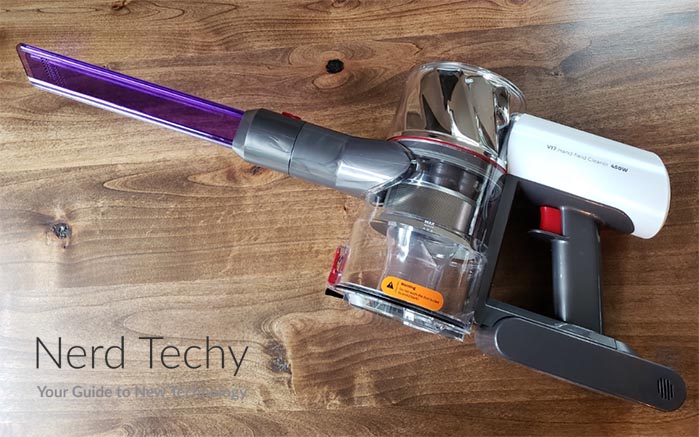 Final Verdict
All in all, the RedRoad V17 is one of the better battery-powered vacuums on today's market. It's powerful enough to handle any type of carpet, and it comes with a ton of attachments. The control scheme can be a bit complex at first. But once you get the hang of it, it offers lots of features. Not only that, but the main roller is versatile enough for carpets and floors alike. There's plenty to like here.