Finding the right pair of wireless earbuds can be a challenge these days. It used to be that there were a few major brands, and everything else was junk. Nowadays, there are far more companies producing quality buds, which means you have a huge array of choices. With literally tens of thousands of options, how do you know where to begin? One way to start is to look for a brand you know and trust. SoundPEATS is one brand with a reliable track record, and it's the one we'll be looking at today.
Specifically, we'll be reviewing two of their newer earbuds: the SoundPEATS Air3 and T3. The SoundPEATS Air3 are powerful buds with 14mm drivers and a low-latency gaming mode. On the other hand, the SoundPEATS T3 provide active noise cancellation, although they provide less punch.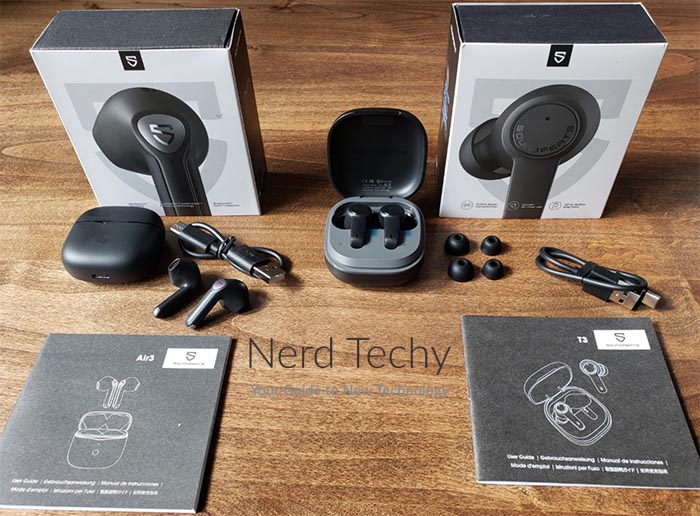 But that's just the beginning of the differences we're going to be looking at. We'll need to examine the physical design, the fit, and the battery life. We'll need to talk about how they're controlled, and the overall audio profile. Only then will we be able to compare these earbuds fairly. Let's get started, and see what we discover!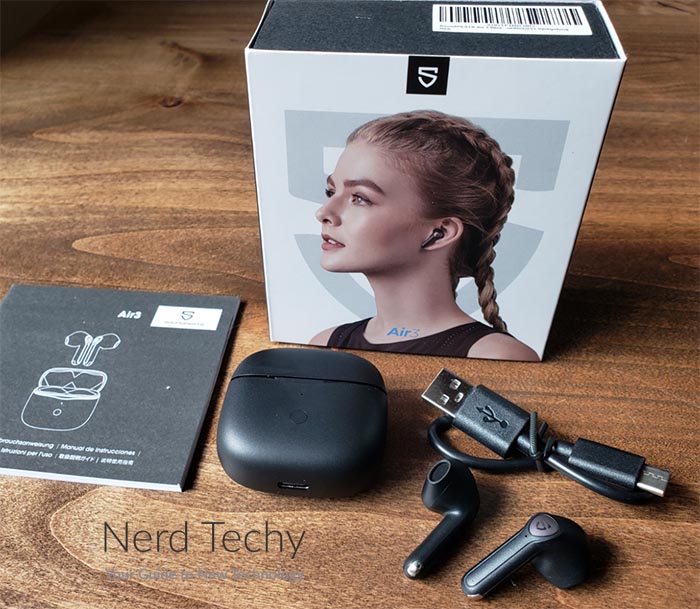 SoundPEATS Air3
The SoundPEATS Air3 are similar in many ways to the original Apple AirPods. They consist of a small in-ear shell, with a molded plastic tip that settles in your outer ear. Attached to this, there are vertical studs that hang down underneath. When properly positioned, the fit is very secure, and doesn't easily get popped out. The material is a smooth ABS plastic, which doesn't show fingerprints, and which cleans up easily.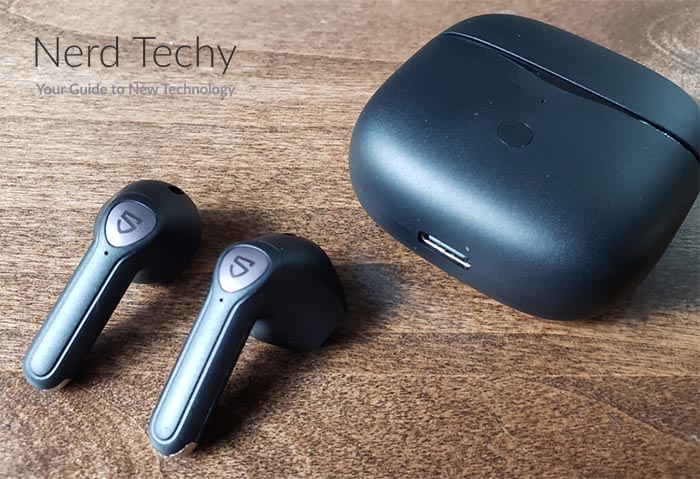 The earbud shells are mostly black, with the exception of a silver SoundPEATS logo on the back. These logos aren't just there for decoration; they also function as touch controls. You can use them to play and pause music, adjust the volume, and skip tracks. You can also call up Siri or Google Assistant to access your phone's other functions. In addition to that, you also get the benefit of infrared in-ear detection. When you remove an earbud, sensors will detect that it's no longer in your ear, and your music will pause. When you re-insert the earbud, the sensor will activate again, and your music will resume.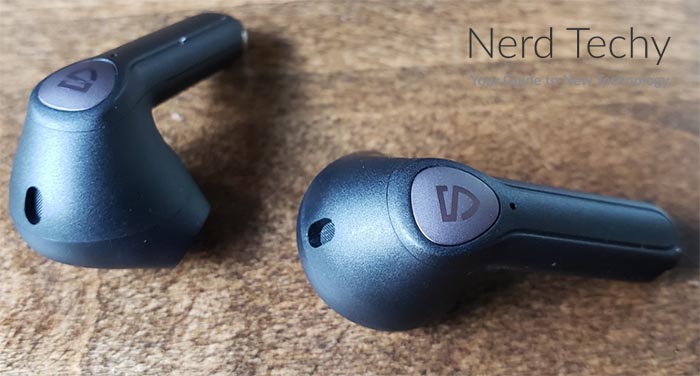 One downside of this general form factor is that some people don't like the vertical studs. If you prefer a more compact, in-ear design, take a look at the SoundPEATS Sonic. The features are nearly identical to the Air3, but they're small, in-ear shells with silicone tips.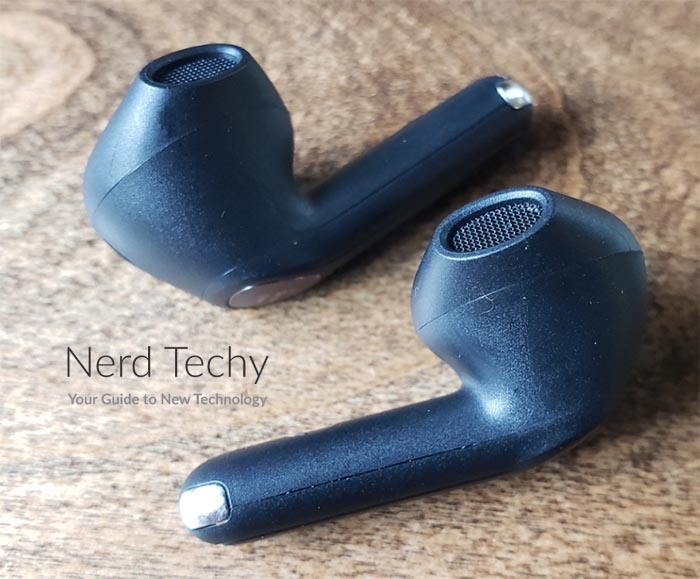 These earbuds are IPX5-rated for water-resistance. What this means is that they're sweat and splash-resistant, but not fully water-resistant. You wouldn't want to wear them in the shower, for example. But they're just fine to wear in the rain, or if you're sweating bullets from an intense workout. Most importantly, they're just fine to wipe down with a damp cloth when they're dirty.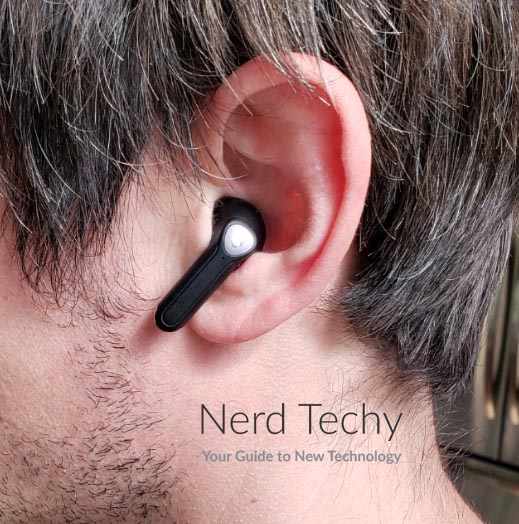 Like most wireless buds, the Air3 come with a charging case. It's made from a matching black ABS plastic, with a vertical profile. There are two molded wells inside, where the buds simply drop into place. Since they're molded for left and right, there's no risk of getting your earbuds mixed up. The clamshell-style lid stays closed easily, and keeps the buds nice and secure inside. There's a single LED light on the front, which illuminates when the charger is active. A USB Type-C charging cable is included, for plugging the case in.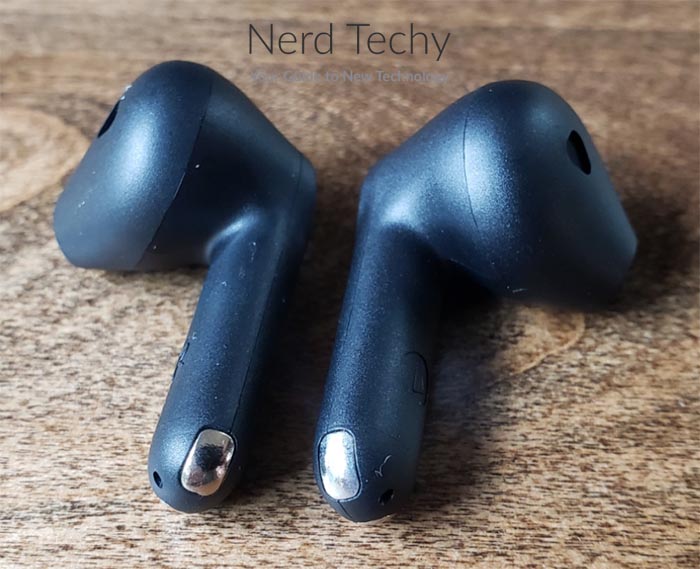 Battery & Connectivity
The SoundPEATS Air3 earbuds will get approximately five hours of play time per charge. This assumes playback at medium volume, so consider how you use your phone. If you like the volume to be cranked up to 11, you can expect to get correspondingly shorter battery life. Then again, if you're listening to quiet music, or only keeping the buds in for calls, they'll last longer. The charging case itself carries enough charge to recharge the batteries 2 ½ times. This works out to about 17 ½ hours of total playtime, depending on how you prefer to listen.
The earbuds themselves will charge in a little over an hour, and the case will fully charge in about 90 minutes. It charges via USB Type-C, and can be plugged into any USB port or AC charger.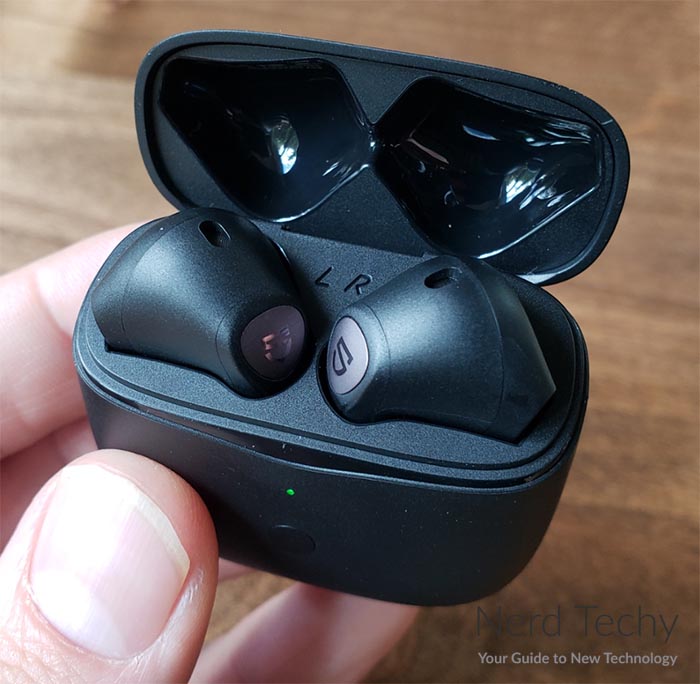 These earbuds utilize the Bluetooth 5.2 wireless protocol. This is an updated version of the Bluetooth 5.0 protocol that's designed for even lower latency. With traditional Bluetooth, the phone connects to one earbud, which is the primary bud. The second earbud then connects to your phone via the primary. This introduces additional delay into the system. With Bluetooth 5.2, both earbuds are connected directly to your phone. This results in a much faster connection, with less delay between the video and the audio. You also retain the other benefits of Bluetooth 5.0, such as higher bandwidth and better signal stability.
In addition, the Air3 buds feature an optional gaming mode where latency is reduced even further. This mode draws a tad more power, but it's perfect for online gaming. If you want a longer-lasting pair of gaming buds, the SoundPEATS H1 are a solid choice. In addition to featuring a gaming mode, their charging case provides twice as many recharges. On the downside, they don't have as much power on the low end.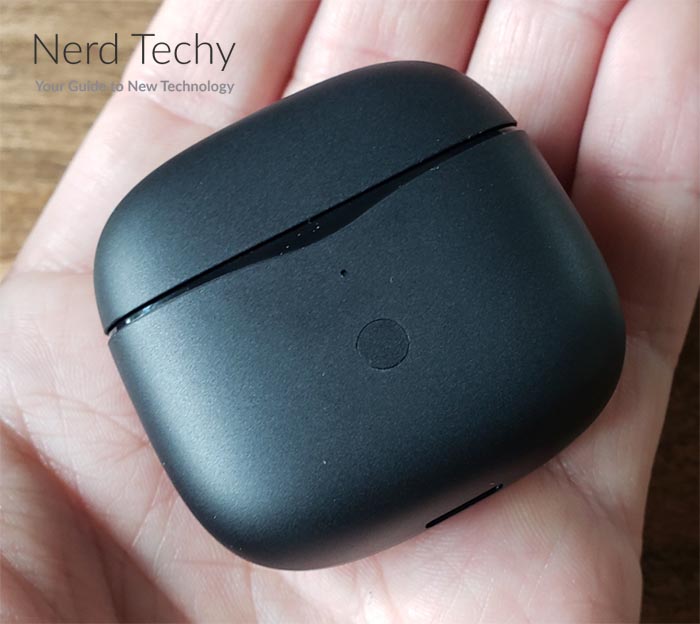 Audio Quality
The Air3 earbuds utilize 14.2mm bio-compound drivers, which are quite large for wireless buds. This allows them to produce a lot of volume, and even medium volumes are quite loud. In addition, the powerful drivers push out a ton of bass. If you're looking for a hard, driving pair of earbuds for your workout, these are a solid choice. Response is also good across middle and higher frequencies. Highs are crisp and clear, without any harshness. Mids are also clear, without a lot of crowding from the high or low end. So while the balance is bass-heavy, everything is there.
These earbuds are a good choice for hands-free calling. They utilize four separate mics, which gather sound from all directions. The sound is then passed through a Qualcomm CVC 8.0 chipset, which eliminates background noise. If you're in a loud environment, the other person will still be able to hear you clearly.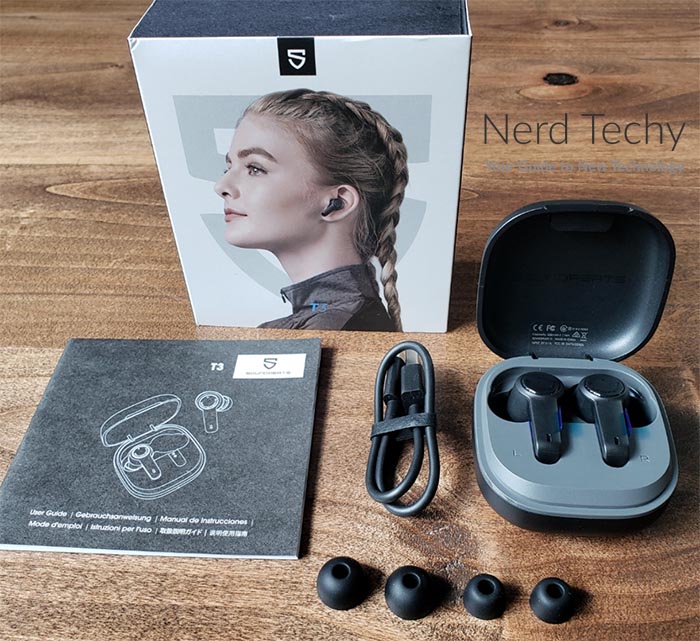 SoundPEATS T3
The SoundPEATS T3 are similar to the Air3 in that they have a vertical design. But while the A3 buds have oval studs, the studs on the T3 buds are flattened. This makes for a tighter profile, and easier insertion into the charging case. The shells that fit inside your ears are also smaller, although they maintain an ergonomic profile. However, they come with silicone tips, which provide for a more secure fit. More importantly, silicone tips provide a better seal, which helps block out outside noise. This compliments the T3's active noise cancellation (ANC) function, which we'll discuss more shortly.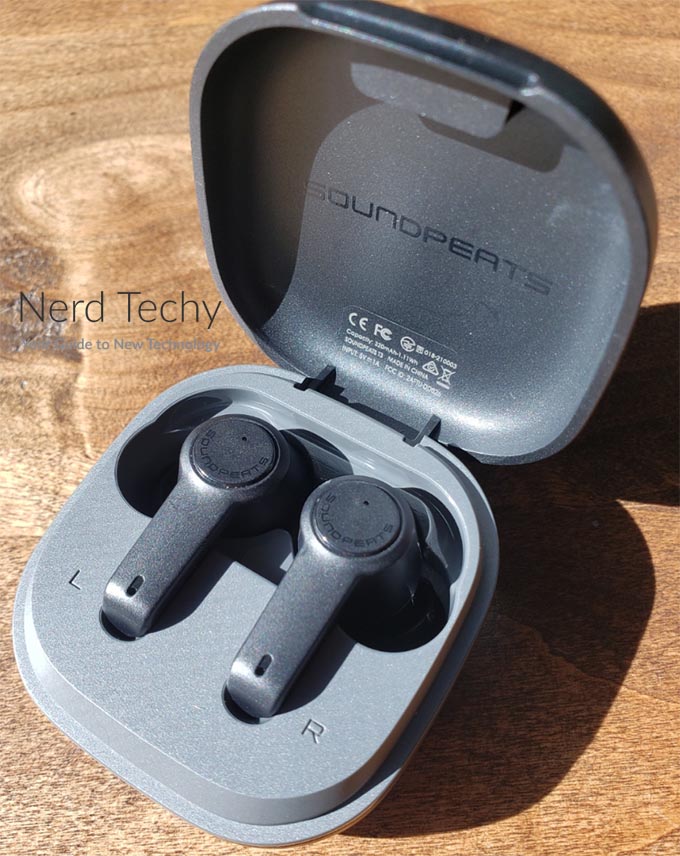 These earbuds come with a water-resistance rating of IPX4, which means they're barely splash-proof. We'd avoid getting these wet, except for when you're cleaning them. Sweat is also no big deal, although you'll want to stay out of the rain. Other than that, keep them dry.
If water-resistance is a major concern for you, consider the SoundPEATS TrueFree 2. These buds have a water-resistance rating of IPX7, which means they're submersion-proof. You can take them in the shower without any concerns, but unfortunately, they have a short battery life.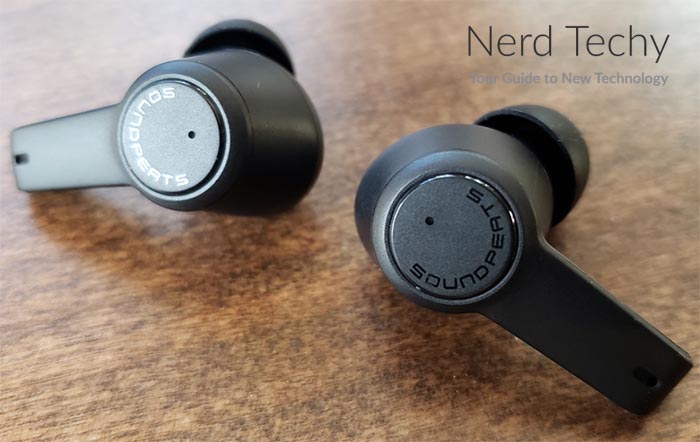 Unlike the Air3 earbuds, the T3 come with a horizontal case, rather than a vertical one. But the difference is mostly cosmetic. The case works the same way, and even has a single LED light indicator.
Battery & Connectivity
The T3 earbuds will last a little bit longer than the Air3's, with about 5 ½ hours of playtime. That said, the case doesn't carry as much of a charge. Instead of getting you a total of 17 ½ hours, your total playtime is around 16 ½. That's not a huge difference, when you account for other variables. But it's still worth taking into consideration.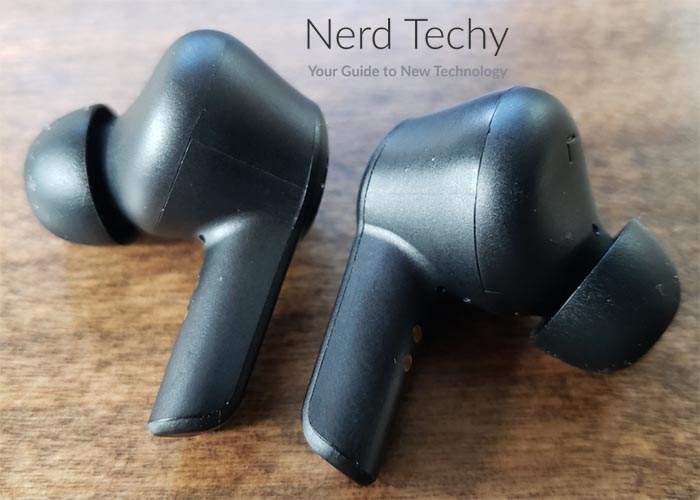 One area where the two areas are the same is that they both utilize a Bluetooth 5.2 connection. This makes the T3's perfectly suited for watching movies and playing video games. On the downside, it doesn't have the gaming mode option that the Air3 has.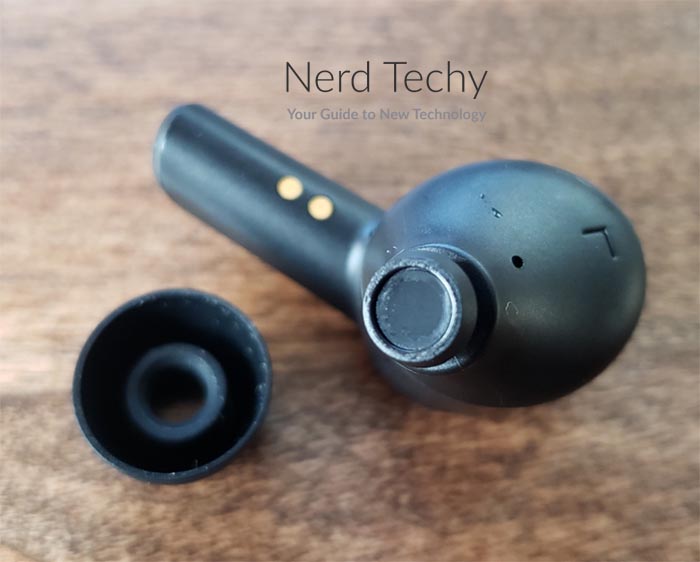 Audio Quality
The drivers in the T3's are 10mm in diameter, and they're not quite as powerful as the Air3's. That said, they have a more balanced frequency response. There's plenty of richness in the lows, the mids, and the highs, so you can hear all your music's details. The bass is fully present, but doesn't overshadow the rest of the mix. And the soundstage is nice and wide, so you get a good sense of space while you're listening. All in all, we were very pleased with the quality of the audio.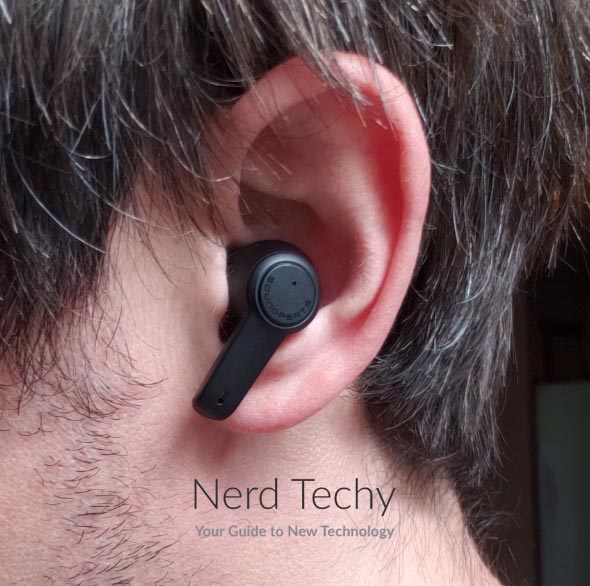 In addition to providing excellent audio, the T3 earbuds also have an ANC function. This function reduces background noise by about 24dB, which is very noticeable. It's not going to completely remove loud noises, but it will make plane engines more bearable. You can also set the ANC function to transparency mode, which actually amplifies outside noise. This is great if you want to have a conversation without taking off your buds. Alternatively, you can turn ANC off altogether.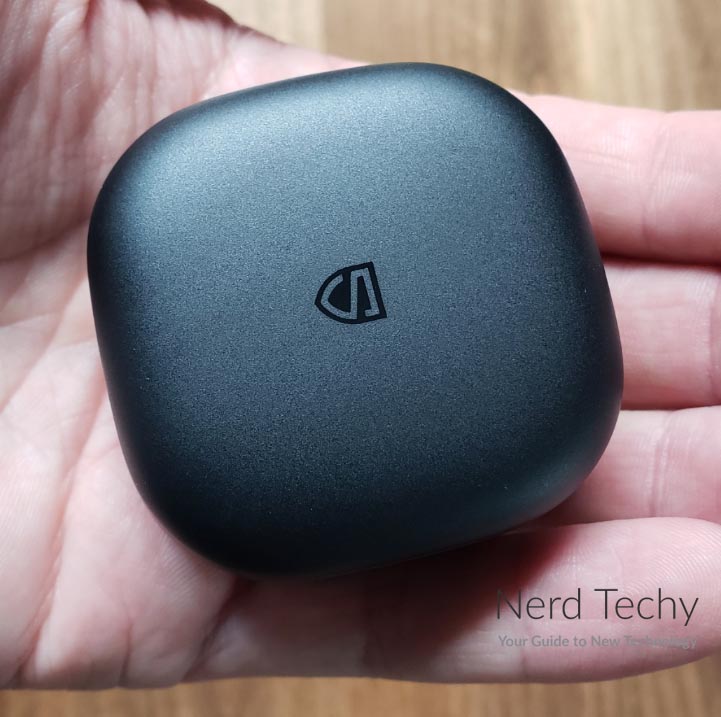 These earbuds use a proprietary AI solution for voice isolation. This technology, called Sound+, noticeably reduces background noise when you're talking on the phone. That said, it's not as good as CVC, which is what you'll find on most earbuds with voice isolation.
Final Verdict
The SoundPEATS Air3 and the SoundPEATS T3 are very similar in many respects. Both have a vertical design, both use Bluetooth 5.2, and both have similar battery life. The main difference is their form factor. While the Air3 buds have molded tips, the T3's are silicone, for a more secure seal. The T3's also come with an ANC mode, for a quieter listening experience. That said, the Air3 has better water-resistance. It also has a more bass-heavy EQ, which many people prefer for workouts.
Meet Derek, "TechGuru," a 34-year-old technology enthusiast with a deep passion for tech innovations. With extensive experience, he specializes in gaming hardware and software, and has expertise in gadgets, custom PCs, and audio.
Besides writing about tech and reviewing new products, Derek enjoys traveling, hiking, and photography. Committed to keeping up with the latest industry trends, he aims to guide readers in making informed tech decisions.