Until very recently, nobody used wireless earbuds. They had a niche user base of podcast listeners and hands-free callers. But for the most part, anyone who wanted to listen to music stuck with an old-school, wired set of buds. The reason for this is simple: sound quality. With older wireless protocols, Bluetooth audio was awful. You were limited to one channel, so there was no separation between instruments or sense of space. You also couldn't listen to higher-bitrate audio, so everything sounded hollow or tinny.
All of that changed with the invention of True Wireless Stereo (TWS). TWS technology allows for high-quality audio on a pair of wireless earbuds. Within less than a year, Apple released the iPhone 7 as a wireless-only design, and the rest is history. Now, everybody is using wireless earbuds. This has led to an explosion of available products, so consumers have plenty of choices. Unfortunately, it's tough to sort out the good earbuds from the bad.
Today, we're going to take a stab at two new pairs of earbuds. First, we'll look at the TOZO NC9 Hybrid Active Noise Cancelling Wireless Earbuds. These earbuds don't just offer ANC technology, they're also very comfortable. Next, we'll check out the TaoTronics SoundLiberty 88 True Wireless Earbuds. These earbuds boast an impressive water-resistance rating. So, how do they compare? Let's take a closer look, and see how things shake out.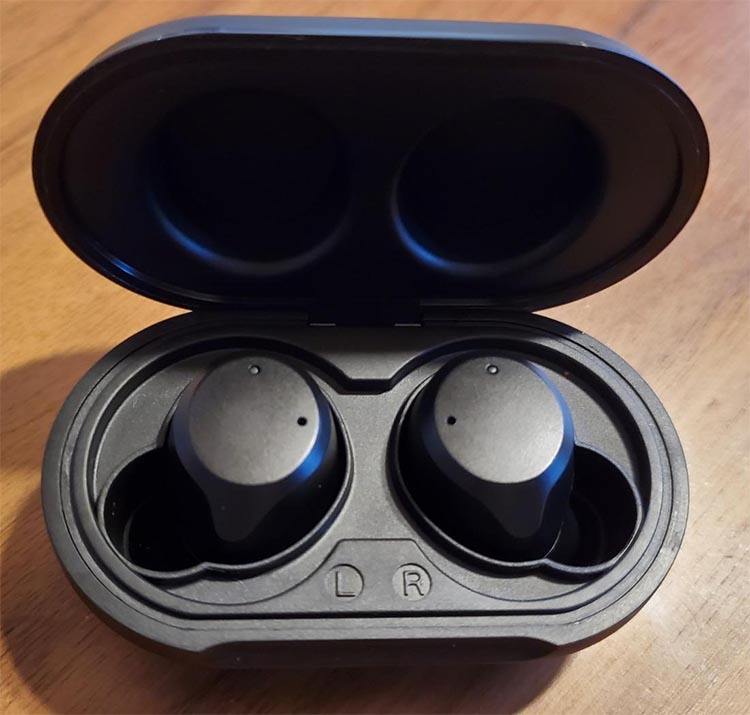 TOZO NC9 Hybrid Active Noise Cancelling Wireless Earbuds
TOZO is a well-known manufacturer of sound equipment. In the past, we've reviewed their TOZO T12 Wireless Earbuds, and we were mostly impressed. The first thing we noticed when we opened the TOZO NC9 Hybrid Active Noise Cancelling Wireless Earbuds was the ergonomics. The buds have long, slender stems that are designed to sit deep inside your ear canals. These stems ensure a secure fit, even when you're being physically active. Of course, a secure fit depends on using the correct set of ear tips. Thankfully, the NC9 box includes three extra sets in different sizes, so you're almost guaranteed to be comfortable.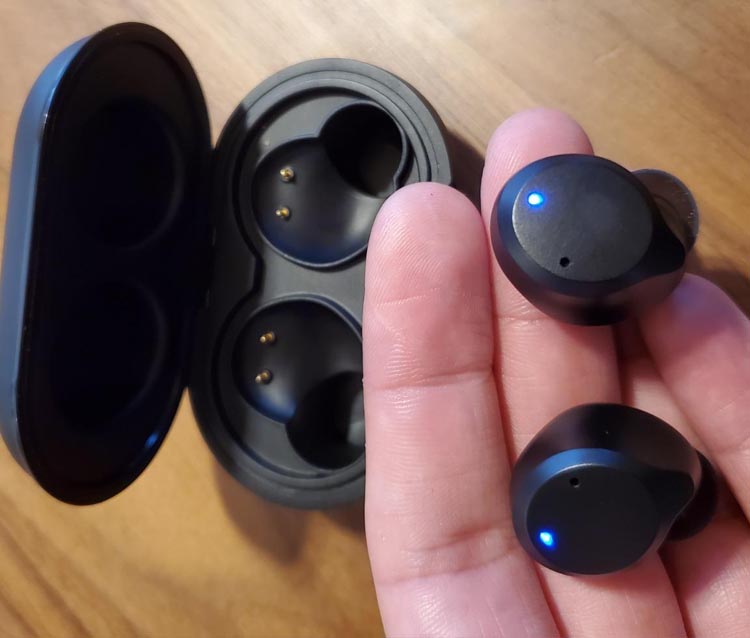 The ergonomics of the NC9 earbuds are further improved by small earbud shells. Because they're compact, they won't press on the inside of your ear. This eliminates a major source of discomfort. On the back of each bud, there's a soft touch button for easy operation. You can skip tracks, play or pause your music, answer or end calls, and activate your voice assistant. Not only that, but NC9 buds come with a water-resistance rating of IPX6. In other words, they won't tolerate submersion, but they'll tolerate anything up to that. Even if you wear them in the shower, they're going to come out just fine.
The charging case is constructed from a matte black ABS plastic, with an attractive silver ring around the opening. It has a clamshell design, and is spring-loaded for security and ease of use. A small groove under the lid makes it simple to snap open with one thumb. Underneath, you'll find a row of four white LED lights, which display the current battery level. Along with the case, you get a USB Type-C charging cable. This plugs into a port in the back of the case, which is discreetly located under the lid hinge.
Battery & Connectivity
The TOZO NC9 earbuds are rated to last for eight hours on a single charge. If you need even more than that, the charging case provides an additional 24 hours of battery life. Now, these are manufacturer's ratings, and you expect to see a bit of wiggle room. For instance, manufacturer's ratings are typically based on playback at medium volume. So it's normal to see shorter playback times when you're cranked up to full volume. Unfortunately, the NC9 buds don't come anywhere close to their advertised performance. At most, you can expect to get five hours on a single charge, with an extra 15 from the case. This works out to a total of 20 hours, which isn't terribly impressive.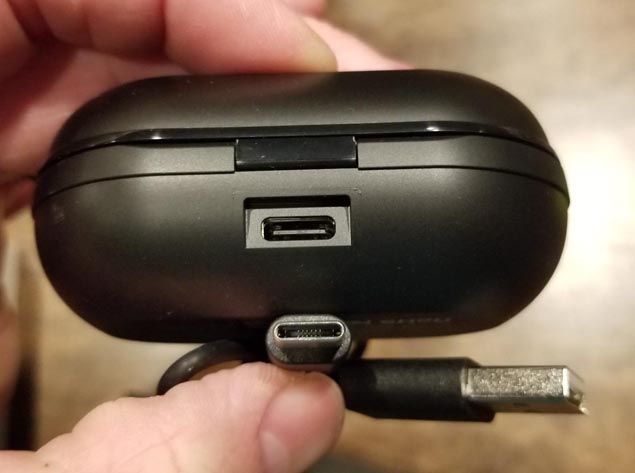 The NC9 buds use the latest Bluetooth 5.0 wireless protocol. This protocol ensures that you can get the best possible connection available with modern technology. You get lower latency, higher bitrates, and a more stable connection than with Bluetooth 4.2. You also get easier pairing. Once your buds have been paired for the first time, they'll reconnect automatically when removed from the case.
Sound Quality
Of course, even the most well-engineered earbuds aren't much good if the sound quality is sub-par. In this regard, the TOZO NC9 earbuds perform very well. To begin with, the middle and high frequencies are both crystal clear. You won't have any issues with vocals, cymbals, strings, or high synths. Similarly, there's plenty of separation between instruments. Audiophiles will appreciate the wide soundstage.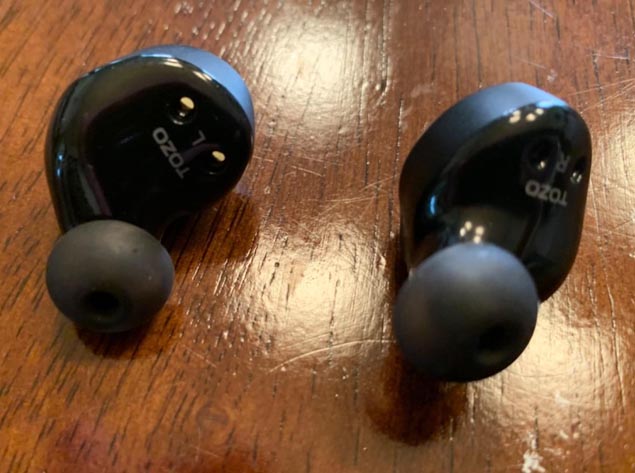 Where the NC9 buds shine the most is bass performance. These puppies pack a powerful punch, more than you'd expect from its compact drivers. If you want to drown out the world, you'll have enough power to do it. And when you need to interact with others, transparency mode can be activated with the touch of a button. This temporarily lowers the volume, so you can quickly pay for a cup of coffee or ring up your groceries.
The TOZO NC9 earbuds use a proprietary form of noise isolation. Instead of a software solution like CVC 8.0, they utilize a hardware solution. The earphones sport dual external mics, as well as a dedicated internal mic. By combining these signals, the earbuds effectively eliminate background noise and bring your voice to the forefront.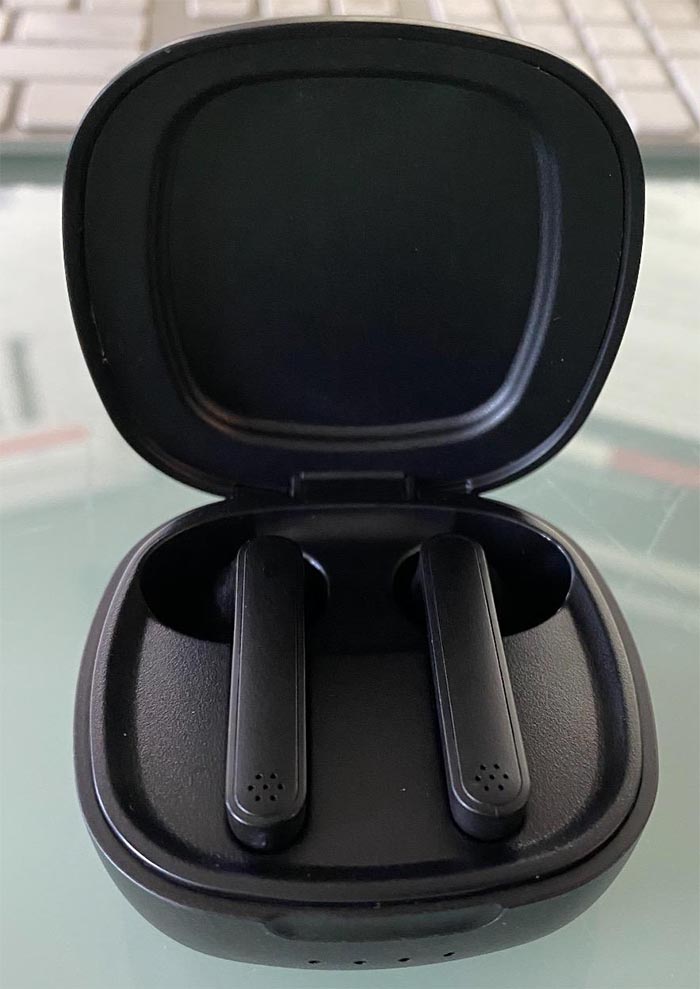 TaoTronics SoundLiberty 88 True Wireless Earbuds
Fans of audio equipment should require no introduction to TaoTronics. In addition to simple earbuds, they also manufacture full-sized wireless headphones for even richer sound. TaoTronics has further expanded its business by offering home goods, such as air purifiers.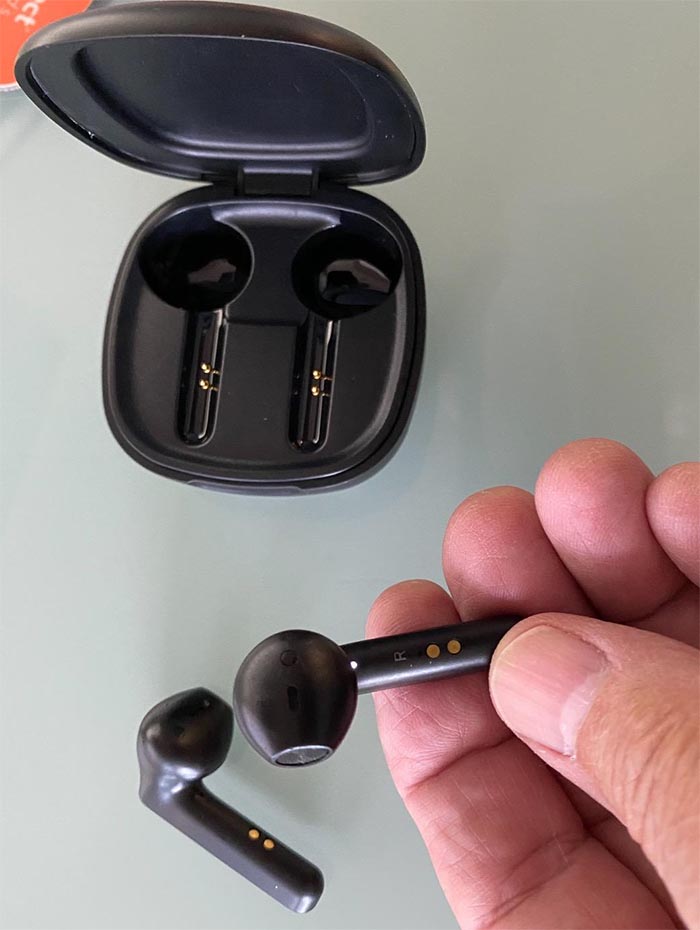 The most obvious difference between the TaoTronics SoundLiberty 88 True Wireless Earbuds and the NC9 buds is their design. Instead of sitting deep in your ear canals, they have a tipless design that nestles in your outer ear. This makes them a great choice if you have very sensitive ears and prefer a tipless bud. On the other hand, this also makes them more prone to falling out, since there's no physical seal.
One area where the SoundLiberty 88 buds excel is water resistance. They come with an IPX8 water-resistance rating, which is the highest available. In fact, it's so high that manufacturers must request a specialized test in order to get this certification. Suffice it to say that they should even survive a drop in your backyard swimming pool. As far as these buds are concerned, your ears are as dry as the Sahara during your morning workout.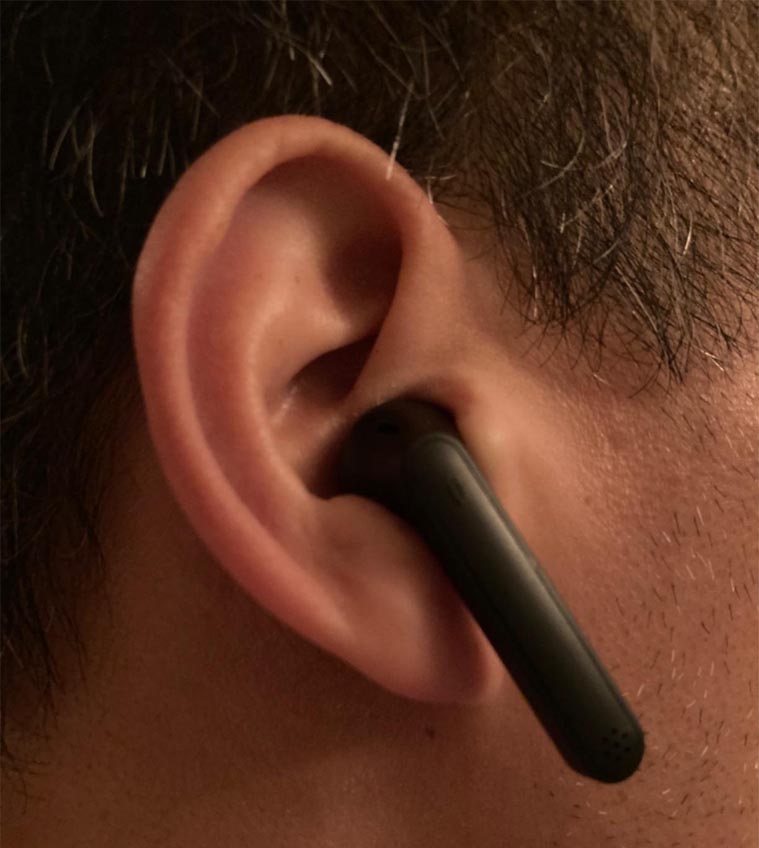 The charging case has a wide, flat design with a matte black ABS finish. It sports a clamshell-style lid, rather than the AirPod-style lid like you find on most cases for this style earbud. On the one hand, this is more convenient for tabletop use, since the flat case isn't likely to tip over. On the other hand, it's a pain for carrying in your pocket, since it has a large profile. Underneath the lid, there's a row of four LEDs to inform you of the battery life. Like the NC9 buds, the SoundLiberty 88 buds also include a USB Type-C charging cable.
Battery & Connectivity
The TaoTronics SoundLiberty 88 earbuds offer up to five hours of playback on a single charge. Manufacturer ratings being what these are, this translates to about four hours at full volume. This isn't impressive, but it's more than enough for a workout commute. Using the charging case, you can recharge the earbuds up to five times. This gives you up to 30 hours total playback at medium volume, or about 24 hours at full volume.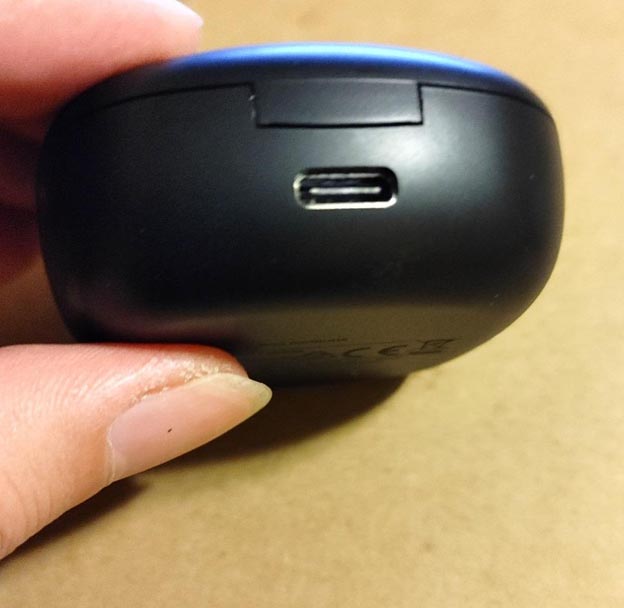 The SoundLiberty 88 buds use the same Bluetooth 5.0 connection as the NC9 buds. This comes with all of the same benefits. In addition, they also have built-in accelerometers that can sense when the buds are in your ears. When you remove one earbud, your music automatically pauses. This makes it easy to engage in quick social interactions. When you're done, simply put your earbud back in and your music will resume playing.
Sound Quality
The SoundLiberty 88 earbuds offer much better sound quality than you'd expect at this price point. To begin with, the soundstage is nice and wide. There's plenty of separation between instruments, providing a more immersive listening experience. Middle and high frequencies are crystal clear. Everything from vocals to triangles will come through with plenty of shimmer. The bass is also impressive, especially given the size of the earbuds. All in all, you're looking at the complete audio quality package.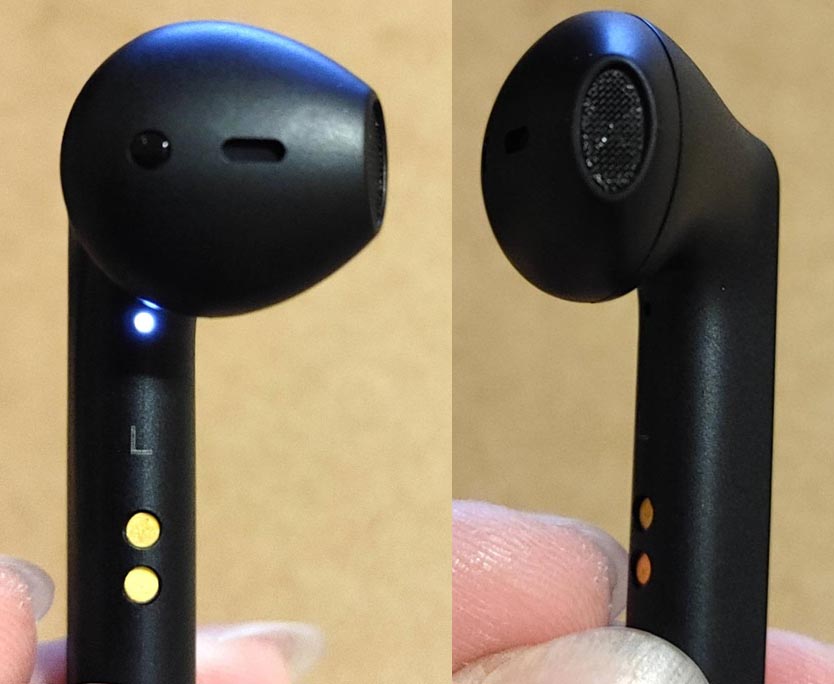 For hands-free calling, the SoundLiberty 88 buds feature a pair of dual external mics. On their own, these mics don't offer as much noise reduction as the NC9's noise reduction system. However, they're paired with an internal chipset that reduces frequencies from 200 to 3,000Hz. This dramatically improves clarity. It's most effective at eliminating deep rumble, such as a train or a jet engine.
Final Verdict
As you can see, the main difference between these earbuds is the physical design. But there are a few other factors that are also worth taking into consideration. Let's review what we've learned. First, we looked at the TOZO NC9 Hybrid Active Noise Cancelling Wireless Earbuds. With their deep, in-ear fit, these buds offer excellent ergonomics for most people. They also have a very secure design, so they won't fall out easily during physical activity. The battery life was disappointing, particularly given TOZO's advertising. On the other hand, the sound quality was impressive, and call quality was better than we expected.
The TaoTronics SoundLiberty 88 True Wireless Earbuds have a more straightforward, AirPod-style design. On the one hand, this offers more comfort for people with sensitive ear canals. On the other hand, the fit by its very nature isn't terribly secure. Battery life was comparable to the TOZO, but performed as advertised. The sound quality was more or less comparable. That said, both the built-in accelerometers and improved hands-free calling were much appreciated.
Meet Derek, "TechGuru," a 34-year-old technology enthusiast with a deep passion for tech innovations. With extensive experience, he specializes in gaming hardware and software, and has expertise in gadgets, custom PCs, and audio.
Besides writing about tech and reviewing new products, Derek enjoys traveling, hiking, and photography. Committed to keeping up with the latest industry trends, he aims to guide readers in making informed tech decisions.