If you're in the market for a new set of wireless earbuds, it's easy to get confused. There are just so many options available! On the one hand, this is a good thing. If there's a particular combination of features you're looking for, chances are good that it exists. On the other hand, this large number of products also poses a challenge. With so many choices, it's tough to separate worthwhile earbuds from those that aren't worth buying.
One way to choose a good set of buds is to go with a reliable manufacturer. Vankyo has an excellent record in this regard. They produce several wireless earbud models, all of which are worth considering. They also produce other home entertainment equipment, including full HD projectors. With this much experience, we had high expectations for both of their new offerings.
Today, we'll be looking at two different sets of wireless buds. First up, we'll be checking out the Vankyo X180 Wireless Earbuds. These compact buds are designed to deliver maximum bass in a pint-sized package. Next, we'll look at the Vankyo S05A Wireless Earbuds. These earbuds are built for workouts, and are also optimized for hands-free calling. But how well do they compare in other regards? We're going to look at every feature, from the quality of construction to the battery life to the sound quality. Once we've gotten a closer look, we'll be better equipped to render a final verdict. Let's get started!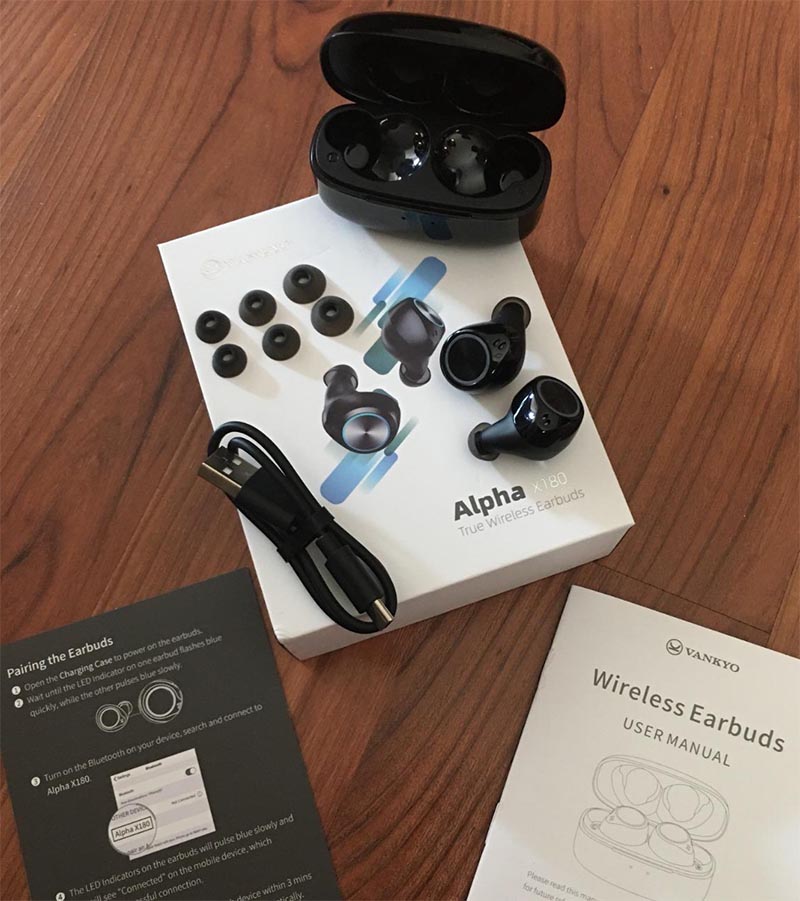 Vankyo X180 Wireless Earbuds
The Vankyo X180 Wireless Earbuds have a classic in-ear design that's compact and understated. On the one hand, this makes for a comfortable, low-profile fit and easy portability. On the other hand, this type of design requires a good, secure fit to avoid falling out of your ears. Thankfully, there are three different sets of ear tips included in the package. If the default tips are too big or too small, try swapping them for another option. When properly fitted, the buds are surprisingly comfortable, and the soft touch controls are easy to operate. You can skip tracks, answer calls, and more without pressing hard on your ear canals.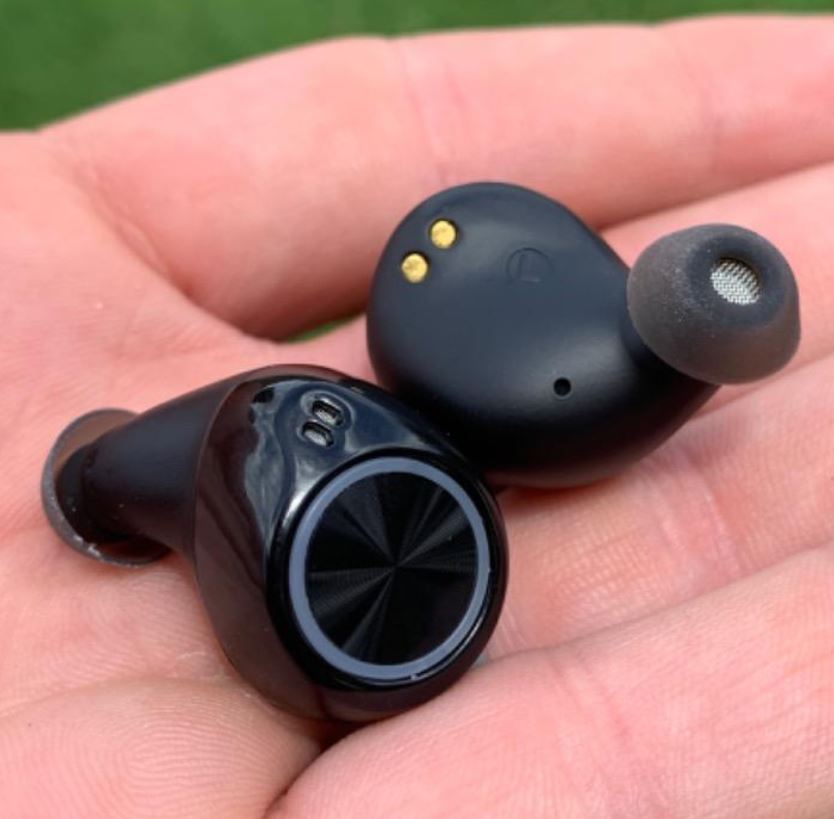 The buds are also IPX7 water-resistant. This means they're rated for full submersion, although they still haven't been tested at deeper than a meter. Still, you can take them in the shower or use them while swimming in a shallow pool. The glossy black shells can be a bit of a fingerprint magnet, but they're easy to clean with a damp cloth.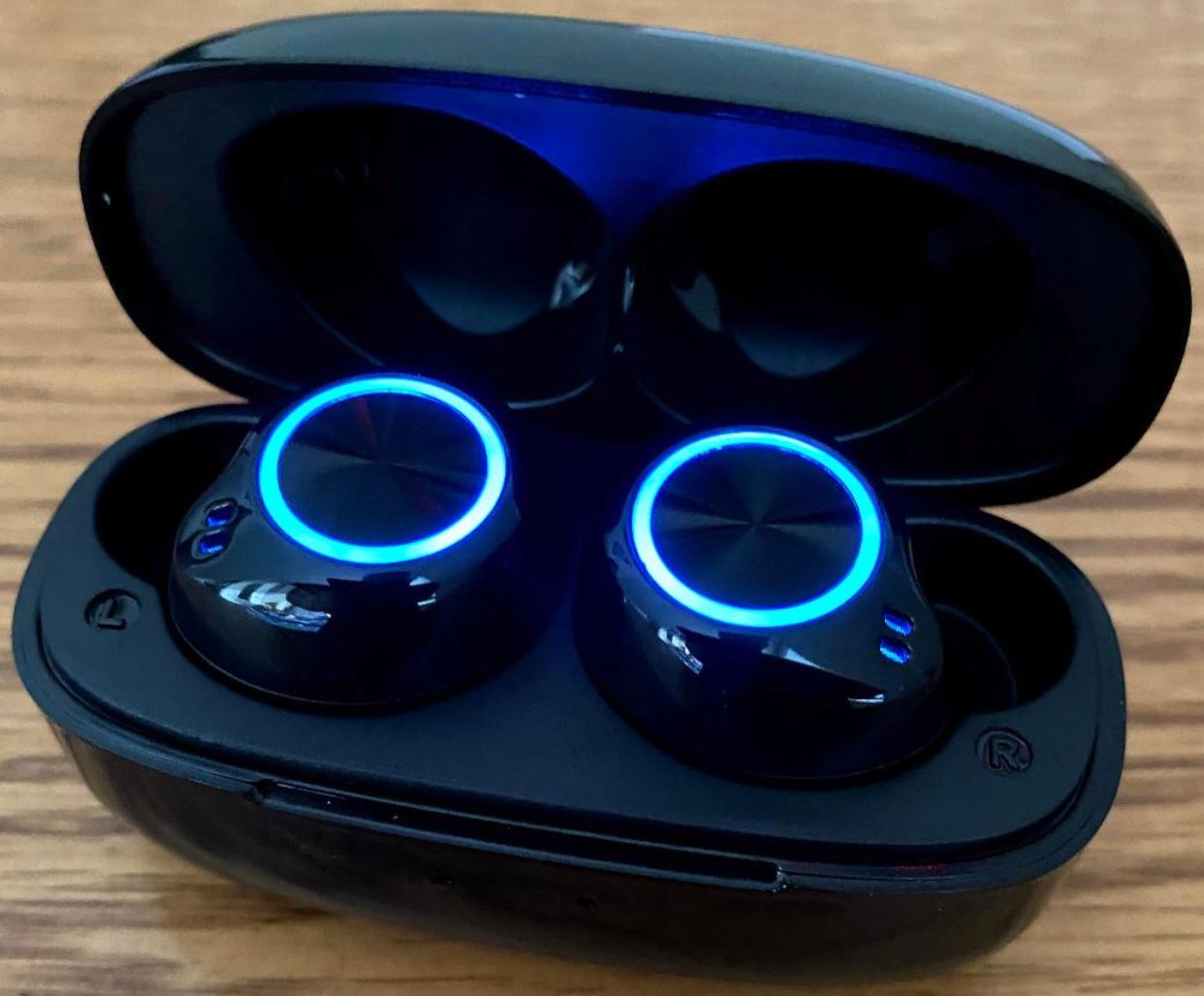 Along with the earbuds, you'll get a charging case with a matching glossy black finish. It has a spring-loaded clamshell-style design, which makes it easy to open. Underneath the opening, there's a small groove for easy opening with your finger or thumb. There's also a pair of LED lights, which will breathe when the earbuds are charging. The overall measurements of the case are 2.17 inches wide, 1.57 inches tall, and 0.71 inches thick. Combined with the light 4.1-ounce weight, this slim form factor makes the X180 exceptionally portable. You can easily slip it in a pocket and forget about it.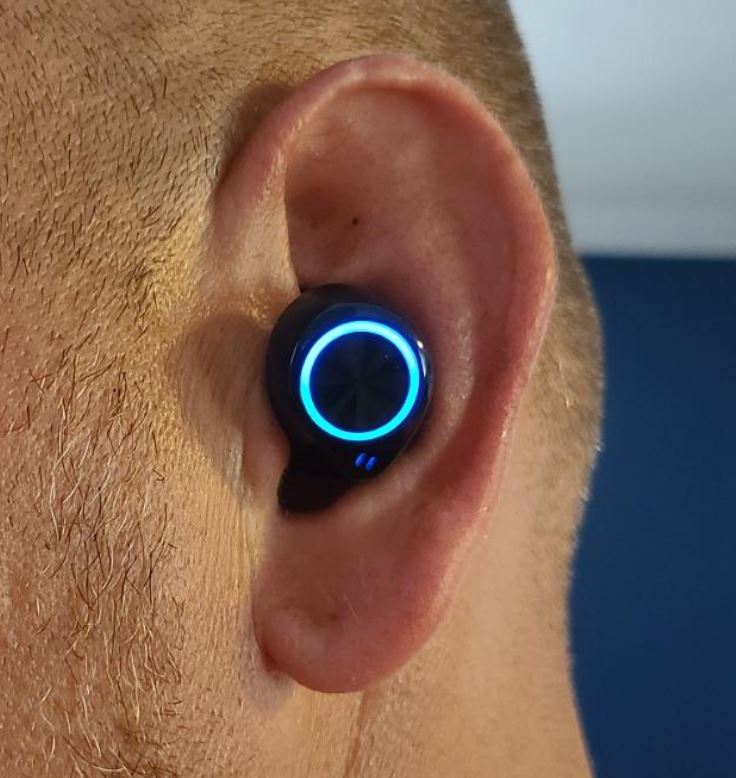 Battery and Connectivity
The Vankyo X180 will provide around five hours of playback on a single charge. This is a manufacturer's rating, and you can expect more like four hours if you like to listen at max volume. Regardless, it's slightly less than average for an earbud battery, but it's not terrible. It's certainly enough to get you to work and back before you recharge. If you need to go longer without plugging in, the charging case will provide four additional charges. This works out to a maximum total playtime of about 20 to 25 hours. When you have to plug in the case, the USB Type-C charger will top the battery up in 90 minutes.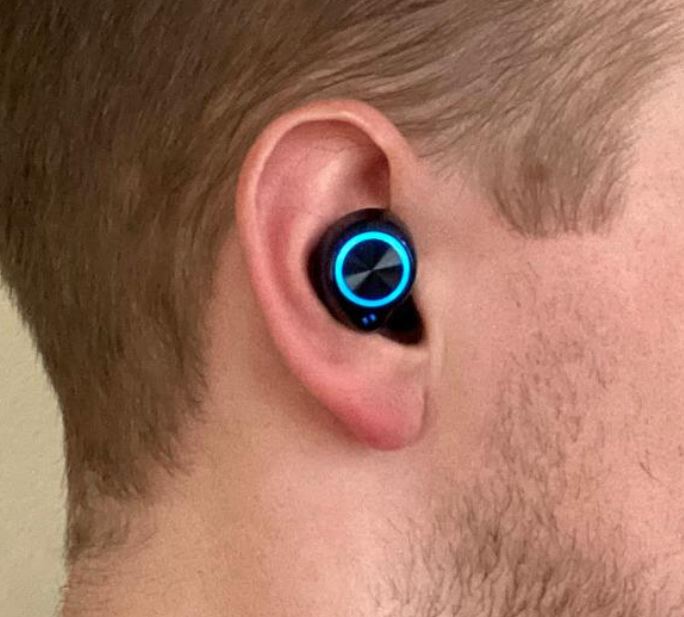 The X180 earbuds connect to your phone with the Bluetooth 5.0 protocol. This is the latest version of Bluetooth, and supports several useful features. Most importantly, you get a more stable connection, which means fewer dropped calls or skipping songs. But you also get lower latency, which makes the earbuds better suited for watching videos than older buds. Finally, Bluetooth 5.0 supports higher-bitrate audio, so you can enjoy your music in high definition.
The X180 buds in particular support both individual and stereo pairing. You can listen to music in stereo, then switch to a single earbud for hands-free calling while driving. You an also set your buds to a special "sharing" mode, where both buds play the same mono channel. This is a fun way to share your favorite songs with a friend.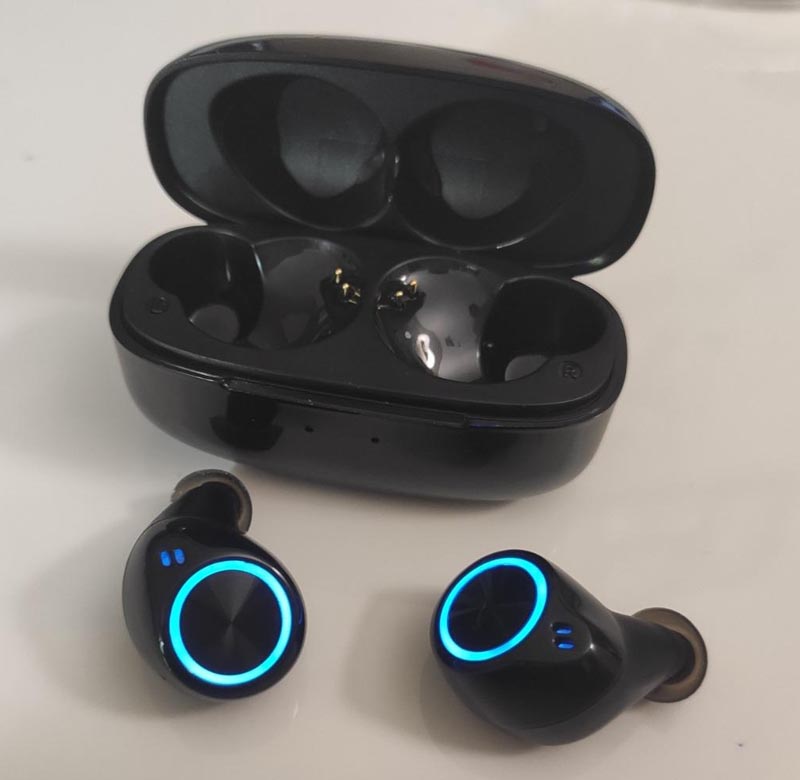 Sound Quality
The Vankyo X180 earbuds are no slouch when it comes to sound quality. Now, we should be clear that we're talking about small, 6mm drivers here. They're not going to perform the same as big, Mickey Mouse-style studio headphones. But considering the compact size, the performance is excellent. Most of all, you'll notice the powerful, punchy bass. Fans of metal, hip hop, and dance music will love the powerful drums and tight low end.
Middle and high frequencies are as good as expected, with plenty of clarity and crispness. The highs are nice and shimmery, and the mids provide rich vocals and rhythm guitar. The best feature here is the wide soundstage, which you wouldn't expect from such a small set of buds. The frequencies are all well distinguished, which leaves a lot of separation between instruments. This results in a "bigger" sound, not the thin, "squished" sound you often hear from smaller earbuds.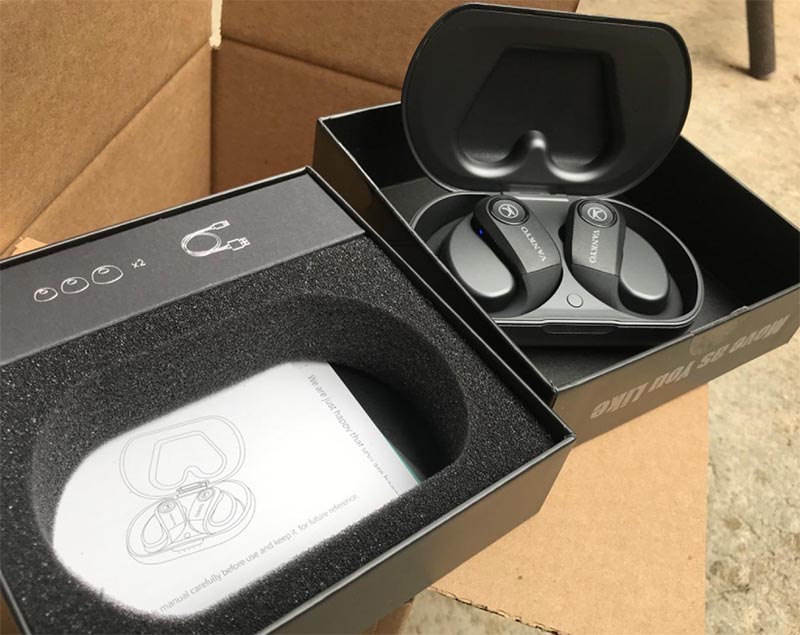 Vankyo S05A Wireless Earbuds
The Vankyo S05A Wireless Earbuds are a bit chunkier than the X180 buds. While the X180's design is all about a low profile, the S05A's over-the-ear design is engineered for security. This ensures that the earbuds will stay attached to your head, even during intense physical activity. The obvious downside for some people is comfort. This is a matter of personal preference. But if you don't mind a set of buds with rubber ear hooks, you're looking at a very secure design.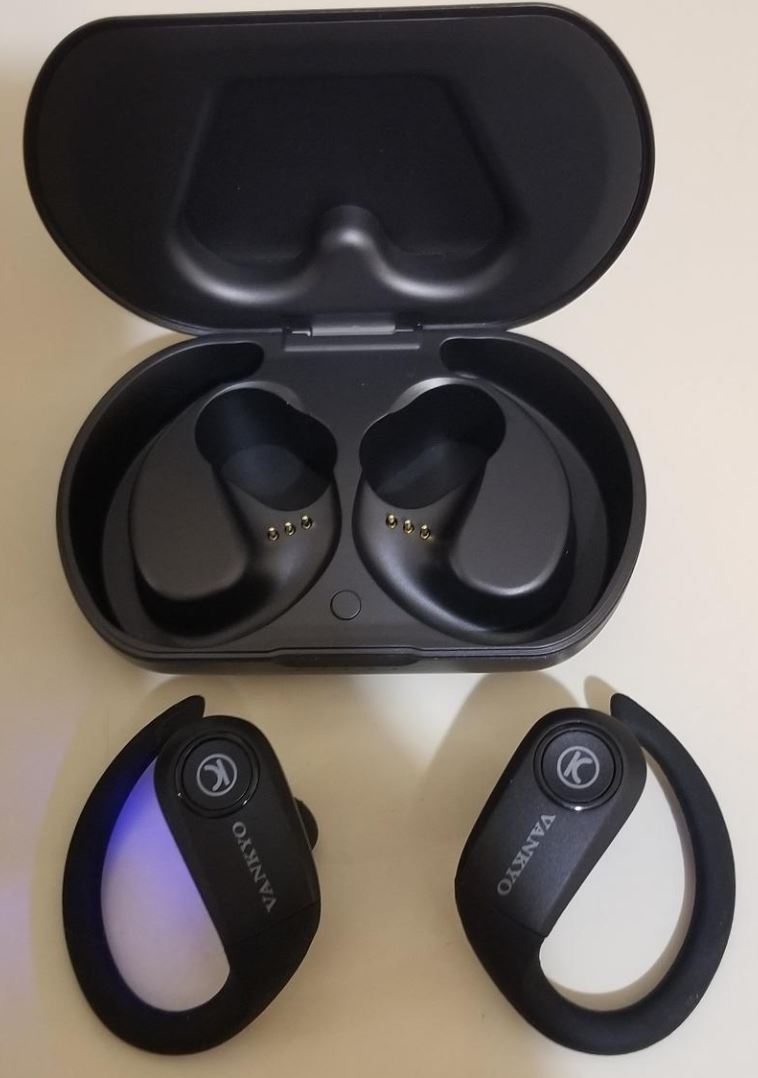 A side benefit of this large design is that the S05A earbud controls are easy to find. They're large square buttons on each bud, and operation is as easy as a light touch. This makes them easy to operate while you're exercising. Like the X180 earbuds, the S05A buds have a water-resistance rating of IPX7. Wear them in the shower if you like, and they won't suffer any damage. A sweaty workout or a rainy hike is all in a day's work for the S05A.
The S05A case has a standard clamshell-style design, and sports a similar satin black finish to the buds themselves. It measures 5 inches wide, 4.9 inches deep, and 1.5 inches thick. This is fairly large, so you won't want to carry it in your pocket. That said, the total weight is only 7.2 ounces. You can easily throw your case in a backpack or laptop bag and it won't weigh you down.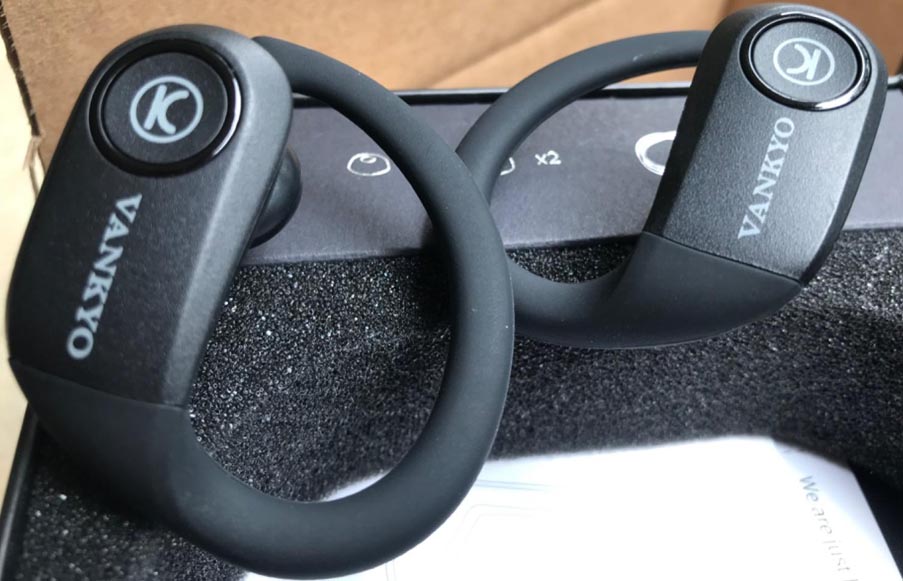 Battery and Connectivity
The Vankyo S05A earbuds will run for about seven hours on a single charge. This is more than good enough for everyday use. You can wear them during your workout, rock out during your commute, and wear them home with juice to spare. Even taking into account some drop in performance at full volume, you're still looking at 5 ½ to 6 hours. Any way you cut it, that's not bad. If that's not enough, the charging case offers 4 ½ additional charges, for a total playtime of about 30 hours. Fast Type-C charging wraps a neat bow around this already well-designed package.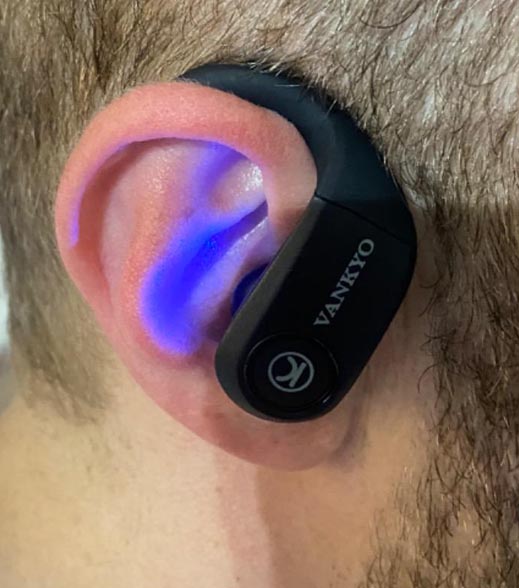 Just like the X180, the Vankyo S05A utilizes the Bluetooth 5.0 protocol. However, it also supports the Qualcomm aptX decoder. This allows for even lower latency than you'll get on ordinary Bluetooth 5.0 earbuds. It makes the S05A buds a solid choice for gamers who want millisecond-level latency or better. In addition, you can pair the S05A buds individually as well as in stereo mode. This makes it safe and easy to maintain situational awareness while you're driving. A third sharing mode also allows you to share a single audio source with friends.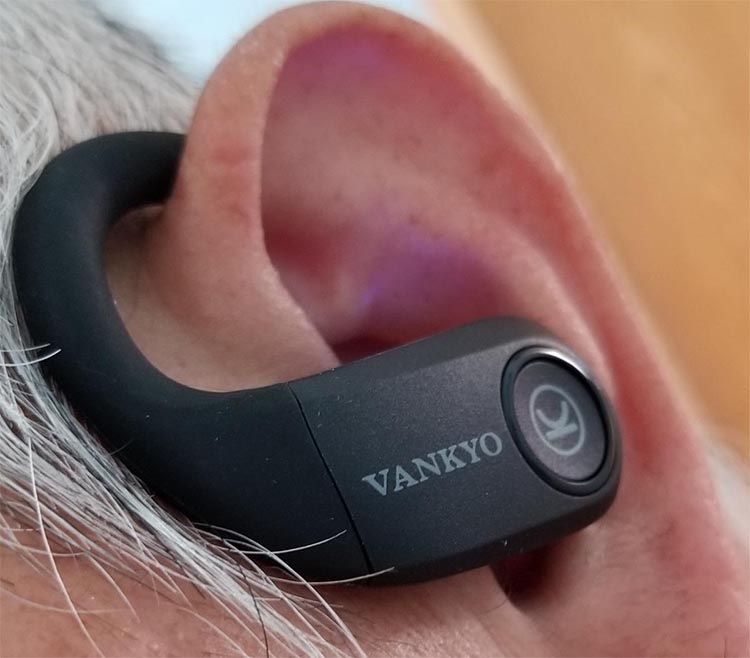 Sound Quality
The Vankyo S05A earbuds are as different from the X180 buds in sound quality as they are in design. This isn't to say that they sound bad. Far from it. But they emphasize middle and higher frequencies more than the bass. This leads to a vocal and string-heavy mix that's similar to many mid-priced earbuds. Whether or not that's a good thing or a bad thing depends on what you're looking for.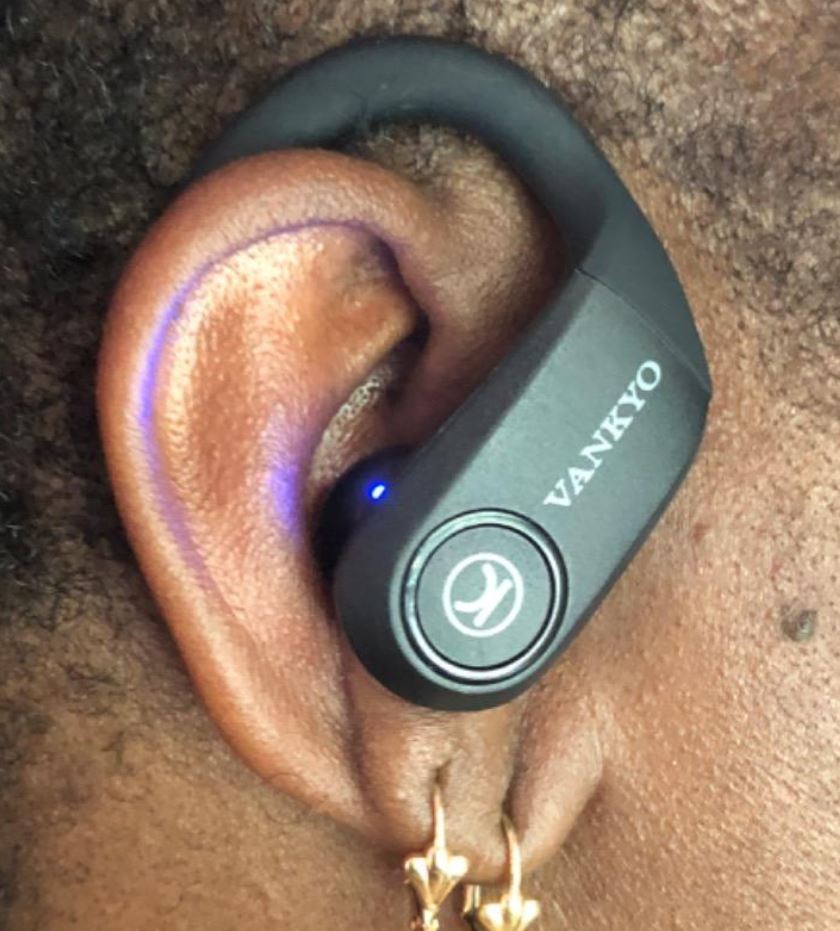 One thing that doesn't change between both earbuds is the soundstage. The S05A buds offer a very wide soundstage, so there's a lot of separation between instruments. As a result, while the bass may not be terribly loud, it's present in the mix.
For hands-free calling, the S05A buds feature CVC 8.0 noise cancellation technology. This technology uses multiple microphones to isolate background noise and eliminate it, emphasizing your voice. As a result, it's very easy for the person on the other end of the call to hear you. Keep in mind that CVC 8.0 technology works on your mic only. It won't affect the audio coming out of the speaker drivers.
Final Verdict
As you can say, both of these earbuds meet Vankyo's reputation for quality. But there are a couple of differences between the two. The Vankyo X180's compact form factor is great for anyone who likes their electronics as small as possible. The audio quality is quite good for the size, particularly if you like a lot of bass. For hands-free calling, the quality is only so-so. But the mono mode option and reasonable battery life make for a complete package.
The Vankyo S05A sports an ear hook design that's designed to hang on tight and not let go. This makes it bulkier than the X180, and less well suited for travel. That said, it offers longer battery life, as well as lower latency and better hands-free calling performance. The bass is quieter, though, so bass fans will still prefer the X180.
Meet Derek, "TechGuru," a 34-year-old technology enthusiast with a deep passion for tech innovations. With extensive experience, he specializes in gaming hardware and software, and has expertise in gadgets, custom PCs, and audio.
Besides writing about tech and reviewing new products, Derek enjoys traveling, hiking, and photography. Committed to keeping up with the latest industry trends, he aims to guide readers in making informed tech decisions.