When you're enjoying a movie at home, it doesn't get much better than a projector system. With a projector, you can turn any room into a mini theater, with a huge screen. You can even watch movies outside, and project them onto the back wall. Is the picture objectively better? No. But it can be bigger, and more importantly, a projected movie has a retro feel. It makes you want to bust out a bucket of popcorn and suck down some overpriced movie theater soda.
Of course, not all projectors are equally well-engineered. Some are bigger, while some are smaller. Some are designed for office use, while others are designed for watching movies at home. In fact, some have internal speakers, others do not. Some accept all kinds of video input, while others are more limited. Point being, you don't just want to go out and buy any projector. You want to take your time, do your research, and find the one that's right for your needs. That's what we're about to do.
Today, we'll be reviewing two powerful new projectors. First, we'll look at the XIDU Philbeam P1. This is a traditional rectangular projector with a native 1080p resolution. Next, we'll check out the XIDU Philbeam P7 (Also called the M1 on Amazon). This is a big, beefy projector that sports powerful built-in speakers. But there are plenty of other things we'll need to discuss. We'll need to talk about the image quality, and how you make adjustments. We'll discuss the different connection options, and the video sources you can use. Additionally, we'll also talk about any extra accessories you might receive. After that, we'll finally have a complete picture, and we'll be ready to render our verdict. Let's get started!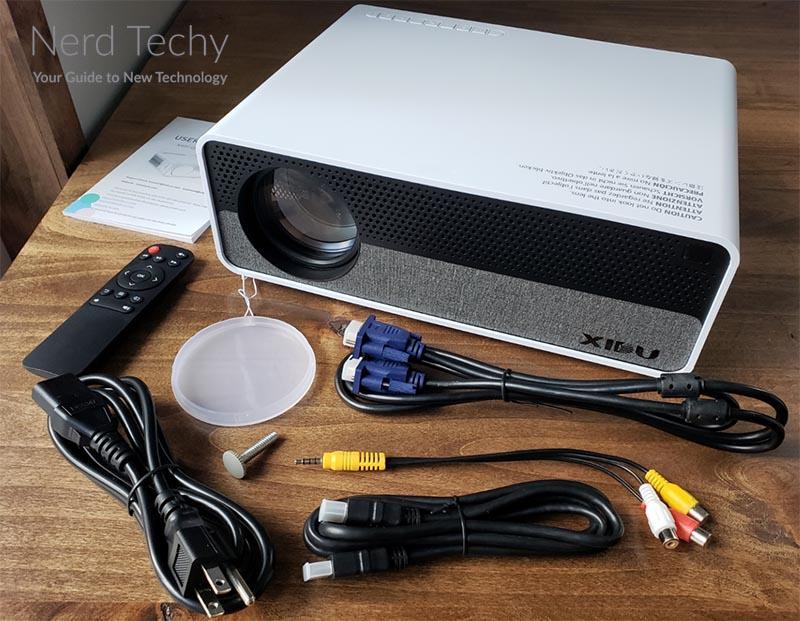 XIDU Philbeam P1
The XIDU Philbeam P1 has a rectangular housing that's constructed from plastic. The top, bottom and sides are a glossy white, which is easy to wipe down and keep free of dust. Conversely, the front and back are dark grey, with a duller matte finish. The top half of the front and back are vented, as are most of the sides. This allows air to flow freely through the housing, which facilitates cooling. A fan kicks in when the projector is in operation, but it's not obnoxiously loud. It's just a soft hum you'll hear if you're sitting right next to the unit. The bottom has little rubber feet, which makes it easy to position. You don't have to worry about it sliding around, or scratching up your furniture.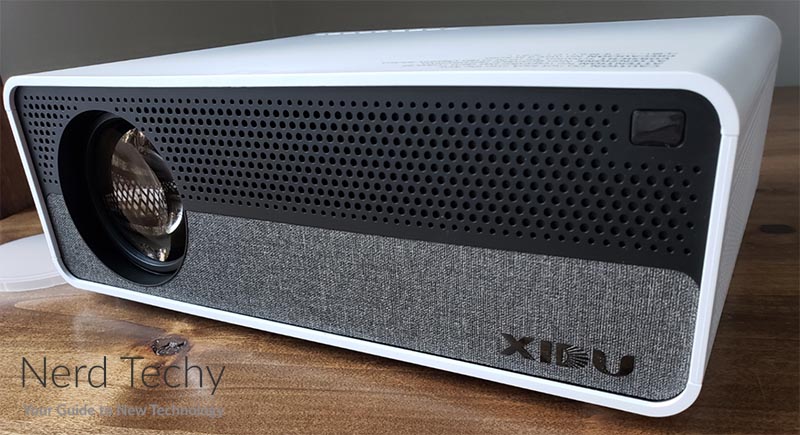 This projector is compact enough to be convenient for use around the house. But what if you want a smaller projector that's easy to take on the road? In that case, you should check out the Philips PicoPix MaxTV. It's absurdly small, small enough to carry in one hand, and it comes with Android OS preinstalled. That said, it's a bit pricey, and it's not nearly as bright.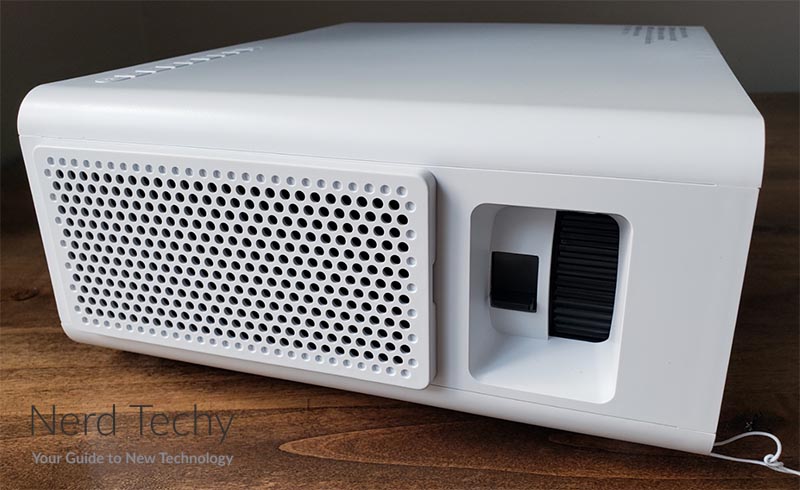 The Philbeam P1's lens is slightly recessed into the housing. This is a big improvement from many projectors, where the lens often protrudes. A protruding lens presents a burn hazard, since it's easy to touch by accident during handling. With a recessed lens, the risk is significantly reduced. There's also a removable lens cap, which keeps you from accidentally touching the front of the glass. The keystone and focus adjustment dials are located to the side. They're also recessed, so you won't knock the dials by accident and throw your video out of focus.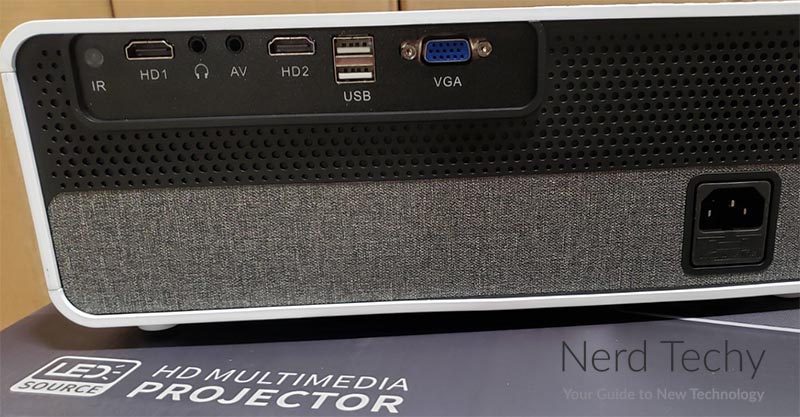 The controls consist of a row of hard plastic buttons, located near the back of the top of the housing. These allow you to play and pause some videos, and access the projector's menu. Alternatively, you could use the remote control, which is included in the package.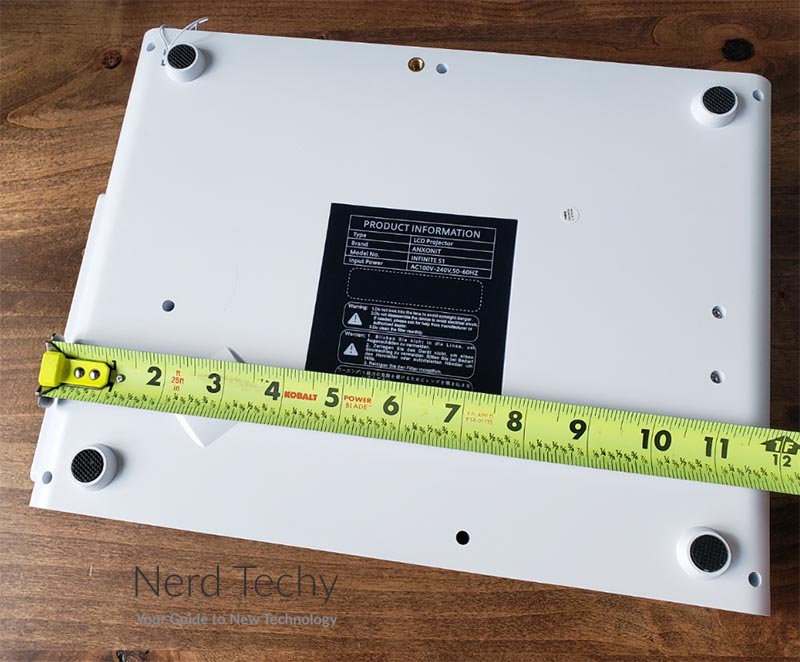 Video Quality and Connectivity
Projectors have two different kinds of resolution. The first is the native resolution, which is the resolution that the projector can physically reproduce. The second is the supported resolution, which is the resolution of video it can accept. The Philbeam P1 has a native resolution of 1080p, and a supported resolution of 4K. This means that for video that's 1080p resolution or lower, it will play as originally intended. For anything higher than 1080p up to 4K, the video will be downscaled. So if you connect a 4K video player, it will work, but the video you see will be 1080p.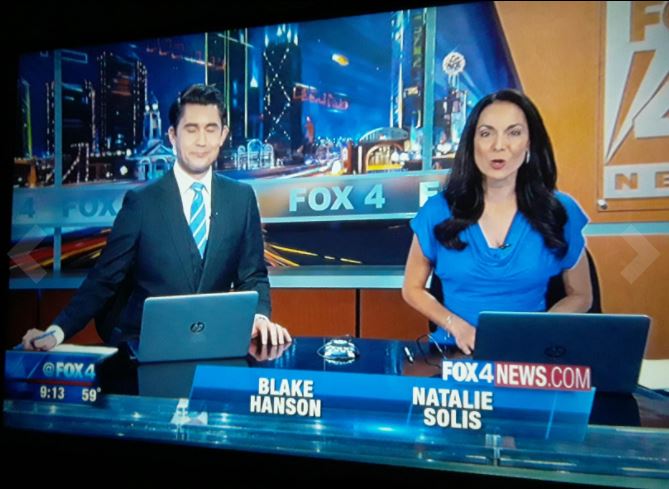 One thing we really liked about this projector was the keystone adjustment. It can be adjusted vertically or horizontally, up to 52 degrees. This allows for positioning that you can't get from most projectors. It can sit way off to the side, or down on the floor, and you'll still get a clean, rectangular video. Another thing we liked was the 6,500-lumen brightness. That's insanely bright, and it can even be used in a room with fluorescent lighting. As a result, the P1 makes just as good of an office projector as it does a home projector. In a dimly-lit room, you'll experience movie theater levels of vibrancy.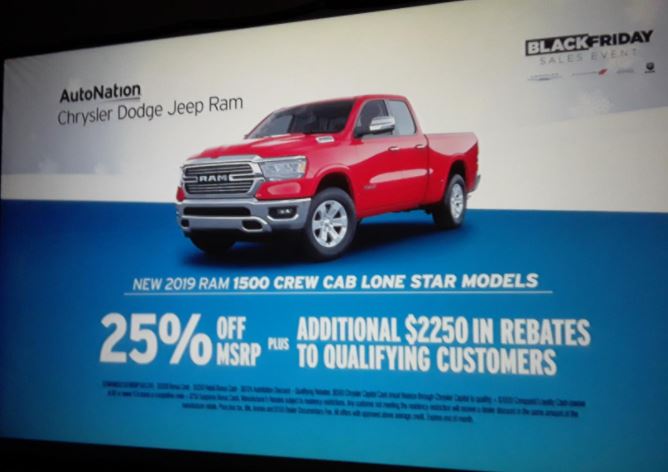 If you want even crisper video, take a look at the Anker Nebula Cosmos Max. To be fair, it costs a lot more than most projectors. But for your money, you get a system with native 4K resolution, which is still hard to find. You also get automatic focus and keystone adjustment, so there's less fiddling around.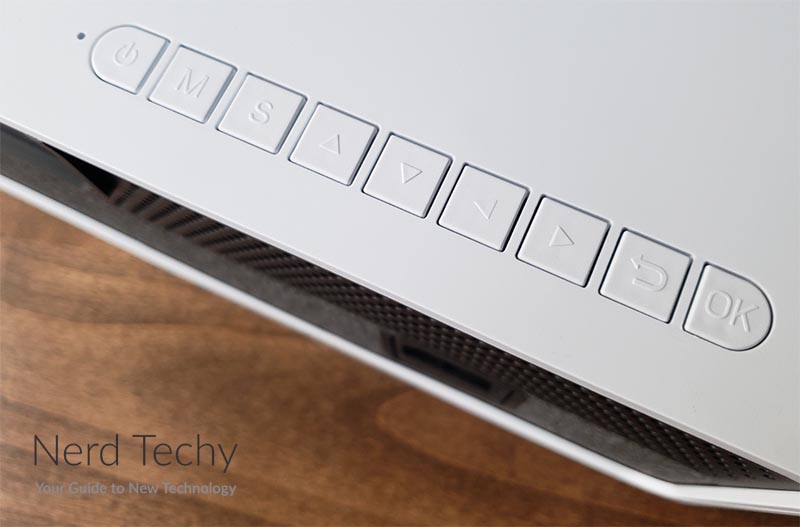 For video input, you have several different options. Most people will default to the HDMI port, which can be used for most modern devices. You can use this to connect your Blu-Ray player, laptop, or game system. You can also connect older video players via the old-school AV input. Next to that, there's a pair of USB Type-A ports. These can be used to connect an external thumb drive or hard drive, or a streaming device like a Fire Stick. Finally, you have the option of connecting via WiFi. That way, you can cast videos from your favorite streaming service, via your smartphone.
There are actually two different versions of the P1: the "mirroring" version, and the "Android" version. The mirroring version is the one we've just described. The Android version is identical, but it comes with the Android operating system installed. This allows you to install streaming apps like Netflix and Amazon Prime directly on the projector. That way, you don't have to cast anything from your smartphone.
The built-in speakers on the P1 are functional, but you'll want a little more volume unless you're watching alone. Thankfully, the built-in Bluetooth chip allows you to connect to any Bluetooth speaker or earbuds. You can also connect to a stereo system via the 3.5mm aux port.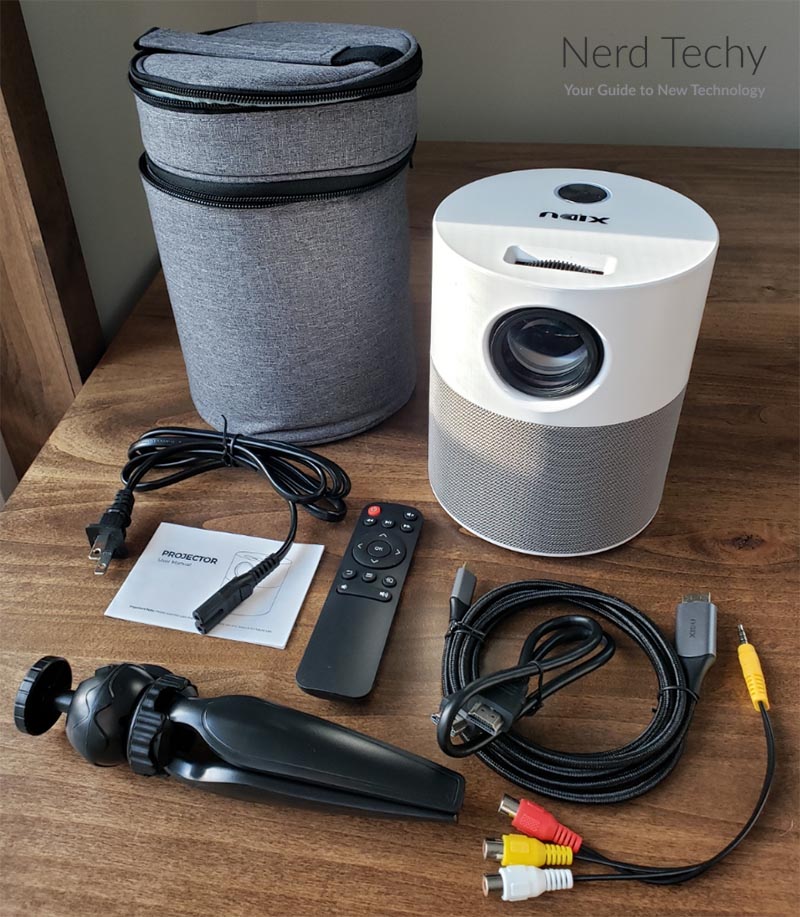 XIDU Philbeam P7
The XIDU Philbeam P7 has a distinctly different design from the P1. Instead of being short and rectangular, it's tall, with an oval profile. The top half of the housing is white, with a matte finish that won't collect fingerprints. The bottom half is white on the back, but a grey fabric mesh wraps around the sides and fronts. This mesh covers the internal speakers, much like the fabric on a standalone speaker. The back has a very large vent with a visible fan, which serves to cool the unit. All the input ports are located along the top of the back.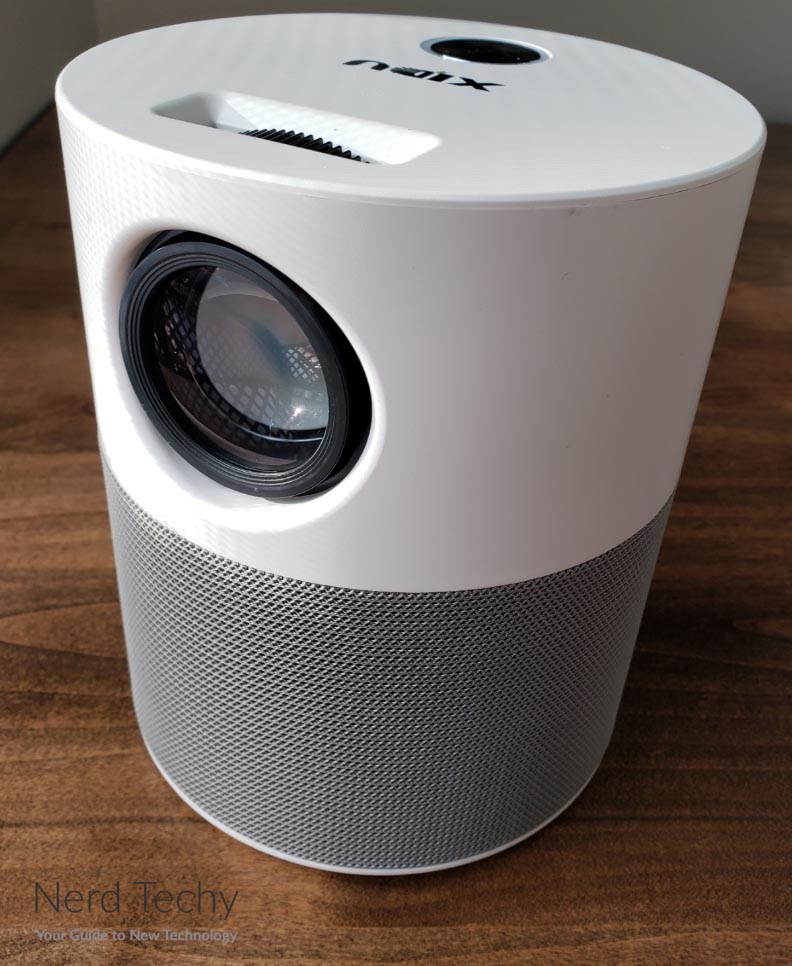 The lens is positioned at the front center of the housing. It sits flush with the front, but because the front is curved, the lens does stick out a little towards its sides. On top of the housing, directly above the lens, there's a dial for keystone adjustment. Behind that, you'll find the power button, which is large and silver. There are no other physical controls; instead, you use the remote control to perform most functions.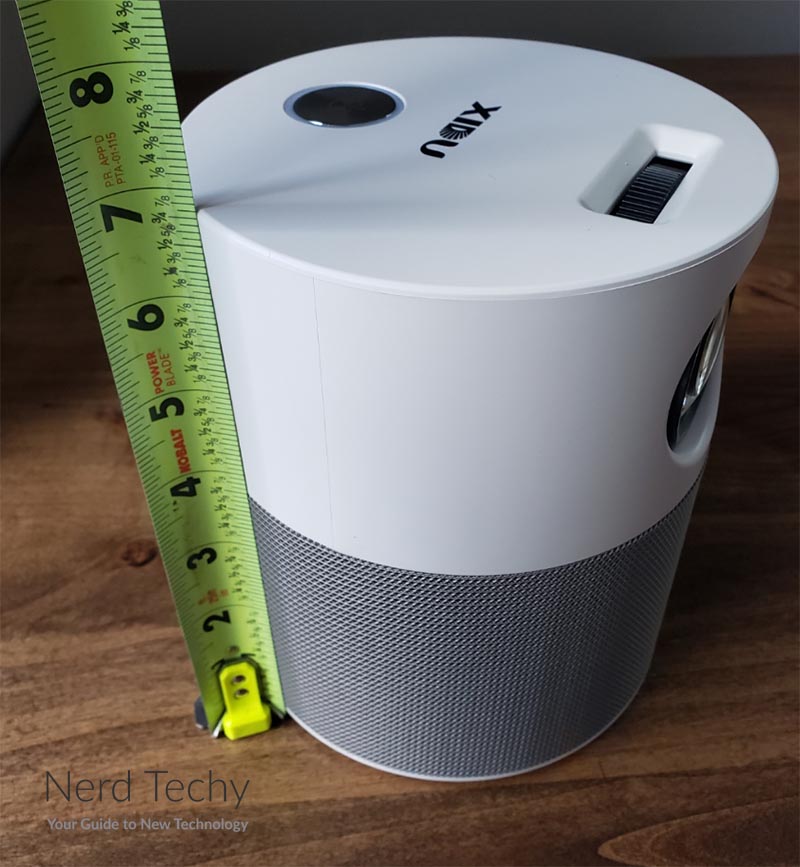 The kit includes a small tripod, designed for a coffee table or desk. It screws into a standard threaded tripod mount hole, directly in the bottom of the projector. You also get a short AV cable and a short HDMI cable for connecting your devices. The kit even comes with a zippered carrying case, with separate compartments for the projector and accessories.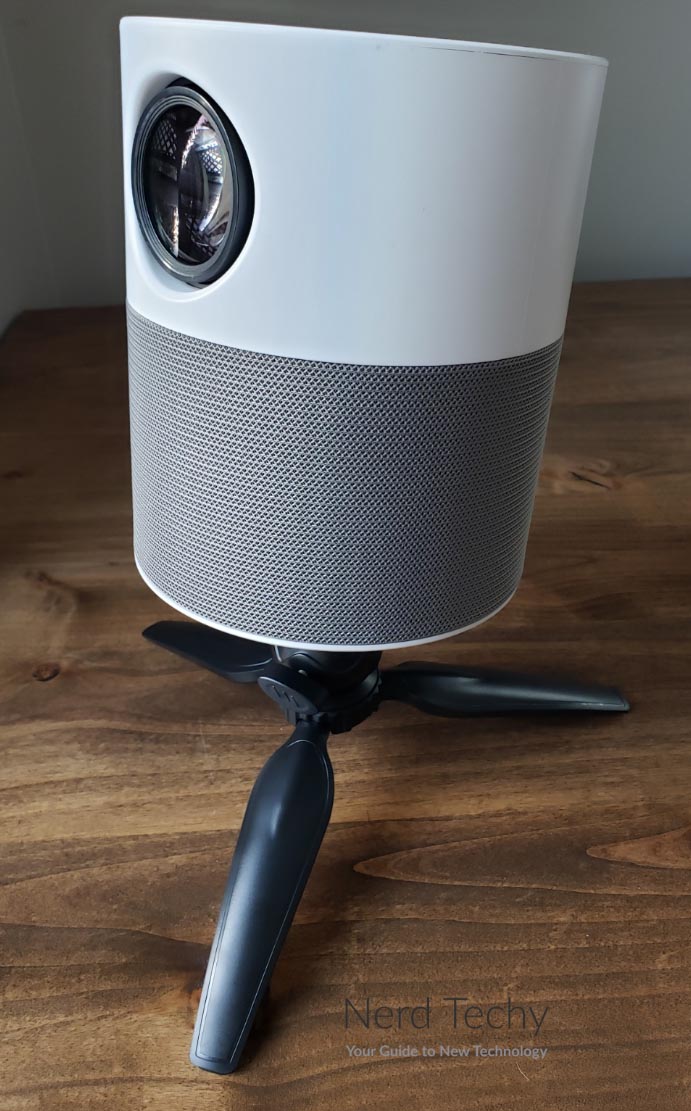 If you like the vertical design but want something a little sturdier, consider the Jireno Cube4. It has a similar vertical build, and it's tough enough to take a beating. On the downside, it won't be available to the public until late next month.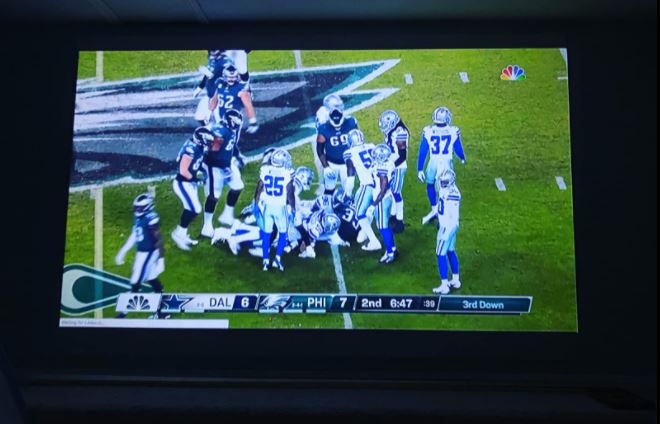 Video Quality and Connectivity
Like the Philbeam P1, the P7 has a native resolution of 1080p. That said, it won't support 4K video. This won't be an issue for most people, since most devices can output in 1080p. But if your video source is only 4K, you won't be able to watch your video. The screen size can be as large as 120 inches, so you can make your video as tall as your interior wall or outdoor inflatable projector screen. There's also a 50-degree keystone adjustment. That's comparable to the adjustment options on the P1, and you get comparable placement options. The video is nice and colorful, and looks good under most conditions. On the downside, it's not as bright as the P1, so it's not suitable for fully-lit rooms.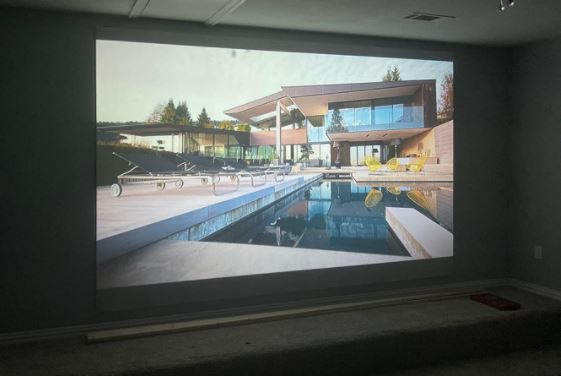 The P7 has all the same input options as the P1. You can connect devices via HDMI, AV, USB, or WiFi. As an added bonus, the P7 has an SD card slot, so you can watch your GoPro videos. Like the P1, you can also order an upgraded version with the Android OS pre-installed.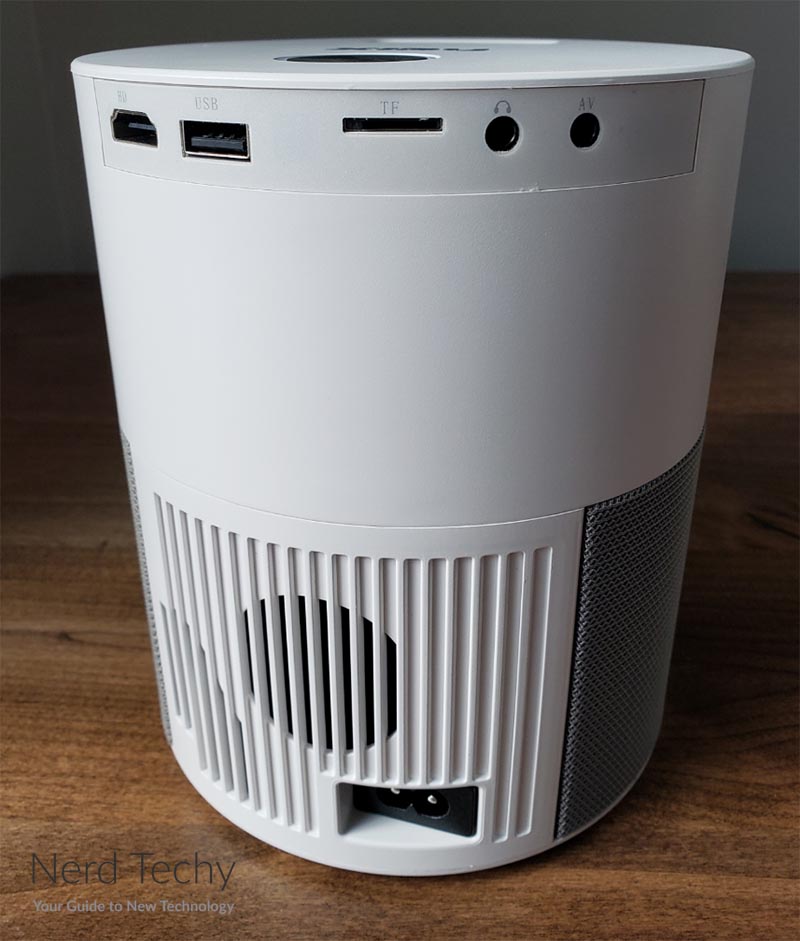 The P7's speakers are big and powerful, enough to fill a mid-sized room. If you're enjoying a family movie night, you shouldn't need any external speakers. That said, you still get the option to connect speakers via Bluetooth, or with a 3.5mm aux cable.
Final Verdict
Aside from their cosmetic differences, the XIDU Philbeam P1 and the XIDU Philbeam P7 are very similar. They have similar video quality and keystone adjustment, and most of the same input options. Both of them also connect freely to Bluetooth speakers. Most importantly, both give you the option for a preinstalled Android version. However, the P1 has a couple of advantages from a video perspective. It supports 4K video inputs, and the bulb is exceptionally bright. On the other hand, the P7 has better speakers, and comes with a tripod attachment. If you don't need a ton of brightness or 4K support, it could be a better choice.
Meet Derek, "TechGuru," a 34-year-old technology enthusiast with a deep passion for tech innovations. With extensive experience, he specializes in gaming hardware and software, and has expertise in gadgets, custom PCs, and audio.
Besides writing about tech and reviewing new products, Derek enjoys traveling, hiking, and photography. Committed to keeping up with the latest industry trends, he aims to guide readers in making informed tech decisions.