These days, many people are concerned about EMF (electro-magnetic fields) radiation. This is understandable. To some extent, EMF radiation has always been with us. Without sunlight, for example, there would be no life on earth. Get too much sunlight, though, and you'll get a sunburn. Do that enough times, and you could develop skin cancer.
Meanwhile, the amount of EMF radiation has increased dramatically over the past few decades. Cell phones, Bluetooth, and even terrestrial radio all use EMF frequencies for communications. This is a new trend, and it makes sense that some people are uneasy about it.
That said, it's important to understand what we're talking about. Some EM frequencies, such as X-rays and Ultraviolet rays, are what's called "ionizing" radiation. This is a high-frequency radiation that can break up molecular bonds, destroy DNA, and cause cancer.
That's why you wear a protective lead blanket over most of your body when you get an X-ray. The EM frequencies used for communications, on the other hand, are what's called "non-ionizing" radiation. The frequency is too low to disrupt molecular bonds. In other words, it can't cause cancer by damaging your DNA.
For some people, though, non-ionizing radiation can cause real-world symptoms. These can range from pain to anxiety to an inability to focus. It's not clear exactly why this happens to some people, but not to others. But if you're unlucky enough to have an EMF sensitivity, you still have to navigate a modern, digital world. How do you do it? One way is to use protective equipment to limit your EMF exposure.
Best Laptop EMF and Radiation Blocking Lap Desk Pads
We're about to review four of the best laptop EMF radiation shields. These are lap pads that are designed to support your laptop and absorb EMF radiation. This reduces your exposure to WiFi, Bluetooth, and other EMF frequencies.
Keep in mind that your laptop emits EMF radiation in all directions. And unfortunately, there's no practical way to protect all sides of your laptop and still use your machine. But you can still limit your exposure. By combining this with other anti-EMF measures, you may be able to reduce your symptoms. But which one of these laptop pads is the right choice for you? Let's take a closer look at all four of them, and find out!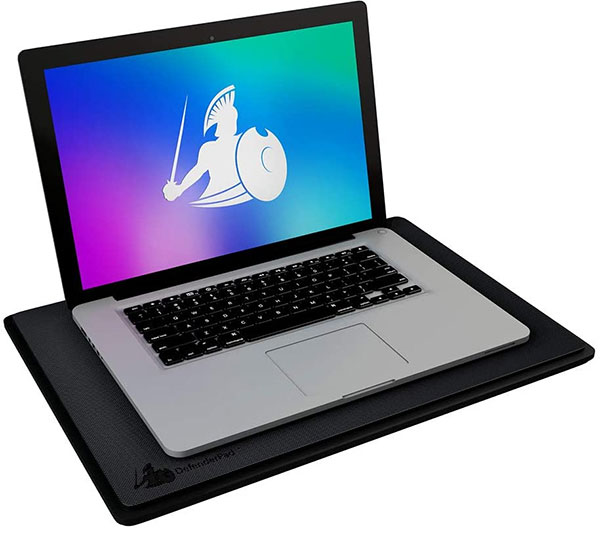 DefenderShield Laptop EMF & Heat Blocker
DefenderShield is a well-known manufacturer of EMP protection gear. Not long ago, we reviewed their EMF protection beanie, and we were reasonably impressed with its performance. So when we saw that they also manufacture an anti-EMF laptop pad, we were eager to check it out.
The DefenderShield Laptop EMF & Heat Blocker consists of a polymer upper and lower layer with internal EMF-blocking layers. The top layer has a rubbery texture, and is designed to keep your laptop from slipping around. This area also goes a long way towards the heat from your laptop.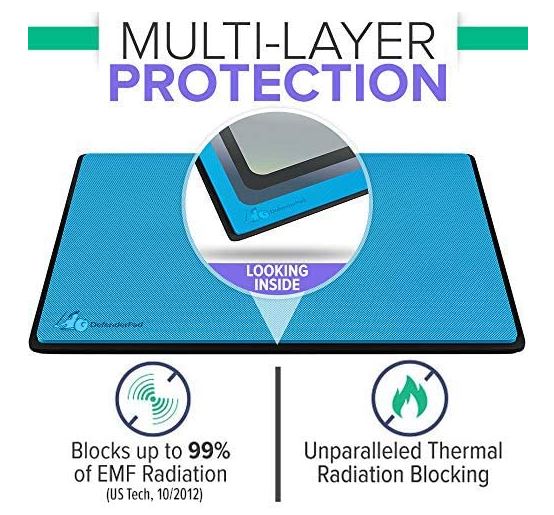 The bottom layer is a harder polymer, which absorbs additional heat, and sits comfortably on your lap. The outer surface is also waterproof, so you don't have to worry about spills.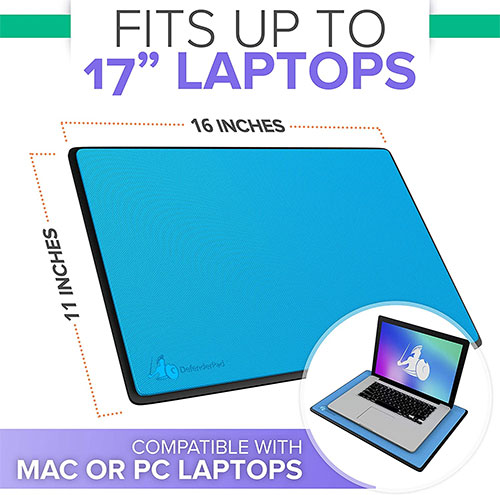 The overall size of this laptop pad is 16 inches wide, 11 inches tall, and 0.25-inch thick. That's big enough to support up to a 17-inch laptop. At 2.2 pounds, it's heavier than it looks, but still lighter than any laptop.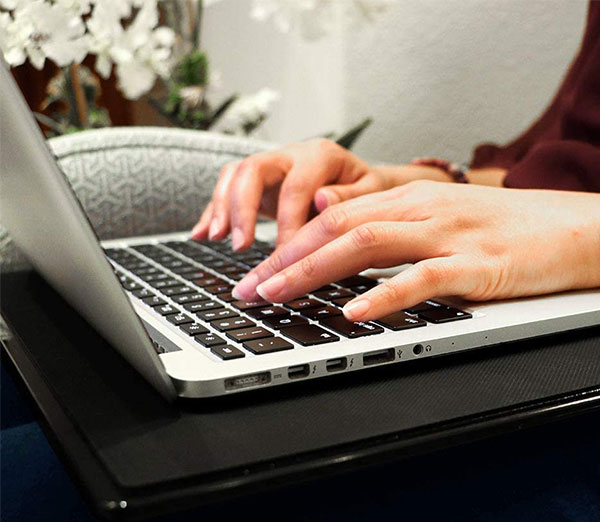 It comes in two color variants. The first is all black, which has a conservative appearance and won't stand out too much. The second has a blue upper layer and a black lower layer. This is a bit more fun and colorful. And since you're probably using it at home, anyway, who cares whether it looks professional?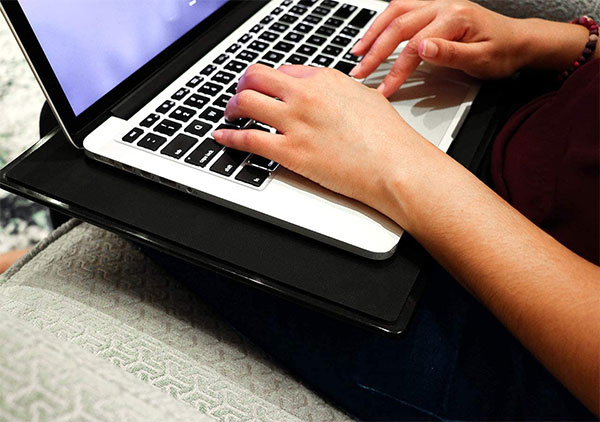 The inside of the DefenderShield pad is where the real magic happens. Here, there's a thick layer of EMF fabric, which absorbs the EMF radiation. It's capable of absorbing 99% of EMF from 0GHz to 90GHz. This includes 5G radiation, Bluetooth, and pretty much any kind of everyday EMF. At some frequencies, it can absorb an incredible 99.99%. In practice, you're unlikely to get this level of performance. But even if the pad underperforms, you're getting a ton of EMF protection.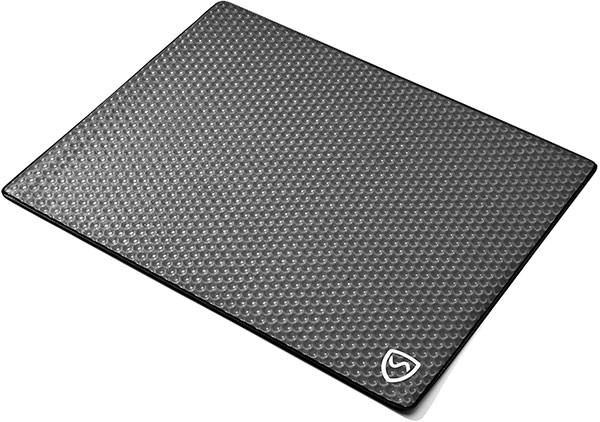 SYB Laptop Pad
The SYB Laptop Pad comes in a few different looks and finishes. The standard version has black plastic top and bottom layers, which are rugged and effective at heat absorption. Alternatively, you can order it in blue, or with a vegan leather top and bottom layer.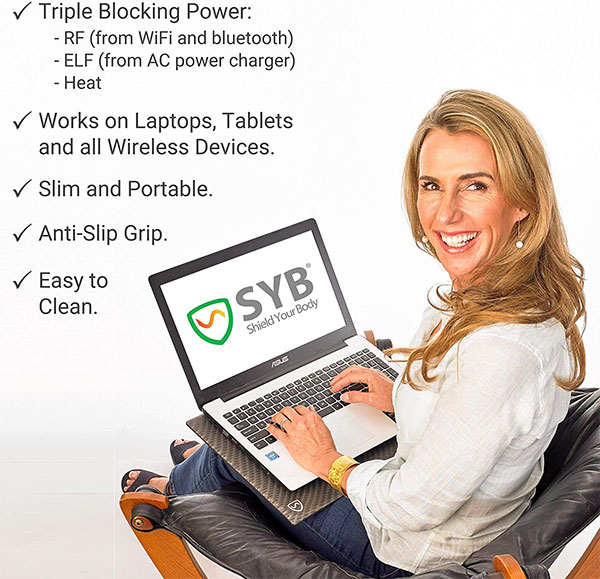 The vegan leather isn't quite as effective at heat absorption. However, it has a slick, formal look that pairs well with any dark leather décor. Along the same lines, the pad can be ordered in three sizes. The smallest is designed to hold a tablet up to 11 inches in size. The standard version is made for laptops of up to 14 inches. The largest is made for oversized laptops, up to 17 inches. That's enough for almost any laptop on the market.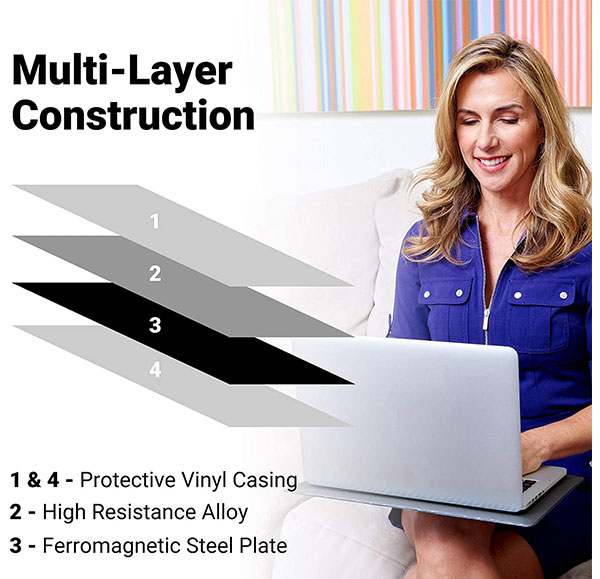 Inside the upper and lower layers, there are two EMF-resistant layers. The first is what's called a "high-resistance alloy." We're not sure exactly what metal is used, but it's designed to block EMF by density alone. The second inner layer is a ferromagnetic steel plate. This creates a magnetic field, which causes radiation to scatter in other directions.
In total, you can experience in EMF reduction of up to 92%. And despite the metal design, the pad is reasonably light; the 14-inch version weighs only 1.2 pounds. Not only that, but it absorbs more than 99% of your laptop's heat.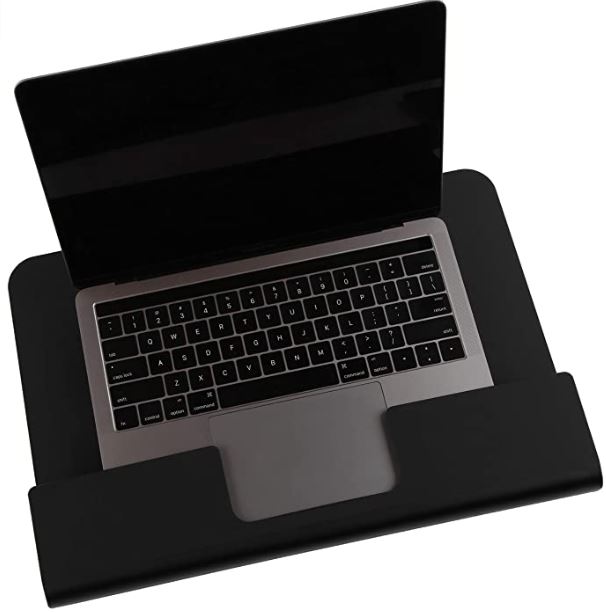 HARApad Edge Laptop EMF Shield
The HARApad Edge Laptop EMF Shield has the most unique design of the bunch. This is a black polymer shield that's incredibly tough and entirely rigid. Instead of merely supporting your laptop from the bottom, it also protects the front and part of the top.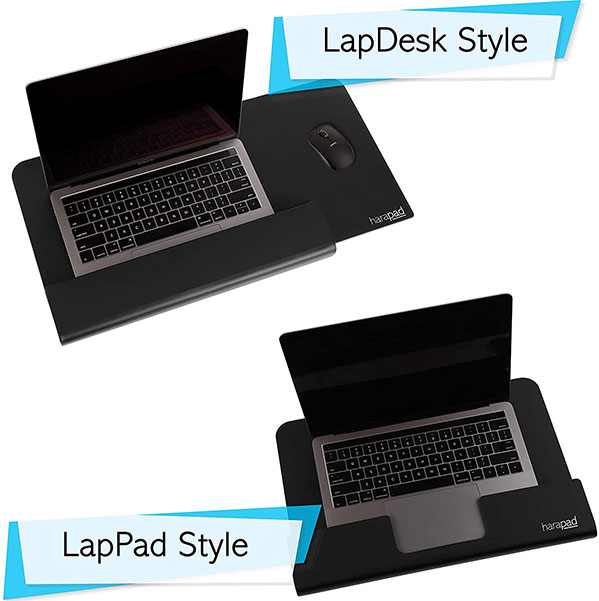 There's a lip at the front, which extends into a panel that covers the front part of your laptop. This wrap-around design provides protection from more directions, reducing your overall exposure. The overall size is 19.06 inches wide, 12.36 inches high, and 2.2 inches thick. That's big enough to accommodate even the biggest laptops, although it does come with a price. The 3.96-pound weight is a bit much if you want to carry it around a lot.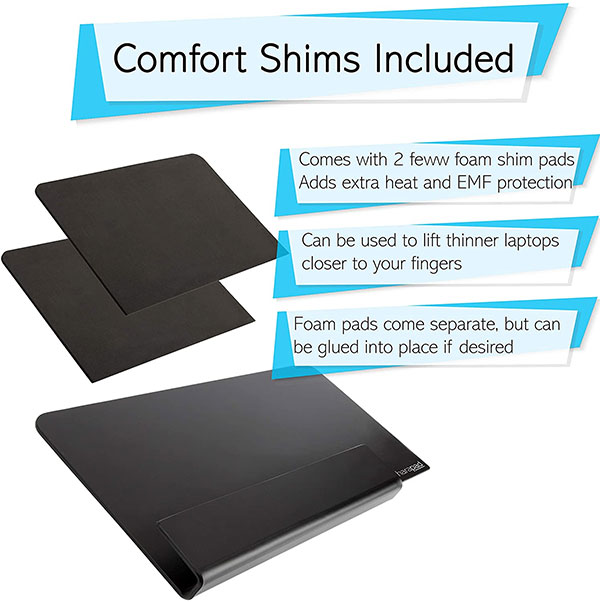 There are actually two different versions of the HARApad shield. The first is the LapPad, which has the dimensions we just described. It sports a 5" x 2.5" cutout in the middle of the top panel, so you can access your touchpad. The LapDesk is a little bit larger, with a wide, flat extension to the right. This is designed for you to be able to use an external mouse. As a result, the LapDesk variant doesn't have a cutout for your touchpad.
This is a "one size fits most" shield that will work with the majority of laptops. To make things easier, there's a pair of foam pads included in the package. These can be used to further absorb heat and EMF radiation under your laptop. If your laptop is very thin, they can also be used as a support, to keep it from floating around. In the event that you want to use them all the time, they can even be glued into place.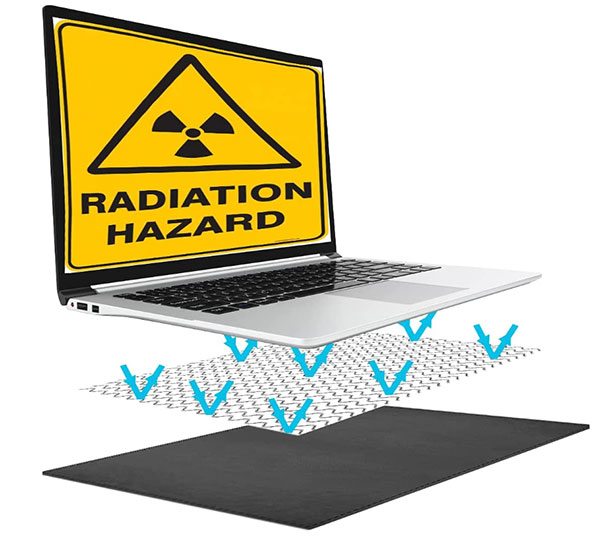 Alfredx Laptop EMF Radiation Protection Pad
The Alfredx Laptop EMF Radiation Protection Pad is designed for small to mid-sized laptops. It measures 16 inches wide, 12 inches deep, and it's very slim, at only 0.15-inch. The manufacturer states that it's designed for laptops up to 14 inches. This is because the material is not entirely rigid. It's pretty stiff, but a big, beefy laptop could cause it to flex.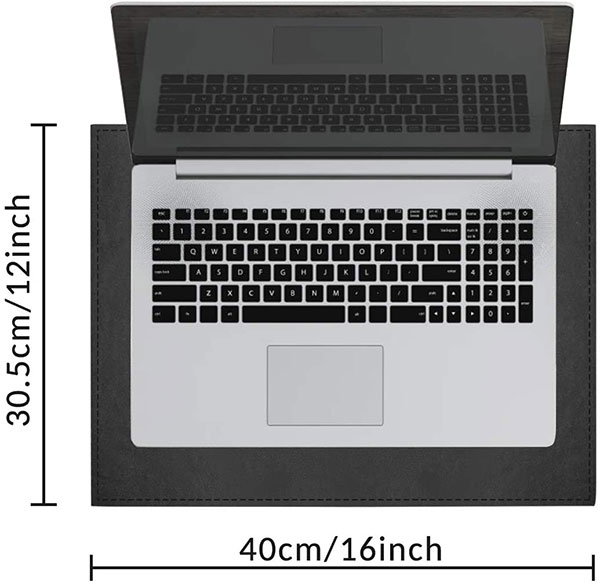 In other words, you'll get the best results with a smaller laptop. That said, it's very portable. Because it's so thin, it slips easily into the side pocket on a laptop case. And at only 14.4 ounces in weight, you'll hardly notice that you're carrying it.
The black top and bottom layers are made from faux leather, with stitching around the outer edge. This does a fairly good job of absorbing heat, albeit not as well as a thicker pad. In-between the leather layers, there are two EMF-blocking layers. The top one is made from a dense Faraday fabric. Beneath that, there's a layer of anti-EMF foil. Together, these layers block up to 98% of EMF radiation. At low frequencies, this drops to 96%, but that's still pretty effective.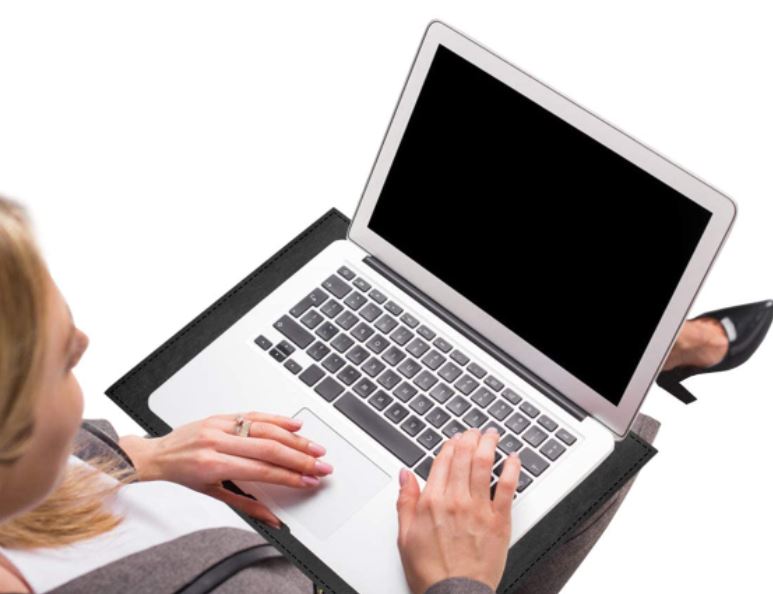 In addition to the pad itself, the kit includes a pair of double-sided adhesive pads. If you're using the pad in your lap, these pads serve no purpose. However, they can be used to stick the pad in place if you're using it on your desk.
Why stop at shielding your laptop? If you're like most people, you probably carry a cell phone with you wherever you go. A Faraday bag is a great way to protect yourself when your phone is not in use. Pop your phone inside, close the bag, and it will be shielded. Open the bag, and you're ready to call and text.
How Does a Laptop EMF Pad Work?
So, how does a laptop pad protect you from EMF radiation? A lot depends on the exact design. The most effective method is Faraday fabric. Faraday fabric is made of a combination of copper, nickel, and usually polyester. This material is woven in a mesh that's designed to mimic the construction of a Faraday cage. When EMF radiation hits the fabric, a certain percentage of it will be blocked. The more effective the fabric, and the more layers there are, the better your overall performance.
Another common method is EMF-blocking tape or foil. Tape and foil isn't quite as effective as Faraday cloth, but it's also more affordable. And by adding extra layers, you can achieve the same effect. Dense metals can also be used, since dense enough material will absorb the radiation on its own. However, this also results in a heavier laptop pad.
Which EMF-blocking Laptop Pads is Best?
All four of these laptop pads have their own unique benefits. But which one is right for you? Let's recap what we've discussed.
We began by looking at the DefenderShield Laptop EMF & Heat Blocker. This is a large pad that can hold up to a 17-inch laptop. The rubbery surface makes it nice and secure, so your computer won't slide around. It's water-resistant, and does a very good job of heat absorption. And with up to 99% effectiveness, it keeps you as safe as any laptop pad can. On the downside, it's a bit large, and you might not like that if you're using a smaller laptop.
The SYB Laptop Pad, by comparison, comes in three sizes. Whether you have a small tablet or a full-sized laptop, one of their options will have you sorted. You also get your choice of a plastic or vegan leather outer shell. The two internal plates aren't as effective as other methods at EMF absorption. Then again, they can still absorb 92%, along with 99% of heat.
The HARApad Edge Laptop EMF Shield provides less total EMF protection than the other options. However, it's designed to absorb radiation from more directions. As a result, it can potentially be more effective, depending on how you use it. We also liked the optional LapDesk variant, with the external mouse platform. If you can't stand using your touchpad, this is a great choice for you.
The Alfredx Laptop EMF Radiation Protection Pad is the most portable of the four. At barely over an eighth of an inch thick, it's easy to carry with you anywhere. It's surprisingly effective for the thickness, with both Faraday fabric and anti-EMF foil layers. And if you want to use it on your desk, the pair of sticky pads help to secure it in place.