As recently as ten years ago, mechanical keyboards were relegated to serious typing enthusiasts. If you used the Dvorak layout instead of QWERTY, you might have been using a mechanical keyboard, but otherwise few people had even heard of them. In the past few years, though, prices have started to come down, and PC gamers and casual hobbyists have started to get into the market.
Unfortunately, mechanical keyboards for Mac remain hard to find, and you can just about forgetting about one that will connect via Bluetooth. In 2019, a startup company called Keychron launched a Kickstarter campaign to meet this need. The results were the K1 and K2 keyboards, both of which were released in summer. The K1 came out first, and it's already been reviewed to death elsewhere on the web.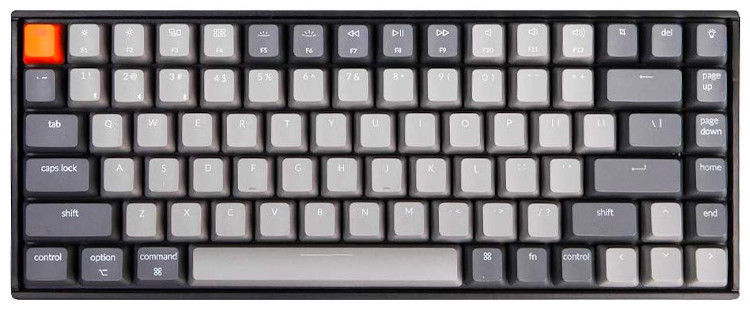 But we wanted to get our hands on the Keychron K2. It has a thicker profile than the K1, with a beefier case. Not only can it connect to a Mac, but it's also compatible with Windows and Android as well, although Windows users will need to get used to the Mac media key layout. You also get dedicated keys for voice detection, screenshots, and Siri. So how good is it really? We're about to find out.
Overall Design
As we've mentioned, the K2 is Keychron's second mechanical keyboard. The first was the K1, a wide, slim profile with flat keys and a tenkey number pad. The K2 is a thicker, chunkier board that features a tenkeyless design that will be more familiar to people who are already using a traditional mechanical keyboard. This small footprint saves a lot of space on your desk, and the compact size makes it easy to slip into a backpack or briefcase.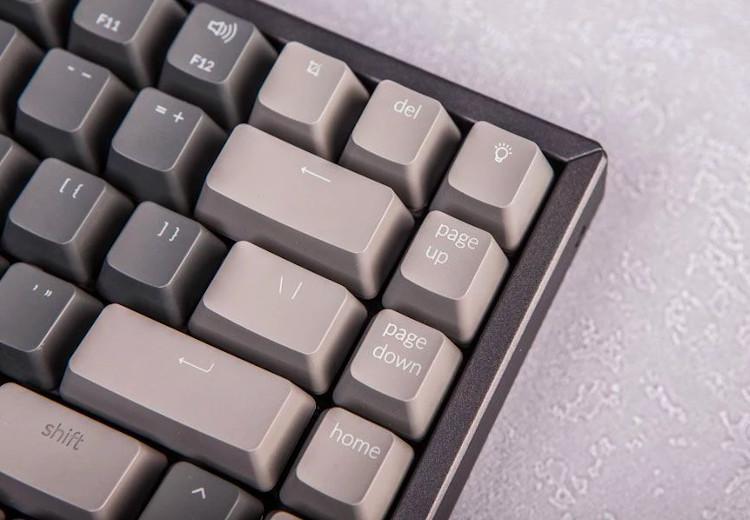 The case is constructed from ABS plastic, which made us nervous at first since most high-quality keyboards feature an anodized aluminum case. As it turns out, the case is just there for show. Inside, the K2 features an anodized aluminum inner frame, which provides plenty of rigidity without the gloss of an anodized aluminum exterior.
The keypad itself looks sharp, with black and grey key regions and an Escape key that's bright orange for easy visibility. The lettering is etched, allowing the backlighting to bleed through when it's turned on, for easy visibility in any lighting conditions. With the white backlight turned off, the keys almost look blank, which is an attractive feature if you're looking for the cleanest look possible.
That said, the backlights are oddly oriented, so only the top of the key is lit. For most keys, this isn't an issues, but on keys with two lines of text, the second line won't be as brightly lit. So, for example, "page down" looks like "page down".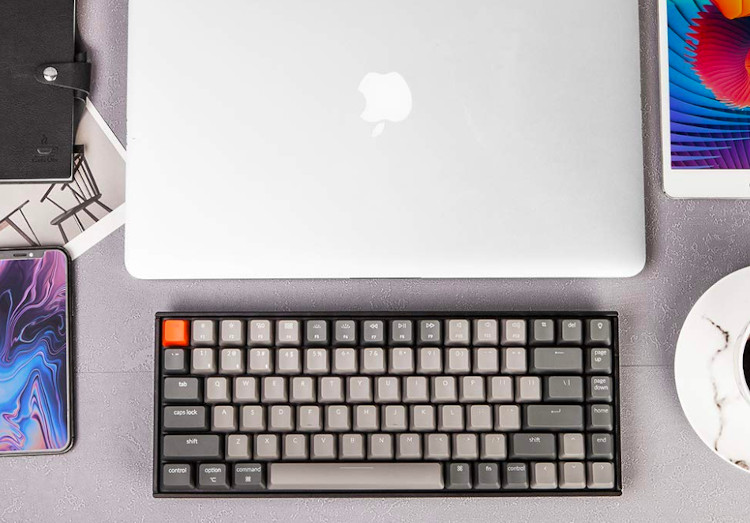 Another issue isn't with the product, but with the packaging. The box doesn't come inside an outer box. It just has a thin black plastic shrink wrap cover, and the corners arrive dented from handling. Now, there's enough extra material inside the box that this isn't a problem for durability. The keyboard itself is going to be just fine. But if you intend on storing your keyboard inside the box, it's not very attractive.
The keyboard layout is designed for Mac, with a Mac-standard media key layout. That said, Windows users will be able to use it without any problems. You'll just need to get used to the new layout.
Keycaps & Switches
The keycaps and switches on your keyboard are where the rubber meets the road. Without quality keys and keycaps, even the flashiest mechanical keyboard is just a fancy-looking paperweight. So let's take a look at both of these features, and see how they stack up to the competition.

The switches are Gateron Blues. While some people may have concerns about using a non-Cherry MX brand, we found these switches to be a very effective substitution. They have an identical use rating of 50-million keystrokes, so you don't need to worry about durability.
In terms of noise, the Gaterons are a tad louder than the click of a Cherry MX Blue, but only slightly. This isn't a bad thing, because blue switches are supposed to be loud. Gamers love the feedback, as will anyone who does a lot of typing. Just be aware of this if you work in a cubicle bank.
In terms of resistance, these switches offer a light resistance at the top of the keystroke, which stiffens to a moderate resistance as you near the actuation point. It offers plenty of tactile feedback, without requiring excessive exertion to press the keys.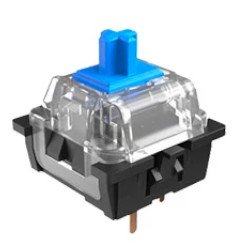 The keycaps themselves are constructed from ABS plastic. They're sturdy, and will last at least as long as your switches without any cracking or serious issues. That said, ABS keys will wear down to a shiny finish after you've been banging on them for hours a day for a few months. If you really like a textured feel, you'll need to spring for a set of even more durable set of PBT keycaps.
The keycaps are also curved for ergonomics. The curve isn't excessive, just enough for comfort. This makes them well-designed for replacement with standard aftermarket keycaps, so you won't need to hunt all over the place to find a compatible set. Replacement is easy, since the K2 includes a keycap puller for painless removal.
Features & Extras
The main attraction of the Keychron K2 is that you can use it with up to three different devices. You can either connect to three devices by Bluetooth, or use the USB cable to connect to one of the devices and maintain a charge at the same time. Using the fn key with 1, 2, or 3 will allow you to switch between devices without taking your fingers off your keyboard, which makes it a great choice if your job requires you to use multiple computers.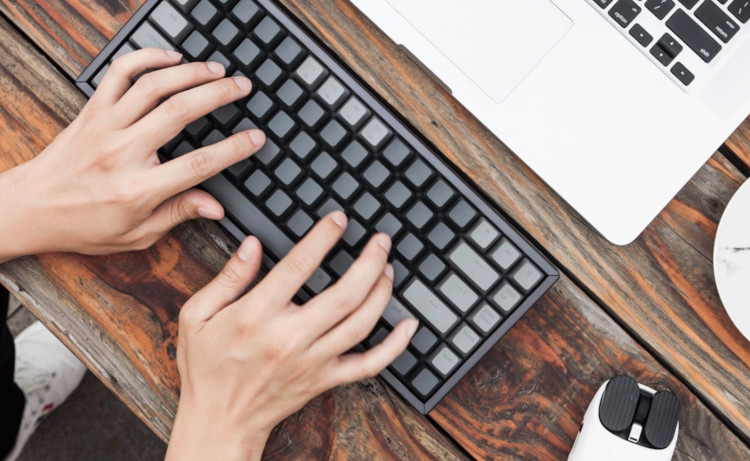 The K2's battery life is rated at 15 working hours, which means that you're actively typing with the LED backlight on. We found that this lifespan nearly doubles with the backlight turned off, so keep that in mind if you don't really need to use it. Alternatively, you could simply use the USB connection if you're working at a stationary desk, or plug it into a phone charger during long sessions of use.
In addition, the K2 also features N-key rollover and anti-ghosting. This prevents "phantom" keystrokes, and ensures that all keystrokes in a combination are registered. The anti-ghosting works on all connections, but the N-key rollover is only effective with a wired connection.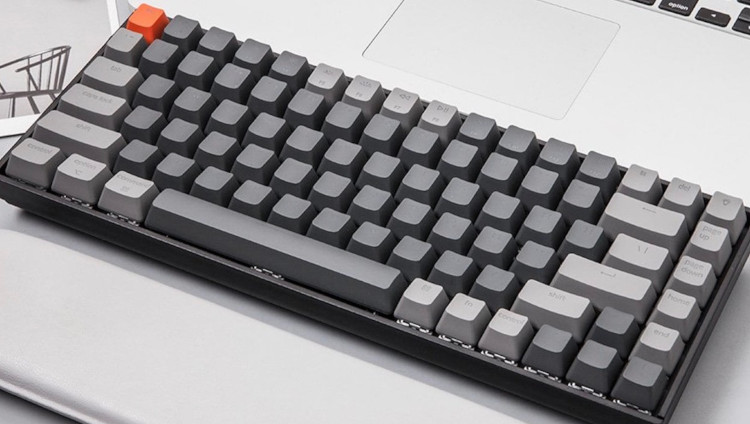 Technical Specifications
If you're looking for a quick and dirty rundown on the Keychron K2, we made a short list of the specs so you can get the basics. As the kids are saying, here's the TL;DR version:
Bluetooth or USB hybrid 84-key tenkeyless keyboard
Gateron Blue switches
Doubleshot ABS keycaps
Aircraft grade aluminum frame with ABS plastic case
4,000 mAh battery
Multi-device compatibility
Compatible with Windows, Mac, or Android
Mac media keys
N-key rollover and anti-ghosting
White LED backlights
Includes a USB cable, keycap puller, and user's manual
Measures 12.3" wide x 4.8" high x 1.5" thick
Weighs 1.93 pounds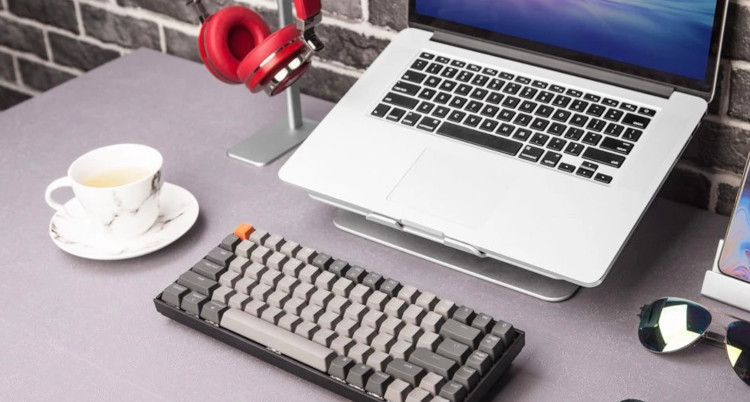 Other Alternatives
We like the Keychron K2. It's a quality board with a lot to recommend it. But we also understand that it's not going to be everybody's cup of tea. Maybe you want a bigger, beefier keyboard. Maybe you want different switches, or you don't care about wireless connectivity. Or maybe you want to save a few dollars with a cheaper board. No worries. Here are a few keyboards we've already reviewed that might scratch that itch.
The SteelSeries Apex Pro. This is a high-end keyboard with a deep, cushy wrist rest. It's designed specifically for gamers, with programmable OLED backlights and Omnipoint switches. These switches can be adjusted to register a keystroke at 3.6 to 4.0mm, which is essentially the difference between a moderate tap and bottoming them out. That said, this kind of quality comes at a cost, so expect to spend a bit more coin if you're going to buy this model.
The Corsair K57 RGB. This is a mid-range keyboard that's exceptionally large, designed for a wide, relaxed seating position during long gaming sessions. It also offers enough space for a row of six programmable macro keys on the left side of the board, so players of World of Warcraft and other MMO games will rejoice. On the other hand, it's not mechanical. It's just a standard membrane keyboard, so you'll need to look elsewhere for that clicky feel.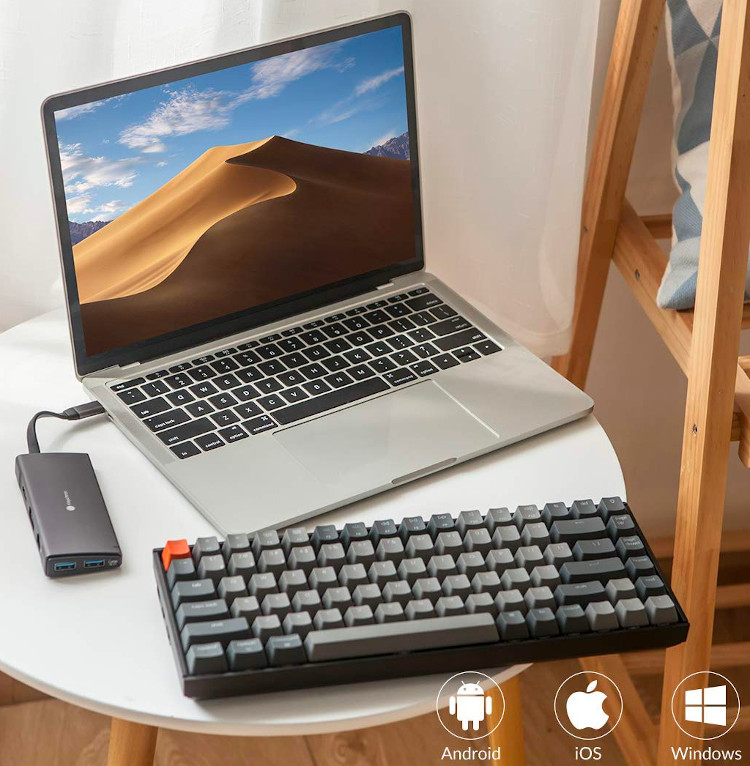 The VicTsing Backlit Mechanical Gaming Keyboard. If you're looking for a mechanical keyboard that's easy on your budget, this is a solid choice. It utilizes third-party switches that aren't as established as Cherry MX, Outemu or the other household names, but the performance seems to be roughly equivilant to a Cherry MX Red, which is a respected switch among gamers. Then again, you get what you pay for, and the overall construction isn't very durable.
Well, there you have it. Everything from a high-end pro gamer board to an affordable budget board that's good enough to get your feet wet. We think that's a pretty good representation of what else is out there.
Final Verdict
So, is the Keychron K2 worth buying? As with any mechanical keyboard, it depends on what you need. It's a fantastic choice for creative professionals, especially considering the ability to switch between different devices at the push of a button. It's also a good choice for gamers, with clicky, responsive keys that give you plenty of feedback on when you've pressed a key. While it's a great choice for typing, be careful if you work in a crowded office, because of the loud keys.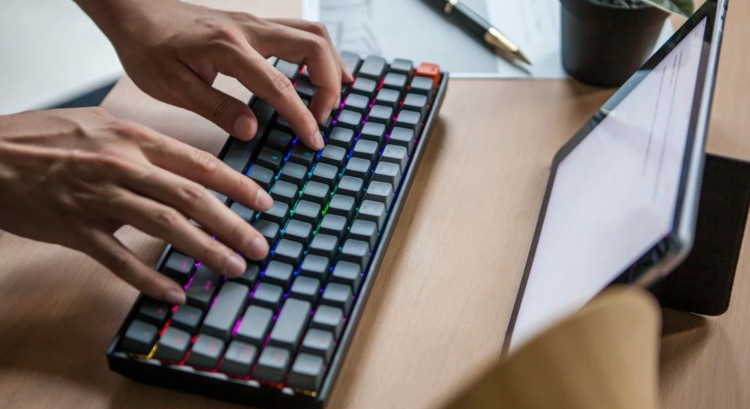 In terms of construction quality, we were impressed. At first glance, the ABS case didn't look like much. But the aluminum inner frame is actually very rugged, and it just plain feels solid. Not only that, but the understated shite backlights are attractive, and help you see your keyboard in the dark. All in all, it's a good buy if you're looking for a mid-tier mechanical keyboard.