Sometimes, the only way to really enjoy a film is to drive down to the cinema and get the real silver-screen experience. A larger than life display and a professionally tuned sound system are certainly appealing. But after getting fleeced on a bag of popcorn and failing to ignore the guy in front of you who's playing on his phone for the entire film, it's easy to consider the possibility of building your own theater system in the comfort of your own home.
One of the most important components in a home theater system is the projector. With most of the top-tier home theater projectors priced upwards of $3000, many consumers feel that their own home theater system is a little out of reach. But if you're willing to shop around, there are a few good options available for an affordable price.
Optoma is one of the most well-respected projector manufacturers, and their HD29 Darbee promises to give the full home theater experience in an affordable package. But what does your money get you? And are there any trade-offs with this affordable option? We decided to go hands-on to find out.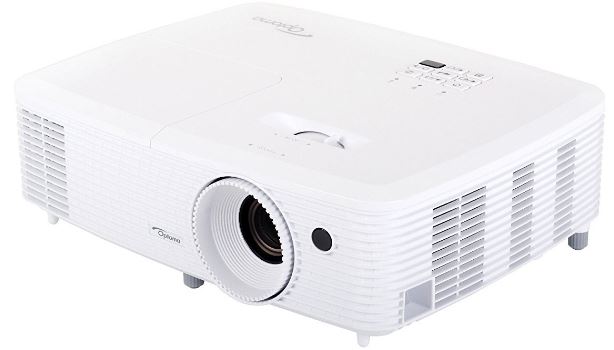 Model Overview
Glancing at the specifications, the HD29 Darbee looks like a pretty standard mid-range projector. With a 3200 lumen bulb, 30,000:1 contrast ratio, and 1080p resolution, it's certainly competitive with other options in this price bracket. But the thing that sets it apart is Optoma's image enhancement technology known as Darbee.
Darbee is designed to create an image that goes beyond the typical limitations of similarly designed projectors. It automatically tweak the image settings to give the best possible picture. Instead of creating a "jack of all trades" model, they created something that was specifically designed for Movies and Television. By sacrificing performance in Gaming and Data applications, it should handle video a lot better. In this hands-on review, our goal is to find the real-world implications of this technology, and help you decide if it's suitable for your application.

Connectivity
The last thing that you want to do is purchase a projector, only to find out that it's incompatible with your video sources. There are some projectors that provide every connection under the sun, but the HD29 Darbee isn't one of them.
For video, you're given two HDMI ports. The first input, located on the outermost side of the projector, supports HDCP and pass through audio. This means that it will work with any 1080p video source. Blu-Ray players, gaming consoles, and PC's will all work fine on this port.

The second HDMI port supports the same technology, but adds MHL 1.2 capability. MHL, or Mobile High-speed Link, enables mobile devices to connect to an HDMI port. Most smartphones, and some streaming sticks use MHL. In the case of a streaming stick or Android TV box, a USB port is provided to supply power.
The advantage of MHL 1.2 over the older version is that you can use an active adapter. Active adapters can connect to any phone or tablet on the market. If they don't support MHL naturally, the active adapter will add this functionality to your device.
Optoma also gives you an analog 3.1mm audio output, a 12V supply to run a motorized projector screen, and a 3D-sync port for active 3D glasses.
Two HDMI ports might not be enough for some. But this projector is compatible with HDMI switches and RCA converters, which may help you get some of your additional video sources up and running.
Screen Size
Just how big of a screen can you get? That depends a lot on where you place the projector. The throw ratio of this projector starts at 1.48 for smaller screens, and ranges up to 1.62 for larger ones. For simplicity-sake, let's assume a throw ratio of 1.5. This means that for every 1.5 feet of distance between the projector and your screen, you'll get a display that is 1 foot wide.
A 60-inch TV, for example. Is about 4.3 feet wide. So placing the projector 6.5 feet back from your screen will give you a screen size equivalent to a 60-inch TV. Want a 100-inch screen? You'll need 10 feet of distance.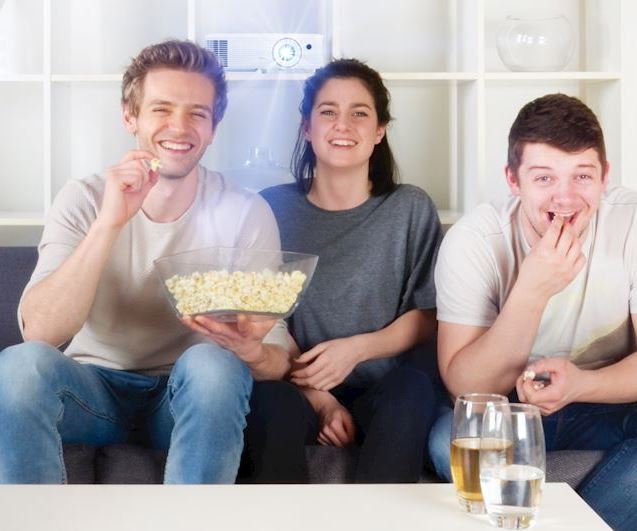 In our tests, the largest watchable screen size was around 200 inches, and that required over 21 feet of distance between the projector and the screen. For most users, the sweet spot is going to be between 80 and 120 inches.
Brightness & Lamp Life
The brightness of a projector is one of the most important, but commonly overlooked aspects of its performance. If your image is too dim, you won't be able to use the projector in bright lights, and the image can look washed out.
Projectors range in brightness from 500 lumens for inexpensive portable models, all the way up to 5000 lumens for large industrial models. The HD29 Darbee has a maximum brightness of 3200 lumens.

3200 lumens is bright enough that you get an easy to watch picture indoors, even in fully daylight with the lights on. At night, this is uncomfortably bright. We'd recommend setting the brightness at 2000 lumens at night, in a lit room. 1500 lumens is ideal with the lights off, and will be the best choice for most people watching a movie. There is a 1000 lumen "eco" mode, but we found this to be a little dim.
At full brightness, the bulb will last you only 5000 hours. But at our recommended setting, you'll get 8000 hours of lamp life. Even if you watch a two-hour movie every single night, this bulb should be good for nearly 11 years.
Color & Clarity
Even with the default settings, we were very impressed with the depth and vibrancy of the video produced by the HD29 Darbee. Colors were rich, vivid, and natural. This has a lot to do with REC.709 HDTV color gamut. What this means is that the spectrum of colors produced by this projector are identical to the colors that HD content is encoded in. Leaving the image settings default is ideal if you want to see your content exactly the way that the producers intended it, and would be our first choice.

But depending on what you're watching, one of the 10 color presets could enhance your content. The Sharpness setting increased contrast, making even the finest details come to life. The Cinematic setting added a dramatic overtone to our film, making it feel much more engaging. There are plenty of settings to choose from, and each of them are designed to adapt to the content that you're playing. We're not usually fans of video pre-sets, but Optoma's Darbee system really improved the visual presentation of our content.
Additional Features
Optoma gives you all the basics with the HD29 Darbee, but there are a few bonus features you might like to take advantage of. The projector supports Active 3D, so you can watch 3D Blu-Rays and rentals on any video source that supports the format. You can use the 3D sync port to use your existing glasses, or pick up a pair of wireless glasses that are compatible with projectors.
The HD29 Darbee also includes a multi-media interface and a remote. The remote can be used to change basic projector settings, but if you're accessing content from an MHL compatible device the remote can navigate through websites, media and apps as if it was a smart device.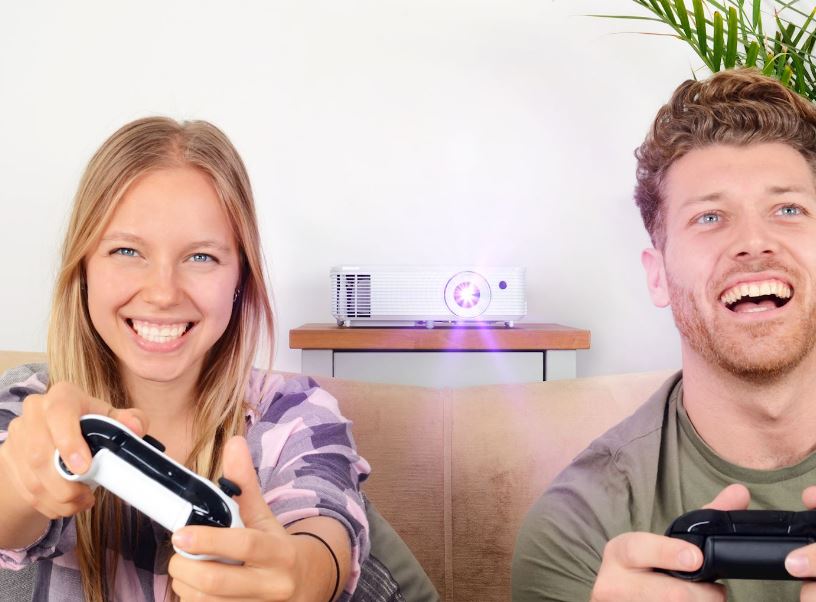 Disadvantages
Many projectors these days ship with a built in speaker. Although this isn't the kind of thing you'd want to use for a permanent home theater system, the speakers are nice to have when you're setting up a little back yard movie session, or using it while on-the-go. Unfortunately, Optoma didn't include one. If you want a portable speaker, you're going to have to purchase an external one.
Final Verdict
For the price, this is one of the best home theater projectors that money can buy. The main advantage of a high end projector is superior color depth and detail. Although it's true that a high end model will outpace this one, Optoma has definitely bridged the gap. The video quality is well above anything we've tried without a separate image processor, giving you the best experience you can get for the money.
The HD29 Darbee Home Theater Projector will definitely be the centerpiece of your media center, but it's not the only thing you need. In order to take advantage of the impressive color depth, you should definitely pick up a dedicated projector screen. We did a roundup of the best options in our home theater screen buyers guide. If you pick a motorized model, the 12V output on the Optoma will enable it to automatically raise or lower itself when it's turned on.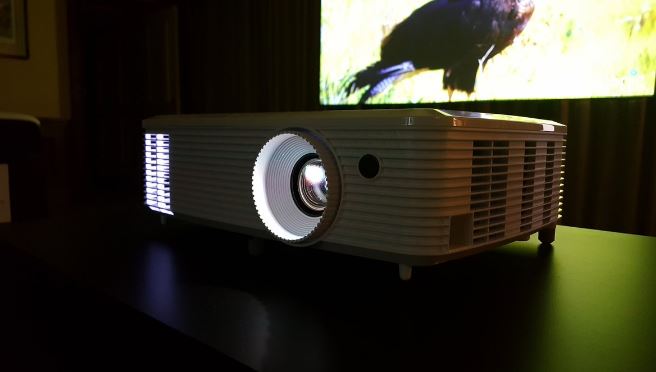 You'll also want to pick up a decent sound system. If you're looking for something high end, you might want to check out our review of the Bose Lifestyle 600 & 650 Home Entertainment Systems. Alternately, a more affordable option would be the Bose SoundTouch 300 Soundbar.
Overall, it doesn't matter whether you're buying a whole new kit, or just replacing your television with a projector. No matter what route you go, The Optoma HD29 Darbee provides incredible value, and an experience that your whole family can enjoy.