Ottocast U2-Plus Picasou
Pros
Works with almost any modern smartphone.
Does not require a phone to run apps.
Built-in GPS, GLONASS, and Beidou locators.
Excellent thermal protection.
Cons
Some features require a separate data plan.
Does not work with all vehicles.
Nowadays, our phones do a lot more than just make calls and texts. They're packed with apps that we use for all kinds of everyday tasks. For everything from entertainment to banking, we rely on our smartphones. So, what do you do when you're driving? Everyone knows not to text and drive, and not to do your banking. But there are some apps that you might need while you're in the car. One good example is GPS, which a lot of cars don't even have. Another example is music streaming apps like Spotify. A lot of people use those apps because they provide more tailored content than traditional radio.
Unfortunately, this leads to a problem. Instead of focusing on the road, we're once again fumbling around with our phones. At the end of the day, does it really matter if you're staring at a text or launching Waze? You're still distracted, which is never a good thing when you're behind the wheel. To help with this, phone manufacturers have been using voice assistants for several years. But you still have to use the phone screen for a lot of functions. And you still need to have your phone along with you to access your apps. If you forgot your phone, you won't be able to use your GPS or streaming service.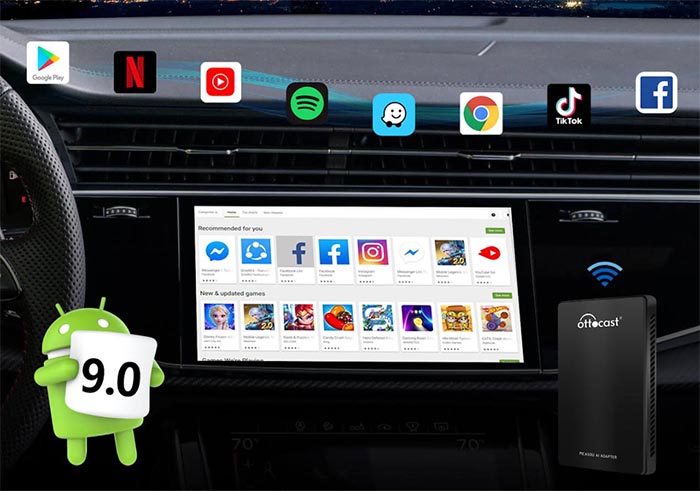 Today, we're going to review the Ottocast U2-Plus Picasou AI Box. This is an adapter that allows you to use your car's controls to operate your phone, at least on many vehicles. It also has the ability to accept a SIM card, download apps, and more. But what exactly does it do, and what is it capable of? What phones does it work with, and what vehicles does it support? To find out, we'll need to take a much harder look at its various features. We'll talk about all the compatibility questions, as well as the memory capacity. We'll even discuss the physical design and construction. Let's get started!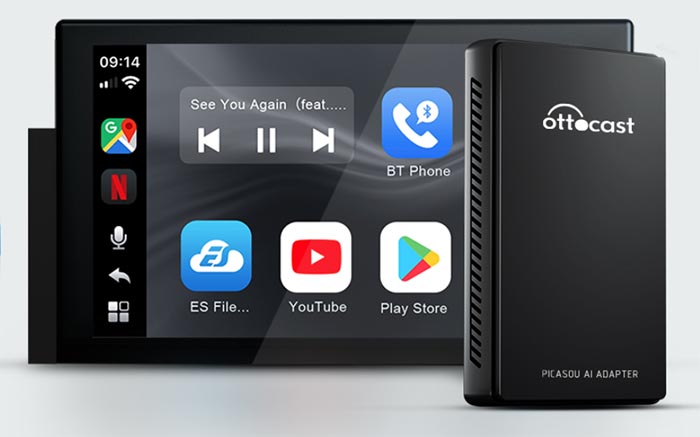 What Is Apple CarPlay/Wireless Android Auto?
As with many apps, Apple CarPlay and Wireless Android Auto are two sides of the same coin. They do basically the same thing, but one is for iPhones and the other is for Android. These apps are made to connect your phone to your car, so you can use it safely while you're driving. Instead of using your phone's screen, you instead switch over to voice commands. You'll need to get used to Siri or Google Assistant if you haven't already. Other controls are even transferred directly to your car's dashboard.
The motivation for this is obvious: it keeps your eyes on the road and your hands on the wheel. And even when you're using your hands, you're using your car's driving-friendly dashboard controls. With safety being the goal, you won't be able to use many of your smartphone apps. Video apps like Netflix and YouTube will be blocked entirely, as will games. Other apps will still function, but their functionality will be altered. Your phone's messaging app, for example, will still send and receive texts. But instead of standard texting, you'll be limited to voice to text only. Audio apps are another good example. You'll be able to listen to music, but you'll navigate via voice commands instead of your touchscreen.
One thing to keep in mind is that for wireless Apple CarPlay or Android Auto to work, you need a data connection. That's true even if the particular app you're using doesn't normally require data. The reason for this is that Siri and Google Assistant both run on the cloud. So if you're not connected, none of the voice commands are going to work. Most of the time, this shouldn't be a huge problem. But if you're out in the wilderness, or going through a tunnel, you might run into some trouble.
Voice assistant changes are particularly noticeable on Apple phones. When CarPlay is active, Siri will actually change the way she answers some questions. Answers will tend to be shorter and more to the point, to help you focus on the road. The results will also be tailored towards driving and directions.
If your car has audible collision or lane alerts, they will automatically interrupt whatever app you're running. If you're listening to music or getting directions, it will be paused, during the alert. Once the alert is finished playing, your app will continue running. This is true both with Apple CarPlay and Android Auto.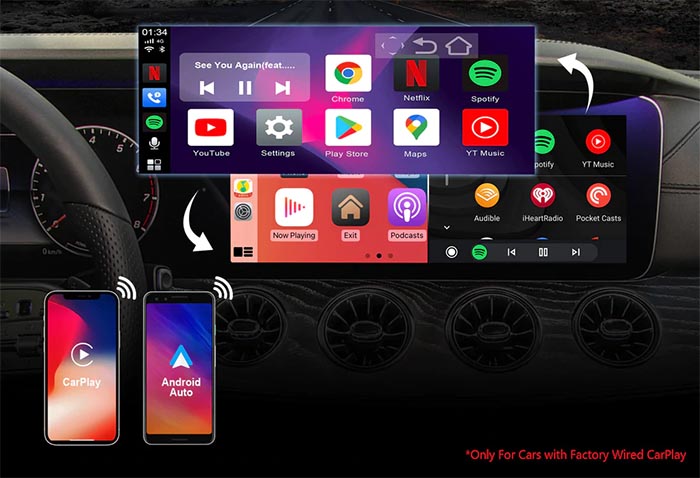 Why Use an Adapter?
When Apple first released CarPlay in 2014, it was designed to work with a USB connection. The same was true for Android Auto when it came out in 2015. The reason for this is that cars at the time had USB ports, but not WiFi. But starting with the 2017 BMW 5-Series, manufacturers have started building WiFi into their cars as well. For this reason, Apple and Android both started integrating wireless support as well.
But this doesn't always mean you can use a wireless connection. For one thing, a lot of cars still don't have WiFi. This means that you'll need to use a wired connection, regardless of how new your phone is. Similarly, some cars only have a 2.4GHz WiFi connection. In that case, you won't be able to use Wireless Android Auto. It requires a 5GHz connection, so you'll need to have a dual-band car. CarPlay will work on both the 2.4GHz and the 5GHz bands. On the plus side, these services have both been around for a while. As a result, you don't really have to worry about phone compatibility. The iPhone 5 can even support Apple CarPlay. Android phones are similar, although you might have trouble with cheap Tracfones.
On the downside, not all vehicles support both of these services. Some do, but others support only CarPlay, Android Auto, or neither. In addition to that, not all features are available on all vehicles. For example, if your screen doesn't have the right kind of display, you won't be able to use your GPS app. If you want the full details, you'll need to check the website for Android Auto or CarPlay respectively. They both maintain a list of compatible vehicles. Thankfully, you don't have to worry about the connection type. With an adapter, you can connect wirelessly even if your car doesn't support WiFi connections. Your phone can stay in your pocket, and you won't have to mess with any cables.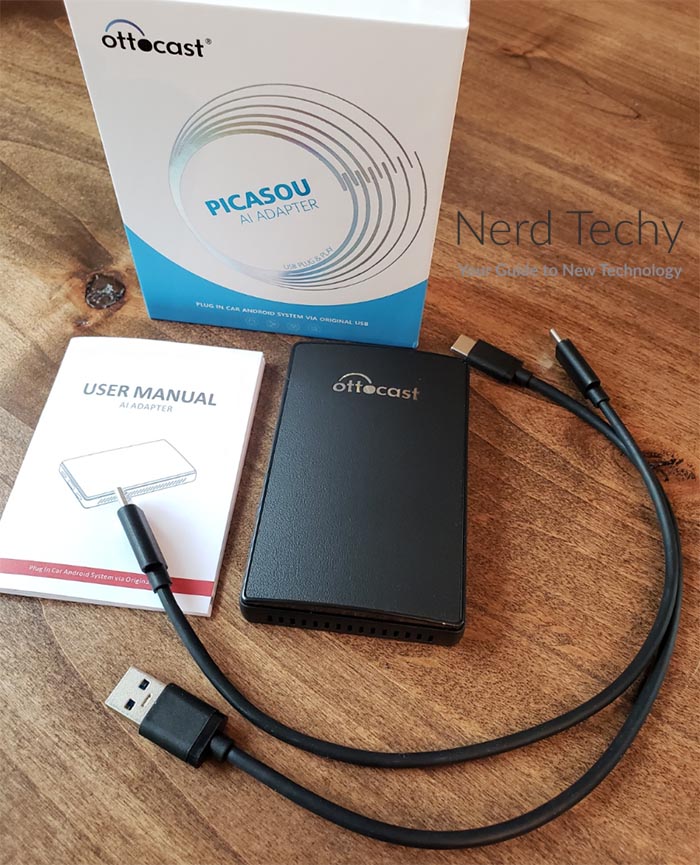 Ottocast U2-Plus Picasou – How it Works
The Ottocast U2-Plus Picasou is a compact device that's constructed from a tough matte black plastic. It measures only 3.77 inches long, 2.48 inches wide, and 0.63 inches thick. That's about the size of a deck of cards, so it's small enough to carry around in your pocket. On the top panel, the word "Ottocast" is printed in big white letters, with the words "Picasou AI Adapter" underneath. The sides are vented, with vertical louvers that provide plenty of air flow through the housing. Even on a hot day, you don't have to worry about the device overheating.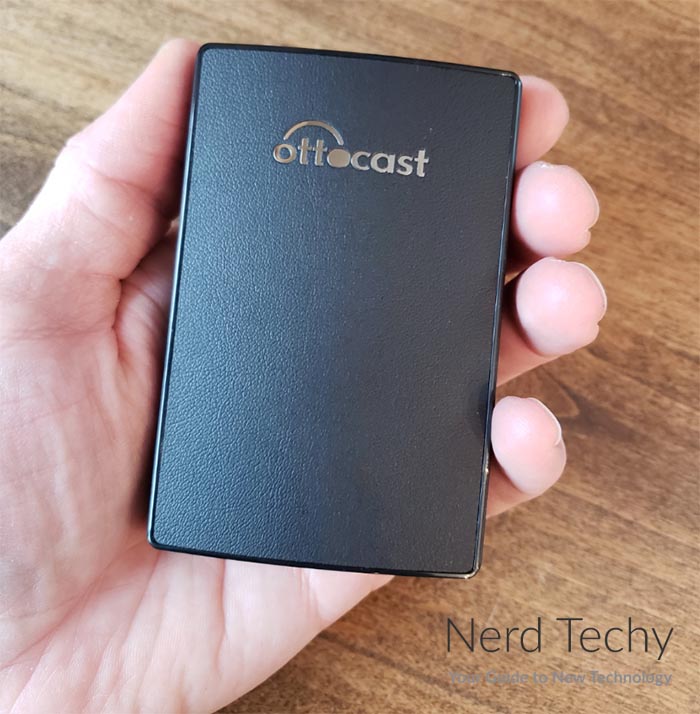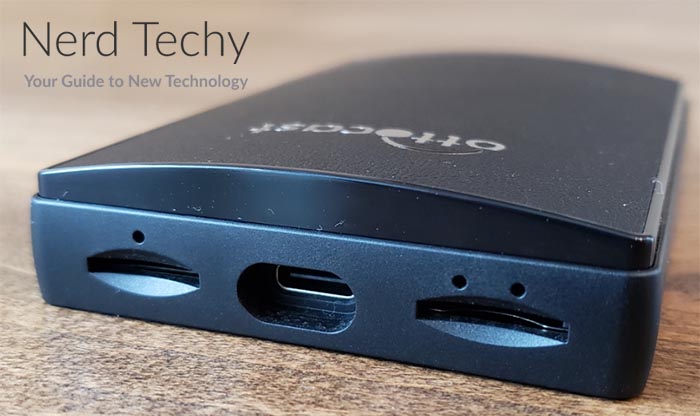 The only other important physical features of note are all located on the front end. Here, on the left side, there's a Micro SD slot. This will support up to a 128GB card, which can be used to upgrade the existing 64GB of internal storage. In the center, there's a USB Type-C port, which is used to connect to your vehicle. The kit includes a USB Type-C to Type-A cable, so you don't have to worry about cable compatibility issues. To the right of this port is a SIM card slot. This is optional, but necessary if you want to take advantage of some features.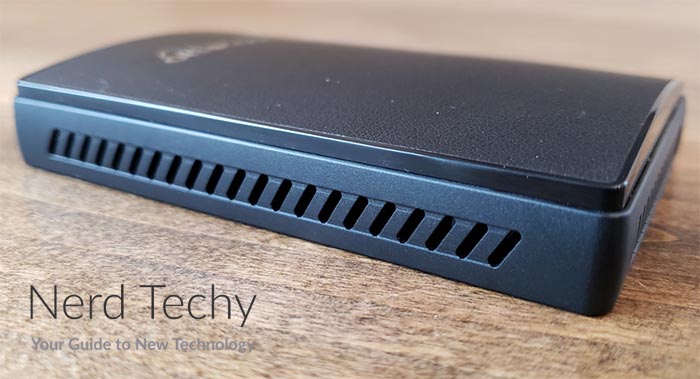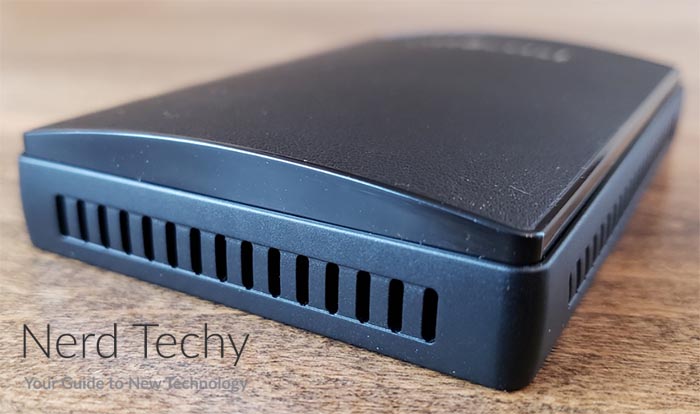 This adapter can be used with just about any phone. It supports both Android Auto and Apple CarPlay. As a result, it can be used with either type of smartphone. If your phone has either one of those apps installed, it's going to be compatible. You also need to be plugging into a car with Apple CarPlay built in from the factory. As we've already discussed, your mileage may vary. But your car only needs to support the wired version. After all, that's why you're using an adapter!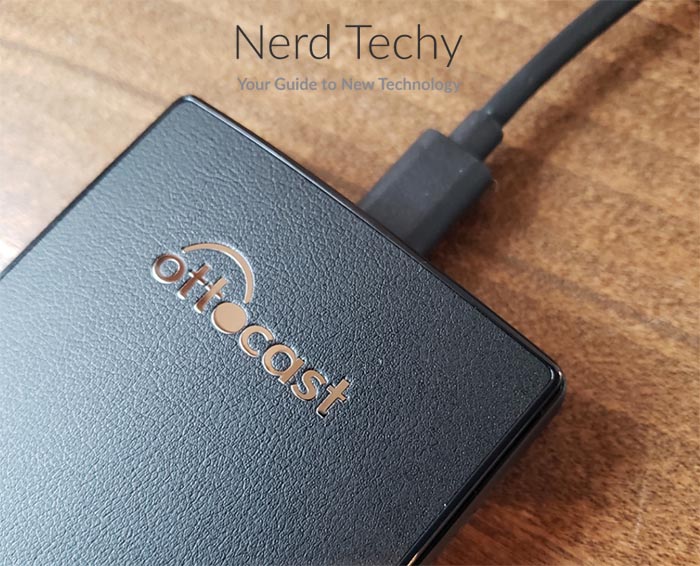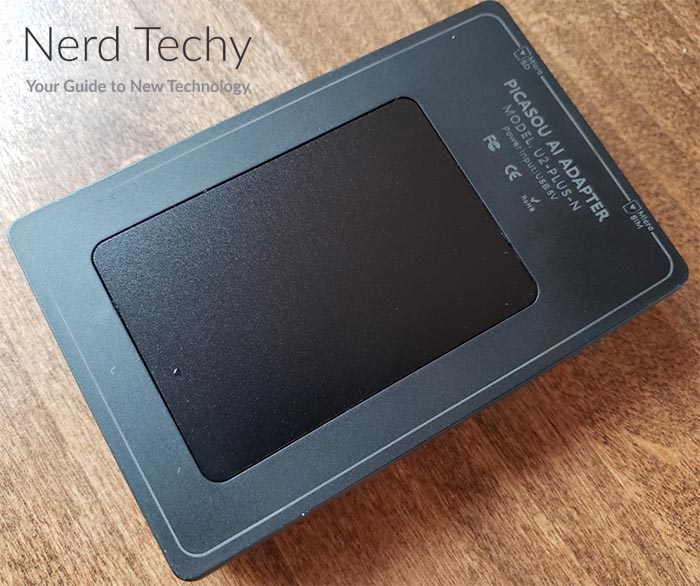 One thing to be aware of is that there are two different versions of the U2-Plus Picasou. The first is made for North American cellular networks. The second is made for Asia, Europe, South America, Australia, and the Middle East. Because of different regional standards, neither one will work in Japan.
In terms of capability, this is a very robust device. In addition to the storage we mentioned, it also has 4GB of RAM – more than some smartphones. It supports Bluetooth 4.2 and 5.0, along with the latest dual-band WiFi. But best of all, you can install apps directly on it. This allows you to use all of your favorite apps without using up your cell phone's resources. And if you install a SIM card with a data plan, you can use U2-Plus as a standalone Android streaming device. You can even use it for location services. In addition to GPS, it also supports the more accurate Beidou and GLONASS services.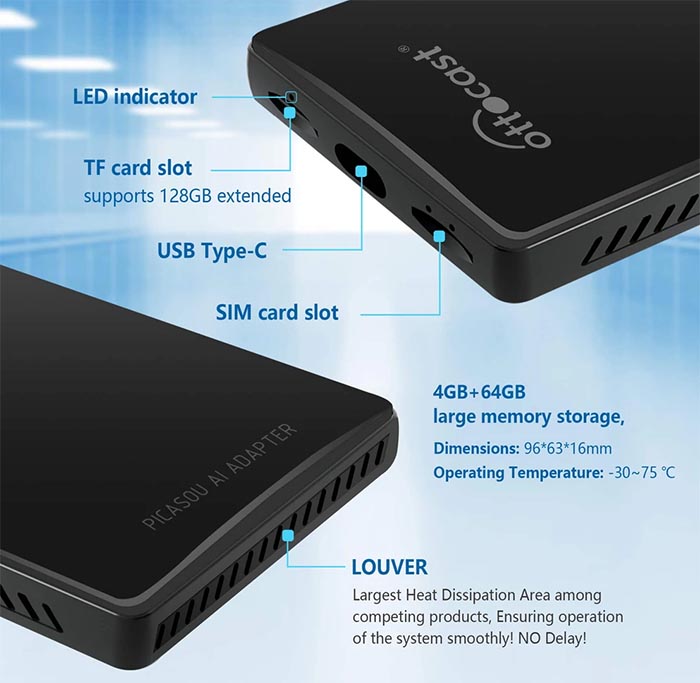 If you're interested in a different CarPlay or Wireless Android Auto adapter, there are plenty available. Take the original Ottocast, for example. It supports pass-through charging, so you can charge your phone without needing two USB ports. That said, you can't install apps directly, or use it without your phone.
Final Verdict
As you can see, the Ottocast UT-Plus Picasou is a very well-engineered device. Provided you're driving a compatible car, you'll be able to connect wirelessly with any of today's smartphones. But there are plenty of adapters on the market. What we liked most is the fact that this is a complete Android device. Unless you're taking a hands-free call, you won't need to use your phone at all.