In the past few years, wireless earbuds have exploded in popularity. A lot of people know the story. Apple went wireless-only, and everyone wanted to make the next AirPod. However, the story actually goes a bit deeper. Apple's AirPods didn't come along in a vacuum. In fact, they took advantage of a new technology called true wireless stereo (TWS). Before TWS, wireless audio was low-bitrate and fuzzy. It was also only transmissible in mono, which was terrible for listening to music. Since the advent of TWS, manufacturers have been able to produce wireless buds that are worth buying.
This surge in popularity has also come with a downside. It's tough to sort out the good from the bad. One way is to look for a quality manufacturer, like Vankyo. We've reviewed a number of their offerings in the past, including some well-made over-ear headphones. Now, we're going to review two of their latest earbuds. First, we'll examine the Vankyo X400 Wireless Earbuds. These are standard, vertical earbuds with silicone ear tips. Next, we'll look at the Vankyo Alpha N10 Wireless Earbuds. These buds are a bit pricier, but they come with some extra features that are well worth the investment. Which ones are the best? Let's take a closer look, and find out!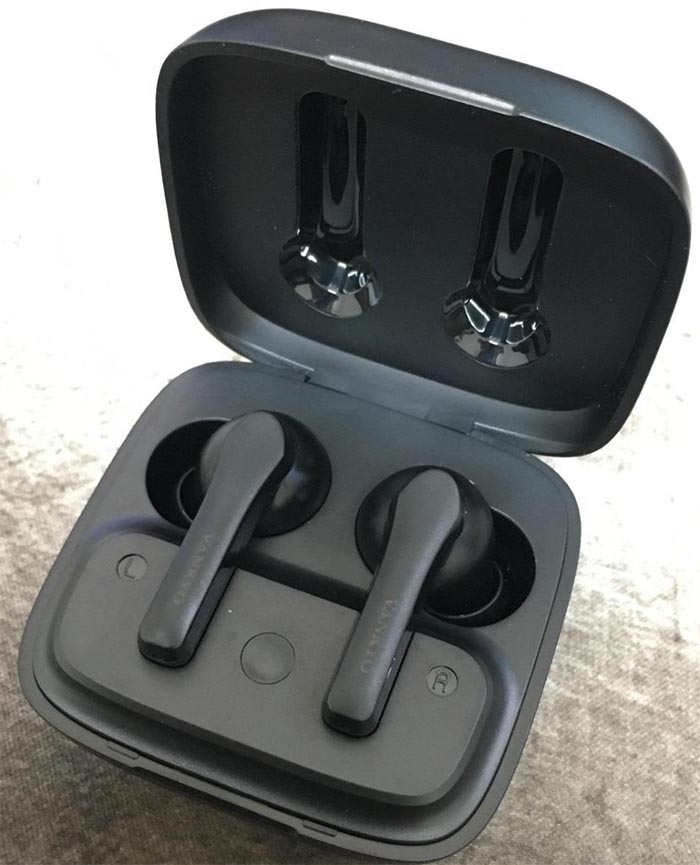 Vankyo X400 Wireless Earbuds
The Vankyo X400 Wireless Earbuds have a vertical design similar to the Apple AirPods. The batteries protrude downward from the shells, making them bottom-heavy and stable. However, unlike the AirPods, the X400 earbuds have silicone tips for a secure seal. This seal won't just hold your earbuds in better, it will also block outside noise. It's also important that the seal isn't tight enough to cause discomfort. To this end, Vankyo includes three different sized sets of ear tips in the package. If you're not satisfied with the initial fit, try switching to smaller or larger tips. If you prefer a different fit altogether, try the Vankyo X200 or Aufo Earbuds. They have a more compact, shell-style design.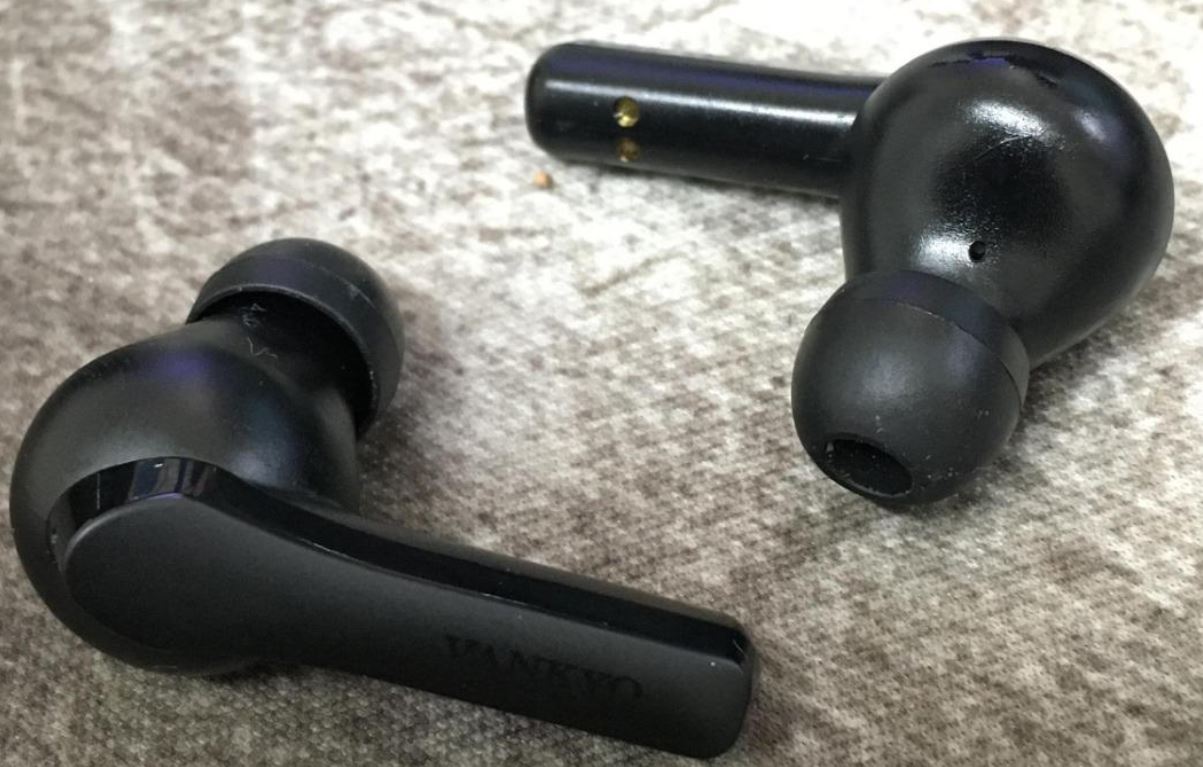 The backs of the X400 earbuds function as soft touch controls for easy operation. With a tap of the button, you can play or pause music, skip tracks, or answer and end phone calls. Moreover, the buds are IPX6-rated for water-resistance. This means they can withstand constant streams of water, if not full immersion. Suffice it to stay that they'll stand up admirably to foul weather or intense, sweaty workouts.
The X400 kit includes a charging case, which has a simple square profile that's easy to carry. It has a clamshell design, and opens to reveal two molded charging wells for the earbuds. The lid is spring-loaded, so it stays shut unless you intentionally pull it open. It's also easy to monitor; a row of three LEDs on the front of the case displays the battery status.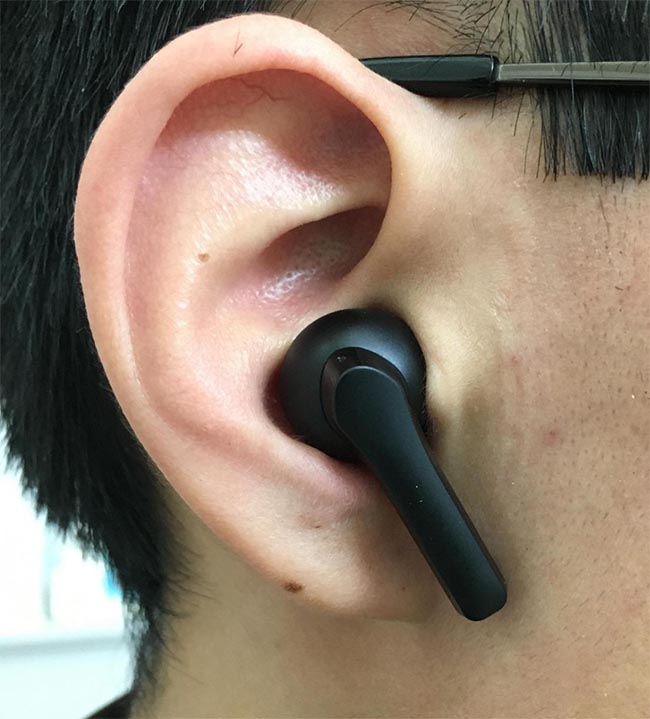 Battery and Connectivity
The Vankyo X400 Wireless Earbuds are rated to last for five hours of playtime. This is a manufacturer's rating, but it's more realistic than most. The reason is that Vankyo tests their earbuds at 80 percent volume instead of 50 percent. That gives you a more accurate picture of how people use their earbuds in real life. If you need more than five hours, that's not a problem. The charging case supplies an additional six charges for a total of 35 hours. That's enough for an entire week of commutes and workouts.
When it's time to top up, the earbuds themselves will charge in about an hour. After ten minutes in the case, they'll have enough juice for an hour's use. This quick charge capability is great if you're in a hurry and forgot to charge your buds. The case can be charged either via USB Type-C or a Qi wireless charger. USB charging is faster, but Qi charging still takes less than three hours. Either way, you won't have trouble topping up overnight.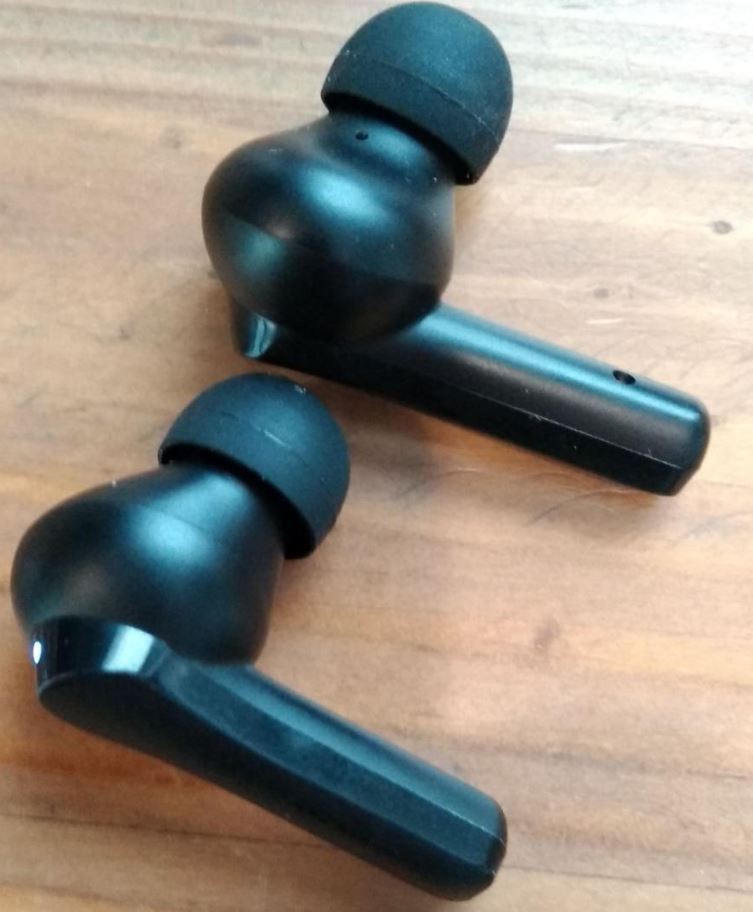 The X400 earbuds connect via the Bluetooth 5.0 protocol. This is the latest version of Bluetooth, with several improvements over version 4.2. For one thing, Bluetooth 5.0 supports higher bitrates for better audio quality. It also has a more stable signal for fewer dropped calls, as well as reduced latency. The X400 buds in particular can be connected in both stereo and mono mode. Stereo mode is obviously your go-to for listening to music. But mono mode is a great choice for phone calls, or for any time you need to be aware of your surroundings.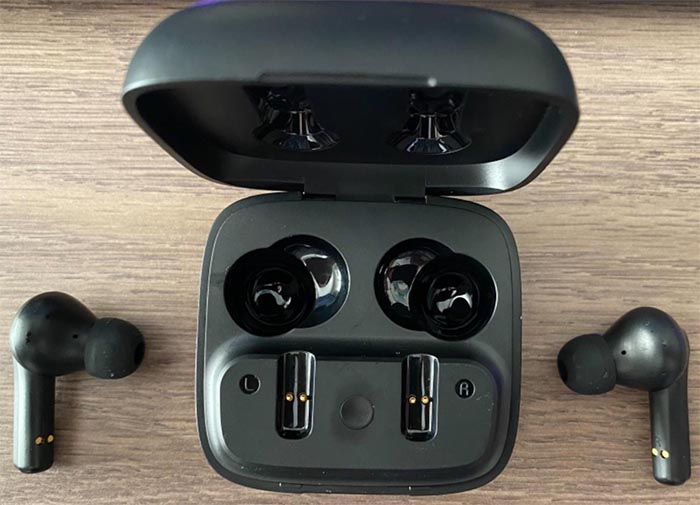 Sound Quality
The Vankyo X400 earbuds provide very good sound quality, particularly for the price. The bass is rich and present, more so than you expect for buds of this size. This isn't to say that it's overpowering, but it holds its own within the mix. The EQ is flat, with plenty of room for mids, highs, and bass in equal proportion. The overall soundstage is nice and wide, creating a real sense of space while you're listening.
The X400 earbuds do not offer any active noise cancellation (ANC). However, the passive isolation from the ear tips is quite good, provided you have a snug fit. Not only that, but the X400 buds support the latest AAC/SBC audio codecs. This will get you the best possible quality on Apple Music in particular.
You also get to take advantage of the X400 buds' CVC 8.0 technology. CVC is short for "clear voice capture," and is a set of proprietary algorithms for improving voice quality. It's not designed to improve the audio on your earbuds. Instead, it's meant to filter out background noise on your mic when you're talking on the phone. This makes it easier for the person on the other end of the phone to understand what you're saying.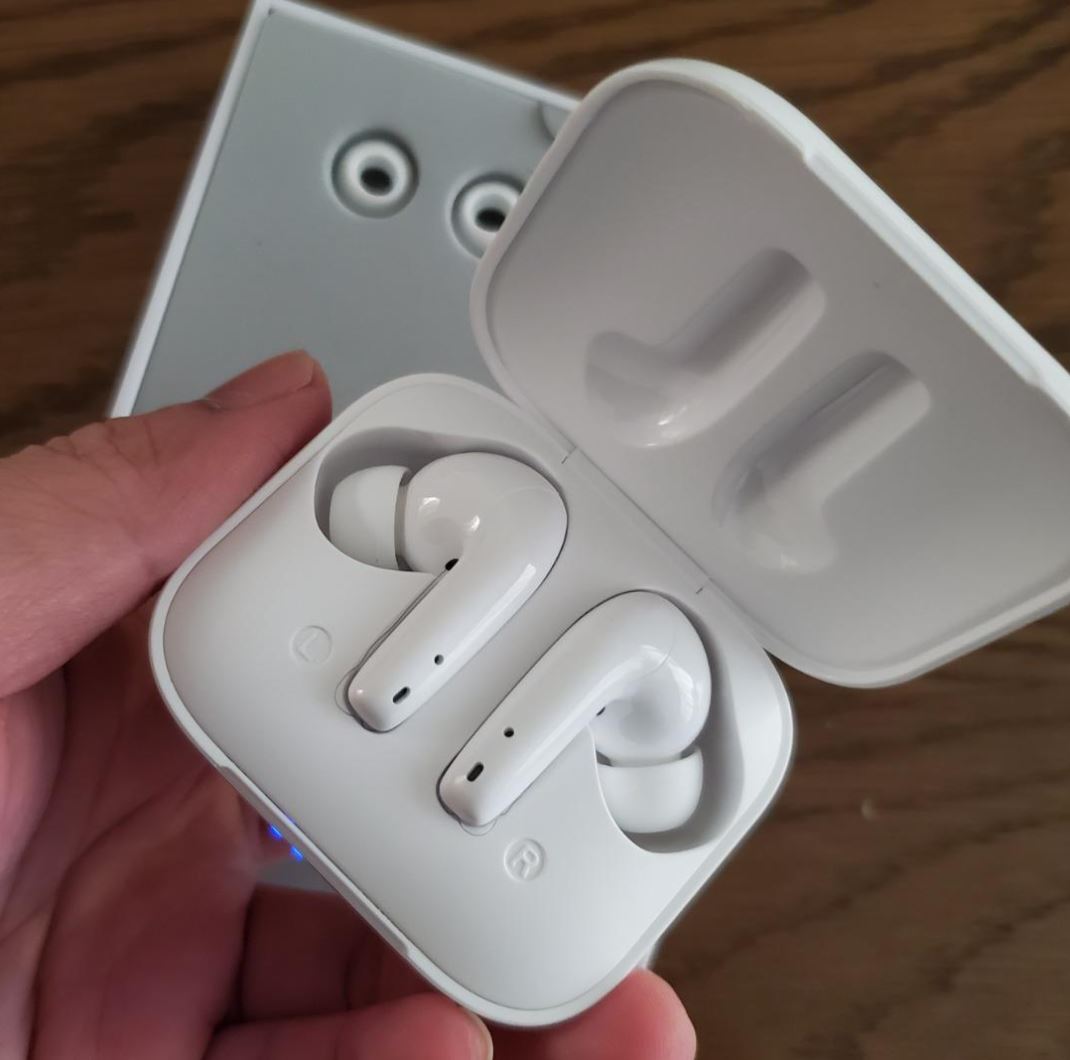 Vankyo Alpha N10 Wireless Earbuds
The Vankyo Alpha N10 Wireless Earbuds look superficially similar to the X400 buds, but only in the broadest sense. They have protruding batteries, as well as silicone ear tips. However, if you look a bit closer, you'll notice that the N10's shells are considerably beefier. The ear tips are also angled slightly downwards for a more secure fit. Exactly how comfortable this is will depend on your own ear canal and how it's shaped. That said, the size of the ear tip also makes a big difference. There are three different sets included in the package, so almost anyone will be able to get a good fit.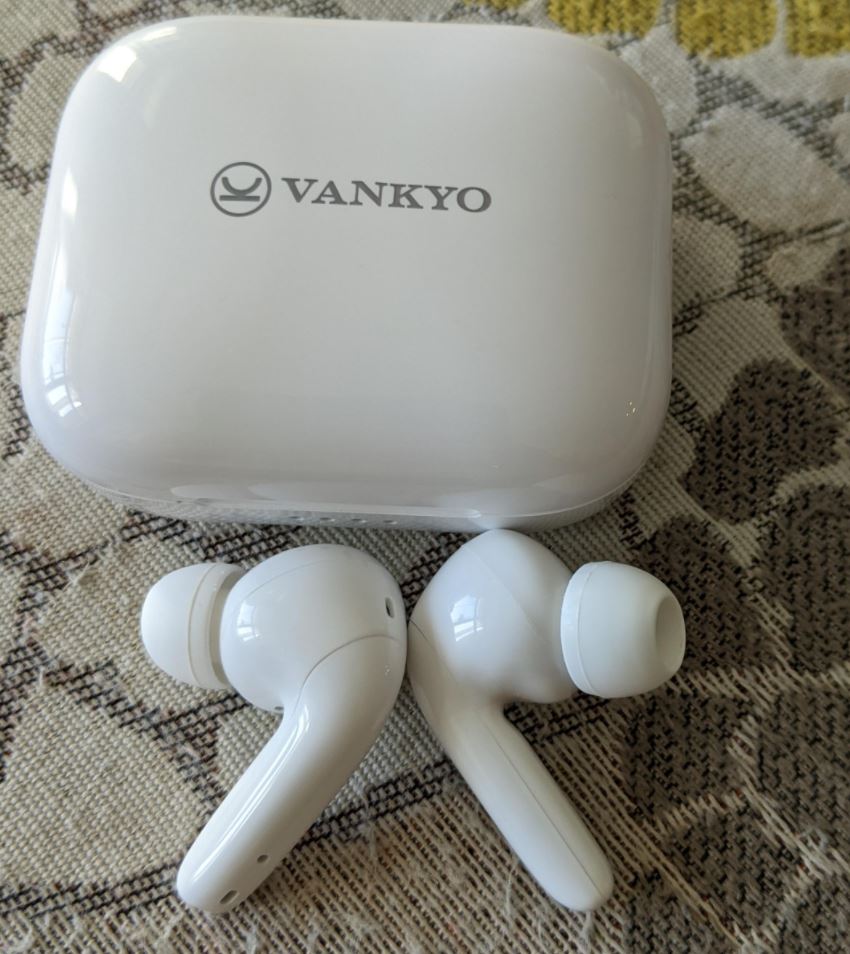 Like the X400, the N10 earbuds have soft touch controls on the backs. This allows for easy, convenient operation without the need to press down hard. Similarly, the N10 buds are IPX6-rated for water-resistance. That's not enough for swimming, but it's good enough to stay dry under just about any other conditions.
The case has a horizontal design, so the earbuds lie flat instead of dropping into the case like AirPods. It's slim and curved, so there are no corners to jab at you through your pocket. It also stays shut easily, thanks to a spring-loaded lid. Underneath the front of the lid, you'll see a row of four LEDs. These light up when the case is opened, and let you know the current battery status.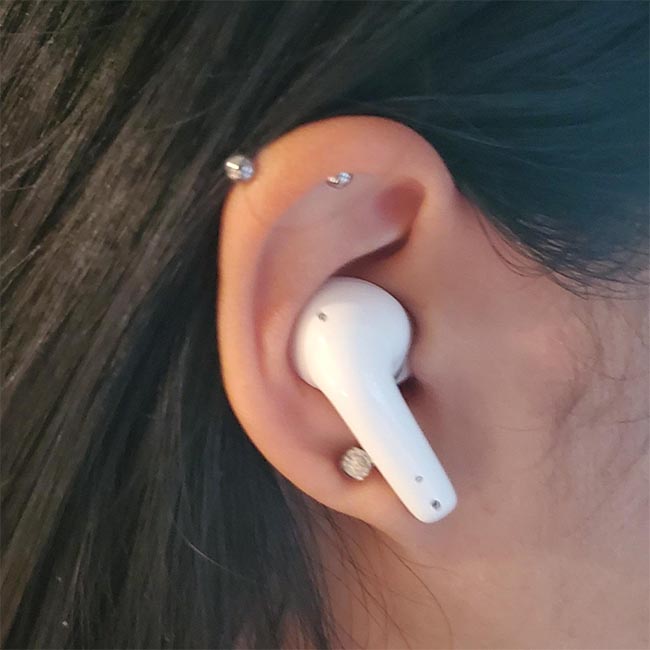 Battery and Connectivity
Each N10 earbud is rated to run for five hours on a single charge. With the charging case, this can be extended to 35 hours. Charging the earbuds in the case takes about an hour, and a ten minute charge is good for an hour of playtime. When it's time to charge the case itself, you can use USB Type-C or a Qi charger. A Type-C charger will fully charge the case in about 90 minutes, even from a fully dead battery. Like the X400 Wireless Earbuds, the N10 buds utilize Bluetooth 5.0 for connectivity. They also support pairing in both stereo and mono mode.
As you can see, the Alpha N10 Wireless Earbuds offer plenty of battery life for most people. However, there are some even more impressive options out there. If maximum battery life is your desire, consider the Vankyo X200 buds, which last for 120 hours without plugging in.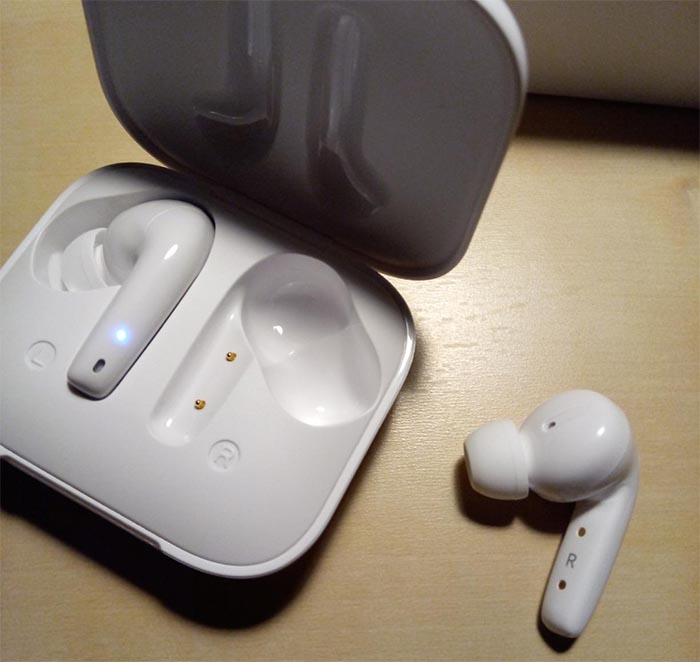 Sound Quality
The Vankyo Alpha N10 Wireless Earbuds offer excellent audio quality across the spectrum. Highs are shimmery, the bass is punchy, and the middle frequencies don't get crowded out in the mix. These are earbuds, not full-sized cans, so keep your bass expectations reasonable. But there's a lot of power here. Even better, the wide soundstage provides for a truly immersive experience.
Speaking of immersion, the N10 buds have an ANC function to block out outside noise. It's surprisingly effective, almost on par with a certain premium brand that rhymes with "nose." That is to say, it's not perfect, but you'll be able to sleep in peace on a plane or train. Conversely, sometimes you want to be able to hear your environment through your earbuds. In that case, you can simply activate the N10 Wireless Earbuds' transparency mode. This mode allows outside noise to bleed through, so you can have a short conversation.
In addition to all that, the N10 Wireless Earbuds feature environmental noise cancellation (ENC). We're not sure if this is CVC 8.0 technology or another alternative, because Vankyo doesn't say. Regardless, it does a good job of cleaning up background noise on your end of a phone call.
Final Verdict
Which set of Vankyo earbuds is the best will depend largely on what you're looking for. If you want an affordable pair of buds that gets the job done, choose the Vankyo X400 Wireless Earbuds. They provide well-balanced audio with a wide soundstage, and they're also comfortable to wear. The IPX6 water-resistance rating is good enough for most purposes, and the battery life is fantastic. All in all, you won't see much better at this price point.
The Vankyo Alpha N10 Wireless Earbuds bring a little bit more to the table. Most importantly, they offer active noise cancelling and transparency mode. You can hear more or less of your surroundings with the touch of a button. Not only that, but the bass is noticeably punchier. This is a huge benefit if you prefer driving, bass-heavy genres.
Meet Derek, "TechGuru," a 34-year-old technology enthusiast with a deep passion for tech innovations. With extensive experience, he specializes in gaming hardware and software, and has expertise in gadgets, custom PCs, and audio.
Besides writing about tech and reviewing new products, Derek enjoys traveling, hiking, and photography. Committed to keeping up with the latest industry trends, he aims to guide readers in making informed tech decisions.